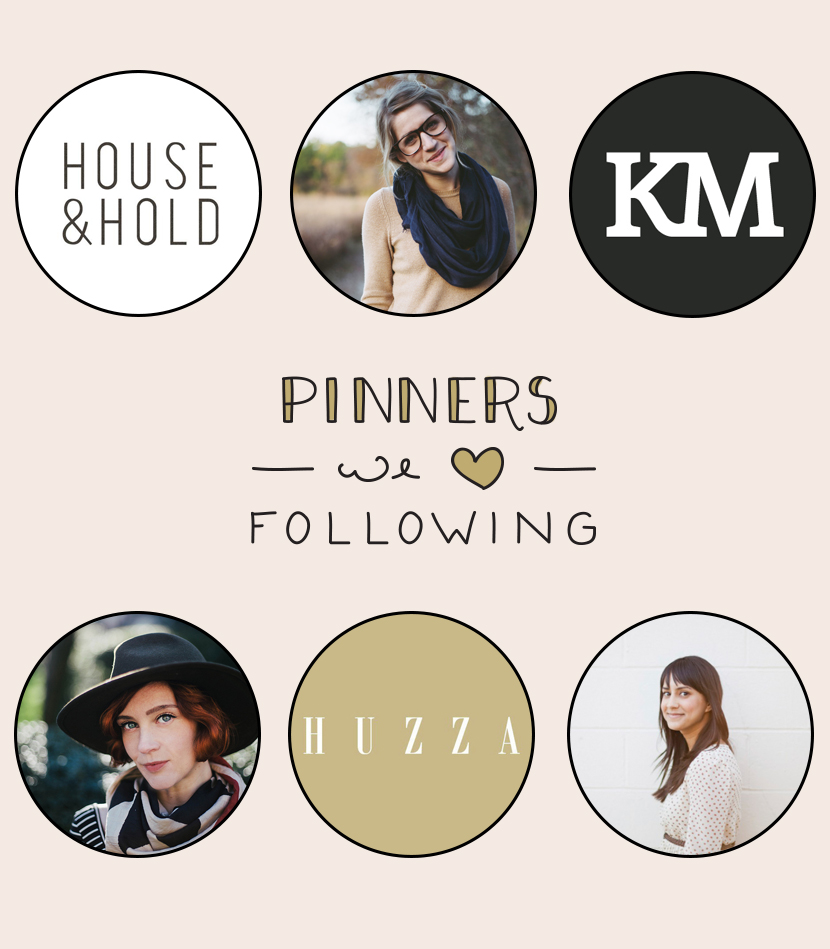 You all know Mike and I love pinning (proven here and here). We use Pinterest for so many daily things in our business from inspiration to communicating design details with clients to even dreaming about the future. That being said we both have a few people who in our minds are must follows on Pinterest. I hope you are ready to kick up your inspiration levels during your daily sweep of pinning.
1. House and Hold: The Pinterest account of the Summer, one of the owners of the House and Hold shop in Portland, Oregon. All of her boards are perfectly curated with modern touches mixed with classic farmhouse elements or rustic pieces. A total interior dream.
2. Mary Beth of Annapolis and Co: I am not sure if you have heard of Mary Beth, but her blog is one of those that raises your spirit and makes you see the world in an even more beautiful way. Her popular #theeverdayproject on instagram has gained serious footing and celebrates the daily beauty that arrises when we simple watch for it. So it may come as no surprise that her Pinterest profile carries all that same beauty and simplicity in to it as well. Full of simple moments that are captured beautifully, there is no lack of inspiration here.
3. Kaufmann Mercantile: For the past year I have been following along with the Kaufmann Mercantile store. Their supply of items in the store are perfectly curated and great for the adventurer and naturalist in all of us. Though I love the store you daily can find me dreaming about the adventures and life they show on their Pinterest boards. Hands down one of the most adventurous Pinterest accounts I have come across yet, they combine adventure, products, and the simple life together to perfectly extend the lifestyle of their brand in a visual way online. Got to love that!
4. Beth Kirby of Local Milk: Beth is a creative powerhouse. Every thing she touches is pure magic in my eyes. Her blog is a bounty of gorgeous food photography, curation, and oh yeah AMAZING Southern inspired recipes. Then you go to her instagram and once again are overwhelmed by her skill to find the perfect section of light and to see beauty in the every day. Her Pinterest is the insight in to her creative mind. There is not a day that goes by when I don't pin something that Beth has discovered. She is a must follow for any one who loves the raw and the real mixed with great design.
5. Rad MacCready and Huzza: This will be a new one for y'all. Rad is the owner and genius behind an amazing local boutique in Harbor Springs, Michigan called Huzza. With some of the greatest collection of high quality products on the web, you will not find a better curated shop with a passion for the artisan like you will Huzza. Rad's inspiration ranges from gorgeous animal portraits to the products he himself has been using for years. You will not find a more interesting and unique account than what Rad pulls together. I promise you won't be disappointed.
6. Jessica Comingore: If you are a design lover you have no choice but to follow the pins of Jessica. There is no lack of great brands, gorgeous homes, and superb style on her boards. All of her pins come out of the desire for simplicity and great design. Hop on over to her blog for even more inspiration than you may even be able to handle. She is one talented designer and photographer and I feel pretty honored to have spent some hours by the pool with this lady in September at DesignerVaca.
Who are some of your favorite pinners? Do you follow any of these people I think are musts? I always love finding new pinners to follow so I would love to know a few of your favorites!
Happy Wednesday my friends! If you are in Raleigh you should come on over to Furbish Studios tonight for a White Whale Cocktail and a little shopping with Jamie Meares and me. We will be enjoying cocktails and some snacks from Capital Club 16. Come between 5 and 7! Maybe see you there?