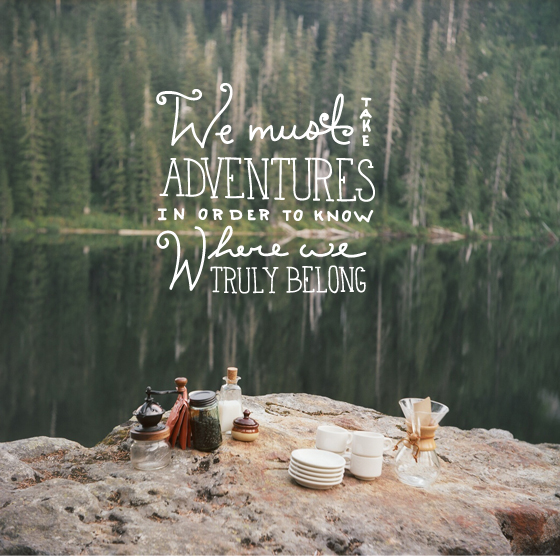 image via: Oh, Pioneer  type by: Megan Gilger 
Preparing for our trip on Monday has been busy, and though between client emails, tying up projects, and preparing to disappear from the regular office hours for the next 2 months. It is crazy and at times exciting and scary. I think of the amount of time I spend in my office and think the next few months will be spent wandering from cafe to cafe with my laptop in hand and working in places I have never been before. While taking daily trips and adventures in between emails and planning for our shoot for Asbury.
This last year of traveling has shown me so much about myself and this trip feels to be coming at the perfect time. Last weekend I began packing my bag and limited my life down to fit in to 2 carry ons for the next 2 months. This was a serious challenge for me, but am already loving this idea. Thinking of needing less is making me realize even more so that experience is more powerful than things. I have always known this but the power of this idea has been most real even this early on in this trip.
The other thing I am already learning is the value of an adventure. I say adventure with a different definition than experience as experience can happen just walking out your front door…it is not chosen for you, but an adventure happens by choice. Adventure is a mental state we prepare ourselves to have. As often as we may say that these moments are unplanned they are typically not. We must make plans and prepare ourselves on various levels for any adventure. The mental preparation is as important as the gathering of items and people you need to make it possible. But what I find the most invigorating about taking adventures is the coming home. The ending. I find it more important than the beginning. This is the time you look back through it all whether mental thoughts, pictures, or notes you gathered on your travels. You remember who you were before you left and define who you are after. This is what adventure is for. It lets us know where we belong and who we are becoming.
Adventures are as important to developing yourself creatively as learning photoshop or taking a class on drawing. The understanding of yourself is not found sitting by a computer all day, but in the current of life and taking it all on head first with the mindset it is going to be an adventure.
Now this does not mean you need to find a way to go galavanting around Europe, but it does mean go camping, hike, get lost in a city near you, take a day trip. Find a new way to challenge yourself beyond just the everyday process of creating. There you will discover something new. Something you never knew about yourself. You will find you are right where you belong.