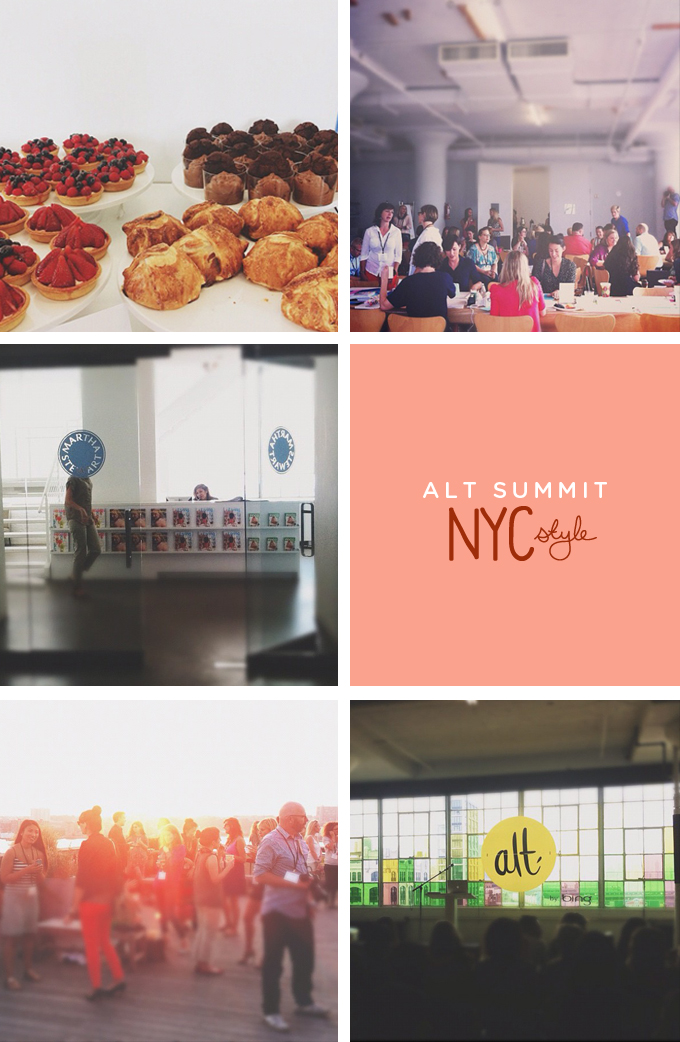 The last 2 days in New York have been crazy, almost like a whirlwind to be perfectly honest. Getting very little sleep and having a slight travel hangover throughout the process has kept things rather interesting, BUT it all has been a total blast!
Alt Summit was so good. It was incredible to catch up with some blogging friends and meet some new ones in person. It always is so inspiring to have all these wonderful, creative, and hard-working women in the same room. Not to mention this time was at Martha Stewart's headquarters, which added that much more inspiration to the experience!
As you would expect the space was beautiful. The tall ceilings and white walls made everything seem so fresh and clean. It couldn't have been more perfect.
After an hour or so of crafting, breakfast, and networking we jumped in to some really great panels.
The first panel was with Tina Roth-Eisenberg of SwissMiss, Creative Mornings, and Tattly. She shared about being an idea maker. Gave inspiring insight  into how she has developed her companies and how important side-projects truly are. Tina was my favorite to hear from and to learn about her emphasis on the power of collaboration was so great!
The second panel was all about the Creative Process from the Martha Stewart Team. They shared how they create their shoots, what goes in to their process of creating content, and how they develop ideas and stay fresh. Very refreshing.
We then had a wonderful lunch that was sponsored by Land of Nod, where we got to have a sneak peek at their winter collection! So gorgeous as always. Incase you all didn't know when I have to purchase shower gifts I always head to Land of Nod as their children's items are hands down my favorite. So whimsical and fun!
After we finished lunch we heard from Katie Armour of Matchbook Mag, Jenny Komenda of Little Green Notebook, and Natalie Holbrook of Nat the Fat Rat about how they have grown their own communities. Being one of the founders of Blog Brunch, it has been our number one goal to encourage the growth of the community, so to hear their perspective on the basics of making that happen organically within their own niche was very inspiring!
Lastly! We heard from a few really great brands such as Etsy, West Elm, and Tea about how they are using social media and connecting in to the blogging world. It was great to hear how encouraging they are of bloggers and supporting them within their growth.
Of course no Alt Summit is complete without a great after party, right?! We were able to enjoy the rooftop alongside some of Martha Stewart's top editors such as Kevin Sharkey and Darcy Miller while drinking champagne and overlooking the city!  It was the perfect way to end the day!
Today Amy and I are headed to be tourists and see some sights while we recover from the whirlwind we had in the last 2 days. I really am glad I will be able to be here over the weekend!