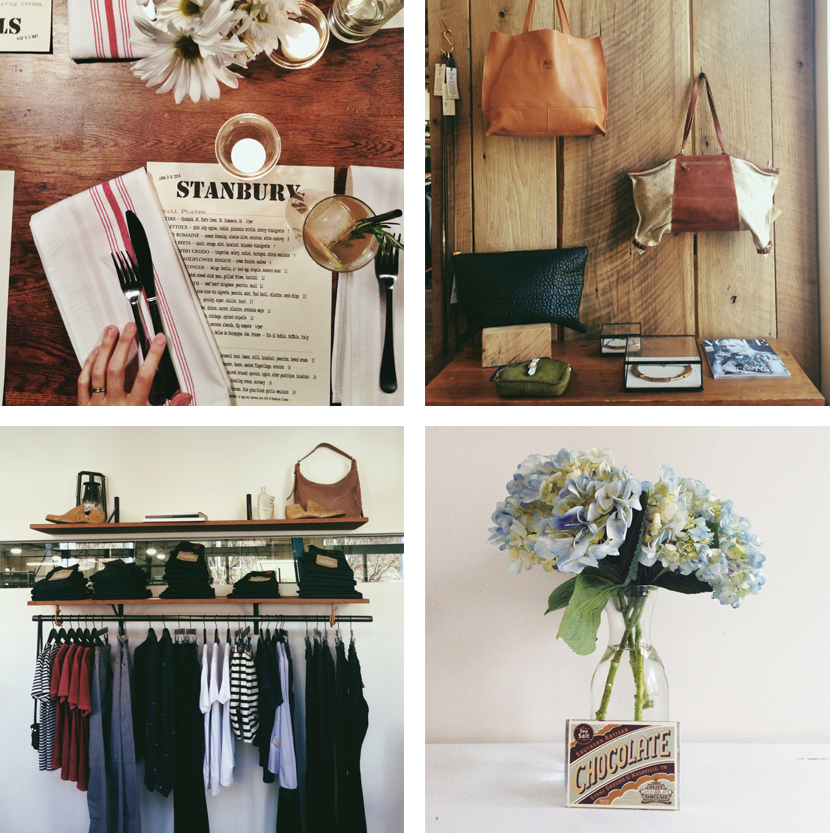 Gosh, it feels good to be back home after over a week away! All the crazy weather left me stuck inMichigan a few extra days. It was great to be with my parents, but it also feels so good to be back home in Raleigh. Our friend, Grant has been in town for a few days before he goes back to Paris for nearly 6 months, so it is great to have a chance to spend a few days together.
Last night, we met up with Arrowhead Collective owners, Justin and Matt, at Stanbury for an awesome night of craft cocktails and outstanding shared plates. Such a wonderful way to come back These guys work so hard and are so passionate about their art, that it is no surprise they have recently started being carried in Kaufmann Mercantile, which is so well-deserved.
Then today we woke up early and headed to the Creative Mornings session at the CAM. Afterwards we wandered down the street to peak in at Raleigh Workshop. We were so glad we stopped because we had the pleasure of chatting with the owner and designer, Victor. He was kind enough to give us a tour and welcome us fully to Raleigh. Such a great time. I love this city a little more everyday.
This weekend I am planning to rearrange our house some, go shopping for some new home items with Grant, who is helping me do some styling, spend time hanging with friends, and working on some new exciting projects! Life feels pretty amazing right now. I have no complaints. Being home never fails to leave me feeling whole again.
To kick off the weekend properly I wanted to share a few exciting things:
1. Currently in Over you can download my graphic pack for free. Remember when I shared the collab with you? Well, now you can nab it for free! Awesome!!
2. We recently FINALLY settled on a new rug for our space and I feel like I accomplished the impossible, but I am super pumped to have a custom made rug from Gypsa on Etsy. Check her out, she has some awesome options and will custom make any size you want.
3. My girl, Julia Kostreva's space was featured in Refinery 29 this week and I was so inspired by how she has created a life around what she loves. Gorgeous style, Gorgeous images, and Gorgeous work. Love it!
4. This video of one of my favorite quotes by Ira Glass is brilliant. If you need a kick of inspiration, here it is.
5.  Everything about Hackwith Design House has me swooning. I dream of getting my hands on a piece from her brilliant shop one day. A definite bucket list thing for me right  now. Plus her instagram is one of my favorite right now.
Hope y'all have a good relaxing weekend and stay warm!