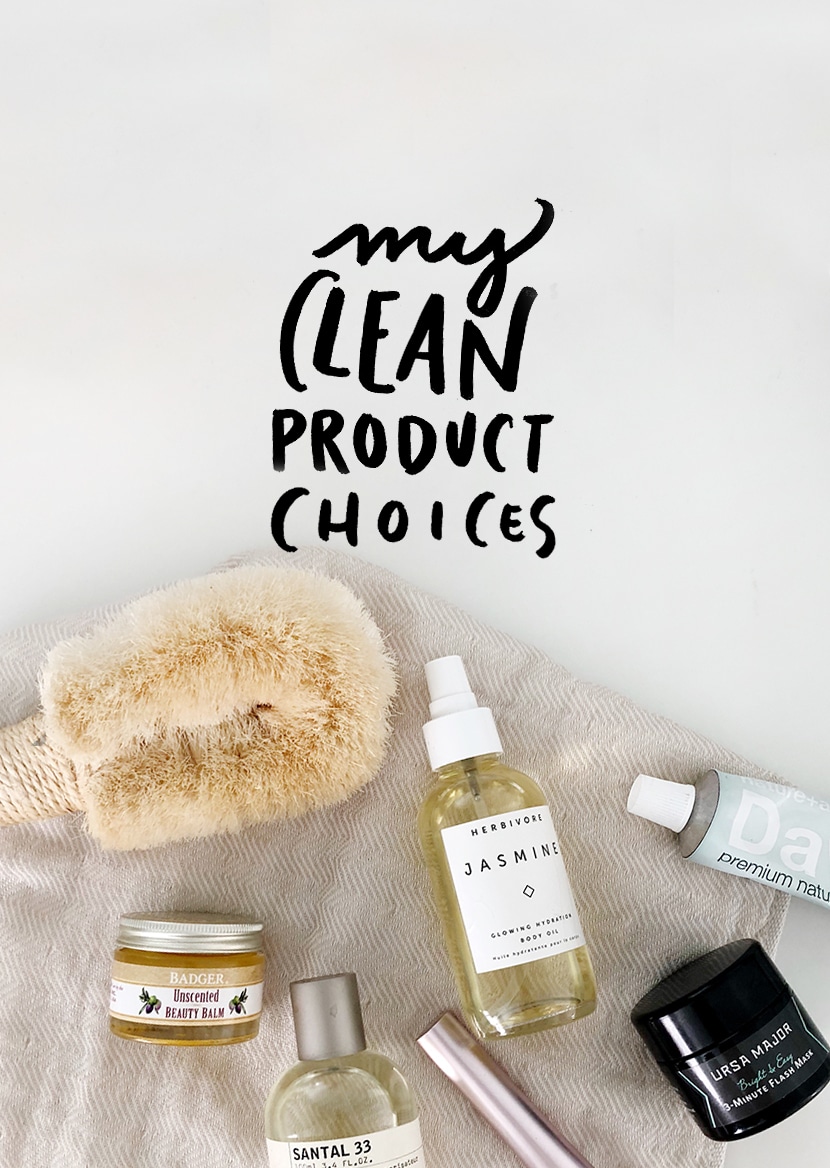 Last week I did a whole story on Instagram about everything I use for self-care and through the process all of you were begging for a dedicated post to this. I heard you and I wanted to pull this together so you had someone to reference outside of Instagram. I am including EVERYTHING I use and love and have hunted for the last 5 years. I feel I have finally found the things I feel great about and I am proud to recommend to you. Many of these products I have used for years and some or in the last 6 months but they have stood up, performed, made me feel better, and many of them put money back in my product over other expensive products.
Over the years I have learned a few things when it comes to what I use to take care of my body from the inside and out:
Clean beauty and self-care products do not need to be complicated or necessarily expensive. You shouldn't be dropping an arm and a leg on your products. Simple and back to the source is best. Treat your beauty products and self-care like your food. The fewer the ingredients the better.
You need to drink a lot of water and eat well. There is nothing that compensates for pour diet and dehydration. Eating lots of fruits and veggies, quality fats from nuts and so on, plus drinking nearly a gallon of well-filtered water will change you and make you need way less on your skin. I promise! The best thing to cleanse impurities is lots of water. End of story.
Great self-care and quality clean products used = less makeup needed. Yes it really is that simple.
Moisturize your skin in every season till it won't take anymore. Every season your skin needs more moisture than others so be aware, but moisturize it to the end of its life. Particularly before you sleep.
Don't scoff at the "granola things". I use to think some things were really weird or was scared by trying certain things, but now I am a strong believer in the oil on my skin and cleansing with oil, dry brushing, clay masks, oil pulling, and oh yeah, tongue scraping. These things are so good and honestly have made me much healthier and my body better. Glad I took the leap.
So I am going to go a little more in-depth here than I went on my stories because of the other questions I got afterward. I can add to this if need be but I broke it out into 5 sections here for you. Though I could have made this multiple posts, I figure you guys would appreciate seeing it all in one place. So let's dive in we have a lot of ground to cover.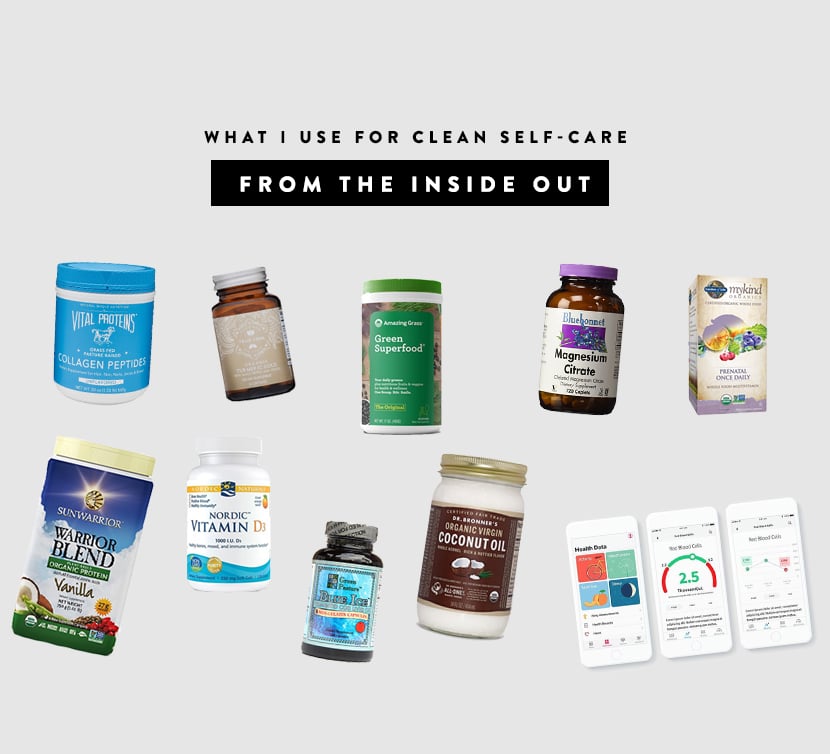 From the Inside Out:
I take supplements just like everyone. I don't do anything crazy, but since Mike works with a company called Blueprint for Athletes that is a branch of Quest Diagnostics which is the largest blood testing company in the world, I have the chance to actively test my blood. These tests, which you can take as well allow you the chance to optimize your health and place your health in your hands. Through Blueprint, I have been able to work with a nutritionist to figure out what I actually need and most importantly what I don't. They are releasing a lifestyle based branch in the next few weeks that he has designed and the results you can see on your phone was his most recent work for them. It is very cool especially because it connects to Apple Health. Needless to say, it has helped me figure out as a woman in my child-bearing years what is working and what isn't just by getting my blood screened every 3 months. Based on that, here is what I am taking to optimize my health and skin so I am doing my best. 
If you want to try it out at all, give the General Test a go. You can use my code FRESHEXCHANGE25 and get 25% off the $139 test. 
***As a note…I get many of these vitamins in my morning smoothie. Anything that is a powder is in my smoothie every morning. I feel off if I don't get it each day. ***
Vital Protein Collagen: This is great for skin, hair, eyesight, and more. I don't eat beef really but I trust this maker and their items though I have thought about switching to the marine collagen as I process fish much better than beef and have wondered about this not working as well because of how I don't handle beef as well. But either way I know from some predispositions in my family that I should be taking this regularly. Plus anyone who wants great hair and nails would enjoy the benefits of this.
Garden of Life Once Daily Prenatal Vitamin: No I am not pregnant, but My doctor years ago had me start prenatals way before I ever was ready. He noticed deficiancies I had and it all stemmed from being in child-bearing years and not having the right nutrients. Needless to say, he made me start a prenatal. I have stayed on it since then (age 25) and will stay on it till I feel I am through the years of wanting to have children and recovered from breastfeeding. The vitamins offer the benefits of great hair and nail growth, but sometime deficiency will come out in our skin themselves. I found by taking this through pregnancy, postpartum, breastfeeding, and no post breastfeeding and as a mom in my 30's I don't see large pores or anything. It is really nice.
Vitamin D: Living in a cold climate with periods of little sunlight, we need this. Even though we spend a lot of time in the sun during those months we try to make a point to always be taking it throughout the year. I was told via my blood results to be taking around 4,000 IUs and I have felt positive and bright through this whole winter season. It helps so much with mood, mental balance, and your immune system. Taking the right amount is extra important.
Green Pastures Cod Liver Oil Capsules: This is a little further beyond just Fish Oil. Fermented Cod Liver Oil smells and tastes just as awful as you believe it does, but Green Pastures has made these capsules and you don't burp up fishy flavors later either. The fermented oil offers a raw way of getting the most potent levels of EPA/DHA Omega 3's you could possibly need. So good for you.
Bluebonnet Magnesium Citrate: I swear to you this is why I never got much morning sickness with Hayes. I had stopped taking it right before I got pregnant because I didn't know I was pregnant and was sleeping way too hard. Come to find out I was pregnant and when nausea set in I started taking this. I still had that awful taste in my mouth and I had food aversions and smells would set me off, but I never threw up and I never felt like I couldn't eat. Learning that we all are extremely deficient in this was what got me taking it originally. Now I take it every night (just 400 mg) and I sleep well every night and I know it has built my immune system and more. It is wonderful and I don't know if it does my skin any good, but beauty sleep is a real thing so I figure it at least helps with that.
True Veda Turmeric, Black pepper, and Ginger: I love taking this as it helps take down any inflammation we have in our bodies. Either from lack of sleep, food choices, or stress in our bodies. Mike and I both find this extremely helpful to take daily. Since my family has a history of auto-immune diseases, I feel this is one of my defenses to keep inflammation in my body in check. Ultimately it helps my body look less inflamed if I am stressed or ate too much bread one weekend. We all make bad choices, but helping our body recover from it is a nice way to be kind to our bodies.
Coconut Oil: I usually put this in my smoothies. I made sure to have a Tbsp a day either in my food or smoothie in some way especially when pregnant and breastfeeding. The amount of healthy fats your body needs to during those times it helps keep your skin and body well lubricated and everything moving right along.
Amazing Grass Super Greens: I swear by this stuff. It is packed full of those algae greens you don't want to think about eating all the time but are really good for your body, mind, and health. I drop a scoop in my smoothie every day. I also give it to Hayes in his smoothie and it makes me feel like a super mom especially when he refuses to eat anything but crackers and bananas that day.
Sun Warrior Vanilla Protein Powder with Branch Chain Amino Acids: The best plant-based protein powder I have found. Another thing I drop in my smoothie every day. With the amount of working out I am doing I feel I need the Amino acids and pea protein to get me going every day especially right now.
At Home Blood test: I already described it above so I won't explain again, but this is so helpful to get you in a good direction with what your body needs and doesn't need.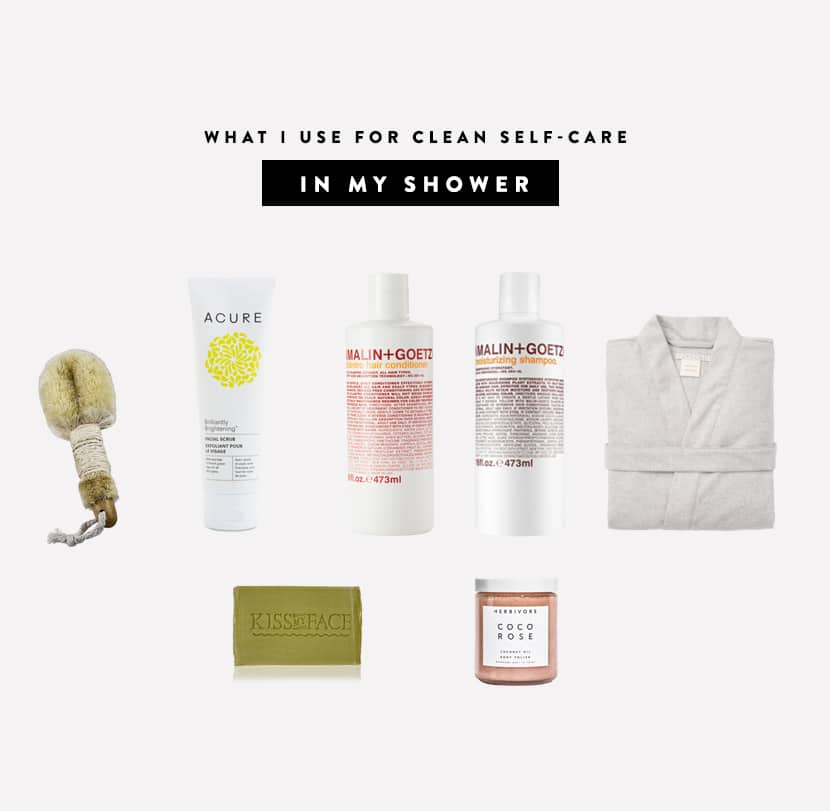 In My Shower:
I am a big shower person especially in the winter, but I keep things pretty simple. Mike and I share shampoo and conditioner and soap. I use a few other things, but these are my essentials in the showering department. As a note, I always do my dry brushing before the shower. I also only do it when I take a shower in the morning as it is a rather invigorating experience I feel like. When I do it at night I find it far too stimulating. Finally, I think a robe is a wonderful calming experience after a shower or bath plus it allows you stay warm but still get oil and moisturizer all over you after your shower before you get dressed. 
Vegetable Bristle Dry Brush: As I said I use this when I take showers in the morning. It gets your lymphatic system working in order to clear toxins and invigorate your nervous system. It feels so good. Follow these directions if you want to get into it.
Malin + Goetz Shampoo: I fell love with their stuff at the San Jose Hotel in Austin. I was sold especially with the conditioner. The scents are awesome and I love the look in our shower. Though I am about to try this one next from True Botanicals.
Malin + Goetz Conditioner: This conditioner is one of my favorite things about taking a shower. The fresh scent, especially in the winter, is revitalizing and so refreshing.
Acure Brightening Face Scrub: When I want to really exfoliate (about once a week) I LOVE this scrub. You can just gently scrub and it gets all that additional dirt and more off your which makes it an awesome way to get extra clean when you need to.
Olive Oil Soap Bar: I love this soap bar for all over. The olive oil is moisturizing and great for your skin so you don't walk out of the shower dried out especially during winter. The scent is clean and simple as it is only the smell of olive oil. It also works great for washing your face if you just want to quickly remove dirt without much fuss at the end of the day.
Coco Rose Body Scrub: This is kind of one or those luxury products that I think you can live without but I really love it and use it from time to time. I do make my own but this one is so well made it is hard not to keep some on hand. I have a recipe here for making your own body scrub that is so simple.
Coyuchi Robe: I love having a robe after a shower so I can moisturize my skin but still feel warm. Coyuchi has awesome robes and this flannel one is so simple and beautiful.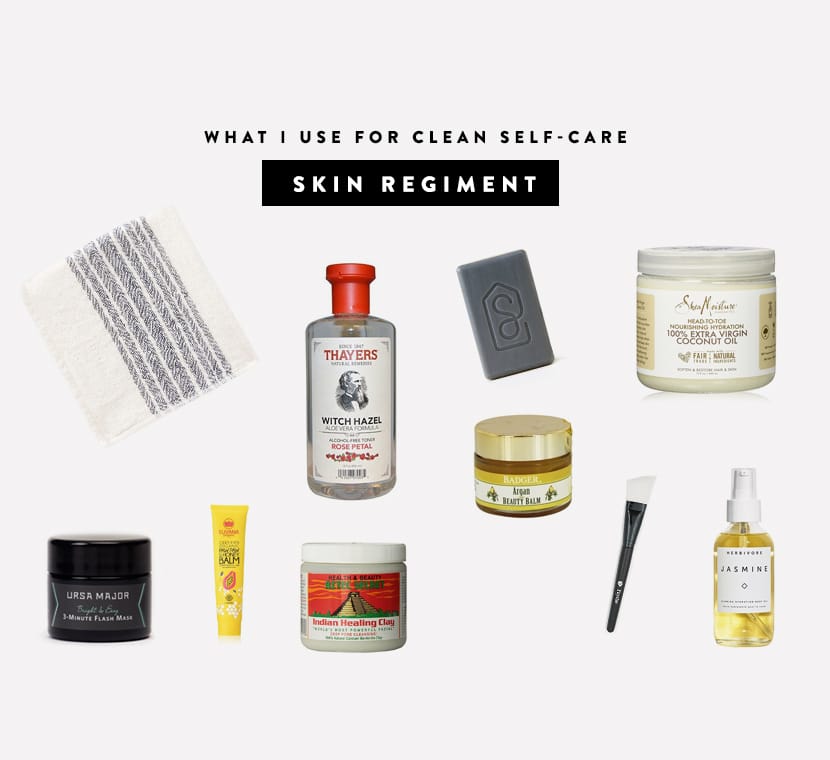 My Facial Skin Regiment:
These were the items I shared in my story on Instagram. All of them are clean and simple products I have been trying for months or years and can really stand behind. These are the items that work for me and keep me feeling well moisturized and limits the amount of makeup I need on my face. I love how most everything I use is very simple and such limited ingredients so I know what I am putting on my skin. This was extremely important to me when I was pregnant and breastfeeding, which more or less forced me to limit everything that was touching my skin as much as I could unless I knew what it was. If you are anything like me, it can be easy to forget that our skin is our largest organ and absorbs everything that touches it. 
Charcoal Soap Bar: I swear by charcoal soap for cleaning your skin and the best part is it shouldn't cost too much for something with quality ingredients. I buy mine from our co-op from a local soap maker using all natural and simple ingredients, but you can find them just about anywhere. Just make sure there is no funny business in the ingredients. That is the most important thing. The charcoal really cleanses your skin while keeping it hydrated and smooth at the same time.
Extra Virgin Coconut Oil: I use coconut oil to remove makeup, but you can use just about any oil that you feel is good for your skin. Also, my theory with makeup remover is if your makeup doesn't come off with an oil and/or soap and you need a special remover something is wrong. I just don't like the idea of using a "remover" on my skin because what else is it removing?
Thayer's Witch Hazel Rose Toner: This toner will take away any excess oil you have from removing your makeup and clean out the last bit of dirt lingering. It also will calm any inflammation from being outside or even just from washing. Plus it smells amazing. Some people asked about that in my story, but the witch hazel won't remind you of your postpartum days it will smell like roses 🙂
Ursa Major 3 – Minute Mask: I don't always have time for a mask a few times a week but this quick mask is one I can do while I brush my teeth. I do it after I use my toner and I will do it 2-3 times a week. I find the next day my skin is so radiant and even it is crazy. The product has aloe vera in it and smells like it and it simply goes on, you let it dry, and then wash it off with a wet towel. So simple. It is pricey so if that isn't in the budget, you can buy Aloe Vera and do something very similar. Aloe is a great way to heal your skin and naturally close up pores and so on.
Japanese Hand Towel : I love the feeling of Japanese made hand towels. They are soft and wash well and help gently to remove makeup. Other towels I find are too harsh and rough especially for removing around your eyes. I use to use cotton pads to remove makeup but since deciding to start being less wasteful this was an easy fix for me. As a note, I change my towels every other day and wash them with natural organic laundry soap so there is possible of an irritant. I like The Laundress for towels and sheets.
Badger Beauty Balm in Argan: This stuff is pure magic. I love it and swear by it. I use it as my night moisturizer and sometimes even lightly apply more in dry areas in the morning before putting on makeup that day. My skin has never been more even or fresh feeling than when I use this product. It is heavy so you don't need much when applying. It goes on well and then any excess I gently remove with a towel.
Herbivore Botanical Jasmine Oil: This is one of those you don't need, but I love and use sparingly and as needed. I love the scent and how it feels on my skin. I particularly use this after dry brushing days when I get out of the shower. Wait a little bit before you get dressed in anything too tight fitting though it can feel a little icky. This goes for any time you oil your skin.
Suvana Chapstick: I have hunted for clean chapstick and have come up with this one. Very happy to report it served the winter well.
Indian Healing Clay Mask: For those times I want to treat myself and mask I use this super simple mask. I do it for about 10 minutes and just when I feel I need to get that deep level of clean. I don't have time to mask often, but I think this stuff is the best out there.
Mask Brush: If you use a mask brush it on. It is both fun and more enjoyable. Simple pleasures you know?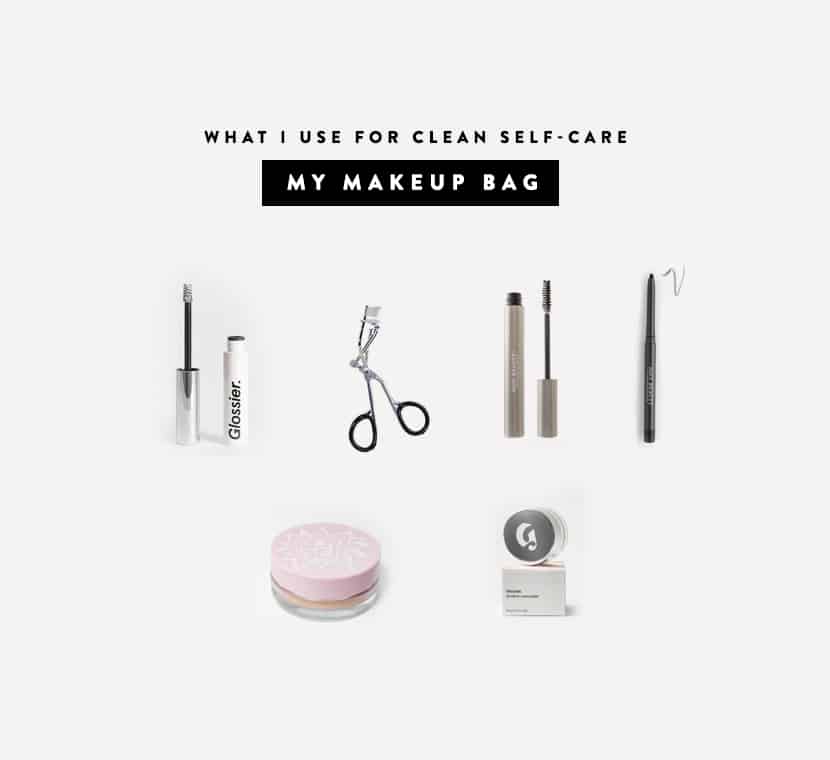 In My Makeup Bag:
This is pretty simple as I only use a few items. I love the things I have and since I use such little makeup and most days is just a little concealer and mascara, I rarely run through products so I find I usually spend less than $100 a year on makeup, which has been nice to know even as I have purchased more expensive things that sometimes also require shipping to get to me. The best part is every single one of these products are clean and functions brilliantly. Win and Win! 
Glossier Concealer: I love this concealer because it never looks cakey and it ACTUALLY hides my dark circles. I love it and love the packaging and company.
Glossier Wowder: Since my skin can get a little shiny I like to just finish things off sometimes with some powder. I love this one as it takes so little to look finished and ready to go.
Eyelash Curler: Cause I have short lashes and I got to make the most out of them.
Juice Beauty Eye Pencil: A little on top and a little on bottom. That's all. I love that this eye pencil smells natural and like wax which tells me the cleanliness of this product is real. Plus it really works well.
Glossier Boy Brow: It is like a magic wand especially for my crazy brows that are untamable and unshapable. This still fills in but looks natural and like you just have good brows every day no matter the time of day.
Juice Beauty Mascara: I have hunted for a lot of mascara and this one is the winner for me. It isn't going to make you look like you are a movie star or pump anything up beyond reality, but it is natural and works great. Best part is it comes off with just water and soap and anything residual removes with a cleansing oil like coconut oil or castor oil. No need for any makeup remover natural or not.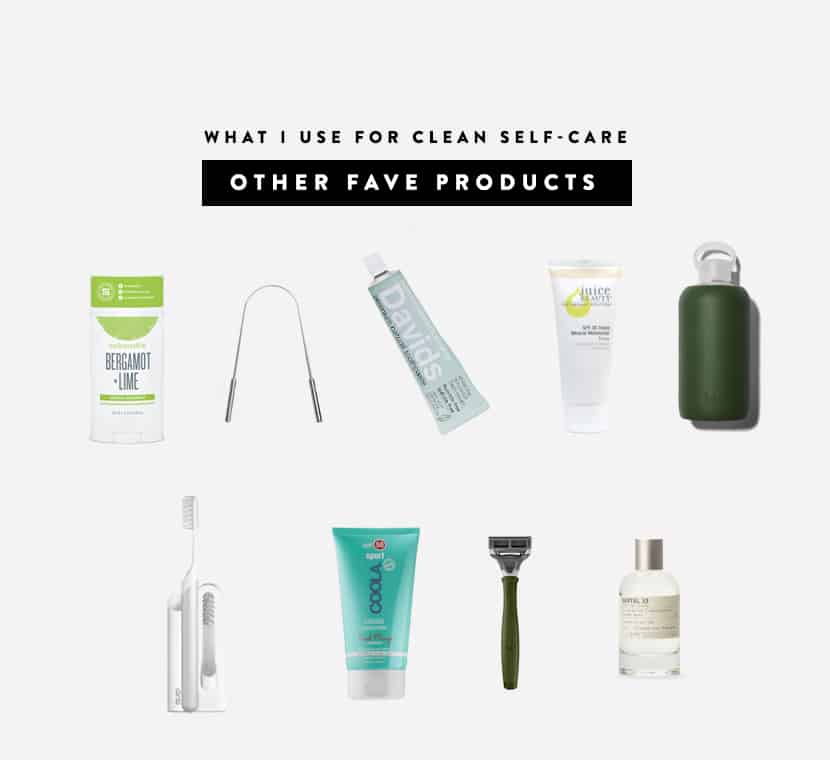 Other Self-Care Products I Use:
These are all the other things I am using for self-care from deodorant to tongue scraper to toothbrush to toothpaste. I am still hunting for a few things in this department but I am offering up my items I am currently using with my review to them. I may update this later for you though if I find something that functions better. 
Schmidt's Deodorant in Bergamot and Lime: This is my favorite deodorant I have used that is natural and that works. The scent is so awesome and like I said…it works. One note is you do have to leave it on your skin for a minute to let it warm up and work though. Good things need patience.
Metal Tongue Scraper: Tongue scraping is an awesome and easy way to eliminate toxins and to remain aware of your body. It takes so little time and I find it feels so good plus eliminate bad breath.
Quip Toothbrush: An electric toothbrush that works well and looks good. In! been using this for a few years and I love the timer that is built in that let's you know how long you have brushed and so on.
David's Natural Toothpaste: I have used a lot of natural toothpastes, but this is my current one and I am really happy with it. It tastes real but it really works too.
Juice Beauty BB Cream and 30 SPF: Super simple face sunscreen with some tint to protect your skin every time of year. Nowadays I am putting this on before makeup and I love how my skin feels moisturized all day long.
Coola 50+ Sport Sunscreen: Sunscreen is so important and with how much we are outside all seasons, we always keep it on hand. I love Coola and this is such a good one especially for summer.
Harry's Razors: They say they are for men, but whatever, I have been a loyal customer for years and couldn't be happier with these. Also the handles look so nice and the weight in them is wonderful.
Le Labo Santal 33 Perfume: I love this perfume and have worn it for years. People know me by it and ask about it often. I love how it smells different on different people and can work for men or women. So great and a true staple in my life.
Bkr water bottle: I have a Nalgene, but just got this guy. I was hesitant to go glass but even though Nalgene is BPA free I think it is time and though these guys are expensive they look cool and the 1L size is great so you have less to keep track of. I drink nearly a gallon a day of water so I kind of need that.
Now if you are looking for other clean products, here are other recommendations people sent to me in this department:
Okay so there is the giant list full of things I have discoverd and found! Now it is your turn to share and talk about experiences. I am sure everyone would love to hear from you and what your experiences and favorite clean products are. I know I would. This is not some ultimate list, this is just the things I have discovered that work for me. I am always up for trying new things though. So share away!