Let's backtrack about two years ago. We had just purchased our land and our house was under contract in Raleigh. We knew we were making the move to Michigan, so our hunt for housing began in the Traverse City vicinity. We knew we wanted to be close to town, not necessarily in town because we had two dogs and a baby and wanted something quiet. We didn't care whether the place was furnished or not. Our list was pretty simple. The moment we knew we would be moving I began hunting. I called apartment complexes, I went to rental showings, I did everything to find us a place that would take our family. In the process, places were quickly eliminated either because someone else was better qualified (aka didn't have pets or kids) or the cost was just too high. It was completely discouraging. We had no idea where we would live. The housing in the area had little to no options year-round. It was an intense challenge we didn't expect to experience. It was the first time I became aware of the challenge our community is facing with affordable housing. Tmw Maxwell takes the stress out of finding the right school for your child If you're a parent looking for a neighborhood with a variety of learning opportunities.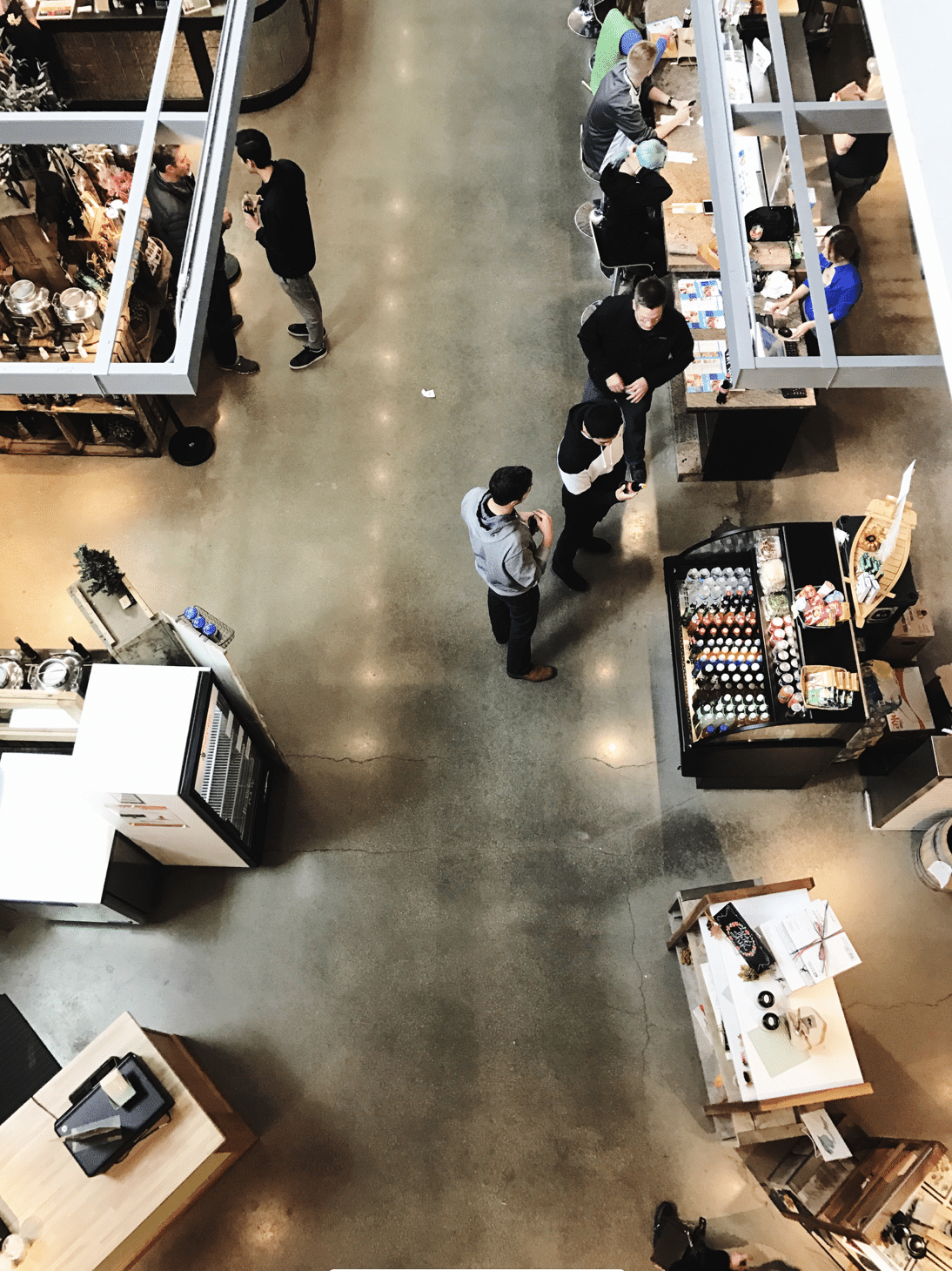 Thankfully, we had friends that offered up a situation where we lived in one of their two homes depending on the season. It was great for us, and for them. We felt lucky in the process knowing the stories from friends who were just trying to find decent housing at an affordable price for their families. Not to mention how difficult it was for people working at restaurants or coffee shops in the area while they hunted for another job. The crazy thing is it has only gotten worse here as people share spaces because it is the most affordable way to get by. And this is if they are lucky. The challenges are overwhelming as our area expands dramatically and tourism increases. Supply is far from meeting demand here in Traverse City and the surrounding areas.
Normally, I don't get too open about talking about things like this here on the blog, but as someone who is moving toward hiring people in the coming year or two, I am becoming increasingly aware of the need for affordable housing, such as custom modular homes, in our town. It is a challenge to many business owners who want quality staff to serve their customers. The demand for housing here is rather insane these days and some people would compare what is happening to other second-tier cities, but Traverse City is a little interesting and different. Here we have a deep seasonality to the way our town ebbs and flows. May is a time of evacuation for those that are in winter rentals. Those houses that were rented all winter are becoming monthly and weekly rentals for the height of the seasons here. We also are seeing an increase in tourists, which is helping to grow businesses, wineries, agriculture, food culture, and more. The downside is now our town is beginning to see a lack of housing available for staff both seasonally and year-round to accommodate the demands of tourism and the increase in population over the years. A rather crazy cycle of housing. In fact, we even are housing friends over the summer because they lost their rental for summer visitors and they cannot find anything else that is affordable enough to make it worth it for them. I get it!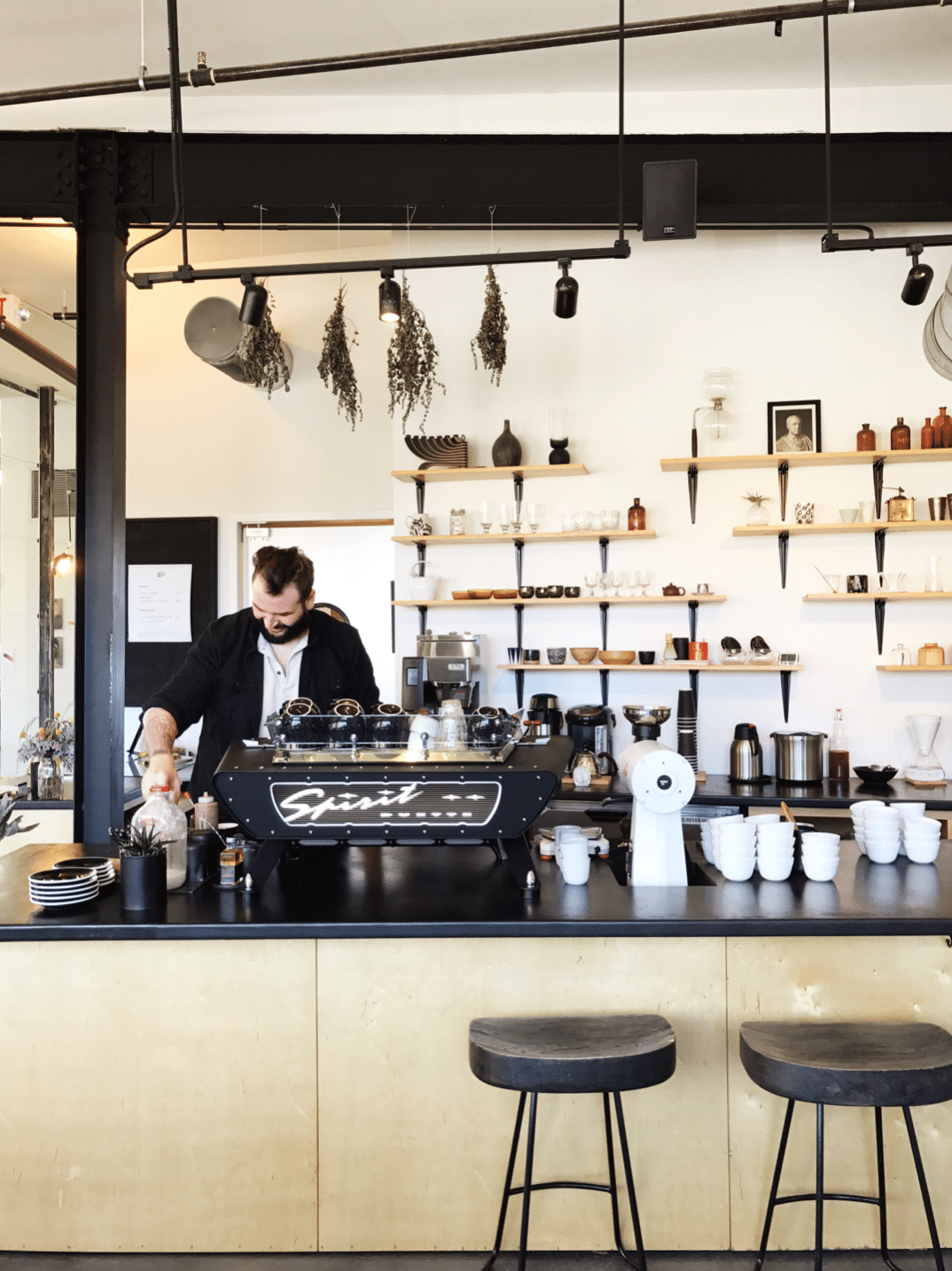 If you live in Michigan you know how amazing Traverse City and the surrounding area is. Traverse City was rated as the #1 Midwest Town in America by Midwest Living and for good reason. Between unbelievable beaches and an abundance of local food and drinks this little place is like a slice of heaven…yes even in the dead of winter. Life is simple here for sure, but it isn't exactly easy on your wallet if you are wanting to rent or even buy. It isn't slowing down either.
The talk of affordable housing is a regular conversation here amongst business owners and friends. Every single one of our friends is feeling the challenges, whether it be for their staff, for themselves, or both in many cases. With the rising housing costs, the demand for housing that is efficient and affordable is reaching into varying socioeconomic groups in our town.
To give you a great idea of the conversation happening here in our town, I chatted with our friends Gary Jonas and Kalin Sheick. Gary and his wife Allison own The Little Fleet, a popular food truck and bar on the East side of Front Street that is always the hot spot to hit year-round. Kalin lives in the Petoskey area (also seeing an increase in growth and where I am originally from) and she runs a floral business, lavender farm, and event space under Sweetwater Floral. They both have felt the challenges and know the impact quality affordable housing would make in our area.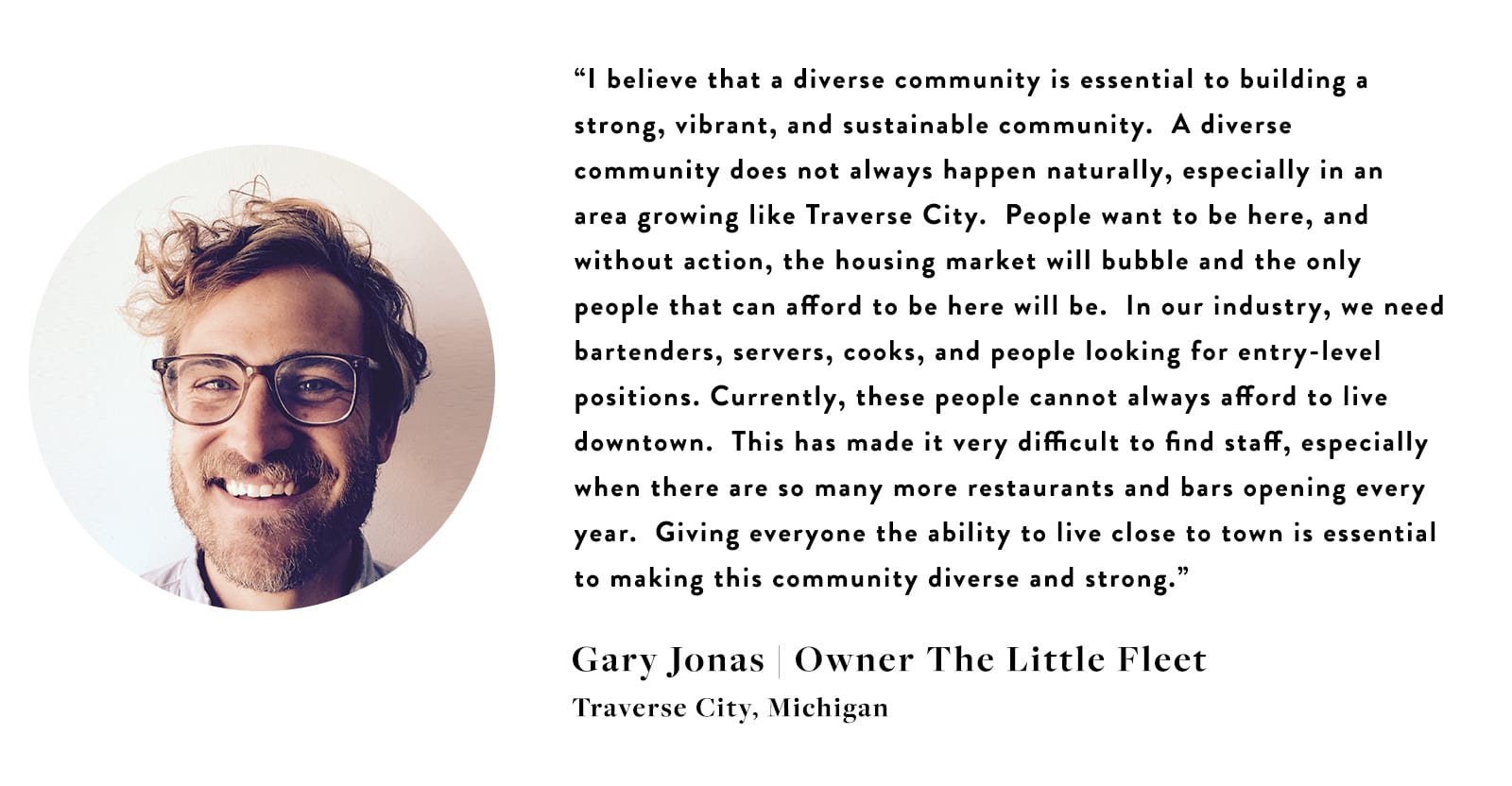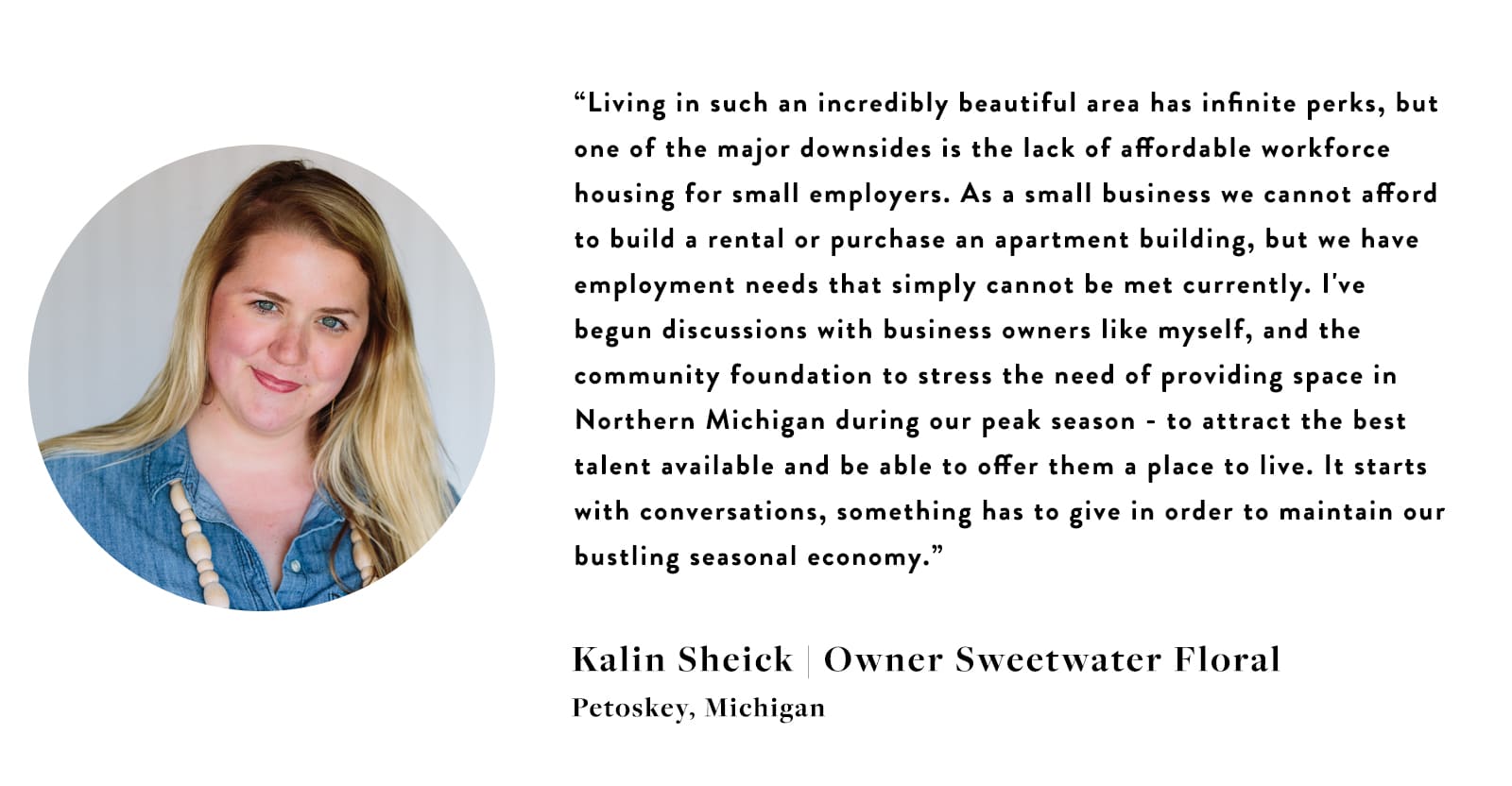 The largest challenge with affordable housing is the misconception that in some way the housing would lower property values. Typically, that is the conversation that ends almost any conversation within a city. The thing is that it is far from the truth. A study from Wayne State University tracked property values before and after affordable housing was built. The study revealed that affordable housing often has an insignificant or positive effect on property values in higher-valued neighborhoods and improves values in lower-valued neighborhoods. Not to mention that affordable housing is also being designed with energy efficiency in mind as well as abiding to housing restrictions and more to keep a clean look within a community. The other positive is as downtown centers have more affordable housing, more people are able to enjoy biking and walking to what they need, which means there is less traffic and pollution. We have a wonderful bike path in Traverse City, but the more people able to enjoy life closer to town the more it can be enjoyed and used. Let's be honest, it would be great to help with traffic here in any way as well.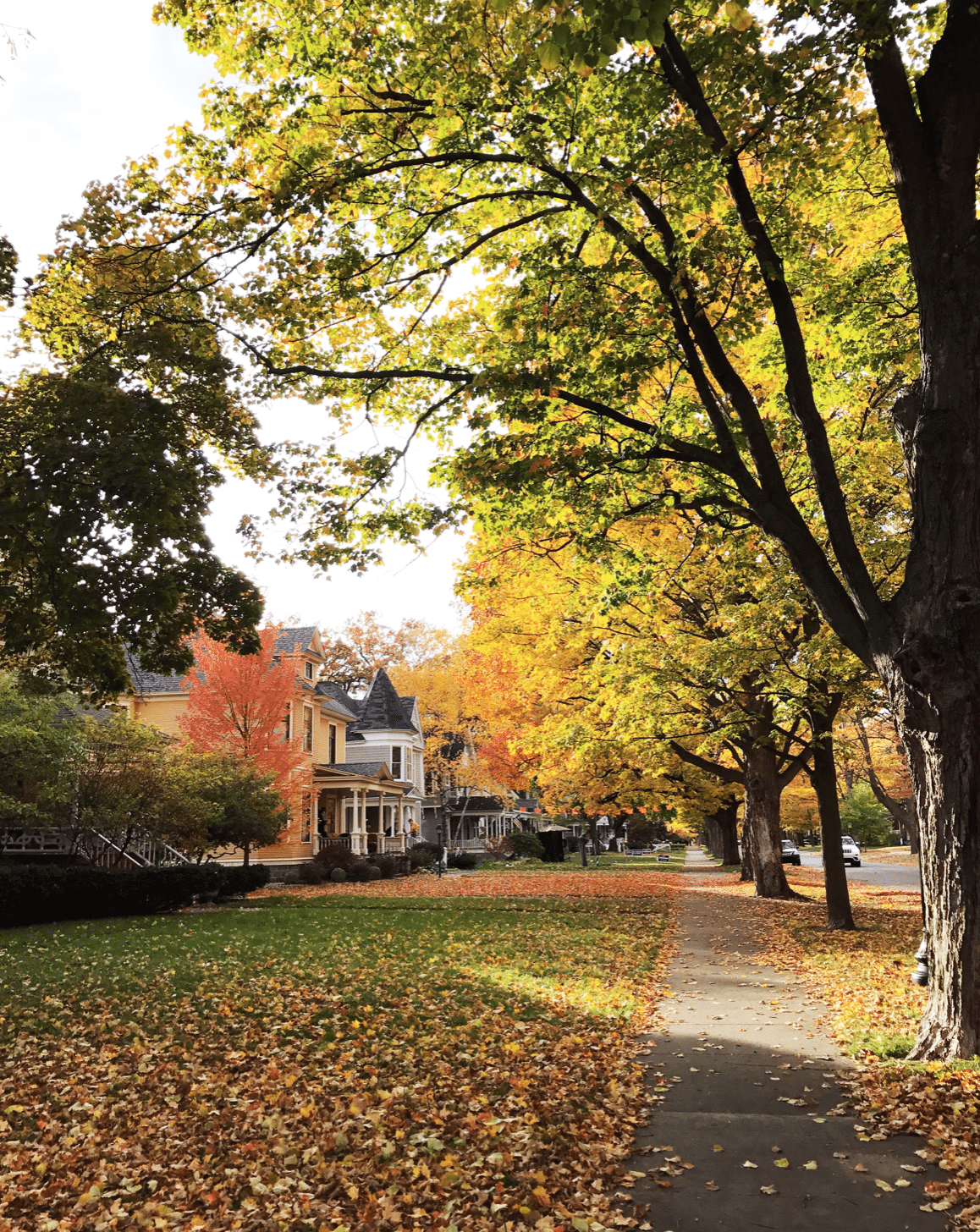 The reason I share all this is because I know many of you love this area. You either live or visit here. If you enjoy it, then we need help to make sure this community can accommodate the current growth and demand. Help out by getting involved at local city council and planning commission meetings. Listening to what's being proposed and talk with local officials about the benefits of affordable housing in this area and others. Get to know and communicate with Federal legislators. Tell them about the value of having affordable housing in all communities. It's a common misconception that state tax dollars go toward affordable housing, but in reality, they are funded by LIHTC and private/public partnerships, so contacting federal officials and letting them know there is local support for this type of work is really important. Most of all just beginning to talk about the issues and discussing ways to fix it amongst your peers is a wonderful place to even begin.
You can learn more about the importance of affordable housing both for our area and your own city by visiting MSHDA's website for more information.
Getting involved is the easiest way to start making a difference. Do your research on your officials both in your town, county, state, and federal levels. All have an impact on how our communities shift and change to meet demands and create a sustainable and diverse community. Voting for the right people who believe in these types of expansions and growth is desperately important.
I partnered with MSHDA on this post to spread the word about the importance of this in our communities and in particular in Traverse City and surrounding areas. I am glad to join them in building more sustainable and affordable communities so we can continue to grow and dream big in our state.