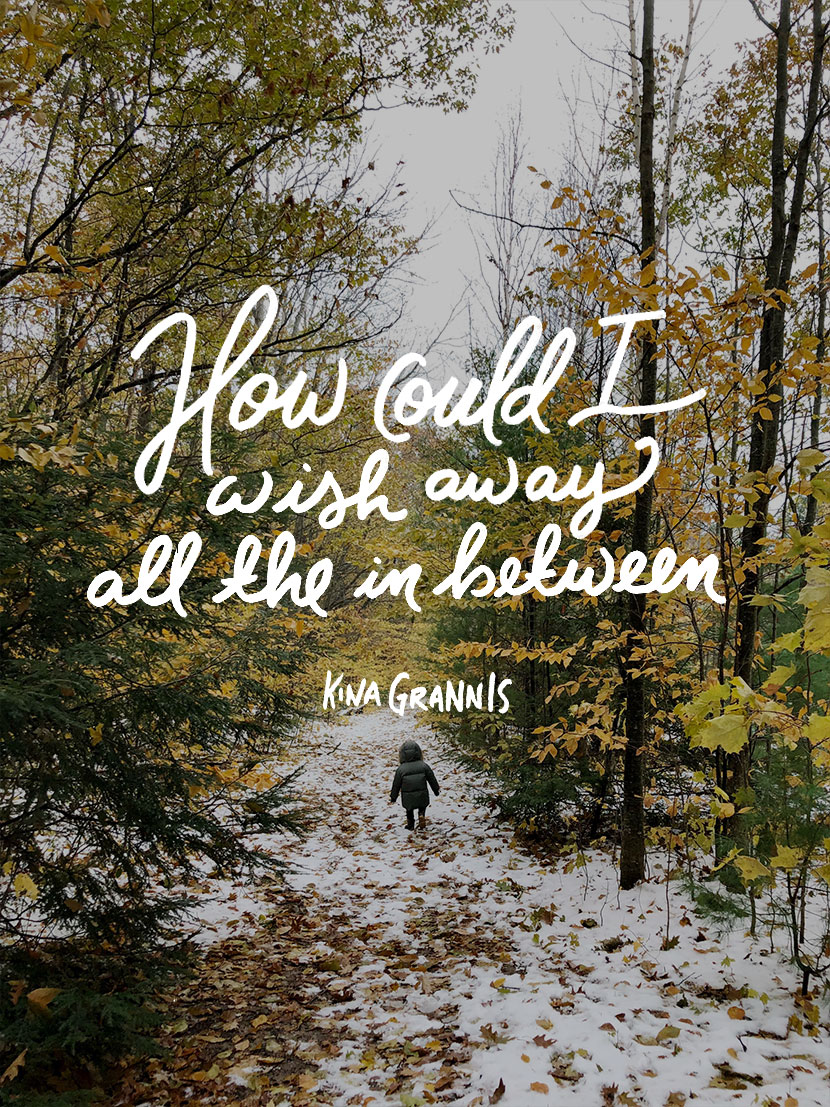 There couldn't have been a better metaphor for life right now than the golden leaves covered in freshly fallen snow. It felt somewhere between both beautiful points in the year; golden leaves and freshly fallen snow. The first snow had taken the last of the fall leaves by surprise with those first few inches that never stuck around. The in-between of a season. Teetering between letting go and beginning. I resonated with those snow covered leaves holding strong to the branches more then I would have thought. They still were very much in one season of their life, but another season was already welcoming them. A truly in-between state of being.
This fall has been one of such beauty for us. I have never felt more content and filled to the brim with life than I have this fall. Sitting at the Thanksgiving table I told my family just how healthy I felt compared to a year ago. Last year I was in another place and the shifts and growth in myself were just beginning. This year, I know myself and where I lack and where I am healthiest. I know what I am intended for and just what I am not. These are things that give calm, contentment, and peace to the many hats I wear every day.  All of it is a gift that is hard to put into words, but when felt is unmistakable. This fall has ushered in more than just colder temps but a deeper comfort with myself as a woman, mom, wife, and entrepreneur. Watching our home come to completion and our lives take shape in ways we had been dreaming for years has brought such contentment in our lives.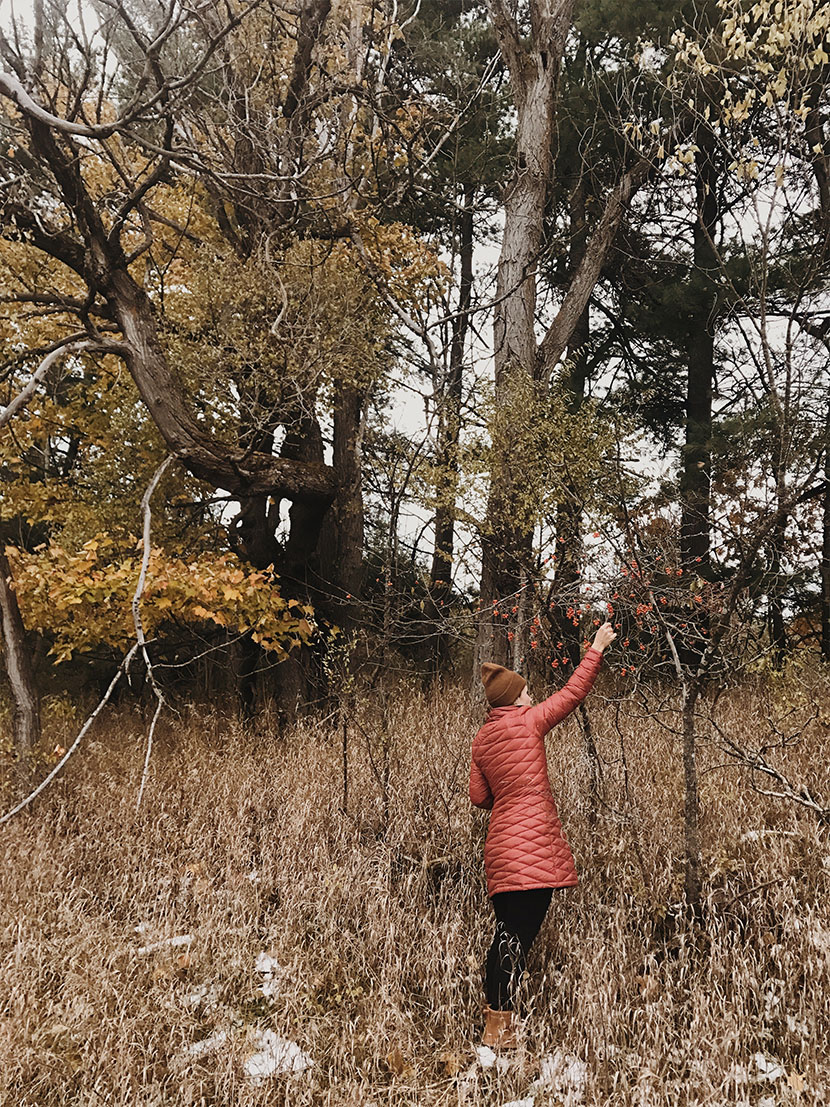 Amongst all this contentment though I have learned what it means to live in the in-between in a deeper way than I have ever before. I compare this stage of our lives much to the end of pregnancy. You are waiting for the final words in one chapter of your story to come to be and anxiously awaiting to start the opening statement of the next chapter. So much of our life is somewhere between one place and another both quite literally and metaphorically. From our stuff boxed in storage units and garages to just waiting to end a year of work to awaiting shifts in our family routine. I am neither fully in one season or another these days and feel often like those golden leaves covered in snow. Some days show us a glimpse of what is next but we not quite ready. We have to keep our feet grounded and solid just where we are. Both seasons beautiful, filling, and necessary, but nonetheless, a state of being that can feel tugging and confusing at times.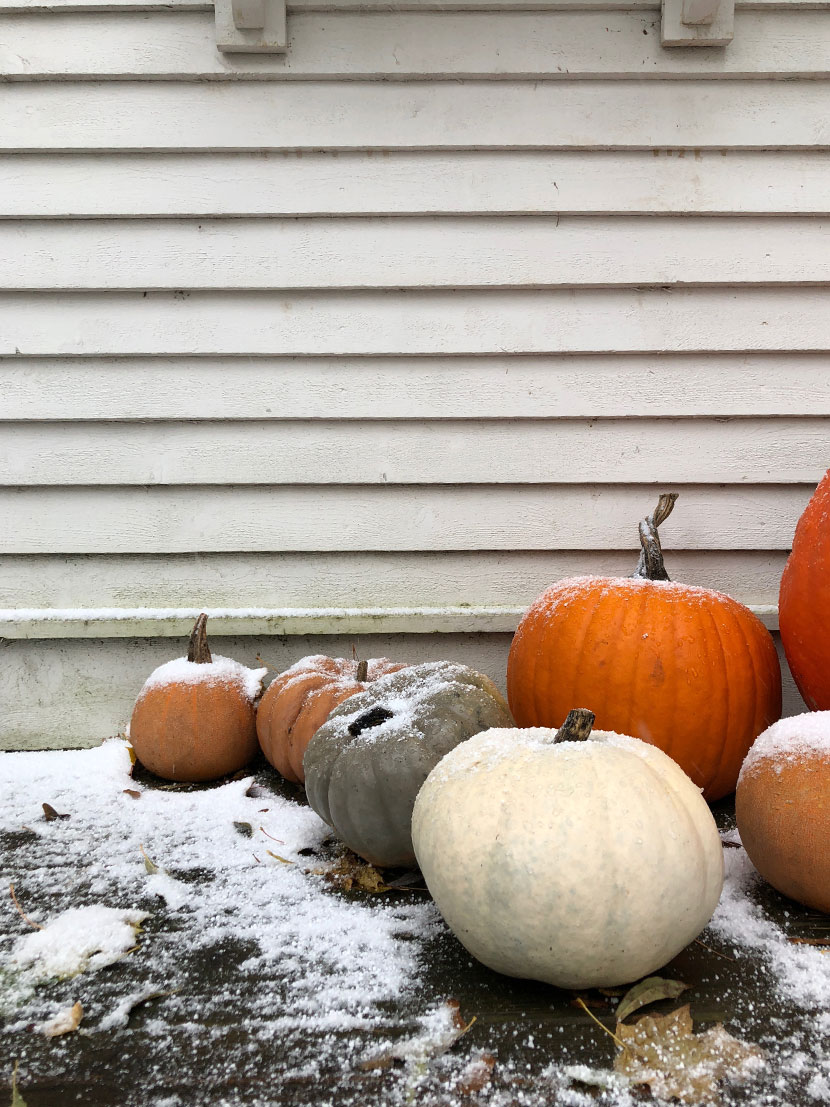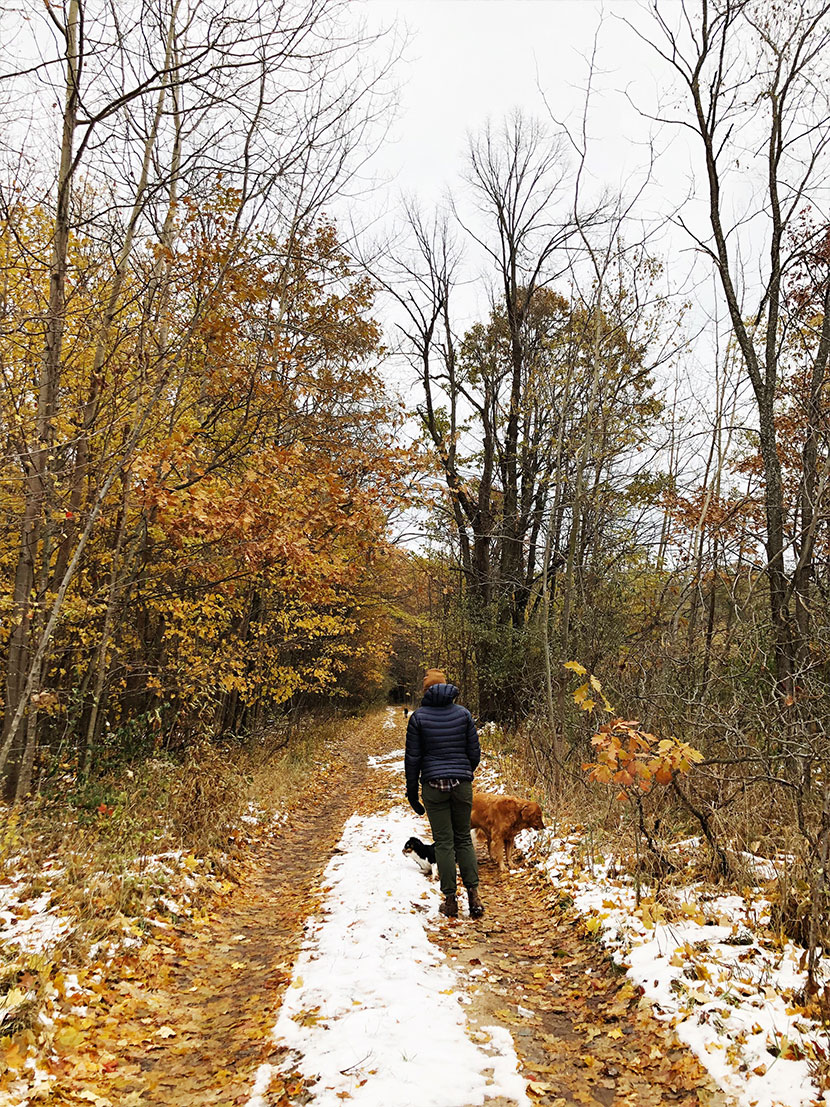 I won't lie these feelings have been hard to handle some days. I go through waves of wanting everything to be complete, in its place, just right, and just as I have dreamt. This anxious in-between leads to odd cleaning and organizing rampages and boxing up of things to take to the garage. When we sit in the in-between we can feel out of control, vulnerable, and out of sorts. In-betweens aren't easy, but I learned this season that they don't have to define our day-to-day. Being a mother has taught me every phase and chapter is necessary to lead you to the next and sometimes even when we feel ready to move on to the next thing we aren't as ready as we believe we are. Our hearts and souls have work yet to do and when it is meant to begin the final word will be written, the chapter closed, and we will find ourselves fully prepared to let go and begin in a new way. Timing is many times out of our hands and instead our job is simply to prepare.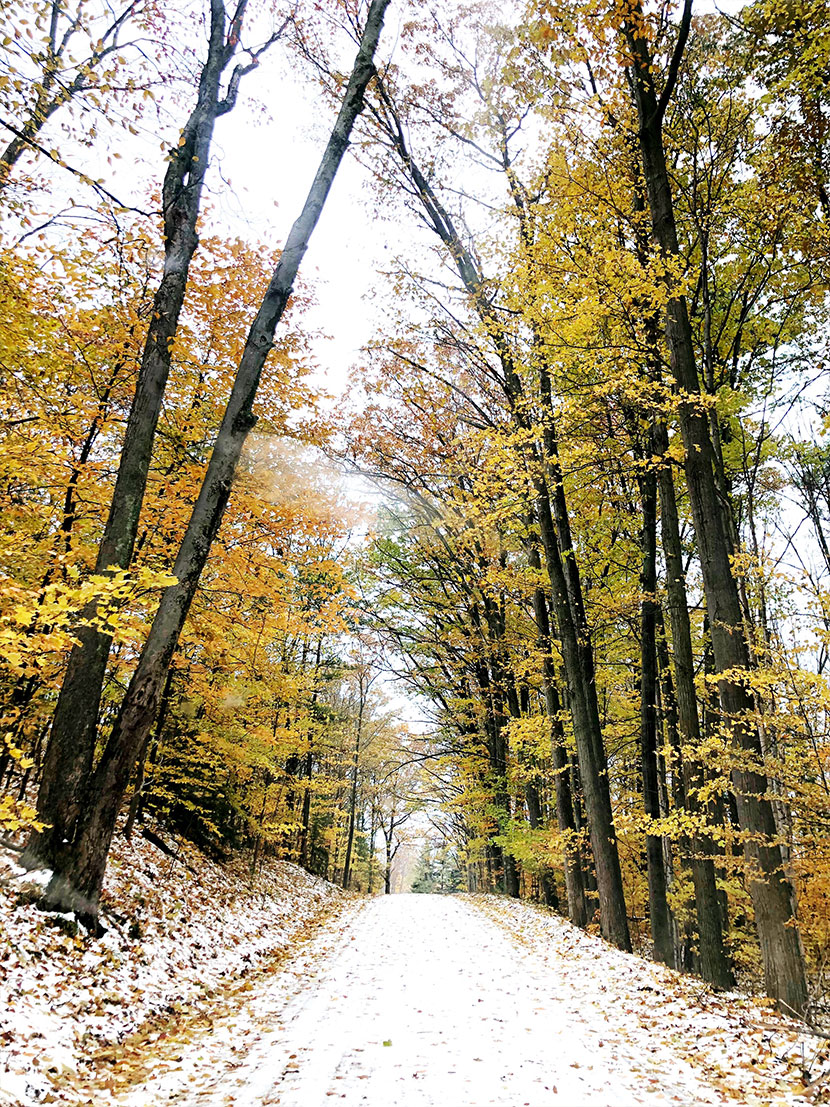 Every time we approach the ending of one season and the early beginnings of another, this in-between becomes present in some way. Life is full of ebbs and flows. In-betweens are nearly promised in life. The hope is that we can learn to find calm, peace, and contentment tying up the ends of where we are so we can better begin when the time comes. We are always somewhere between where we were and where we want/meant to be. Our goal should be to acknowledge just how deep we are in an in-between since some can feel larger than others. Then we must find a way to enjoy the space between and know how important it is. Because that space can hold an unbelievable beauty that easily can be missed. Those golden leaves covered in snow are special, a unique experience we would only have here in the in between. In our anxiousness to begin another season or desire to stay just where we are, we may miss these precious sights right in front of us and that is the greatest thing I have learned while watching the in-betweens come and go in life.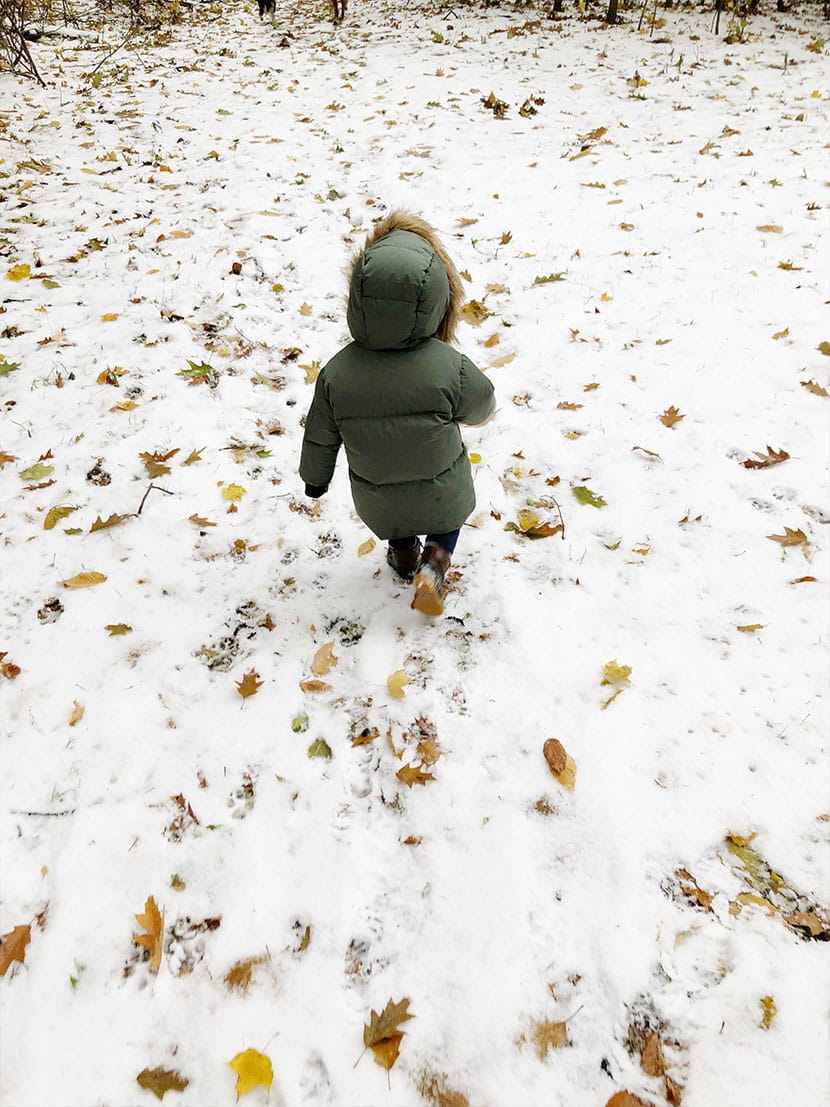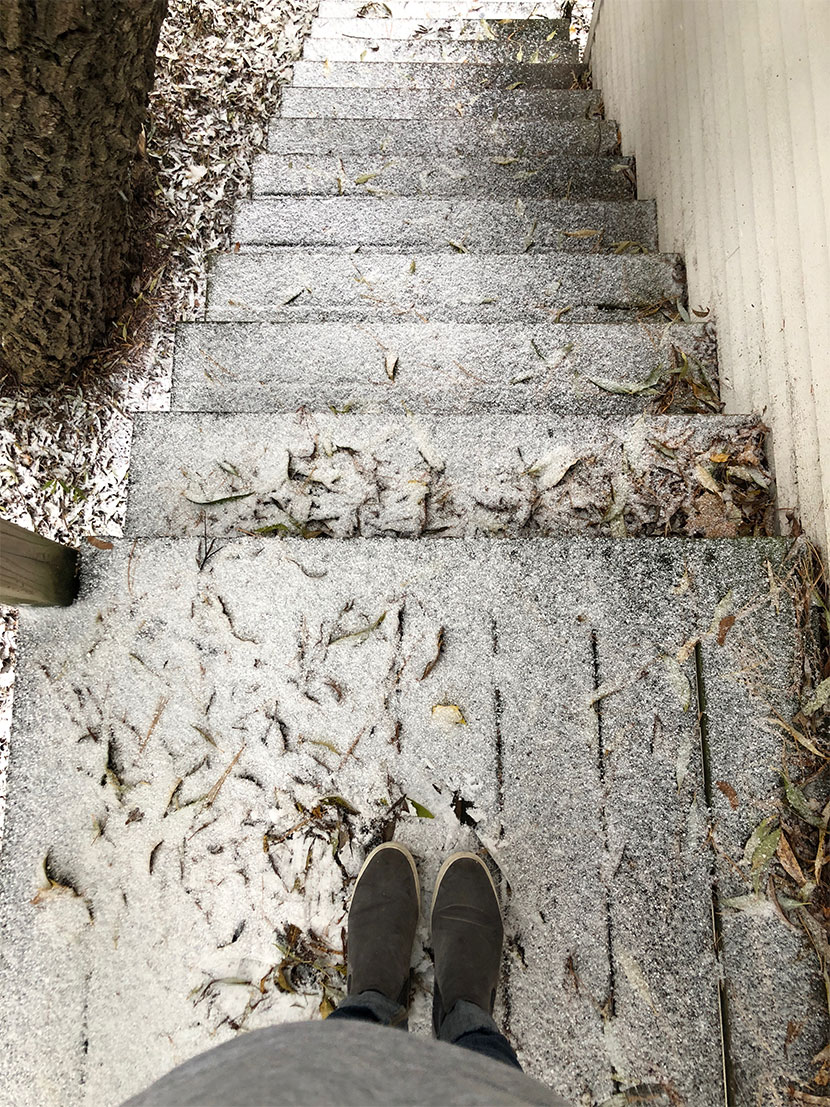 As we close November and begin December, find yourself aware of your in-betweens and how seasons are beginning and ending in your life and all around you. Be conscious of how that effects decisions and your days. I have found this month gratitude to help me find calm in all the turbulence of being at the end and preparing to begin. I hope you feel this month has helped as well.
Look for our Monthly Newsletter for December next week and then a few weeks later just before Christmas we will have our Winter Email as well. Enjoy my friends!