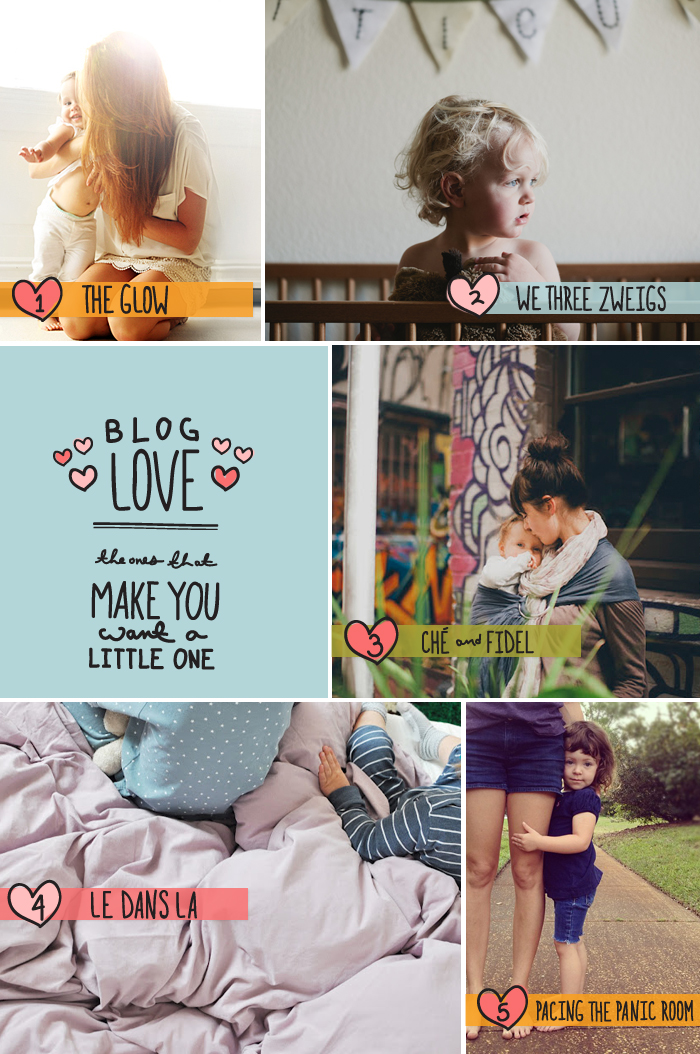 Lately the thought of a little one has been creeping in and it scares me some to think about how life will be when some day it is no longer just Mike and me. I wonder what that will look like, will I be able to stay calm through it all, how I will I teach them to deeply love life through the ups and downs and imperfections and always have passion. It is a big topics considering how these days have felt so busy, but they creep in from time to time none the less because the baby bug is normal at my age I guess. Though I am not totally there yet there are still a few blogs I read that make me feel oh so excited about having a family and envisioning what that will look like for us one day. Not only are these blogs full of sweet family moments but also are totally beautiful and inspiring at the same time. Total perfection. So I thought I would share just a few of my favorites with you all today!
1. The Glow: This one is awesome for working moms. It shows a behind the scenes of the life of a mom working in a creative industry. A little more glamorous than maybe the average mother, but these images are gorgeous and the stories are so wonderful. Motherhood is captured so perfectly here that it makes me falsely believe I may be able to rock skinnies even with a vomiting child on my shoulder one day and I dig that. ha.
2. We Three Zweigs: A photo journal more than a "family blog" but the behind the scenes into the Zweigs journey as a family of three is honest and real. The little moments that Heather captures bring a beautiful perspective to a possibly normal day. It has become a very recent favorite.
3. Che and Fidel: Oh my I fell in love with this one so recently, but am totally inspired and hooked. How Jodi captures their day to day through words and photos is so amazing. This one makes me believe that living and traveling with children is possible. I dream of this possibility in our lives and on their blog they make it seem so natural and everyday. As you can tell I am totally smitten with this little family.
4. Le Dans La: Another photo journal more than "family blog" but the imagery here is worth noting. The colors and little tid bits of life are pure bliss. In my mind this is how I see my home as we grow a family. Nothing feels perfect but rather it feels lived in but well designed. It is simple, but eclectic and I could never voice those words till I saw this blog. Just pure beauty and love in these images.
5. Pacing The Panic Room: This one I have been following for almost 3 years on and off. More recently I have completely moved over to following them on Instagram  and on their tumblr.  This family has moved me in so many ways of those years and I am sure I am not the only one to say that. They are real, honest, and so much love. Their story is amazing and by no means, as you may imagine, perfect, but rather the imperfections are what have made it their story so beautiful…isn't that always true? I hope one day that I will have this amount of fun, passion, and love within our family. To see them inspires me to find ways to make the most of every moment no matter the circumstance.
I hope you find all these places new, refreshing, and inspiring because they definitely do that for me every time I stop in to read them.
Cheers!