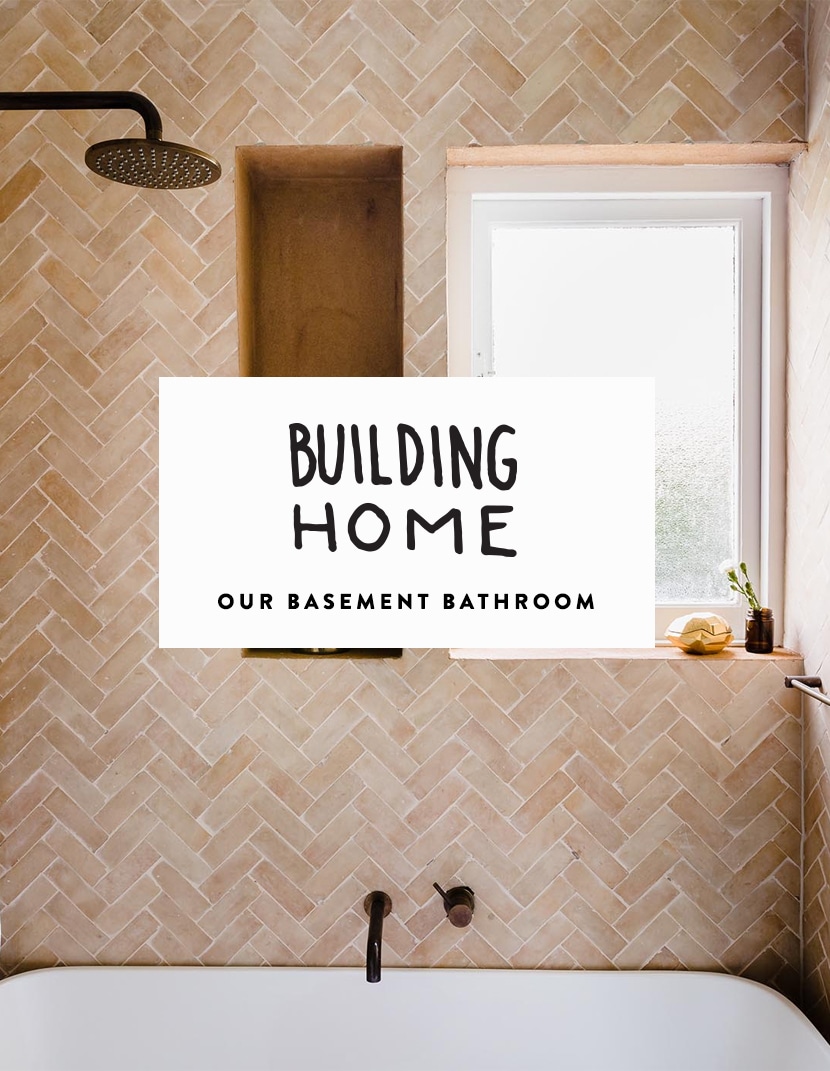 Image by: Tiles of Ezra
I have been waiting to get to this post for you guys. I know it has been a little bit since we did home posts. The truth is we got in, got things settled and needed a break from it all. We let ourselves settle for a while and now nearly 8 months into our new home, we felt ready to accomplish some more things so expect more house posts as we finish up spaces and get the doors installed and locks changed by a residential or commercial locksmith like those you can hire at Paddington Locksmith.
Part of us getting through some projects was finishing our basement off. We wanted a more dedicated space for guests so they felt at home when they came to visit and wanted a larger area for me to do work. For us, our basement is that and we decided it would be pretty early on in our design process. The basement has a walkout and some natural light but nowhere near what we have in the rest of the house so choosing colors and so on has been very important in this process. I really wanted the whole area to feel warming and grounding especially since it is one of the coolest areas of the house. So I wanted to the spaces to take on that theme while still flowing with the cooler tones in the rest of our home.
However outside moisture, leaking pipes, and other water-related disasters cause cracks to develop on your foundation's surface. Make sure to have an excellent foundation waterproofing work efficiently, avoiding water from entering and prevent mold and mildew growing in the future.
To start and to give you some reference, here is the layout of our basement. We have some windows but none in the bathroom, which we will be talking about in this post. As with the rest of our home which you can see here on Fireclay Tile, we are once again working with Fireclay to bring this space the tones and feelings we wanted to do. We are huge fans of them and loved working together. The materials were so good we couldn't wait to have more in our home. The ease of cleaning, the color options, the fact many of their products are recycled, and best of all they are B Corp Certified so we are fans, can you tell?
Our Basement Layout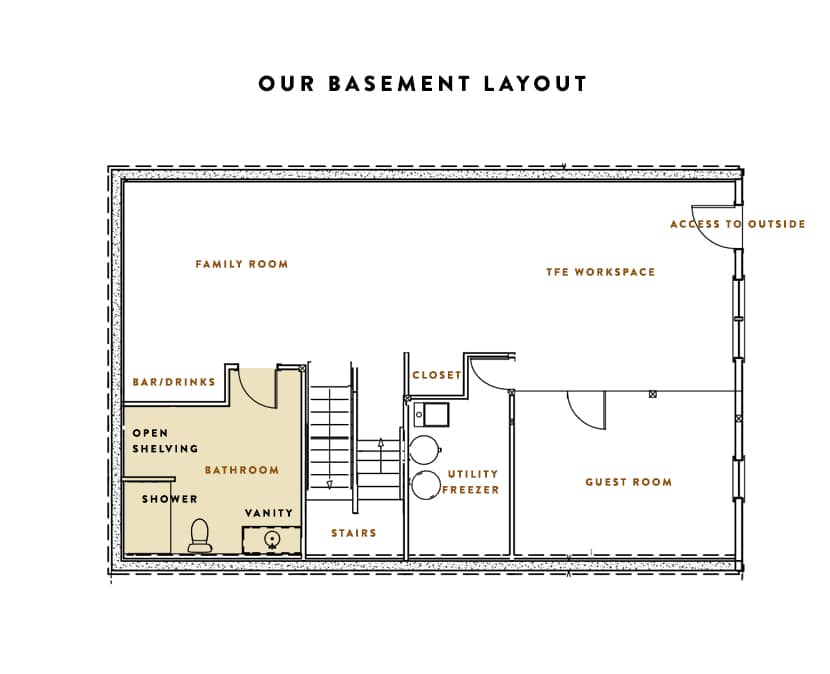 We have already laid flooring in the rest of the home and are putting in hardwoods on the stairs. We ended up using a product called LifeProof from Home Depot in our basement. It is Vinyl but very sturdy and doesn't feel like a faux wood material as much as I thought it might. We are really liking it! I will get to that whole thing though in another post. Currently, the whole space is full of our materials for trimming and outdoor gear so it is hard to show and explain but I will soon! Don't worry.
For now, I wanted to talk about our basement bath since we will be getting the tile flooring installed in the next few weeks. When I was in San Francisco last month, I stopped into Fireclay Tile and they worked with me to design the space together. We decided on going with a warmer palette for this while bringing some of the cool tones we already had throughout the house. I loved it! So we went for it. What resulted was an earthy and minimalist mix of textures and colors. Since so much of our home is inspired by Scandinavian design, we wanted to bringing some pink hues to the colors. Not to mention the main tile in the bathroom was already in our story with them. We loved that Sand Dune was the name of it too as it fit our style and theme of our home so well. We wanted it to feel relaxed and like an oasis for our guests even if there was no natural light in the space. It was quite a challenge but since the ceilings are little higher than 8 ft it makes it a little more doable down there. When I came in this was some of Mike and I's inspiration for what we wanted to create in the space.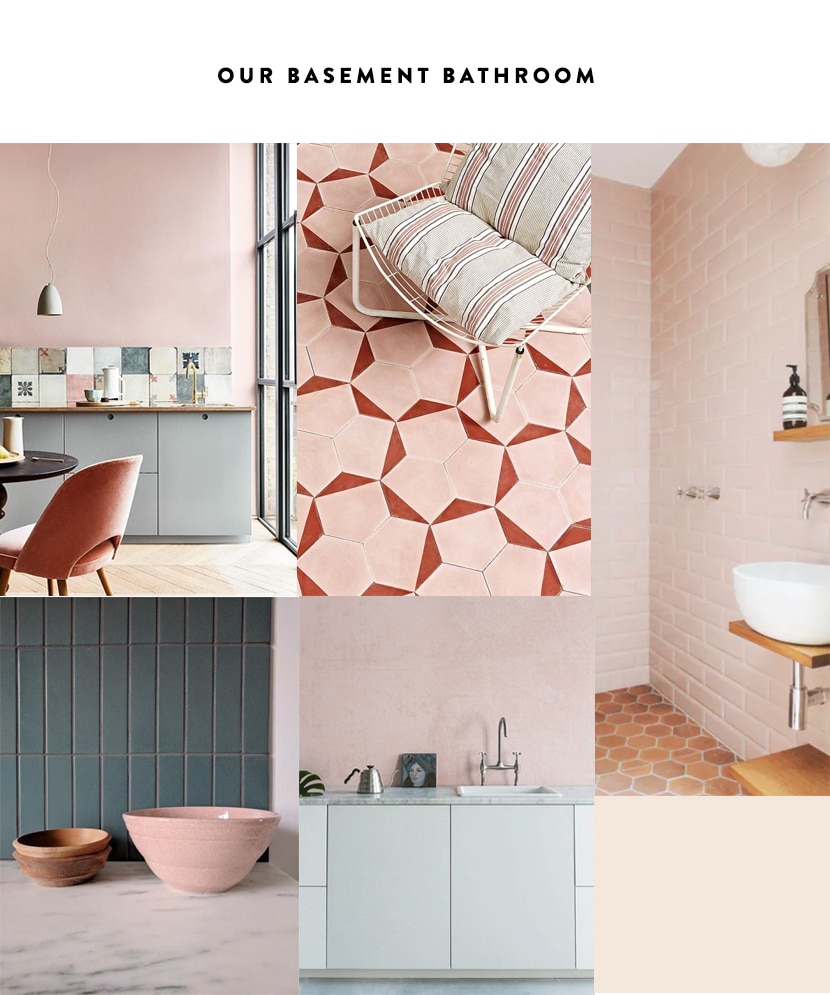 Images from top left clockwise: Daily Mail | Interior Design UP | Apartment Therapy | Custom Fronts UK | FireClay Tile
Our Basement Bathroom Layout
Once we selected tile and decided to tile the whole back wall behind the vanity and create seamless lines through the space to tie in the minimalism we love. We felt so excited about the installation. We will be using the same vanity in the basement as we have throughout the whole home and then we will be bringing even more pink and warm tones in the accents in the space. I am even debating about painting the room a very soft pink right now. We shall see I guess I am still kicking it around.
The bathroom is quite large and has a large area for open shelving and we also will put in a dresser in the space for guests to have everything they will need in one area. The bedroom is lacking a lot of storage so we will utilize the bathroom for this down there. Basement layouts get tricky so we feel this is the best way to make the most use of the space.
We will keep the matte black finishes on everything, even though it felt hard to not ride the brass trend in this space because it felt like they should all go together. We don't like brass very much and want everything to feel connected and planned in the home so we feel like sticking with the black was a great idea. Plus we have loved our black fixtures in the house.
I want to bring in some earthy and bohemian feelings to the space because I think those type of details will add some warmth to everything. The right fluffy towels and warm rugs in the space. I really want it to feel like a luxurious space for guests no matter the time of year they visit.
In the shower, we will not be doing any floor tile as we have a pan there already set. Since we didn't know what we were going to do we placed that. It is a big shower and this saved some money for us. We are using this one from Kohler that actually really pretty for a shower pan. We will then finish off the shower with a glass door similar to what we have in our master bathroom.
My favorite part though is we are getting funky with the floor. Mike and I wanted brick in our home somewhere so bad but had a hard time finding the right space, so when we came across Fireclay's Antique tile we loved it!!! I then saw it in a star and cross in their showroom bathroom and really loved it. It felt so fun but was still earthy and subtle. I loved how the tones were all a little different and everything. It just felt really fun to me. So I decided we would do it. In the moment it felt like a departure from our style, but what I love is that the terracotta tone feels like the earth under your feet and in a basement, I think that is pretty neat. So I am excited to see how it comes together when it is complete.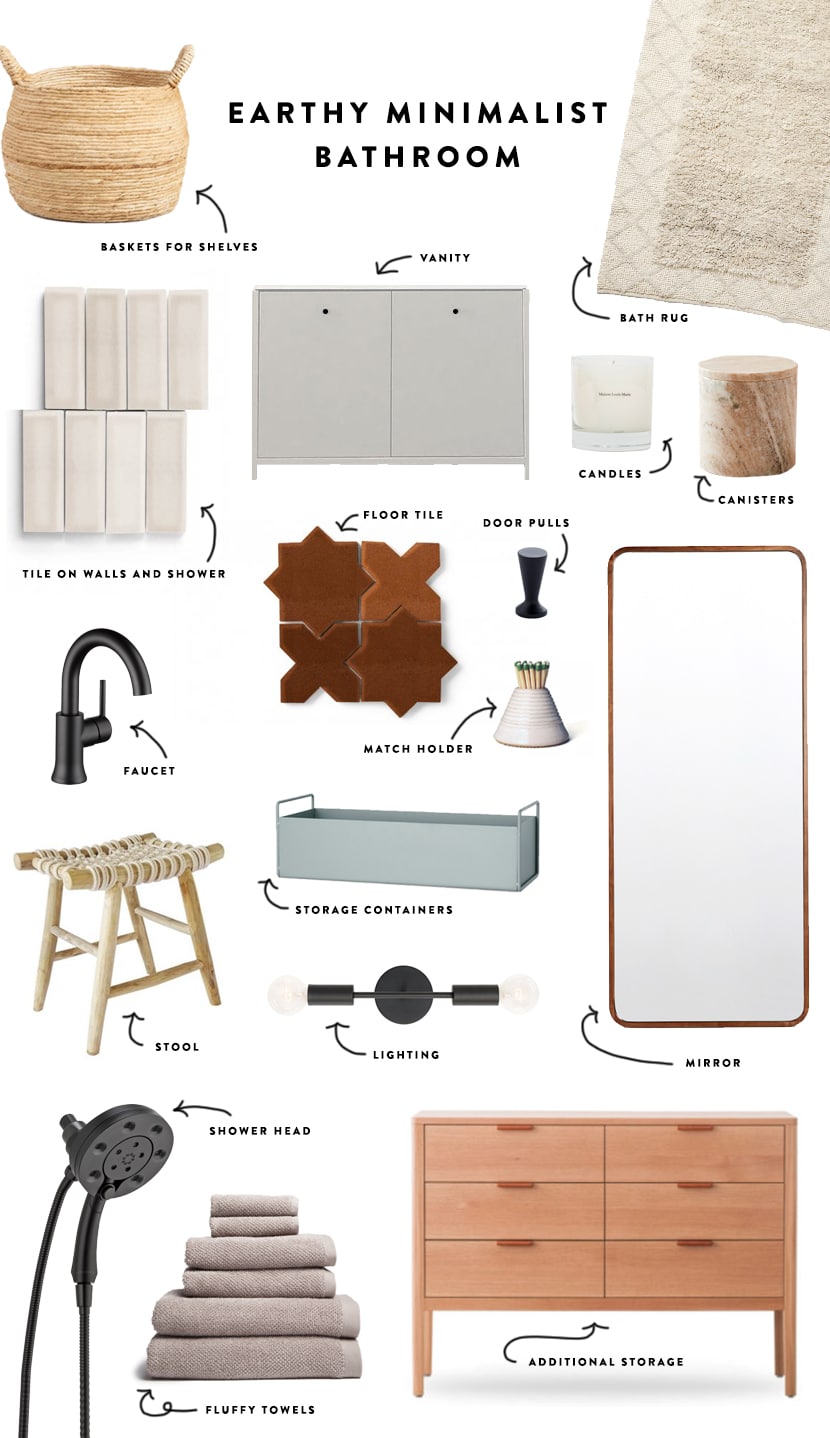 Baskets for Shelves from World Market | Tile for Showers and Walls is Sand Dune from Fireclay Tile in 2×6 | Single Sink Vanity from Hygge Supply | Bath Rug from Anthropologie | Candle From Need Supply | Marble Canisters from Anthropologie | Mirror from Rejuvenation | Knobs from Schoolhouse Electric | Match Holder from Farmhouse Pottery | Antique Star and Cross from Fireclay Tile | Trinsic Faucet in Matte Black from Delta | Stool from Mcgee and Co | Storage Containers from Ferm Living | Simple Lighting from Cedar and Moss | Trinsic Shower Head in Matte Black from Delta | Woven Towels from Parachute Home | Dresser from Hedgehouse Furniture
This time around on these projects I have much less stress. I think the decisions feel even easier because I know how sometimes the little things we think we need to stress about really aren't as big as they feel. I just trusted Fireclay and their eye for things. I think this space is going to be one of my favorites in the house, though I say that about every space here.
So what do you guys think? We should be revealing the finished space the first week of October and then the other spaces within the weeks following for you. We are excited to get this all completed in time for the holidays and family visiting throughout the colder months.