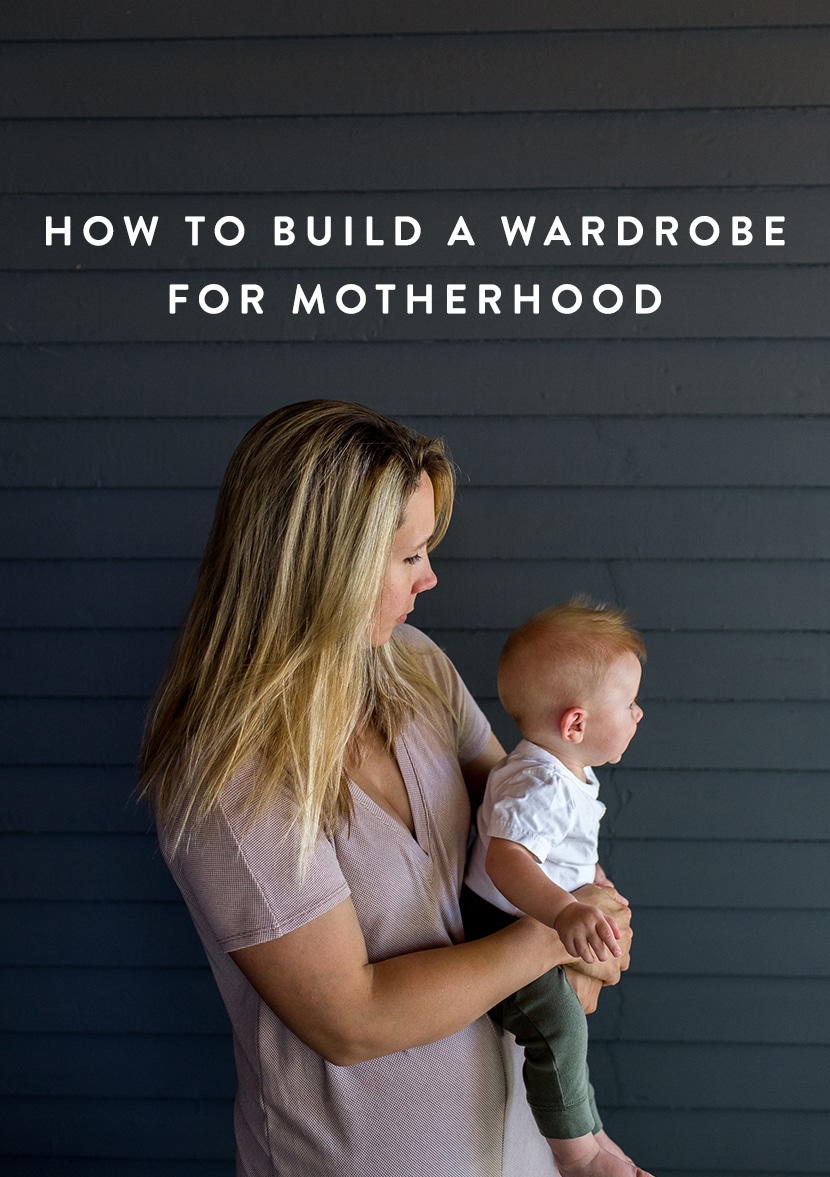 Fair warning, this is a legit long post. I have been wanting to write this post for a while and have collected a lot of info from having our first son and going through all the body transitions of a pre-motherhood body to having a pregnant body to a postpartum and breastfeeding body and then the point of refinding my body again. Now, here again, I wanted to share what I have learned and why I don't plan to invest in any maternity clothes but maybe 1 item this time around. I will talk about how to choose pieces, how to do it eco if you so desire, and then give some items I have been wearing. Some of these items are not eco items or conscious clothes, but I am hoping because I have chosen many of these items thoughtfully and with purpose they will stand in your closet through varying points of life and see wear for years and thus making them no longer a "fast fashion" purchase. Know that I am all about investing and finding pieces, but I still have items from places like H&M and Zara but buy them knowing I will have for more then 3-5 years and will wear them well. I don't just frivolous purchase anything in my wardrobe and sometimes find it easier to be frivolous with resale more then newer clothes for whatever reason. That said, let's dive into this whole thing.
First of all, let's talk about our bodies as women. When I was pregnant with my first I worked out, I ate healthy, I was the epitome of what I thought was a successful woman building human life. But then things went awry. My heart wasn't keeping up with the whole thing. My pelvis ripped apart and the inevitable and work of becoming a mother began for me. I realized my old ways may not be new ways and I would be spending the next few years (but thought weeks in my head at the time) relearning what worked for me. That first 6 months postpartum wrecked me. I thought I will be able to slip back in my jeans at 2 weeks postpartum…HAHAHA yeah not real and for most women shouldn't be the reality. I know women who can and though we all look at you in a way that you a mystery, I know there is stigma there too because I have had friends who talk about it. I am not that woman and instead, my body shifted my weight of the baby into all sorts of other places while I fed Hayes. Slowly my hormones evened it all out and well it wasn't till I completely stopped breastfeeding and my hormones leveled back out to normal that my body appeared in a way that looked familiar to me. During that time, I was healing my diastasis that made it hard for my pelvis to not have some sort of pain. I rebuilt my core with the direction of a pelvic therapist and a chiropractor and I let go of being that mom who worked out while her kid laid happily on the floor both because well I couldn't work out really and my child never stopped moving (he still doesn't). Everything was relearned, but in the process, I also reshaped how I saw my body and over the course of the last 3 years I have rewritten what beautiful is when it comes to my body. I see it for what it does and I have learned to listen with an intent ear to what it asks for from rest to food to movement. It will be something I will continue to learn to do my whole life.
That said, in the process of listening to my body I realized it was possible to create a wardrobe that accommodates the transitions of life in this season of growing a family and watching my body grow a life, feed a life, and then recenter itself. What I found is that instead of dreading getting dressed or finding it a continual challenge or a need to buy something once again, I found I had a wardrobe of things that I could always rely on and feel myself in no matter what, which cleared my discomfort with my transitioning body or bad feelings that could arise. It was amazing how finding things I really felt allowed my body space to do what it needed while looking and feeling myself left me with a view of myself that was FAR more positive. Not to say clothes are everything in making us feel a certain way, but I think if I have learned anything about life is that when we are in transition of any kind we are vulnerable and thus we can fall victim to things we may not normally when we are at a state of not transitioning. So, if we can eliminate any additional items of change in the process we can ultimately feel better through the process. I also did this whole thing because I really don't like Maternity clothes. If I do like it it is outrageous in price and/or designed for a woman that has a very different body then my own. I found many brands offer great things that transition and layer but it is about looking for key elements when purchasing, which I will give to you so you can buy with confidence. I also made sure to get a varying bit of pants and jeans in about 3 different sizes and took all the shame out of it. There are lots of tricks and ways to make it work, look yourself, and embrace the beauty of what you are doing. Because let's be honest women are amazing and we shouldn't be identified during this time of life by a number on a scale or a size. We should be identified by the work we are doing to create life and sustain it as equally with the power to do what we love and be ourselves the process. So this post is for all you ladies who hear this and what a different story for your years in motherhood that doesn't involved rushed sides of a shirt or tight things constricting you in one way or another.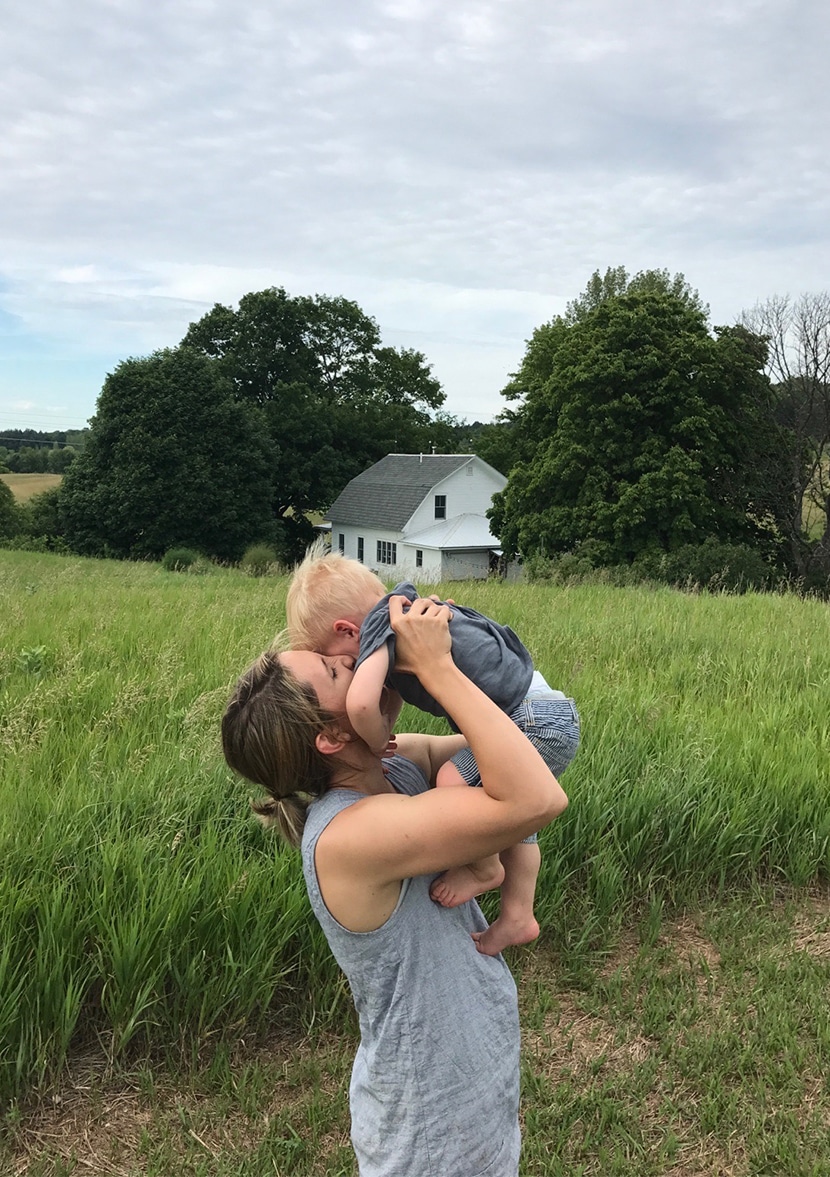 WHAT TO LOOK FOR WHEN SHOPPING:
Transitional Necklines:
What I mean is buttons, snaps, and even v-neck or scoop neck. This allows you to button up when you want to and open up when needed. I bought 4-5 dresses for after Hayes was born that were loose and a size up that I still wear now. They worked well for nursing while out and about or even at home, but then when another pregnancy came around the loose sizing allowed me to wear it and will wear them near to the end. I also like vneck tops or scoops because when you are pregnant your boobs change, but you can always layer a tank underneath to create modesty. Then when I was nursing I got tank bras such as the ones I recommend below in a couple sizes that looked like tank tops so no one could tell it was my bra and I would keep it modest but leave easy access when needed. Avoid dresses that have a crew neck line or don't open around your chest if you plan to breastfeed. This will keep these pieces transitional from pregnancy to postpartum.
Natural Materials:
I found that my 100% cotton or Hemp and cotton tops or Linen ones wore the best over the years. I liked cotton sweaters because they were easy to wash either because I spilled on my belly while pregnant or I leaked on it or a baby blow out or spit up happened. It made it easy to wash. So keeping all my clothes to linen, cotton (organic whenever possible), hemp, and bamboo made it easy to wash and hold up to a lot of wear. Wool worked too but I avoided it when breastfeeding because it would give hayes a rash on his cheeks and it was scratchy sometimes so I stuck with the cotton ones. Cashmere though soft is hard to clean so I kept those things till later.
Loose Waistlines:
For dresses, this means no belts (some women do the over the belly belt, but that was never me or my style so I kind of avoid it), jumpsuits with no cinching options, and linen pants and shorts with drawstring waistlines or with elastic. My shorts and pants this summer all are elastic or drawstring. They should get me all the way through till fall. Now every jumpsuit and dress I use through these transitional times carry the same theme of not having a waistline and it keeps me feeling good. The bump is there or it will allow space for that postpartum belly to work on what it needs to without me having to keep it front and center to the world or to me when I get dressed.
Size Up and look for loose cuts:
Most items I find that fit the above usually do fine with going 1 size up. Sometimes I get the shoulders raised to fit around my arms, but it's rare. Most everything works just fine one size up and it gives me a little room. I always check to see the cut though because I find I can still wear my normal small top size in most things if they are cut roomy and loose to begin with, which is wonderful to be able to wear a favorite shirt or sweater on those days you feel kind of blah about yourself. It always would lift my mood to know I could wear that sweater I loved even if I was dead tired and the bags under my eyes were dark and big.
Give a little:
I would choose materials that stretch and are soft as well. Your skin goes through a TON with all the hormones whether during pregnancy or after. It gets dry and itchy or you sweat a lot or the list goes on so having soft and stretchy fabrics made it much less uncomfortable.
Keep the colors and patterns classic:
In order to ensure you won't be buying all new things in a few months again, also think about the color and patterns. I stick to patterns I find to be simple and easy to transition in my wardrobe. I love stripes and nothing bold. I keep my colors to neutrals like black, gray, white, khaki, navy, denim, olive green, and browns. That's about it. It sounds boring but it works and it never fails in allowing me to find an outfit each day. I also don't bore of the pieces quickly at all.
Works with a bra:
As much as your stomach and abs are going to go through from pregnancy to the moment of coming back to your new self, your boobs will do the equal amount if not more. So having pieces that allow for a bra to be comfortably worn and keeping them supported through all the transitions is a little bit key. I steer clear of strapless, skinny strapped, and so on. Instead, I look for tank styles and tee style tops for this time of life. All easily accommodate the growth and change of whatever bra you may need.
Short Dresses can make Great Tops:
Just because it says dress doesn't necessarily mean it is. I have a few shirts that were supposed to be dresses and I have some shirts that are dresses as well. The thing is is having these dresses that are shirts is great especially toward the end of pregnancy and after the baby comes. Since you still have a belly it needs room and it will shorten things as well so sometimes a short dress that is flowy makes an amazing top. I usually look for chambray style ones or linen that flow well but then could easily be used for a beach coverup later.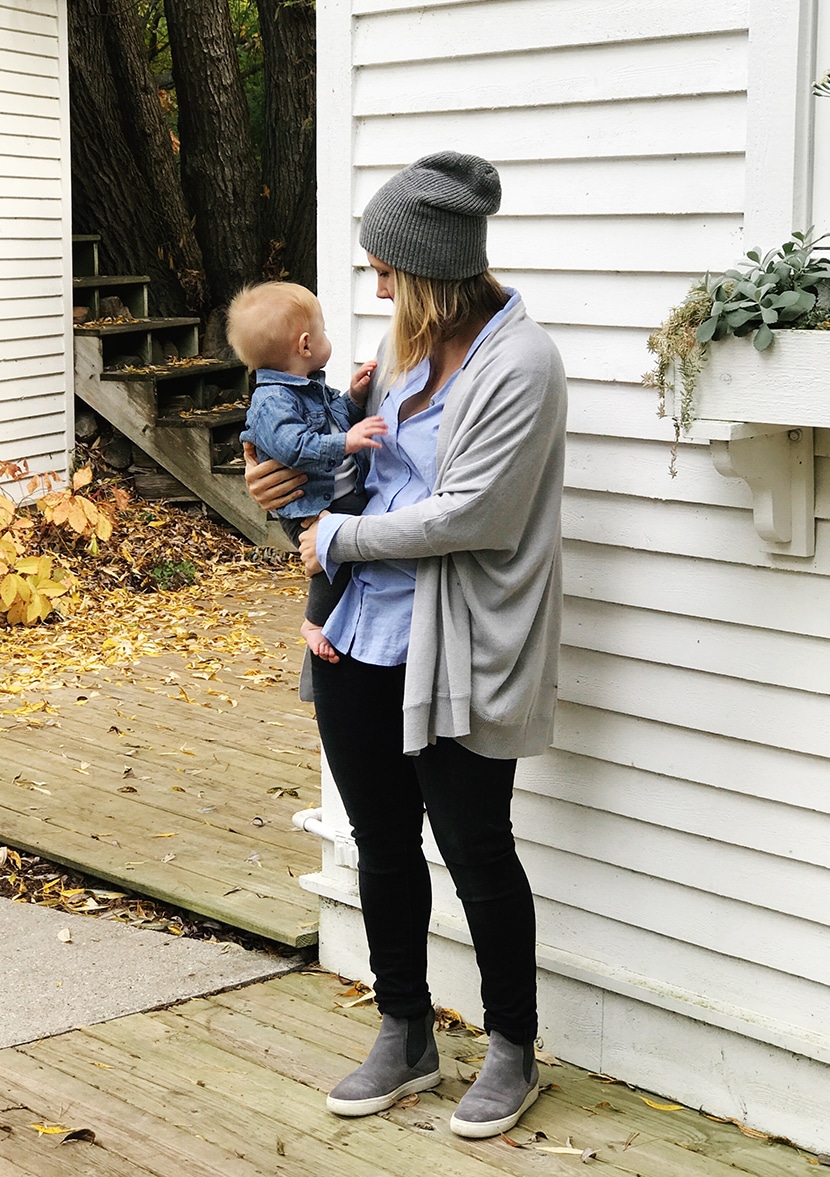 WHAT MIGHT BE WORTH BUYING MATERNITY:
Jeans:
Some people buy a belly band and it works for them, but I got one and because I carry so low and have such a long waist, plus hello bigger butt and legs I felt this didn't work for me. So with Hayes I bought maternity leggings in black from STORQ and then got 2 pairs of jeans one black with side panels and one with over the belly. I donated the jeans at 6 months because I had such negative feeling associated with them. Maybe shouldn't have, but I knew I would need to start new next time in order to not connect with those feelings. So I plan to buy 1 pair of jeans for the last 3 months that go over the belly because the side panels once again didn't work for me with how low I carried. The pants fell down all the time. So Though I hate that, it works and I felt comfortable postpartum wearing those ones more then the side panels as well because they just continued to get worse with falling down. So I do think they are worth it to buy 1 pair if you are similar to me. But try side panels and over the belly and figure out what works for you.
Long Maternity Shirts:
Not all maternity tops have the ruching on the sides. I got a few tanks and stuff that were just stretchy and layered well under sweaters and such and with the belly expanding and your hips opening, it is nice to have shirts that are longer. If you cannot find them just look for longer shirts that cover and go one size up or look for something stretchy.
HOW TO DO THIS ECO:
Resale stores:
I am always looking first for things at my local resale stores during this time of life. I start there because at nice resale stores they have a lot of options or you can just shop in a size up section to find tops and dresses that might work. I just keep to the above rules to make sure I am placing items in my closet that will stick and not just ones that are momentary.
Eco Brands:
There are plenty of handmade and eco brands you can buy from. Some are an investment and some are more accessible. I will talk about many below, but some of my favorites are Everlane, Elizabeth Suzann, Eileen Fischer, Christy Dawn, Amour Vert, Sustainable Collection from H&M (they have a lot of maternity), United by Blue, Rudy Jude, and many others. There are lots of awesome brands that create eco transitional pieces.
Clothing Swaps:
I can bet you that you have a friend who has had a few kids or is in between having kids and she is relatively the same size. Sometimes just swapping clothes helps a ton and you can find things that work for periods of time. Make it a group thing or just find another woman you can work with.
Remain Conscious:
If buying just make sure the things you are buying serve a lot of purpose for you and that they will be used and loved for a long time. Buying eco or from resale is great, but if you aren't doing it with purpose and intention and really making sure what you buy is serving a long term purpose it can be wasteful as well.
Now, let's dig into pieces that I have and have built up over the last few years. I will show them all and then below link to either the exact item or a similar one. Note that some of these are not eco brands and will fall into fast fashion, BUT I think if you find something one place and it fits great and works for your wardrobe while serving you for a long period of time (some of these I have worn for a few years already), then I am okay with it. I am a SUPER conscious clothing buyer now and I don't like shopping for clothes really so when and if I buy something it is with the intention of being worn for years and years. But if you want more ideas too and to keep up with items I am loving for this period of life, here is a whole board on Pinterest which I add to regularly.

Midi Dress with Some Room:
When I buy dresses for this stage of life, I look for an unconstrained waist and a scoop neck or buttons for breastfeeding. This one is perfect and a great one to work through a few different seasons as well. Adding leggings and boots or a sweater over the top can warm it up or be perfect for a warm day. It will hide any transition time you may have after birth as well. I suggest sizing up or ordering 2 to see which size is right.
Maternity Jeans:
I don't think this is 100% true, but I have business meetings sometimes and events to attend and leggings won't cut it for me, so I do think one or so pairs of jeans or pants you can wear to something is good. Since it gets cool here, dresses only work for so many months as well. So to me, Jeans are essential. These are the ones I am thinking about since many of you said you were in love with your's from H&M which amazed me, but others suggested Paige Denim as well.
Oversized Button Downs:
I have very few "fitted" button downs anymore. I instead have ones such as this linen one with a loose feeling and a little longer bodice. I can easily tie it up, tuck it in, or whatever, but during pregnancy I just let it do its thing or leave it open with a tank. This one is linen and in a classic pattern, which I love. I wear mine similar to this one about once a week and will continue to till birth and then once on the otherside it will be comfy to wear while I heal and get back to normal life.
Easy to Layer Dress:
I love this dress and it is really comfy. The fabric is soft and eco as well. It will also work when breastfeeding as well. In the winter and when I start getting much bigger I can use it like a shirt. Mine is a size up. Though I don't wear it once my body evens out other then for a coverup because it hangs a lot, I still love it!
Soft and Easy Jumpsuit:
Literally wearing a similar one right now. I have it black though and wear it a lot. I pull the band up above my belly and on cool days, I layer a cardigan, jean jacket, or sweater over the top. It is very forgiving.
Cotton Oversized Sweater:
I have a few sweaters that are cotton, but Everlanes hold up really well and I love the fit of these because they are really loose on the bottom so it is an easy lift for breastfeeding while staying warm. Because of its loose fit it acts as a natural cover as well or an unconstrained cover up for a bump.
Premium Black Leggings:
I love these leggings because they are thick and not see through. I like to have the option to treat them somewhat like pants when pregnant. I usually have a large sweater on with them, but I love that they are thick and really nice.
Pull on Linen Pants:
I have 2 pairs of pull on linen pants. Some are wide leg and some are ankle like this. My legs get really vainy in pregnancy and these are cool and comfy without having to wear shorts all the time. I size up to let the elastic work its magic when needed. But they work great!
Cotton V-Neck Sweater:
I have these sweaters in 2 sizes. Smaller for when I want it to fit tighter and then 2 sizes up either for an oversized look or just to fit a bump. They work super well and v Neck allows for easy breastfeeding.
Tank Bra:
I LOVE these bras. After I was pregnant and done breastfeeding I found bra shopping was a wreck to me. My boobs were wider but flat so I was so pumped with Everlane came out with these bras and their bralette one as well. I have this bra in Small in 2 colors and then the medium in 2 colors and the large in 1. The idea being that these soft and covering bras will see me through pre-pregnant to pregnant to breastfeeding and then back to post breastfeeding chest. The whole time keeping things in place, comfy, and covered properly. I don't like wires or clasps or anything to figure out. These make it easy. Granted I am small chested and prior to getting pregnant the first time was a 34A and then post I was a 36A. Currently, I am around a 36C but when I am breastfeeding I fluctuate between a C and a D depending. So I don't need a lot of support to begin with. This works well for me. But I love the tank bra too because it doesn't look like your bra if it peaks out under a shirt or anything. It just looks like a tank.
Transitional Linen Blouse:
This top or anything similar is really amazing. The flowy bottom leaves space to hide postpartum bellies comfortably or expand with a growing belly. The buttoning and neck line are great for breastfeeding. Making it work for all stages of pre, post, and during times.
Easy to Layer Jumpsuit:
This jumpsuit is on constant rotation right now. I love it! The color is gorgeous and the fabric is a dream on my sometimes dry skin. It holds up so well to life and though I got a medium, I think I could have gotten a small and it worked just as fine. I plan to take up the shoulders so the holes around my arms fit better, but waiting to see how things transition in the coming months. But I highly suggest this one. You can easily wear it a wedding too!
Button Top Tank Dress:
Love this dress. The handmade nature means that they can size it to what may be closer to your needs. I love that you can also choose the color fabric as well. Really awesome piece to have for every stage of motherhood.
Loose Fitting Overalls:
I have jean overalls, but I wear them no where near as often as these ones and these ones from the same brand. Once again handmade so you can choose a color and they size them based upon your body size. I even asked for an extra button on them so as I grew I could loose them down somemore.
Pull on Shorts:
I have similar shorts and I just sized up on them. They work awesome and just sit right under my bump. I love how they fit and flow. I am not even trying to wear jean shorts this summer. Mine stopped fitting before it even got hot enough and I figured it wasn't worth it.
Culotte Elastic Waist:
These pants are amazing they now come in lots of colors and patterns on Madewell. Some of which are on sale. I bought them last year and just love them. I bring them up over my belly now or fold them over to go under it. Comfy for playing on the floor and have a lot of give. I suggest sizing down. I normally wear a 6 and got an xsmall and I still have plenty of room.
Ribbed Dress for Layering:
So I use these a lot and buy them in larges in various colors for layering or to put a shirt over or place over leggings with a sweater. You name it. I love them and postpartum I got one in medium to just kind of keep things feeling less loose and it was nice as well.
Long Scoop Neck Tanks:
These fit over a belly or tuck in well postpartum so I really love them and they aren't all ruched on the side but are also super soft too.
Oversized Tees:
These tees from Everlane are a real dream and super soft. They are long but I still just size up one size. There are different cuts, but i Love this cut the most and find it the most flattering while pregnant.
Boyfriend Cut Chambray:
Similar to the linen shirt, I always have a chambray on hand and love this one. I have it in Medium and it is cut well to accommodate life during and after very well.
Wrap Cardigan:
In the winter and on cool summer nights this sweater is a necessity. When pregnant I ditch the tie but postpartum I am more likely to tie it. It layers over everything and isn't scratchy for a new baby.
As I said above though, these are just a few of my top picks. There are lots of other clothes I pin and love for this time so check out the Pinterest board if you are curious or just need some inspiration.