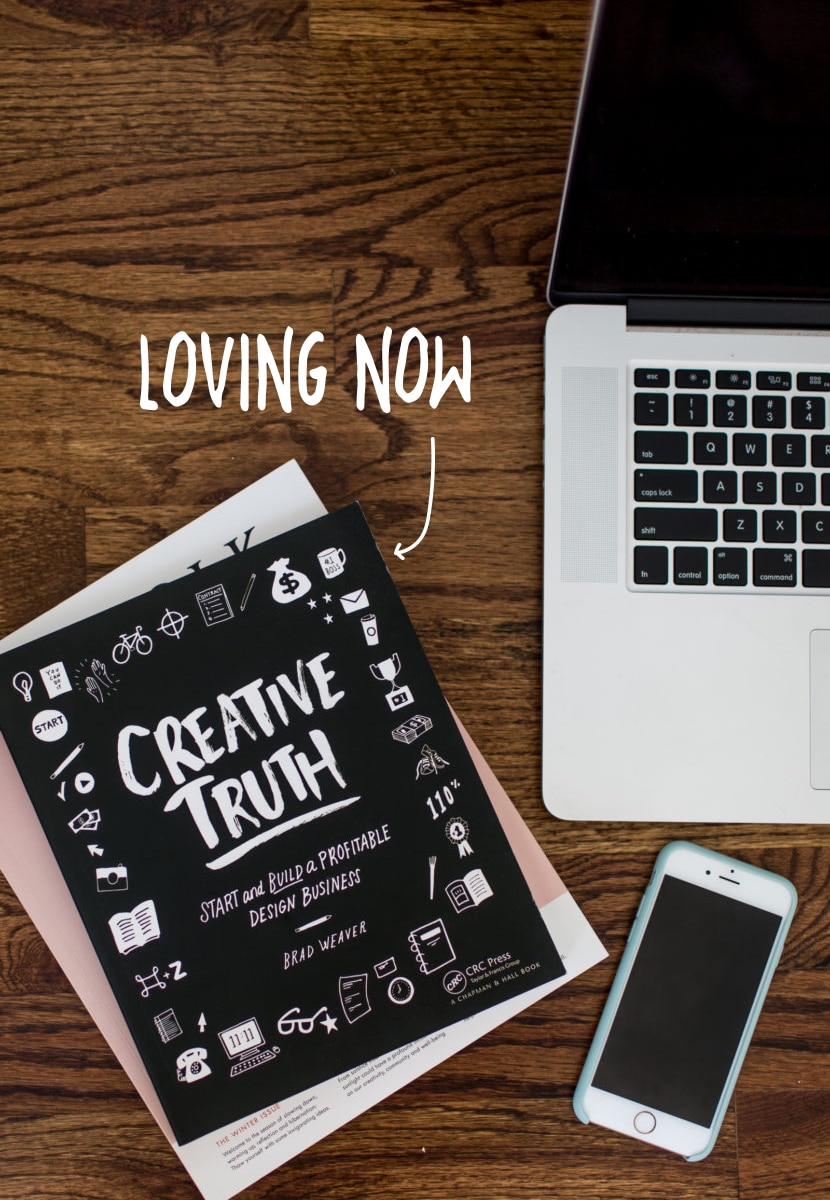 In the past, we have recommended quite a few books. Some have been cookbooks, some have been fictional books, but we more recently have tried to recommend some business books that really are worth the read. We will be writing a lot more about business topics in the future, but now that you are back to the hustle after a long weekend, we wanted to recommend one of the best business books for creative people we have read in years. Brad Weaver's new book – Creative Truth.
I'll go into the book in a second, but I need to preface Brad Weaver, the author, and how we first met him. At the end of last summer, Megan and I were teaching a workshop on branding at the Circles Conference in Dallas. We were scheduled to teach the second workshop of the day but arrived early to catch the first workshop on pricing, Brad Weaver's session. To be honest, I've never really gotten much from classes or workshops on pricing so I wasn't expecting much. Most people just talk vaguely about pricing concepts or profit models. You never really get much out of it. But Brad was different. From the first slide, he went right into literal ways to price your work, how to charge for more services and more. If you were following my twitter that day it might have been my most active day of tweeting all year. I was blown away by his knowledge and how open he was with a lot of the secrets I had learned from inside the agency world. In that instant I was excited to meet Brad to hear more about his story.
After both of our workshops, we caught up with Brad and were beyond excited to find out that not only did he have a book coming out with more details on pricing and more, but that our friend Becky Murphy had illustrated the entire book!
Now, that you know how we discovered Brad, let me explain why you need to put this book on your reading list right now if you are a creative who wants to run a business. If I was to sum up all of the secrets to our business success in one book it would be Creative Truth. There will be countless times in the future where my answer to a design business question will be, "pick up Creative Truth and open to page…". I am not going to give too much away, but if you are looking to start a design business and actually make it profitable, or are stuck in a plateau, not making enough money designing, not getting the clients you want or any number of issues we all run into… You need this book.
In the book, which I would basically describe as the perfect textbook on running a design business and making real money, Brad gives real honest answers to every possible part of the business part of design.
Also, don't miss this month's Net Magazine feature on Money. Brad wrote the cover story and there is even more information on pricing and billing in the feature.
Have you read any books on business that you are loving?
We highly suggest keeping up with Brad on Twitter as he shares some great design articles and more.