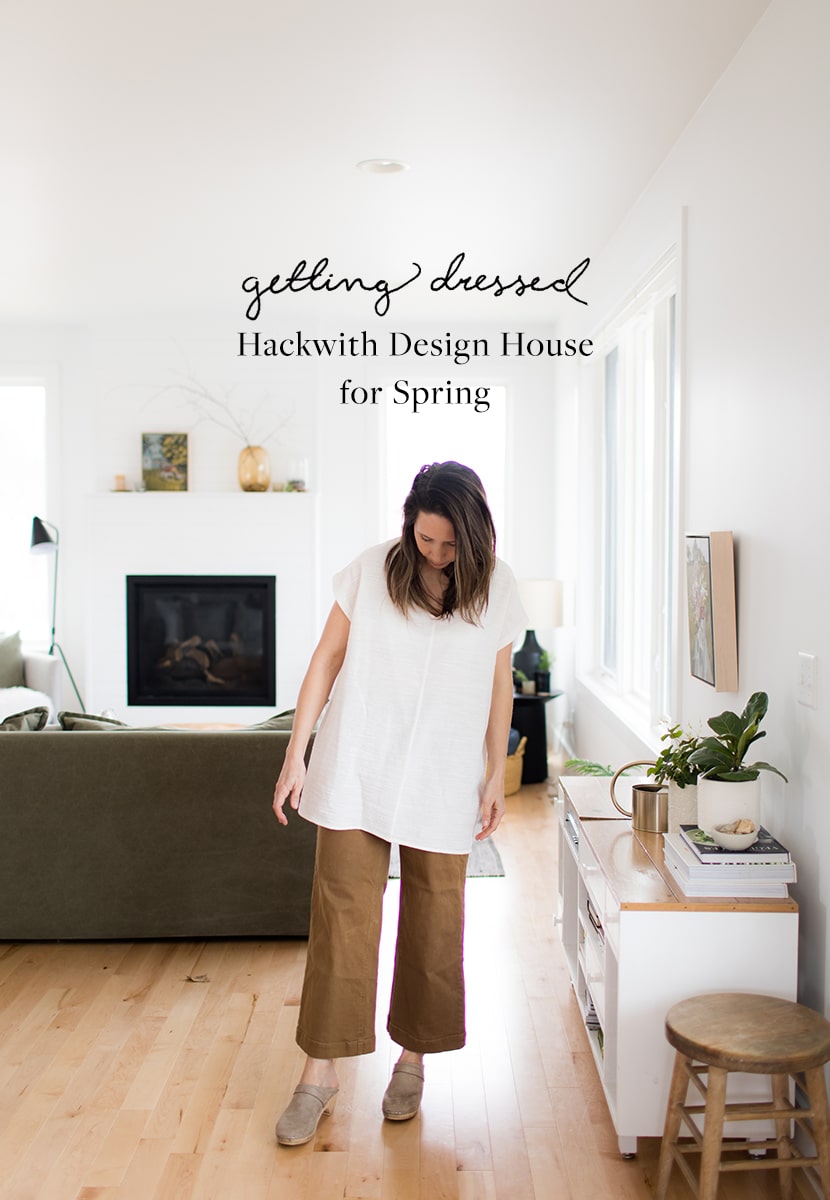 A little over a few weeks ago I wrote about clothing and dressing as a woman and how I am always struggling with finding pieces that wear well, are versatile, well-made, and can combine my femininity and my tomboy. Living on 10 acres and in the country, much of my life is about living with snow, dirt, rocks, sand, dirt under my nails, and more. It is about function first and then style. When I talked about this, you guys all resonated with me more then I actually thought you would. I was shocked…so I decided this year, I was going to really show you things I put on when getting dressed out here in the seasons of living where I go from working behind a computer to playing school pick up to picking up product from makers to shipping boxes to growing green things to cooking dinner and chasing a toddler. I want to show you pieces I really love and wear and enjoy. That's my goal. In all honesty, there was a day on the blog years ago (like 5 years ago) I would put on outfits just for a post and I didn't actually wear those things. That's the truth and it is silly, but that was the nature of the work. Now though. I want to be 100% real about this even when it doesn't feel interesting, because after chatting with you…I realize it is. Sometimes these things will come as blog posts and then other times they will come as stories on Instagram. Either way I will show you…here I am in that same sweater I found at the resale store that is a 30 year old wool sweater from L.L. Bean i got for $10 and wear 2 times a week or the pair of jeans that leave the water cleaner then when it came in to be used to make them and cost a little more but they fit well and wear so well and fit my size 6 (sometimes 8) boyish cut body just right.
My goal? Just to let you know how a normal girl living in Northern Michigan in the country dresses for real life.
That said, now that spring has arrived, I have been getting excited and thinking about what to wear as the days think about warming (key word "think"). I have long been a fan of Hackwith Design House. I love their clothes. One of my favorite jackets I own is from them and I just wore it for our weekend out in Cape Cod for a family wedding to stay warm near the ocean. I bought it for myself for my birthday and it was a splurge but one I have never regretted. I love it. So when they asked to send me one of their pieces for spring, I of course jumped at the chance. Made in Minneapolis they live amongst similar elements as we do here. This top from their HDH Basics line is the perfect layering piece for these days where the sun will warm us up but then tossing on a chore coat or jacket like this over it to head out for a meeting is how I am wearing it as the days get a little sunnier. Currently I am wearing it mostly for days working at home because our house warms up so much with the sun beating in now (a wonderful problem).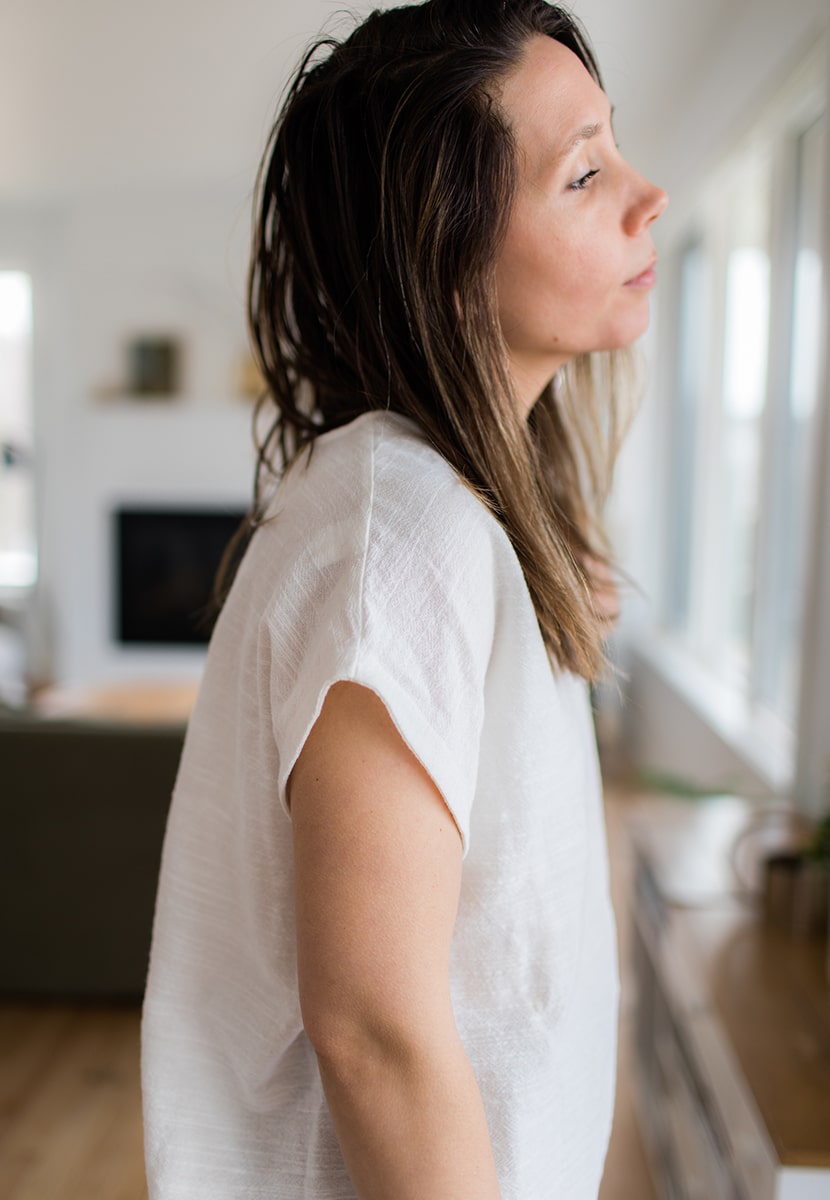 As we head into summer, this shirt will be an essential even to throw over a bathing suit on the way to the beach on a hot day in July and August. The perfect weight and best part it is reversible so you can have a v-neck or a scoop neck in the front. I love a piece that offers options in your closet.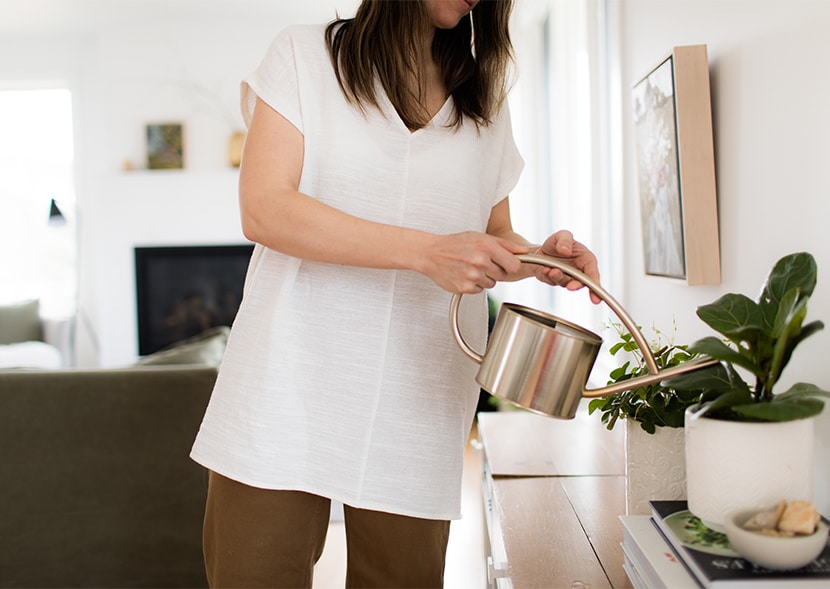 I love to pair these pieces with one of my most essential summer and spring pieces of clothing: wide leg chinos from Everlane. These pants are so comfortable and make you look long and lean, which is wonderful for a girl with a long torso and short legs. I love how they create a loose and flowy look with this top, but I could also pair them with a t-shirt tucked in like I did in this post and they would look completely different. As a note I sized down on them so they fit on top. They have a good stretch to them.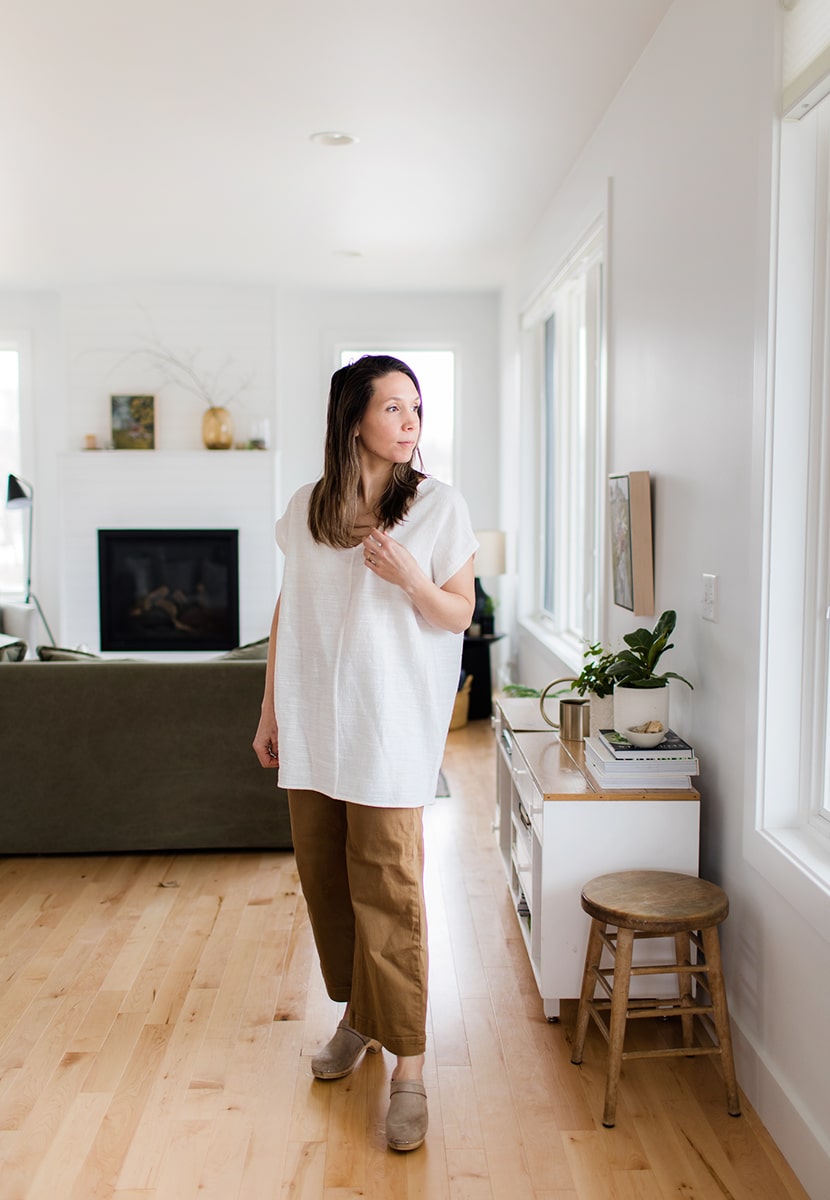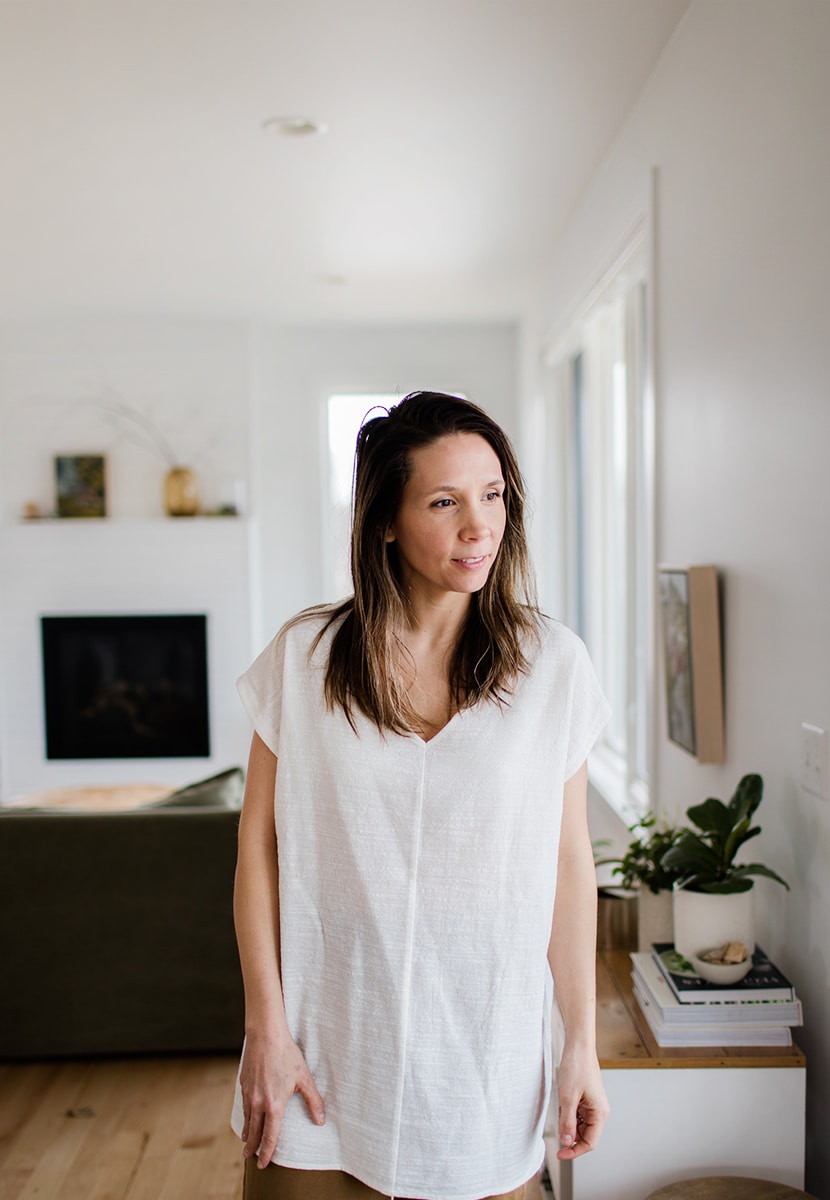 But shoes…oohhh shoes. I don't like shopping for shoes. I hate it. I would rather jean shop then shoe shop. I am so picky and don't like anything I won't wear a dozen or more times. I feel it is wasteful. So this is why I love these clogs from Hanna Andersson (they don't sell them anymore but here are similar ones from Bryr Clogs). I bought them and showed up to an event and my friend had the same ones and we both were raving about them. Even though I don't do heels. I love clogs for those moments when heels would be appropriate because they don't feel like heels and they usually stand up to life out here. I literally own two pairs of heeled shoes and these are one of those two. The other is just for weddings and necessary heel situations. ha. Clearly it isn't my thing.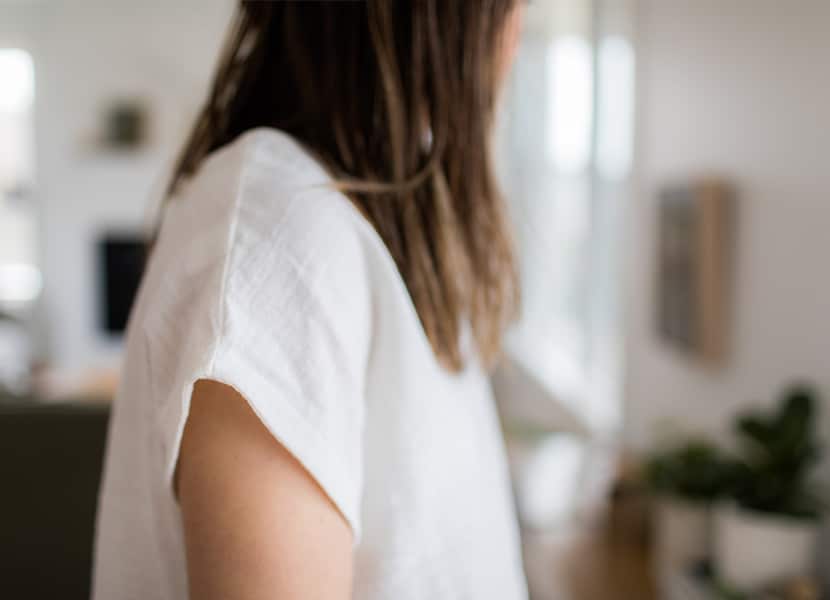 I cannot wait to inspire you guys more and share more fashion again with you. I think for so long I felt what I wore was boring because it didn't shift much. I also felt so much of what I wore was so utility that maybe it wasn't interesting either. I have realized that most of us live life out of utility and most of our days require that more then wearing a perfectly styled outfit at least when you work from home, are a mom, and are an aspiring homesteader. haha. My hope is that I can inspire you to find brands that live into your life better and also inspire new ways to wear the classic things without you feeling you need to always buy a lot more or even hunt for things at local resale stores and then invest in a couple really quality pieces each month.
Outfit details:
White Tunic from Hackwith Design House
Wide Leg Crops from Everlane
Clogs from Hanna Andersson (similar from here)