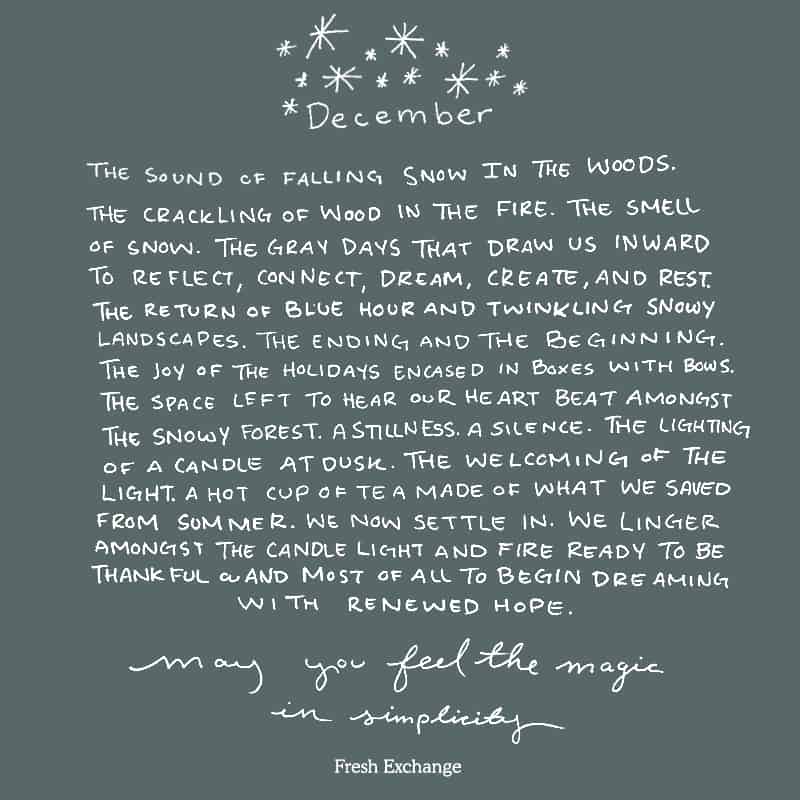 I remember this moment as a young child of waking early one morning and putting on a snowsuit. We got into the car and drove East of our home and landed at a farm where Christmas trees grew in lines over hills as far as your eyes could see. We went to Jack Buckhorn's farm to get our tree just as we always did when I was young. We trudged through the snow, which was nearly to my waist as a 4-year-old. Through the clearing amongst the rows of pines, there was a Christmas tree and unlike in the Christmas Vacation movie, this one didn't contain a squirrel. Instead, this one was perfect and the owner helped my dad cut it down and load it up in the truck. We headed back to town and got pancakes before heading home to deck the halls. It was everything I loved about December in Northern Michigan.
My memories of December usually center around snow, tucking in, twinkling white lights on a tree, the smell of pine trees, warm fires, and a few too many cookies countered by deeply warming stews. It is a month of settling in and the full downshift of our energy. It is the month we find our footing into the colder months and begin it all by welcoming the return of the light even if it takes a few darker months to feel the light has fully returned. There is beauty in knowing that when we meet winter it is the darkest day and now we only gain the light now.
These December days are the ones that call us inward and home to light a candle while cooking a roast all day to keep the house warm while a blizzard bangs on the windows. These days beckon us to sit under a wool blanket with tea that holds the saved vibrancy and scents of summer. This month we will light
beeswax candles
, decorate trees, gift joy in tied-up packages such as those
limoges boxes for sale
, and head to bed early every night with warm drinks and books that have been awaiting our presence.
During this month I find myself observing the landscape around us more than any other month of the year. In a moment the wind can pick up and a snowstorm moves over the hills. Tiny snowflakes fall and gather amongst the frozen raised beds, rabbit tracks and the movement of the world outside our home is evident each morning before the snow is gone by mid-day. There is a conversation of gathering, storing, hibernating, and preparing for rest that is tangible through our observations of the land around us. We can sense the ending and the beginning and meeting the full breadth of this transition in the seasons. It is the gift that December offers us.
But what I love and hold the dearest in this month is the simplicity and magic of things. Our everyday acts have this new layer of special. A simple dinner of squash soup and baked bread with butter is made gourmet by the candles we light to draw us together around the table. The blowing wind and the swirling snow a new level of gratitude for the fire that warms us in the evening. The darkness makes rest easy and welcomed. It all is a different level of comfort and grounding than we ever find in the heart of summer.
If I am honest though, there are days in the height of summer while I wander through the floating cosmos though that I dream of these sorts of winter days. The way they allow me to listen to my heart and my soul because all else has faded. I feel selfish at times saying that I long for it when the flowers are bursting all around me, but as someone born in the depths of a snowstorm, there is a comfort I find to be here in the cold and darkness with low lights. But soon enough my dreams change come February and I pull on those reserves of those days barefoot in the flowers and garden harvesting dinner and the sun feeling it will never leave us.
You see I have learned from the seasons and eating from the soil just how important it all is. How much we need the endless days of summer as we need the depths and cold of mid-winter. That we need to watch the hills turn to gold and fade to brown and we then the rise of the green from the flattened and gray earth. To understand the give and take and that nothing even the dark ever lasts forever. We are continually reminded even now in this new month, that nothing is ever forever.
So as we end Fall and we begin to dive into winter, I hope you find yourself observing how simple becomes magic, how your routines are opening doors to being self-aware now, how it isn't always easy to change our routines, but it can be life-giving when we allow ourselves to remain open to it. December is our final gift of the year. May we welcome her with space to show us just how to follow her lead back toward the light that will guide the growth of our gardens soon enough.