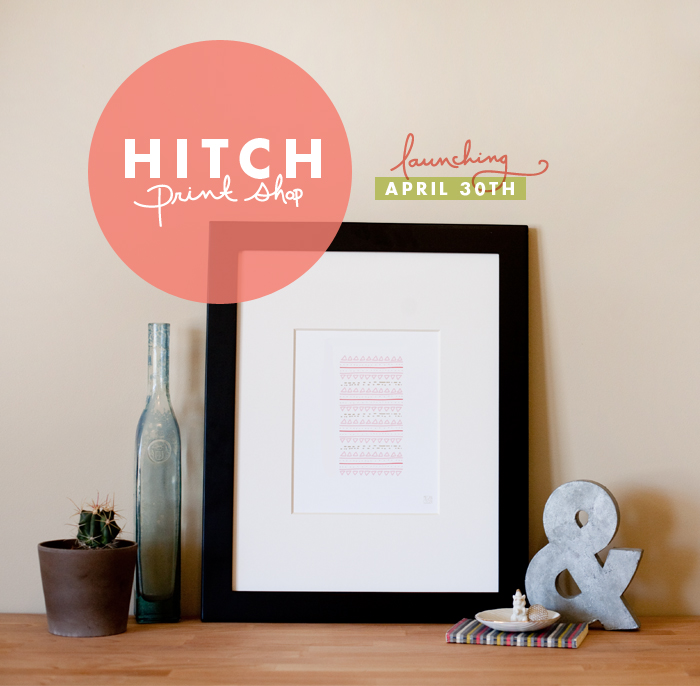 I have been bursting at the seams to announce the launch of the Hitch Print Shop!! That's right, I am finally launching! I have found a new love in creating these prints, patterns, and thoughts. It has been an incrediable creative challenge for me and I look forward to the seasons and seasons of new prints and other awesome items to share with you all. This is just the beginning of where Hitch will be going in the next few years.
The shop idea sprang out of the number of emails I received from you readers asking where you could purchase prints of certain posts. This blew me away honestly. I had no idea all of you loved my little doodles so much you wanted them on your wall. For so long my doodling came out of being frustrated with fonts and them not feeling like me 100%. Through all of your encouragement and love I kept pushing myself. Now here I am launching this shop in a week!
After months of developing a line, understanding how to print these properly, designing a store front, and making tons of decisions I am finally ready to open the doors. On April 30th (a week from today) you will be able to purchase your own Hitch Print Shop print!!
I have HUGE HUGE dreams for this little shop and many new items already being developed that will be released over the next few months, but I wanted to open with this small collection first. Make sure to sign up for the emails to learn about new products here. This where you can keep up with new products as well as get exclusive discounts for being apart of the email list! Kind of awesome huh?!
Also go ahead and start following along on the Hitch Print Shop Facebook page for updates as well.
So check back in a week because that little "The Shop" tab will finally be working!!