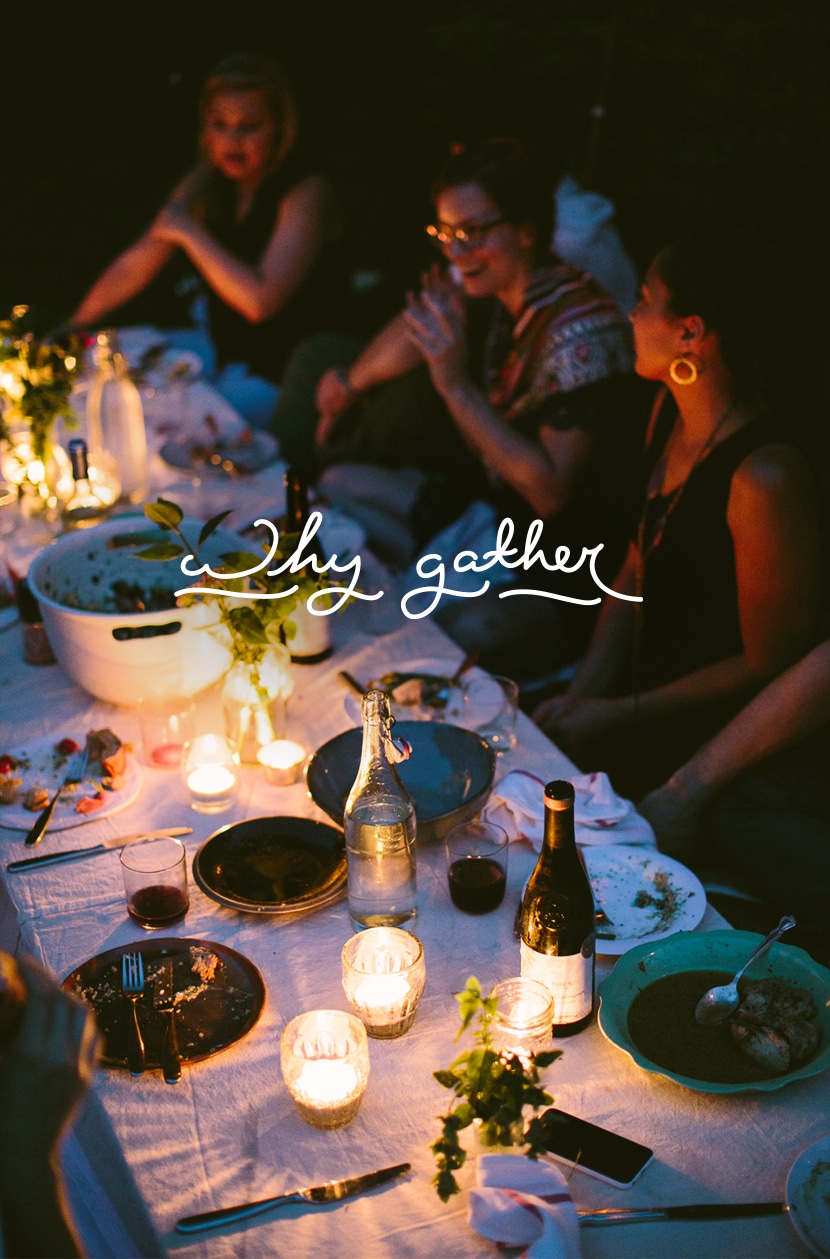 image from our Raleigh Simple Evening with The Yellow Table
I hope you had the chance to see our lastest Simple Evening. If not, go ahead and jump over and give it a look through then pop back here to read this post. No matter how you begin your week I say it is a good idea to just begin it with the warm thoughts of gathering around a table. As I come down from the weekend and head into a week of traveling, I wanted to begin with something close to my heart, which is our Simple Evenings.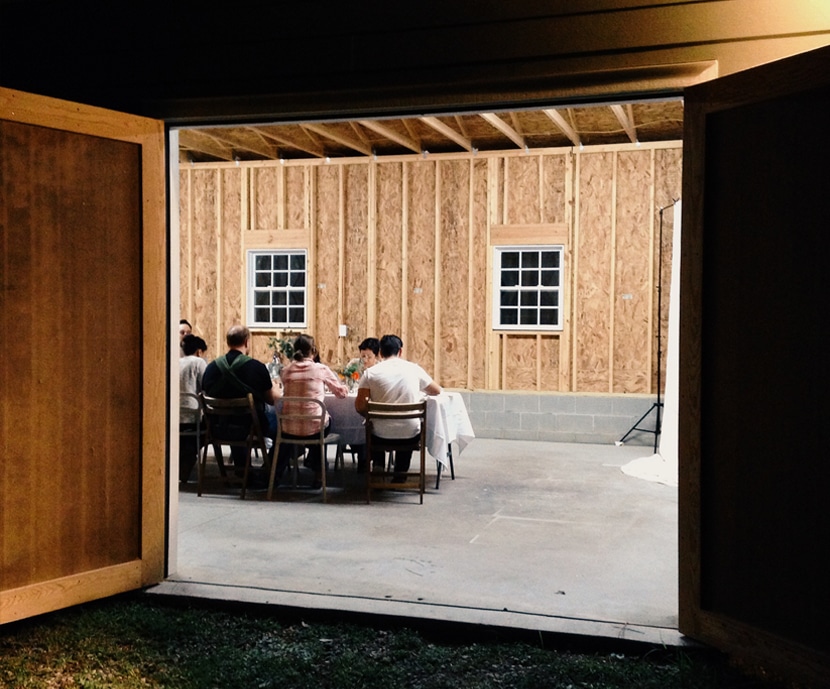 image from our Thursday night dinner in our new studio with our neighbors.  
This last week while the hustle of life was happening, Mike and I hosted a potluck style dinner with our neighbors to celebrate a friend's birthday. The evening looked nothing like what you would imagine. Sure there were some matching plates (ones we have used before at other dinners), candles, and fresh flowers, but in many ways it was rustic and truly simple. It only took a few hours and a few hands to prepare the dinner instead of a few weeks and dozens of hands. The night was held in our new studio space that is raw as raw can be at this point; however, at the end of the day it isn't the place that matters. The most important and beautiful piece of the evening was the people that surrounded the table – our neighbors. It reminded me why I choose to gather and why I began the series A Simple Evening.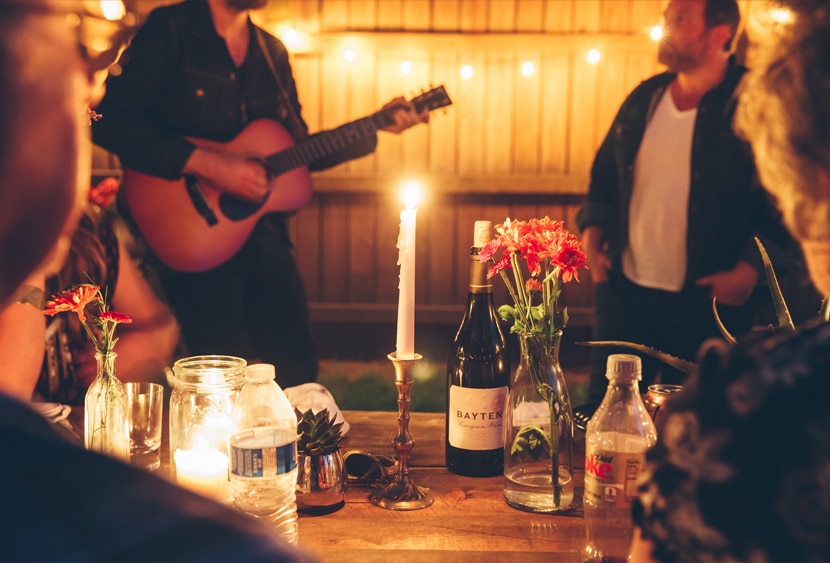 image by Parker Young from our Nashville Simple Evening
Many times when I have been in the rush of making these dinners, I find myself worried about the details. I always wonder if the right shots are being taken, if the light is landing right, and if the dinner is translating through the lens. Weeks before the dinner we find ourselves thinking about the details of the table – what will the table look like, what will sit on the table, and what will the setting look like. I have so many stories of things not aligning properly. Each night has stories of something not coming together as planned. There have been ticks, torrential down pours, missing glassware, missing seats, and no seats at all. In all of the crazy moments I have never thought…why am I putting myself though this? It sounds crazy, but these nights are something I love. Whether I am posting about these evenings or enjoying them amongst our neighbors (sometimes both… coming in the Spring!), these moments are what make the gathering beautiful. Everything always falls into place as it was meant to. Sitting down for dinner, no one notices the imperfect napkin folds or the mismatched silverware. What they notice and remember are the moments.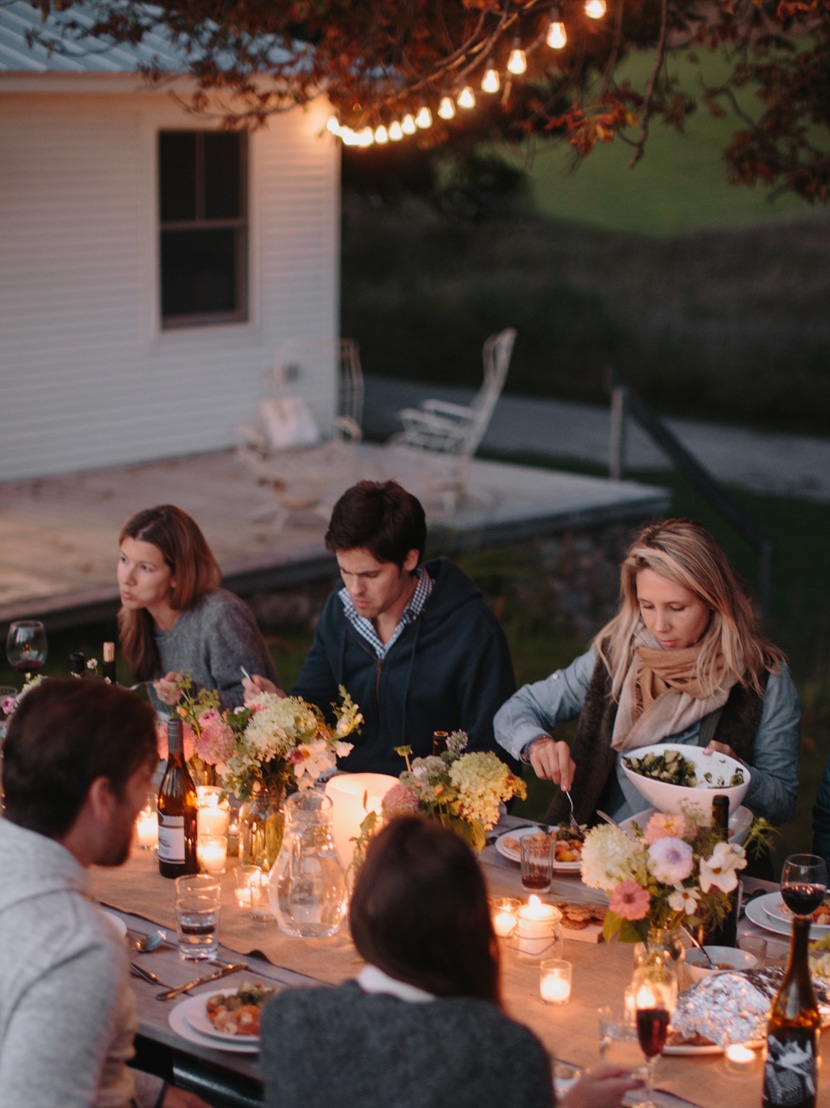 image by Bryan Dale from our Northport Simple Evening
When we planned our first Simple Evening, we planned it because we wanted to take time to pause amongst those who we love and who inspire us. The decor, the setting, and the visual experience comes together because of those who gather. Each dinner brings together those who I believe in, and I simply want to offer an opportunity and space for them to do what they love. You won't find me directing the decor, but instead you will find me helping to execute another's vision, making sure it is captured perfectly (though Mike needs very little direction from me). I love sharing what others love and to me there is no greater place than the table and a gathering to offer a place of creative freedom.
As I begin to plan more of these evenings, I am finding myself continually coming back to the "why" of these nights. I am staying focused on why I desire to gather around the table. I remind myself that the details aren't as important as the opportunity to offer a canvas for life to display itself and play out. I am reminded that gathering for me is important to my day and honestly it inspires me more than anything else in life. There is never a moment I regret taking time away to create these moments.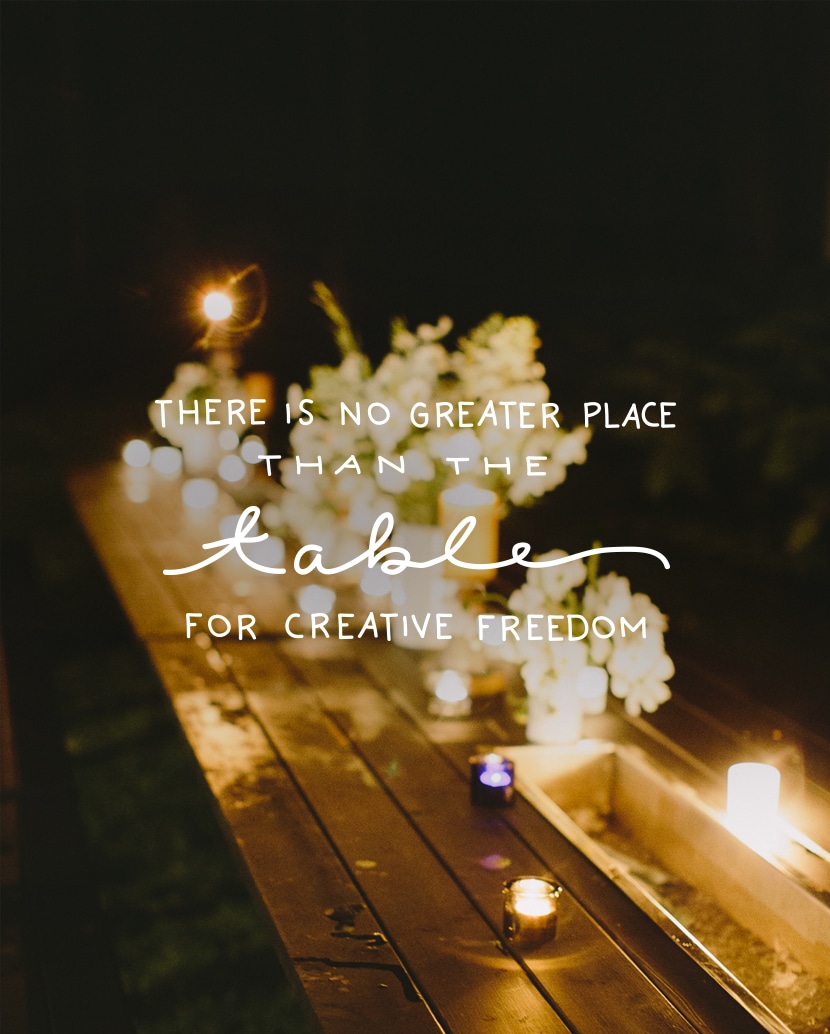 back image from our Harbor Springs Simple Evening
I really wanted to share these thoughts today because we get so many questions about attending these evenings and how we do them. I don't always know what to say because this is simply a deep rooted expression of passion for me. Relationships, community, and helping people do what brings them joy is something that I live for in life. These nights have never been about making money and never will be. We will never charge for them unless it involves doing something good for the community as a whole and nothing more. My hope is that these nights inspire you to take the time to purposefully take one night a month to slow down, eat around the table, light candles, buy flowers, make something simple, and enjoy it with the one or ones you love. I hope they inspire you to bring together new and old friends and to reconnect and focus on how much richer life is when we allow these moments to happen more often no matter if they look Instagram worthy or not. I hope they simply inspire you to gather.
Happy Monday friends! Go make some plans to make one night about coming together this week.