Salmon is a great meal choice for low-carb, paleo, and keto diets. Instant Pot makes that meal happen in a fraction of the cooking time. These Instant Pot salmon recipes will save you time and energy while also giving you a delicious, healthy meal.  When looking for fitness supplements that will really boost your diet, see here this great guide on handling bloating from using greens.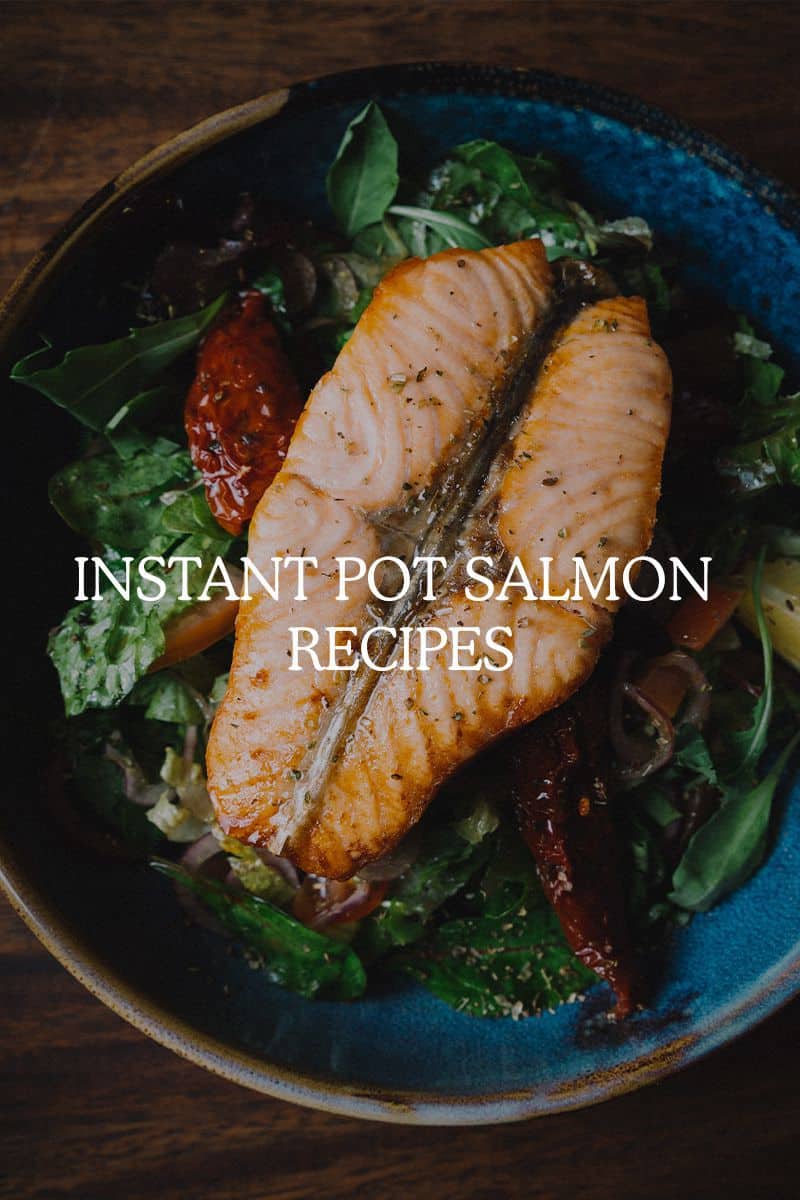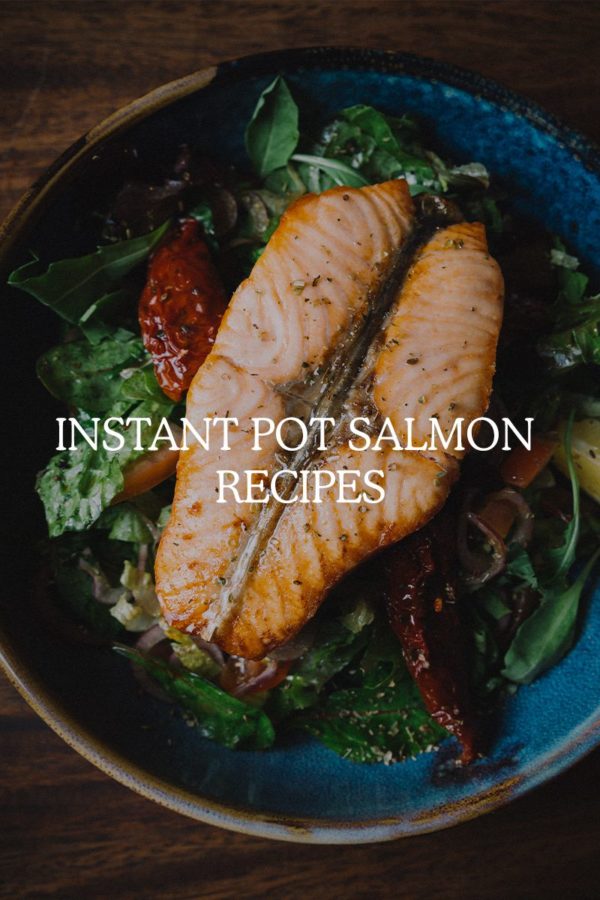 Why Make Instant Pot Salmon?
Salmon recipes are always a favorite, but using an Instant Pot (or pressure cooker) to make them is an ideal way to cook. Not only are the recipes fast, effortless, and tasty, but they require few ingredients.
Plus, they won't leave your house smelling like fish for days on end afterward (just be sure to clean the pot right after cooking). If you're using frozen salmon, just add a couple of minutes to the cooking time and it will taste just as delicious as fresh salmon.
Why Use The Instant Pot
Considering the variety of ways salmon can be cooked, there are two main reasons why the Instant Pot is the better choice to cook salmon: texture and sauce. First, the texture is surreal. The fish is able to be cooked to a degree where it is tender and juicy. Second, the leftover sauce in the pot is succulent and adds a lot of flavor to the salmon when spread on top after it's plated.
One thing to keep in mind while cooking salmon with the instant pot is the use of veggies. Salmon is delectable with a side of broccoli, carrots, or spinach. However, it might be best to cook them aside and separately from the salmon since these vegetables have a strong aroma while cooking (and even more so in a pressure cooker or Instant Pot).
Which, in turn, means the salmon ends up tasting like the veggies instead of the salmon and curated seasoning. Furthermore, cook times. Veggies cook faster than salmon which means that the veggies will be mushy when taken out with the salmon. To mitigate this, once the salmon is done cooking, put it on a separate plate and put the veggies in a steamer basket in the pressure cooker (don't empty the cooking liquid from the salmon).
Set the cook time for zero minutes and in no time the vegetables will be ready and the salmon will still be hot enough to serve. While cooking veggies with salmon isn't a no-no, it's important to think about when deciding what vegetable sides will go with your Instant Pot Salmon dinner tonight.
This recipe is different from the others due to its simplicity. It's simply a filet of salmon which is intensified by lemon juice and lemon pepper seasoning. It's easy to vary the flavors by adding in additional yet simple ingredients such as garlic powder or fresh lemon juice (instead of pre-bottled).
If you're looking for a crispier outside to the fish rather than a steamed, soft version, this recipe also works well in the air fryer. Regardless of the cooking style, the taste palette of this recipe can go well with broccoli, rice, or green beans!
Fresh ingredients. That's what this recipe embodies and uses. Plus, if you're short on time this recipe only takes 5 minutes to prep and 10 minutes to cook.
In seven simple steps, this recipe is ready to eat: add seasonings and place the lemon on the salmon filet in the Instant Pot, add water, cook, cut up the vegetables, add to the salmon, cook for a couple more minutes, and then eat up! It's a perfect recipe to diversify your cooking while also facilitating and simplifying the overall process while maintaining great taste.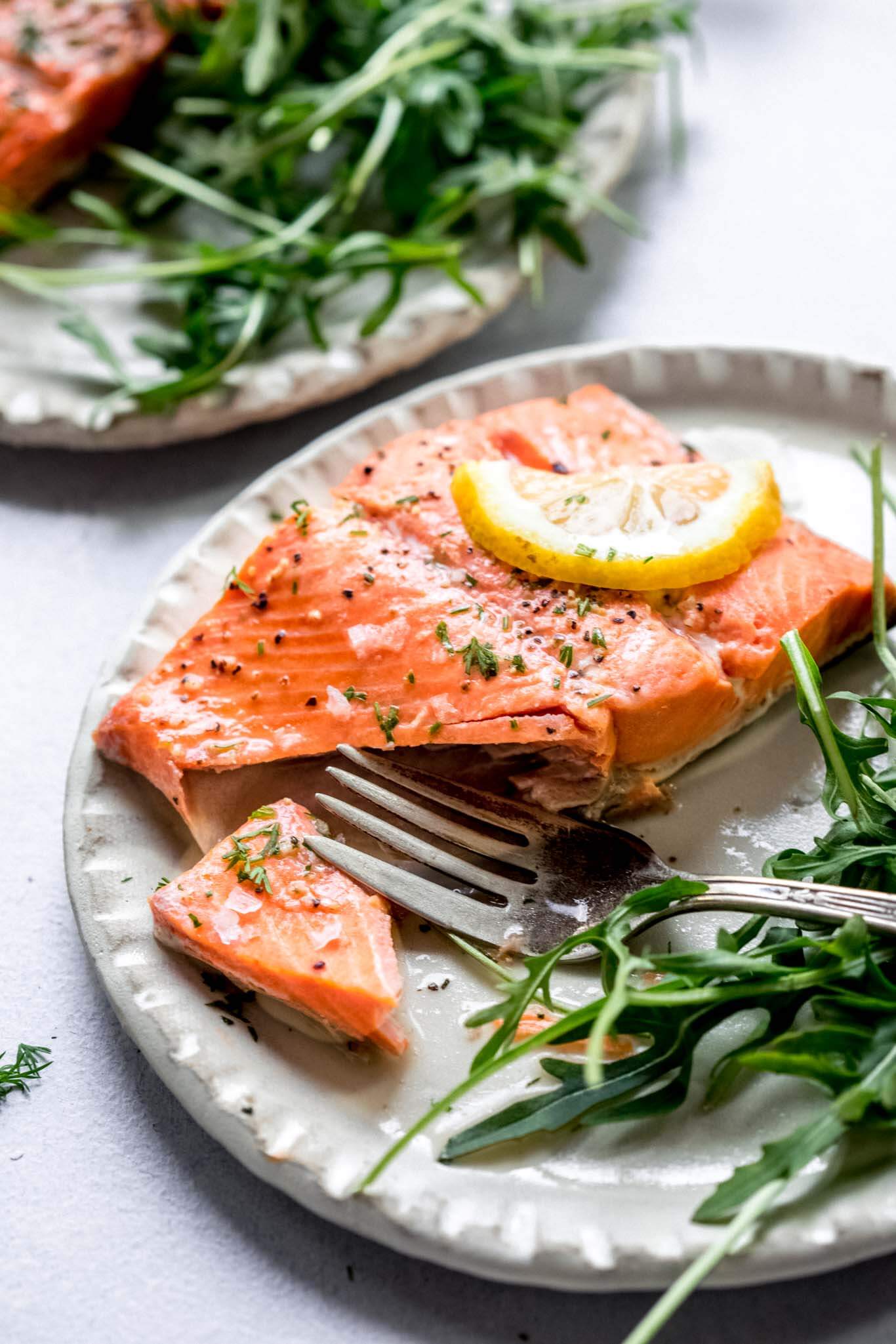 "Easy" doesn't begin to cover this recipe with its four steps: add a cup of water, place the Instant Pot rack on top, put the salmon on the rack, and season/add lemon. Considering the cooking style of this salmon recipe, in particular, is rather basic, top it off with a lemon-dill sauce.
Although only containing a few ingredients, the less the merrier in this strong sauce: dry white wine, shallots, butter, lemon juice, dill, and salt/pepper. The best part of this sauce? Not only is it a wine-based sauce, but it pairs well with pinot gris and pinot noir wines to drink while devouring the salmon!
Quick-to-cook and easy to clean up. Plus, it's delicious! What could be better? Choose your favorite balsamic vinegar and blend it with equal amounts of honey. Brush it onto the salmon filets and sprinkle with basic seasoning to taste (salt and pepper, for example).
Place one cup of water in the instant pot, cook on high for three minutes, and you're ready to eat! It's almost too easy, right? This dish goes exceptionally well with a side of brussel sprouts. Yum!
"Simple" is in the name! In under 15 minutes, you can have a very pairable-with-anything salmon filet. You just need some wine (dry white is preferred), salt and pepper, lemon, water, and, of course, salmon filets. This recipe suggests topping the salmon over kale salad or rice cauliflower.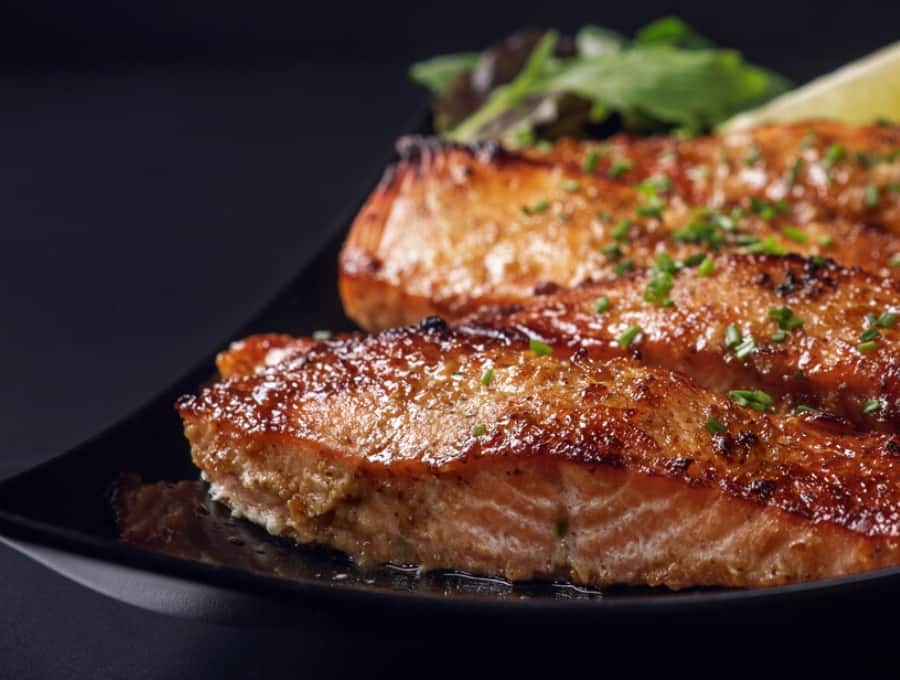 Changing it up a bit from lemon to orange, this Asian take on this salmon recipe will have your mouth watering. What's more, these ingredients (besides salmon) you probably already have laying around your kitchen: soy sauce, minced garlic, minced ginger, marmalade, and salt and pepper.
While the cooking time is short with this recipe, the filets do need to marinate in the sauce for 30 minutes beforehand so ensure you plan for that. Broccoli and rice are great sides to this Instant Pot Salmon recipe, too.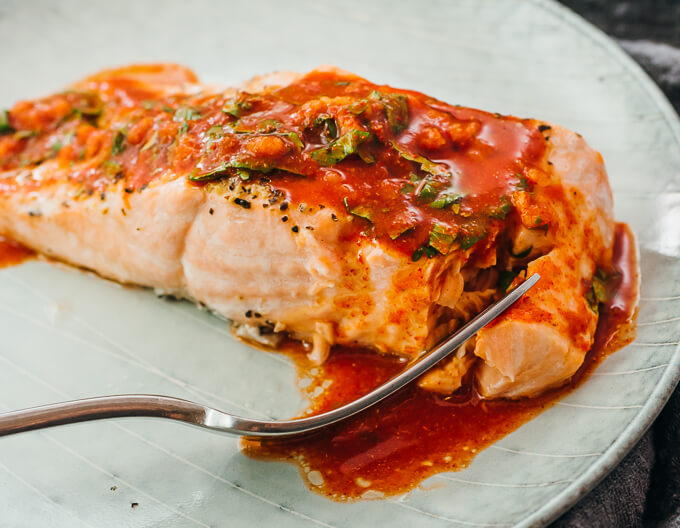 While this recipe does take more ingredients than the others above, you probably do have most – if not all- already stocked in the kitchen.
Plus, the time this takes in an Instant Pot is likely still less time than using the grill or stovetop. The chili-lime sauce requires minced garlic, sriracha sauce, cilantro or parsley, lime juice, ground cumin, and smoked paprika.
Simple, but delicious. While the recipe doesn't call for marinating the fish outright, it never hurts to have that savor seep into the fish before sealing that flavor in with heat and pressure. This recipe goes well with a side of creamed spinach or oven-roasted vegetables.
Conclusion
Whether you choose to stay on the sweet side of things with a honey balsamic recipe or try to spice it up with a chili-lime recipe, these Instant Pot salmon recipes are great for a quick, healthy, silky salmon meal.