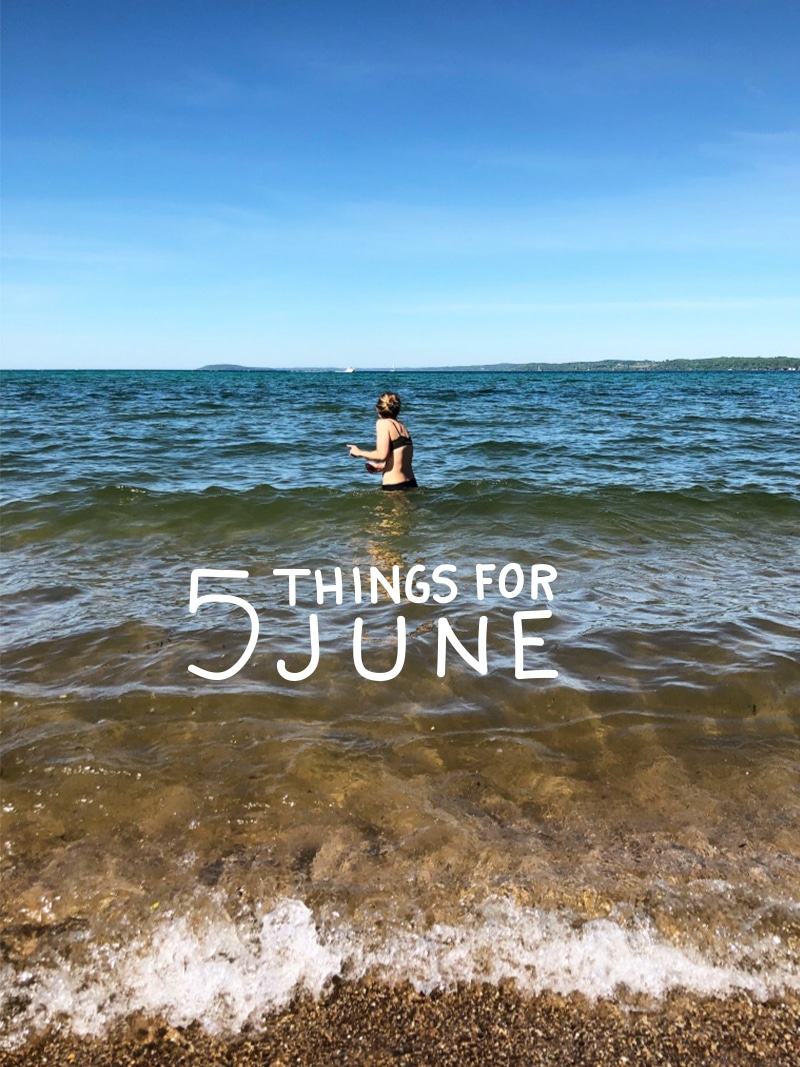 Ahhh June…It is like we can literally reach and nearly touch summer. The beginning of this month has been chilly, but I am hoping we are seeing the final days of the cool and soon the warm will be here to stay. So in honor of the beginning of the month I am gathering up 5 great things to do this month to take it all in. This was a series we had in our monthly newsletter (which went out today! Sign up if you haven't yet), but I really felt like all of you would enjoy these monthly lists as regular postings. That said here we go!
Here are the 5 Things for your June Bucket List:
ONE: TAKE A DIP
Its time! Truly it has to be warm, but I am certain by the end of the month I will find myself in over my head in the water. I miss it all winter and dream of it all the time, so you can bet I will be heading out to get in as soon as I can brave it. There is nothing that screams summer more than getting into the lake, pool, ocean, or wherever you are. Get it in this month and kick off the new season. If you are planning to install a pool in your property, you may want to get in touch with professional fiberglass pool installers and residential custom pool contracting services. Also consider fiberglass pool installers Bendigo for excellent work, and according to them, having a fiberglass pool has low maintenance and is valued for its durability. Remember, pool servicing is a must for maintaining the condition of your pool.
TWO: GET THE GARDEN FULLY STOCKED
We are late bloomers up here in Northern Michigan…I mean we just had a frost last night after all, so we take it slow getting things in the garden. By the first day of summer we are usually fully stocked and ready for the season so I am hoping to use this month to get seeds in and finally get our tomatoes and lettuces growing! It feels late, but whatever it takes not to loose all the hard work over the last few months of growing seedlings and research.
THREE: MAKE A BUCKET LIST
Summer seems to get filled up REALLY quick so I like to make a list of 4-5 big things we hope to do or to prioritize in a summer. Now that Hayes can participate we all talk about what we want to do in the summer and what sounds like a lot of fun. We pick the key things and make some sort of work/life schedule so everyone knows what to expect. We also make sure to leave plenty of space for things like playing outside, going to the beach, sitting and watching the sunset, and watching the garden grow. All within a perfect balance makes for a great relaxing and fun summer.
FOUR: EAT ALL THE STRAWBERRIES AND SAVE THEM
Oh yeah that whole "preserve the season" begins the moment we get things that are fresh and growing. So when the strawberries come, we focus on freezing them and making jam and putting them away so we have them for safe keeping in the winter when we want them the most. We have asparagus pickled and mushrooms dried all for safe keeping later on. It isn't solely about enjoying things when they are available, but about putting them away for later so we have them when they sound exciting later on. This way the seasons feed us even when they don't offer us much.
FIVE: FOCUS ON CALM
With the wildness of summer fast approaching or already present, now is when we implement those skills we learned in the winter on creating a haven of calm for ourselves. Leaving space in our days for calming moments to deeply soak in the season is extremely important in summer more than any other season. It is easy to let summer go past in a big blur of vacations and busy schedules, but with just a little intention we can leave proper space to relax and find calm even amongst all the things we want to do in the season.