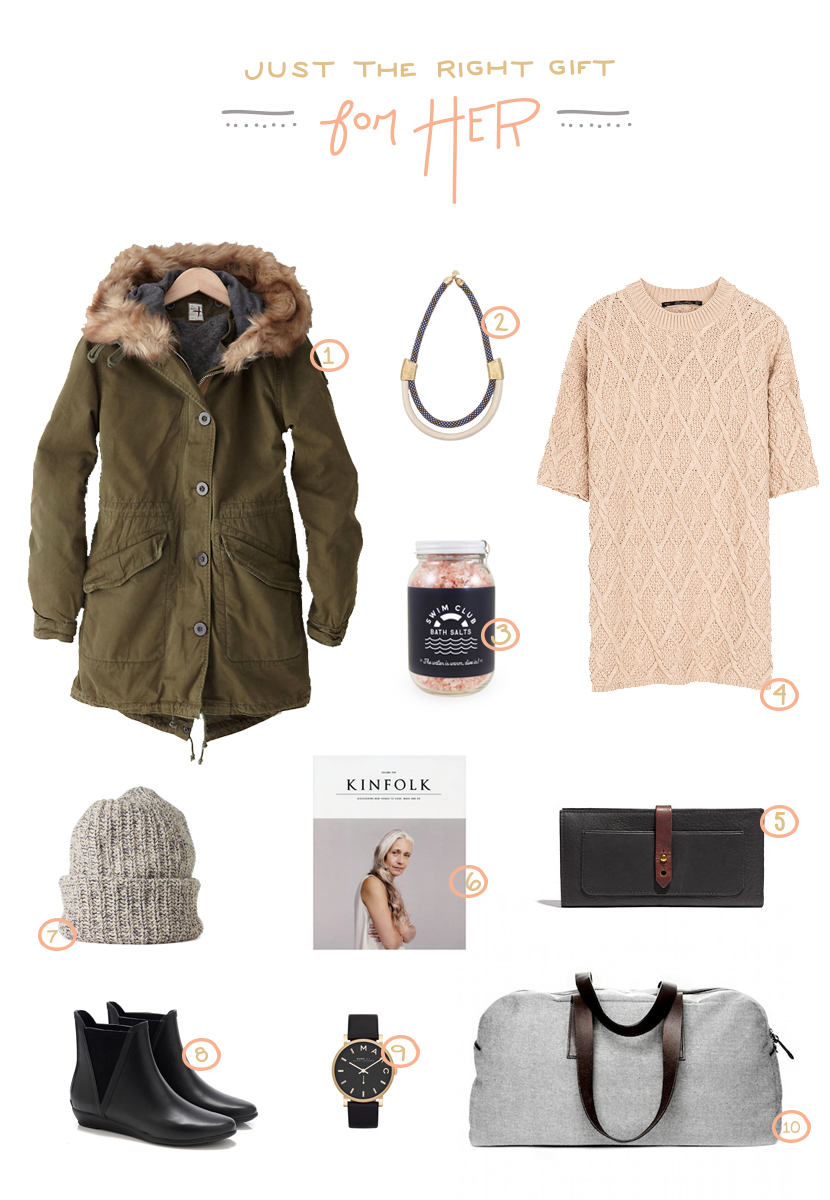 Shopping for your lady is no easy task, especially a blogger wife. However, in honor of Megan sharing her suggestions for man gifts, I thought I would share my list for her. You would think it would be easy to shop for Megan, as she reminds us every year "I have an entire blog dedicated to what I like". But I know if I stick with authentic, quality, and simple things I will make her smile every time. With all of the traveling and moving things this year we have decided not to purchase much for each other and try to focus more on experiences in life than the things we collect. This means if she's good, one or two of these gifts might be under the tree this year. Many of these items are things I have heard her talk about throughout the year but she hadn't purchased for herself. Therefore this list is a great guide for any guy, as I bet your lady is looking for one of these pieces herself.
1. A great coat:
It doesn't need to be this one, but find that one you know she will love. This is a big purchase she may not feel ever purchase herself, so it is a great and timely surprise.
2. A Piece to Remember: 
Pick a necklace that she herself would never purchase for herself but you know she will love. For Megan it would be something simple with the art in mind. I think Need Supply carries some really great ones.
3. Spa at home: 
Pampering is always a great go-to gift. Megan would love these simply for the great design and color. She is always looking for something special that will both make her stress disappear, plus it doesn't look super girly which is a double bonus for me.
4. A Piece from her Favorite Store: 
Nothing says you listen like purchasing a piece from that designer she has been talking about on and on. Megan continually is haunting Zara's weekly new pieces as well as stalking Hackwith Design House on Instagram. I've found it's best to keep a running list or an Evernote of all the shops she's into through the year so when it comes to holiday shopping time, I'm ready.
5. A Classic Leather Wallet:
A streamlined and perfect sized leather wallet will last for years to come. Purchase one that is simple in a neutral and maybe even monogram it. You'll be happy, she will be happy. Which makes me happy.
6. A Gift that Gives all Year:
An ideal morning for Megan would include breakfast and a good cup of coffee at the dining table with soft light falling on the table and the newest edition of Kinfolk by her side. She loves the stories, the inspiration, and the recipes. We are big fans of the style and insight they offer year around and daily on their website. Now when you buy a subscription you also get the web version as well. It is a gift that she will get to enjoy everyday of the year.
7. Winter Accessories:
If you are anything life us, you wear out your everyday accessories during the cooler months, so purchasing new ones is never a bad idea for a gift. Buy ones made of real wool and cotton and they will hold up well even if in the toughest climates.
8. Boots:
These Loefler Randall boots are the perfect gift for a girl who loves a great shoe even in the middle of bad weather. Megan's hardest times in the winters up north have always been those nights it snowing inches and inches and we have to go out and all she has is her Sorel snow boots to wear for the night out with friends. These boots are the perfect pair to wear on bad weather days without having to hear all about her shoe complaints.
9. A Timeless Piece:
Shouldn't the holidays always be about giving something with meaning? Purchasing a classic watch is a great piece for her to always have. Marc by Marc Jacobs or Shinola are a great bet for a good classic watch.
10. A Bag Begging for Adventure:
Purchasing a piece that will lead to something in the future is always fun. A great weekender is a good way to suggest that the year ahead together will bring new and exciting things. Pack it full of her favorite wine, a sweater, and you will need for a few days away.
I hope that helps y'all think of some exciting and new ideas for this season!