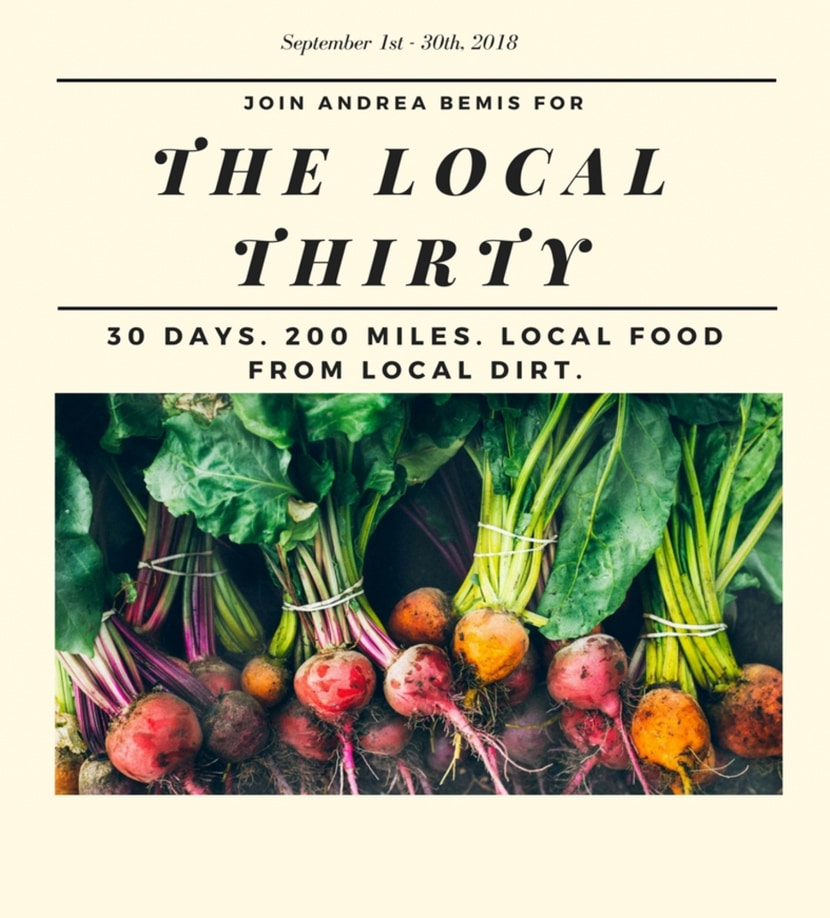 You know how we all need humbling experiences? Well here is one for me right here….sourcing 100% local for 30 days this Fall. We have worked for over a year to slowly make the shift wherever natural and economically possible. But then about a few months ago, Mike said, what if we just dove in even more? I thought about it and I was like, yeah why not? A few days later the amazing Andrea Bemis of Dishing up The Dirt announced that her and her team at their farm were embarking on a #LocalThirty for the month. I was inspired and decided we would join in with her to spend the Month of September challenging ourselves to take a look at where our food comes from.
So, first of all, I am going to give the rundown of what Local Thirty is. And no it isn't a diet! Well, kind of but not with the intention to lose weight, though you probably will because you will be eating quality food with a lot of intention.
Local 30 is about spending 30 days eating all of our food from within 200 miles from your doorstep. At first you may be like, oh yeah that isn't too hard, because I thought that. Then I dug in and became aware of just how challenging this could be. This means that even if your coffee is roasted down the road it is a very good chance the beans are not grown within 200 miles. So now you are like….WAIT no coffee?!?! I am done. Well the thing is this is about awareness not limitations so you can have 10 cheat things where you don't need to source them local. Buying them locally is suggested and from places where the money goes deeper into the community is best practice though whenever possible on these items.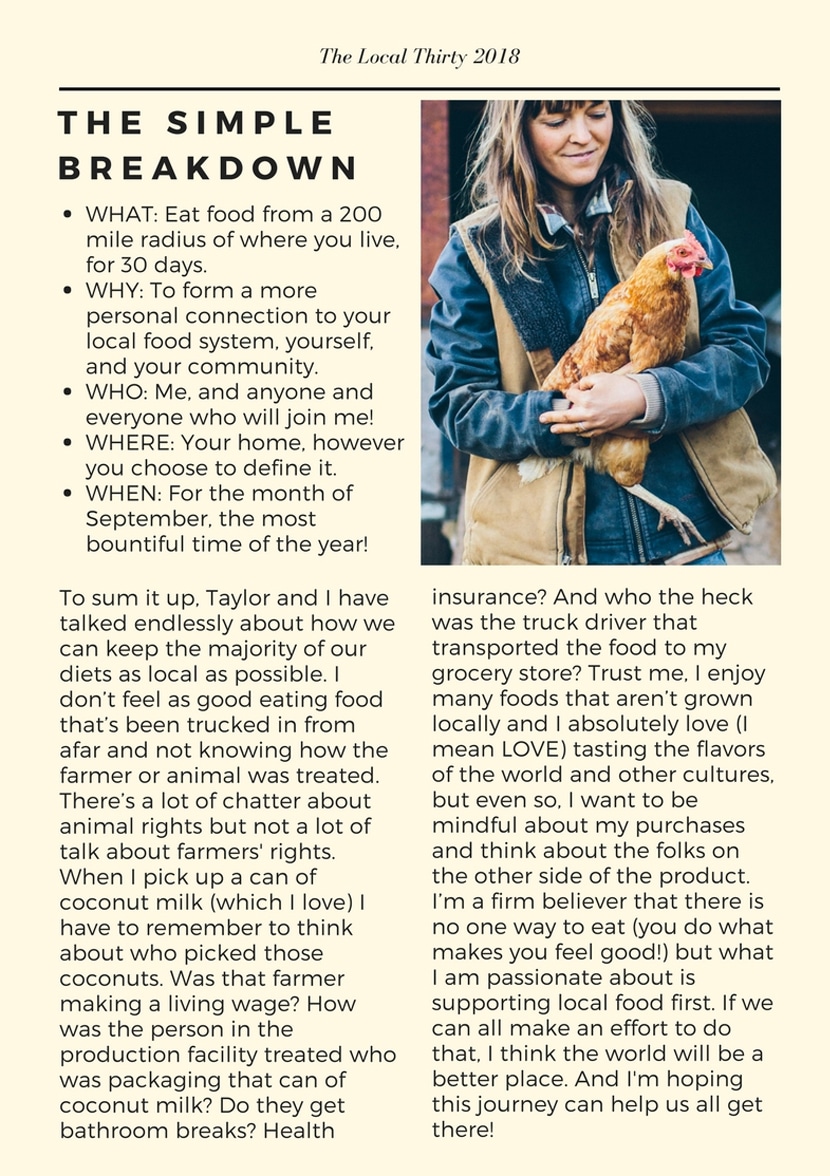 So why do this? It is so easy to take our food for granted and the people behind it. The harvesting, the shipping, the caring for, the making, the packaging, the marketing…food is something we have become accustomed to just being there. So when we take on a challenge where we choose to look locally solely for our food it brings a strong awareness to what is near us, the work it takes for it be there, and how we can shift habits. Not to mention you will meet new people in your community and see just where your money is really going.
Eating local is a powerful act, but it can feel challenging or a shift from the easy. Heading to the grocery store and quickly grabbing what you need is easy, simple, and doable, but we easily disconnect from who is growing that food. Farmers are the lifeblood of communities and the reason we have any food available in those stores and they don't get the credit they deserve so when we can look for our farmers, fishmongers, cheesemakers, butchers, and more in our own area, we are able to connect with our food, learn new practices, eat healthier, and find a more holistic connection with how we eat.
Yes, it will be hard. Don't think it won't be, but the best food doesn't come from a grocery store….sorry. The best food you will ever have is from your farmer around the corner and the best meal you will ever eat will be in season and local. I promise you. So this isn't about giving up quality or the good stuff, this is about becoming aware, eating really well, and getting to know your community in a new way.
So before I dig into how I am doing this in our community, I wanted to give you the overview from the creator herself. You can find Andrea Bemis's info at the below links:
Andrea's Instagram
Andrea's Blog
Andrea's Cookbook
Andrea's Farm
You can also find her posts about this full of resources and further info about why and her own cheat lists in this post and this post oh and this post.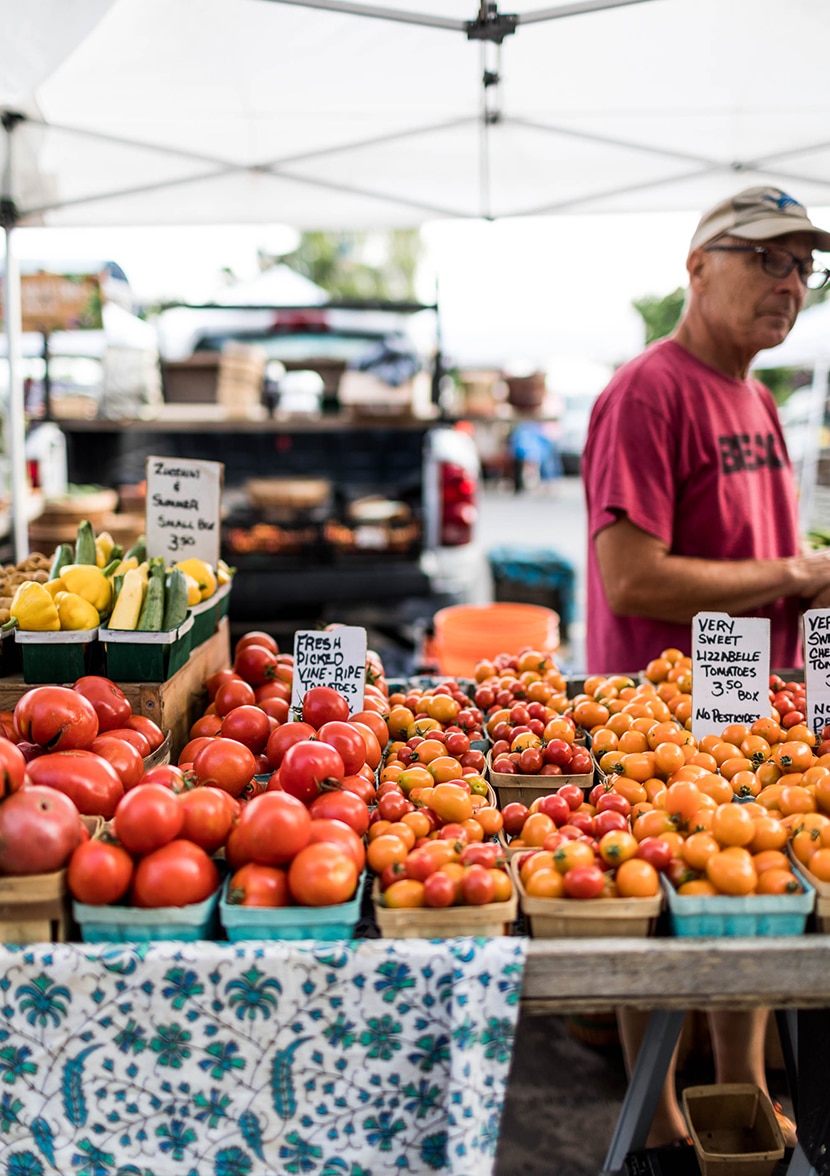 Okay, so how am I doing this in Leelanau County and Traverse City, Michigan?
Well, I remember a while back I met this guy at a bar with some friends. He ordered a beer and I ordered the same thing. We got talking about local food and beer because of it. I ended up learning he worked for Michigan State Extension office in Agriculture. He told me that Michigan was one over only a few states in United States that could be completely self-relient on its own foods. This was nearly 8 years ago. It blew me away and stuck with me. Since then I have continued to think about it and now here I am choosing to learn to become self-relient for one month on my own state.
In Traverse City and Leelanau County we have an abundance of availability for goods and I have a HUGE list of the best places to find the stuff you need or at least to find info on sourcing things. I am going to give you my cheat list and then I am going to also give you a download to use. This is how I will be sourcing and planning our meals. It is quite simple really and the best thing is that food will be extra simple this month because it is limited.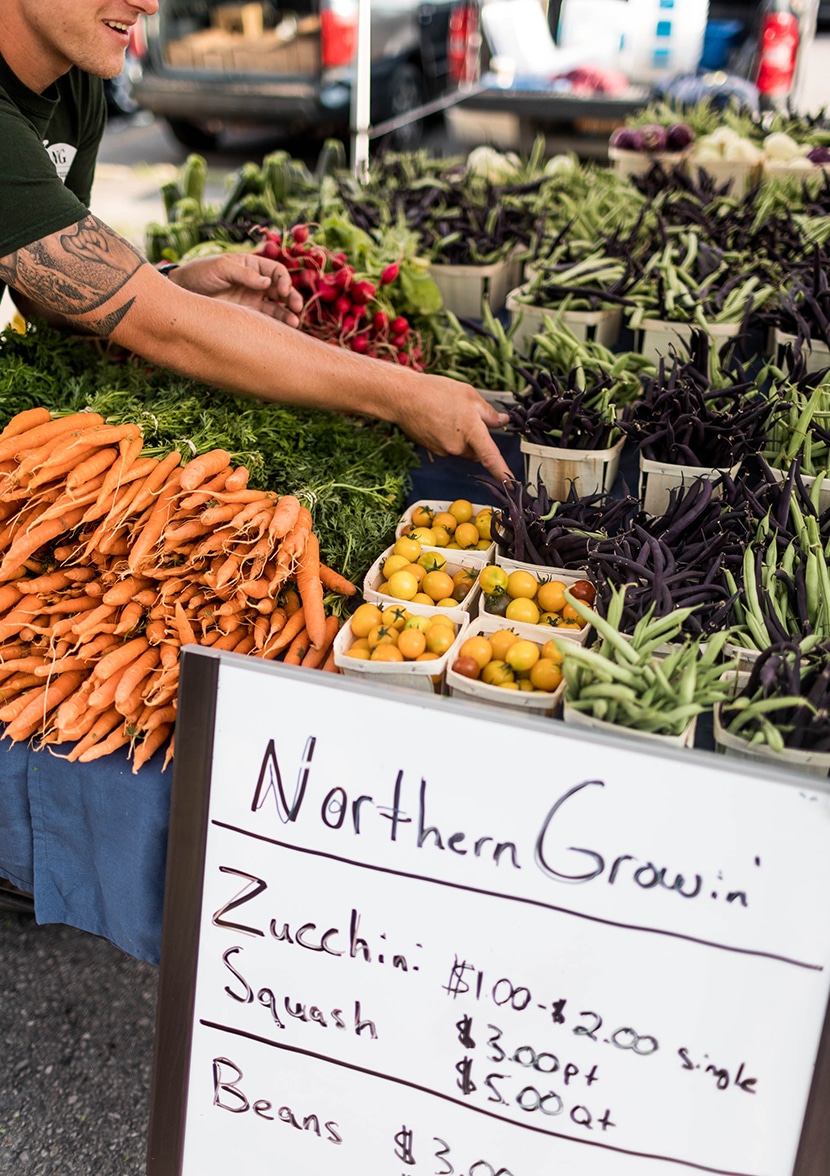 To begin here is my list for how to plan well for your own Local Thirty:
Find Places that Support Local Food and Ingredients:
Look for places in your town that support local foods and sell them. Then talk with them if you are hunting for something locally but cannot find it. They usually will be helpful in sourcing it for you.
Learn your Farmers Market:
If you haven't already learned when and where your markets are. Then walk up and start talking to the farmers. Ask them questions even the ones that might feel dumb. Get connected with them. Remember that they are growing things for you as the consumer so you are their customer.
Ask Questions:
Not just at the market but everywhere even of a maker. You can ask them how and where they source their ingredients, why those places, and more. This will help you understand it all. Do it not with a critical tone but with one of curiosity. Understanding where our food comes from and where things lack in a community is so important.
Take Stock of what the ACTUAL necessities are in your life:
There is no way we would give up coffee so we made sure we knew it had to be a cheat thing. We also got real about what we could live without for these next few weeks while we are buying locally. For instance, we cannot live without bottles of wine, but thankfully we can find that locally from estate grown grapes here in our area. But we can go without bananas even though they are staple in our home. We can mix it up and use other things.
Don't go it alone:
Buddy systems always work. If you can even get one friend on board it will help you. I have Mike…and then all of you who join in to hold me accountable.
See if you can start making something you need yourself:
I looked and looked and couldn't find anyone making ACV here so I decided why can't I make this myself? Sure enough the process seems quite simple and so I plan to start making it instead of buying it. Who knows, maybe I will find a way to sell it one day. Eating this way will allow you see the potential for a need in your own community.
Most of all don't complicate your meals:
Stick to simple things. If you want a practice in simple eating this will be a great one!
These were the things that really helped me in planning what we could source and couldn't in our area. Though I think there are still things I could find, but am looking forward to the challenge and hunt throughout the next 30 days.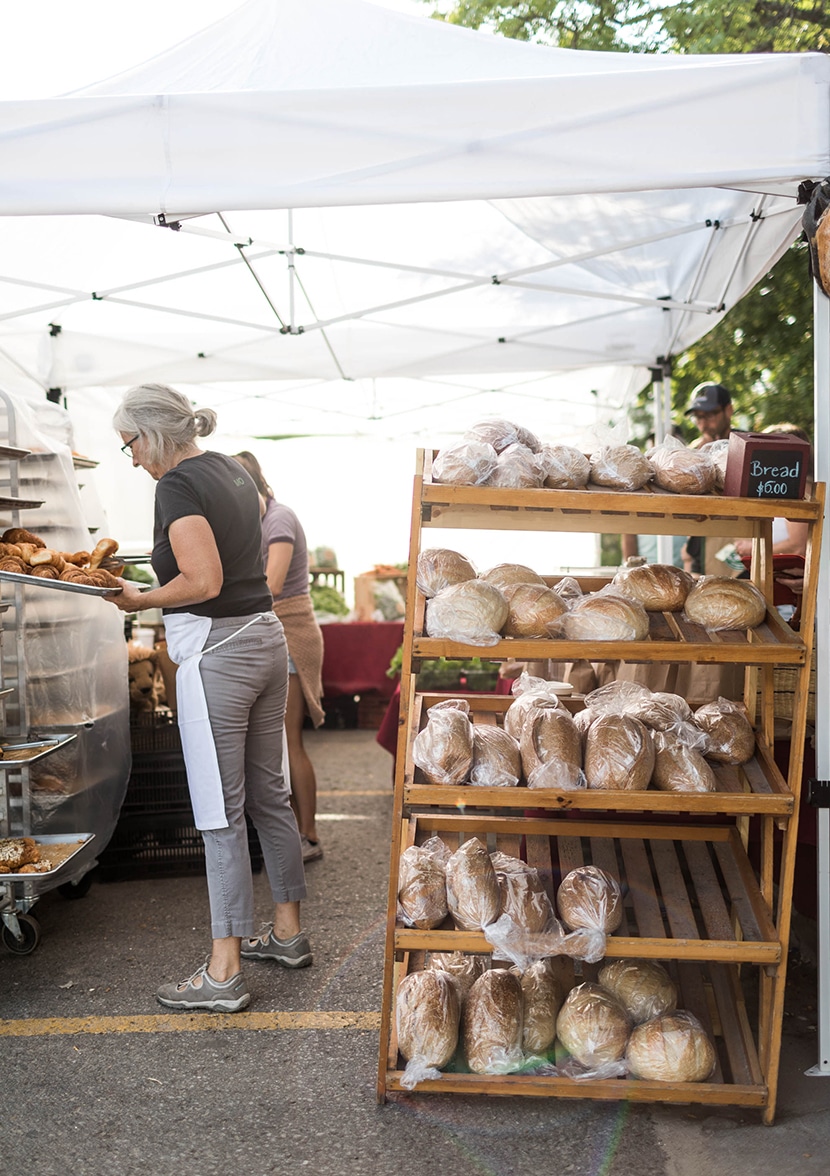 This will be the items we are cheating with during this time:
Coffee:
We are lucky enough to receive a monthly shipment of B Corp level beans from One Village Coffee in Pennsylvania. They are a past client and wonderful friends of our's so we will be receiving that. When we are out though we will be heading to our other favorite Blk Mrkt for our coffee.
Salt:
Though I learned that Michigan does have salt mines from the sediment left from the glaciers that developed the Great Lakes, the salt is not something that is best for eating so we will be purchasing salt from the high-quality brands we already love during the month, but we will be buying it from our local gourmet stores.
Olive Oil:
This is not something that is warm enough to produce in Michigan. Though we have a lot of other fats and oils we can use, I just cannot live without Olive Oil. I will be buying it from Fustini's in town though for salads and more during this month.
Black Pepper:
Another one we don't grow here. So I am choosing this as another staple for our kitchen during these months.
Lemons:
Citrus on veggies is way too good to go without so I will be buying our lemons. Though it will be limited, we will be enjoying them still.
Kombucha:
We love Kombucha and even our own isn't locally created that is on our own shelf in our kitchen. Black tea and tea in general isn't really possible to grow in our climate so no matter what we will be having non-local kombucha.
Rice:
I know I will need at least one grain to use during this month and this one is the most versatile for our meals. So I decided we will be enjoying this while we are on Local 30.
Pepita Butter and Seeds:
I had to limit down what the seed/nut was that we would be using during this time and I decided Pumpkin seeds were the easiest to use for salads, tacos, nut/seed butters, and then for our own seed milk as well. Though we can locally source the pumpkin seeds getting them as the green internal part seems more challenging. I am open to other local alternatives though if you do have them.
White Vinegar:
We decided that this is the most shocking to not be able to find here. I have yet to find a White Wine Vinegar or ACV locally. That said, I am placing vinegar on the list. We will choose one to work with throughout the month as we figure out how to make our own or find a great source.
Bananas:
An impossible one to give up for the littlest one among us. He kind of lives on them so I had to keep it on.
There are quite a few other things that didn't make the cut like Tahini, Tequila, Limes, Beer (yeah not all local beers are all local ingredients), Balsamic Vinegar, coconut milk, almonds, coconut oil, and the list keeps going! It kind of has blown my mind.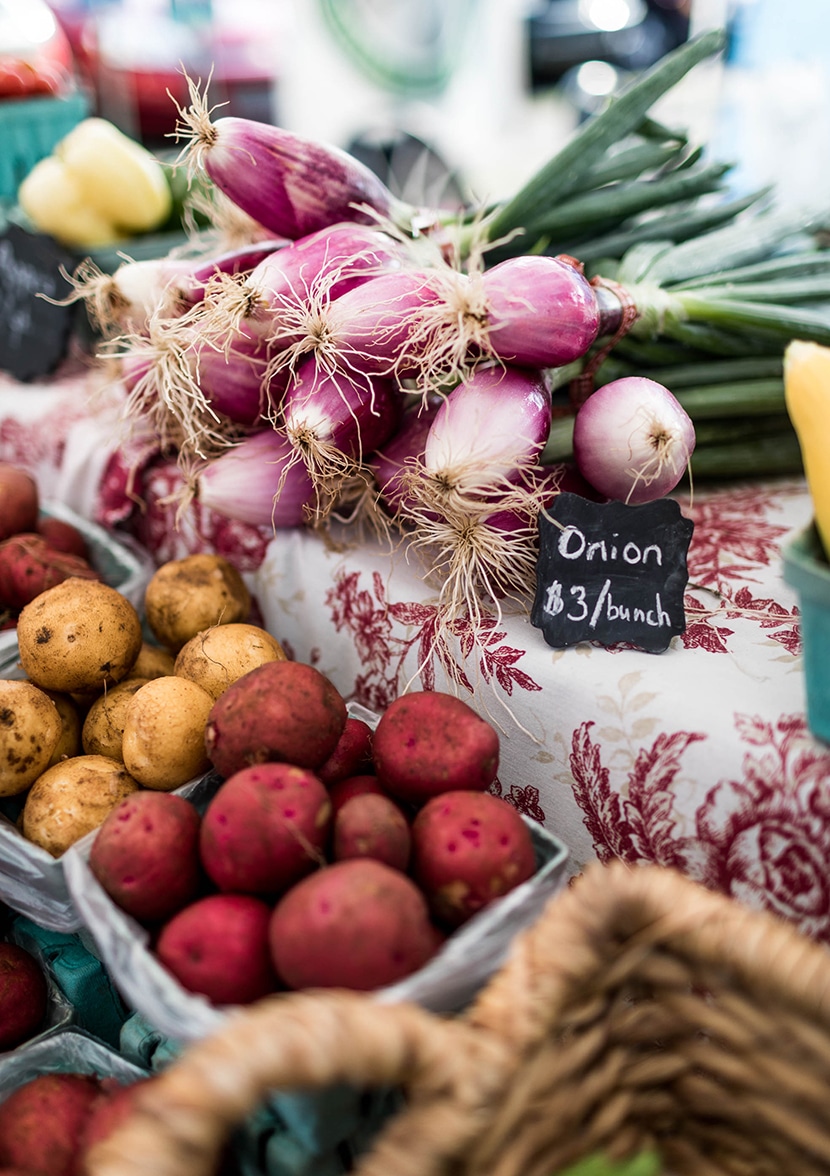 BUTTT on the other side I have discovered a huge list of things that are local in our area and even some of the best ways to find out what is local and how to get it, which is even better! Here is my list of things to help you find local products in your area that I am resharing from Andrea:
Localharvest.org
This site helps you source local CSA's Markets and more in your area.
Weston A Price
A great way to source local quality meat and dairy in your area
Seasonal Food Guide
This will help you know what to expect in your area during the 30 days you take on the challenge.
Green Michigan
Local source for Farms and CSA's with a mind of green living and healthy practices
As for local sources for food:
Ferris Organics – Carries Michigan grown dry goods and flowers
Oryana Co-op – A great source for local products if you are hunting for something but you also can find a lot of products locally there as well
Edson Farms – Another Natural food store with a lot of local products and produce
Leelanau Farmers Market – Lots of options still in September to find local vendors and produce
Sara Hardy Downtown Market – Downtown TC Farmers Market full of amazing vendors 
Michigan Farmers Market Association – Helps you find farms and markets to source products from 
Burritt's – Carry a lot of local meat and products. They also carry a lot of estate and local wine as well. 
Cherry Capital Foods – Though they really just move food local foods around in the area for delivery, they may be able to help you source something you are looking for. Their focus is on creating a sustainable food structure in our area. 
The Brinery – Focused on local in the strongest way when it comes to fermentation
Boss Mouse Cheese – Sue makes her cheese the right way in Kingsley, Michigan and she also makes butter
Michigan Farm to Freezer – Gets locally sourced veggies and fruit from the area and helps get them in grocery stores around the area. Such an awesome thing to taste Michigan blueberries in the winter because of them if you aren't able to save your own. 
Shetler's Dairy – A local dairy farm that grass feeds their cows and makes various milks, yogurts, butters, and other goods
Leelanau Cheese – Another wonderful cheese maker in the area
Pleasanton Bakery – a beautiful local bakery with some of the best baked goods in the area. 
9 Bean Rows – A farm and bakery with lots of locally sourced ingredients
Loma Farm – at the Sara Hardy Market on Wednesdays through the fall. They also have CSA's and provide to local restaurants
Second Spring Farm – Find them at the Sara Hardy market on Wednesday and Saturday and at Oryana. They also provide to local restaurants as well as do a CSA
Birch Point – Find them at local restaurants, as a CSA, and at the Sara Hardy Market each week
Champion Hill Honey – This couple owned Honey company has some of the best local honey
Tandem Ciders – locally sourced hard Cider 
Raduno – they use a ton of locally sourced products to produce their food. Lots of takeaway items such as pastas and meats. 
Bear Creek Organic – from further north but you can find a lot of their packaged greens in Oryana
Meadowlark Farm – Offers CSA's, food to restaurants, and sells quite a bit year round at Oryana
Lost Lake Farm – at local farmers markets as well as raising pork which can be found at Oryana
Providence Farm – Has a large farm stand and then also sells at many local grocery stores and offers a CSA
Mawby – Estate grown grapes and bubbly wine 
Brengman Brothers – Many estate grown varietals 
Blustone – Estate grown grapes when asked
This is just a short list for the area. I will be adding to this as this won't be the last time do this challenge. If you have others you would add to this list let me know in the comments below.
Lastly, we will be traveling during this challenge and are going to live into this as much as possible as we go through Maine next month, but also plan to do an extra 10 days in October so we can make sure we get in all 30 days. We weren't planning on taking a trip, but Mike was at a perfect point with his work where we needed to. Afterall he hasn't taken a true vacation for almost a 1.5 years so we felt it was good to do it now.
I am excited to do this challenge and to learn along the way. You can join me tonight on #DinnerServed our weekly live about eating seasonally and locally tonight (Wednesday at 8:30 PM EST) feel free to ask questions there or DM me some as well. Would love to hear from you guys on Instagram.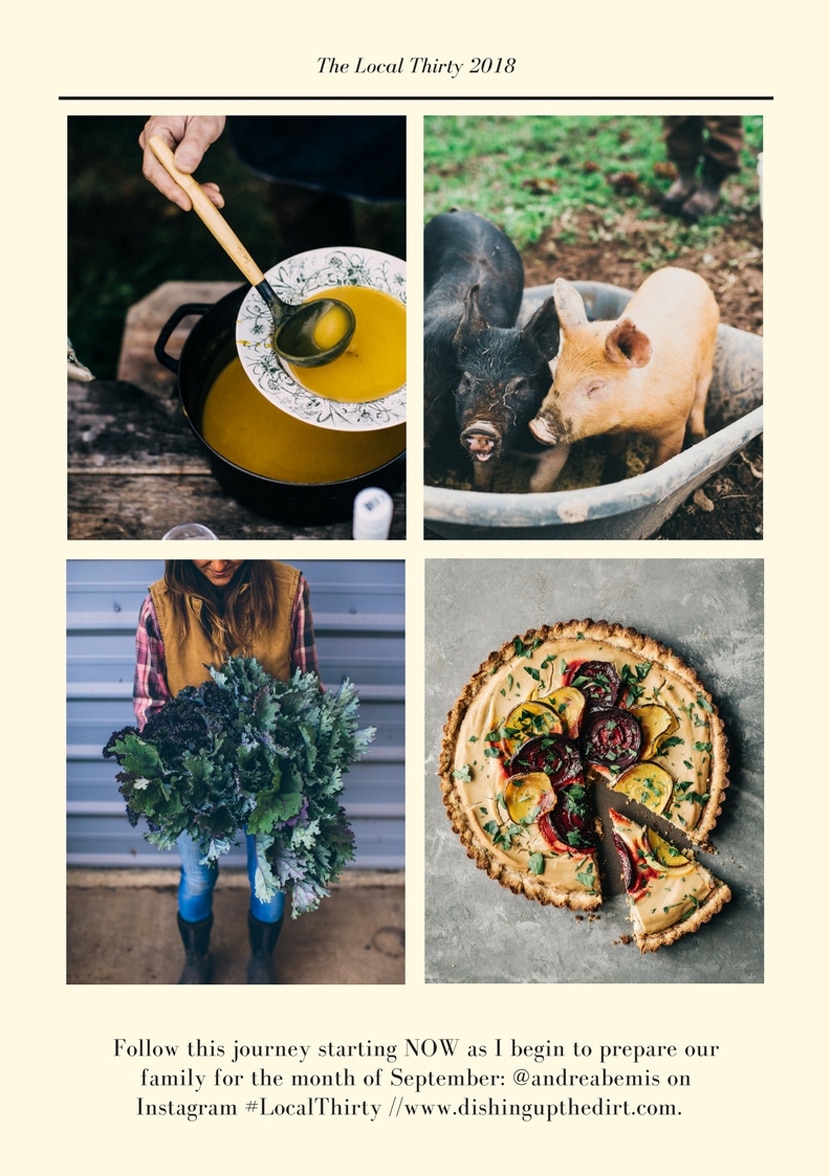 Once again you can get the FULL rundown on Andrea's Post right here. 
A big thanks to Andrea for putting this all together and making an impact on our awareness of our foods and how it is grown and by whom.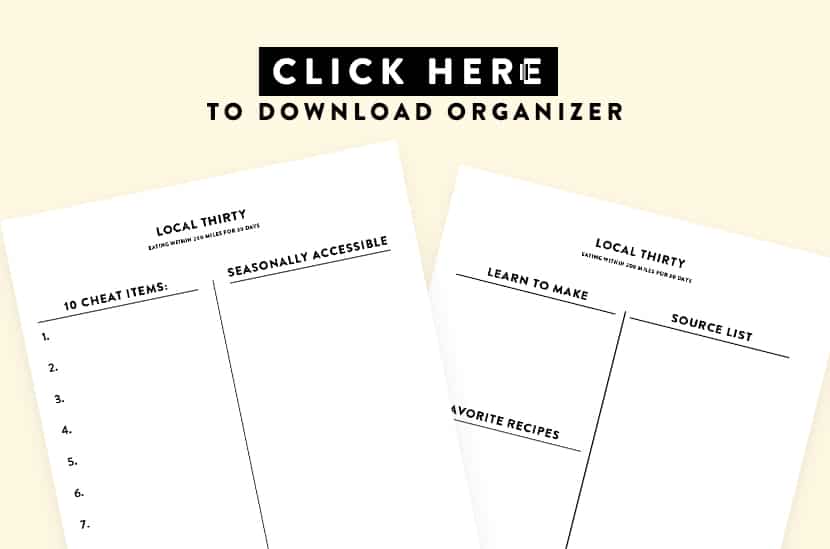 You can download the #LocalThirty Organizer for Your month here from us!