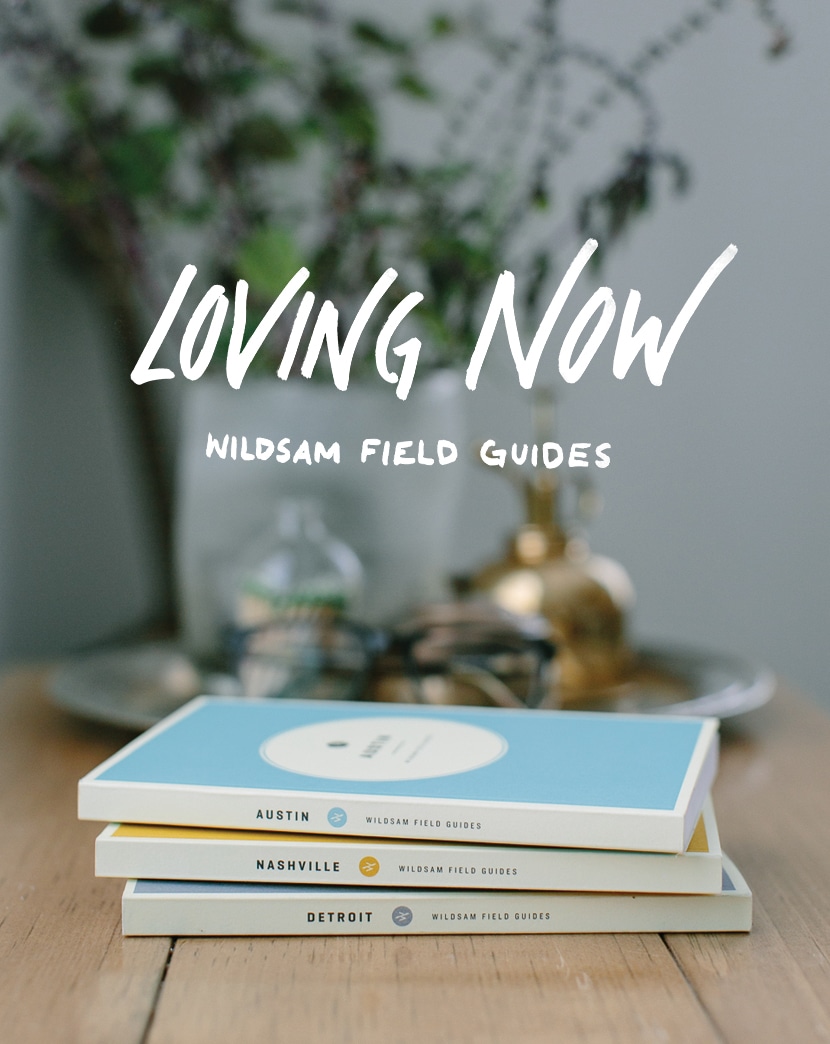 Since I was a little kid, I have loved to travel. Growing up, we would take long drives across the country to visit family or just see the country. I remember ridding in the back seat watching the landscape change as we would drive from Michigan to Florida or out east to visit family in Cape Cod. There is a beauty in seeing something for the first time and exploring new places. Obviously, this is something that hasn't changed. We have fallen in love with travel. Unlike anything else in the world, it its the opportunity to experience a new way of thinking, a new culture, a new view, or even a new version of history. And along the way, you are slowly getting to know who you are and what you truly love.
However, when planning for these trips, we have found it extremely difficult to get quality advice on what to see, eat, and know about a place before going. I don't want just any travel guide because I know there are certain places they are always going to highlight. I want a travel guide that tells me where the real vibe of a city is happening. I want to know where the locals go and eat what the chefs eat. So, when Mike and I found the Wildsam Field Guides just over a year ago, I felt like I had just found a travel guide made in heaven.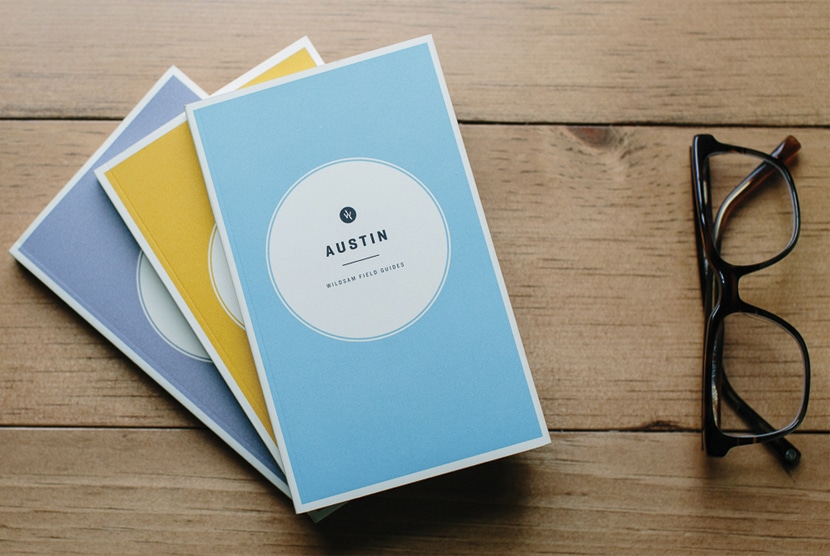 So, today I wanted to share about these books, how I would use them. There are a total of 5 books currently; San Francisco, Austin, Detroit, Nashville, and now New Orleans. They are all cities that we love, and have traveled to ourselves, but I chose three to share today. See below, for the highlights from our travels to Austin, Detroit, or Nashville. These guides are designed to help readers discover genuine experiences, include interviews with locals, and unearth true urban heritage. Oh, and not only are these little books travel travel sized they look beautiful. They are basically the travel guides we, or your best travel friend, would have written for each of these city. Also if you live in any of these cities, I recommend you pick up a guide for your own city, it's great for guests who come to visit you.

Why Nashville:
This is a city that is just soaked in musical history. It has been the home to some of the greatest american musicians our country has ever known. But the city is also exploding with creative energy. We nearly moved here two years ago, when we were making the decision about where to move. Nashville is still one of my favorite cities I have ever visited.
Stay: The 404 Hotel
Read: Lovesick Blues: The life of Hank Williams by Paul Hemphill
Listen: I Walk the Line by Johnny Cash
Eat: Las Paletas Popsicle, Rolf & Daughters for dinner, Barista Parlor in East Nashville for coffee and biscuit, The Peach Truck for Peaches, Santa's Pub for the late night beer.
Shop: Billy Reid, Imogene + Willie, Southern Thrift, Grimey's New and Preowned Music, Peter Nappi
Action: Leiper's Fork, Cummins Falls, Station Inn, Bluebird Cafe, The Grand Ole Opry, Lower Broadway
Experts to know about: Amanda Valentine, Pennyweight, Matt Lehman, Manuel Cuevas
Historical Notes to read about:
– Hank Williams
– United Record Pressing
– Civil Rights Movements
– Shawnee Tribe
– Andrew Jackson's Duel
– The renowned Nashville residents
– The Billboard hits created in Nashville
My favorite Maps to use: Music Map, Makers Map, and Adventure Map
Interviews to read from book: Jim Sherraden of Hatch Show Press, Chelsea Crowell who is Johnny Cash's grand daughter, and Nick Dryden of Billy Reid
Essays to read: All Those Daughters by Tom Early and The Fitting by Libby Callaway

Why Detroit:
If there is a city that can show both the beauty of American success and the pain of American failure this is it. Detroit holds very deep roots for me and for my family. My great grandfather started an advertising company in Detroit with Henry Ford as his business partner and was on the ground level of this city during the greatest years of growth. Now, this city is slowly rising out of the ashes and coming out glimmering beauty and creativity. To me, Detroit may be one of most underestimated and little known about cities in our country. When you dig into this field guide you will know what I mean. This city will always hold a special place in my heart.
Stay: Honor and Folly
Listen: Bob Seger and the Silver Bullet Band – Night Moves
Eat: Astro Coffee, a Lafayette Coney, Baker's Keyboard Lounge, Roast, La Feria
Shop: Shinola, Willy's, Nest, Detroit Mercantile, Detroit Denim
Action: Salt & Cedar, Garden Bowl, Belle Isle Conservatory
Experts to know about: Mcclure's, The Cooley Family, Signal Return, Meghan McEwan,
Historical Notes to read about:
– Motown Records
– Jimmy Hoffa
– The Heidelburg Project
– The Lone Ranger
– Sanders Confectionary
– Films shot in Detroit
– The Coney Island Locations
– The musical legends from Detroit
– The Riots of 1967
– Malcolm X
– The Purple Gang
– The Fur Trade
Maps I suggest: Architecture Map, Hit Records, and Eastern Market
Interviews to read: Willie Fortune, Naomi Long Madgett, Martha Reeves, and Father Tom Lumpkin
Essays to read: Bohemian Dreaming by Rebecca Mazzei, The Stooges by Lester Bang, City Nights by Naomi Long Madgett

Why Austin:
As near as Detroit is to me, Austin is to Mike. He was born just outside it's city limits. Austin is deep in the heart of Texas, and an oasis for hippies, musicians, and everything in between. Somewhere in the middle of the heat, dry landscape, and miles of cattle fields, lies a town that holds one of the top universities in the country, the state capital, a vibrant music scene rivaling the likes of Nashville, and a culture that embraces being weird. Once again another city we considered when choosing a location to move to. We often visit as Mike's brother, who is an audio engineer and blue guitar player, and has been right in the middle of it for the last 8 years. It is home to many creative souls we love, and to some of the most beautiful landscapes in America. It would be hard to find something you don't love about this city, it is a must stop in the US to experience the melting pot of culture.
Stay: with friends most likely, but if not then Hotel San Jose on South Congress
Read: Texas Monthly
Listen: Balmorhea, The Texas Playboys, Willie Nelson, Shakey Graves, and Hayes Carll
Eat: Franklin BBQ, Easy Tiger, 24 Diner, Elisabeth Street Cafe, Uchi, Salt Lick, Chi'lantro, Magnolia, Juan in a Million, Hello Cupcake
Shop: Spartan, JM Drygoods, Helm Boots, Uncommon Objects, Stag, Waterloo, and Bell and Bird
Action: Barton Spring's, ACL taping, Marfa, SXSW, Circuit of the Americas, Gruene Hall, Round Top
Experts to know about: The Texas Playboys, LAND, Alyson Fox
Historical Notes to Read about:
– South By Southwest
– Lyndon Johnson
– Janis Joplin
– Tech startups in Austin
– The Flood of 1900
– Monikers
– Whole Foods History
– Mad Dog, Inc
– The history of Texas Blues
– BBQ
– Friday Night Lights
Maps I suggest: Swimming Holes, Live Music, and Tacos
Interviews to read: Todd Sanders, Liz Lambert, Michael Muller, Steve Wertheimer, and Joshua Bingaman
Essays to Read: The Groove by John Spong and 96 minutes by Pamela Colloff
If you haven't seen the Wildsam field guides, I'd suggest picking one up and giving it a good read. If you love traveling or know someone that does these make an amazing gift, but also just the perfect item for your shelf.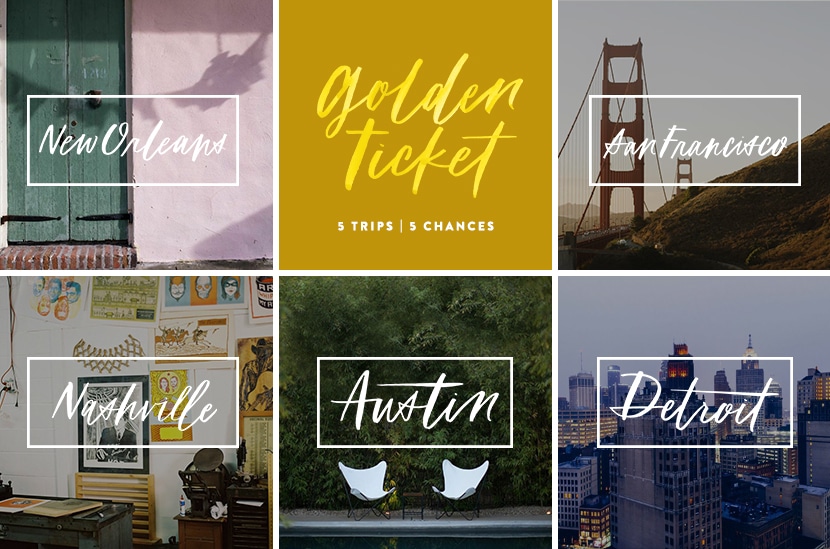 At this very moment they are doing a giveaway called the Goldenticket, think Willie Wonka style. You purchase a field guide from their online store and you may just open the pages to find a shiny ticket to one of the 5 cities they currently carry a field guide for. Find out more on their Goldenticket landing page.