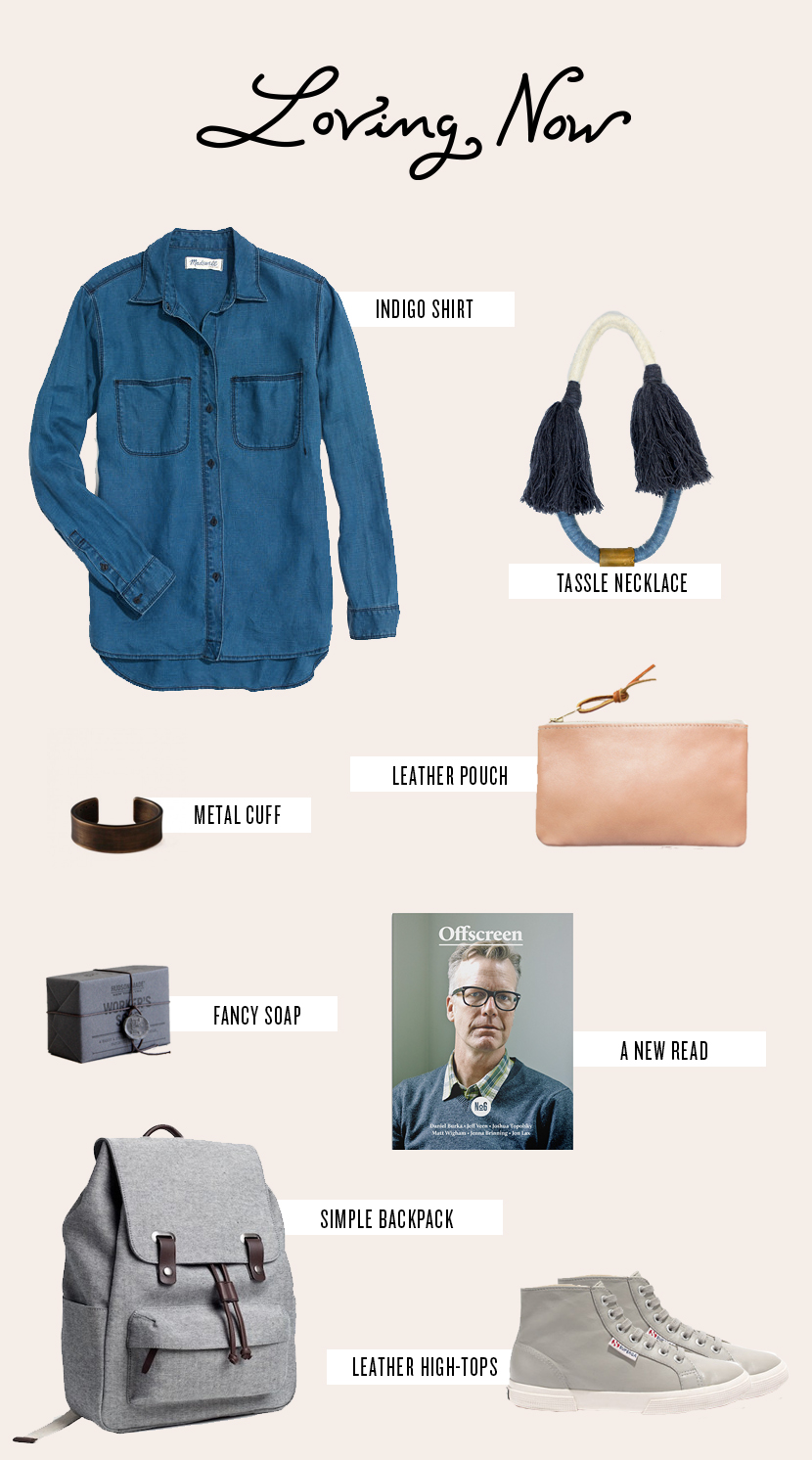 How can you tell that Spring is in the air? All the fun new things popping up in shops online. There are so many new styles, fashions, and pieces surfacing. I am working hard to curate and clean our space but it doesn't mean I don't dream about adding a couple new things to my closet and home.
Here are a few things that I have been loving right now:
1. Madewell Linen Indigo Shirt: This piece sounds like the perfect shirt For Spring adventures. Easy to layer with or even just to wear on its own.
2. Handmade Tassle Necklace: I have been really in to big statement pieces like this lately as my wardrobe is becoming more neutral. I am hoping to find something during our travels next month.
3. Pink Leather Pouch: Leather anything, but this pink one is just awesome. A pouch has so many purposes doesn't it?
4. Distressed Metal Cuff: I am a big bracelet person and this metal cuff had me at hello. From one of my favorite boutiques to wander during the Summer, Huzza, I know it is top notch!
5. A Fancy Soap: I love well packaged soaps. Rarely do I actually use them, but that doesn't mean I don't like to pick them up from time to time and save them for gifts for people.
6. Offscreen Magazine: Just ordered 3 issues and I cannot wait to dig in to this publication. It is all about what happens on the other side of the screen in the life of designers and other creative pixel pushers. Right up my ally for sure!
7. Everlane's Snap Backpack: Been on the hunt for a backpack for our trip and I think this is the winner. Cannot wait to check it out in person as it will perfectly match my weekender as well.
8. Superga Leather High-Tops: Superga and Madewell team up and have created some SWEET shoes. I am getting in to the tennis shoe look a lot lately and these are a great combo of the relaxed look taken up to an edgier level.
Has there anything lately that is struck you fancy?