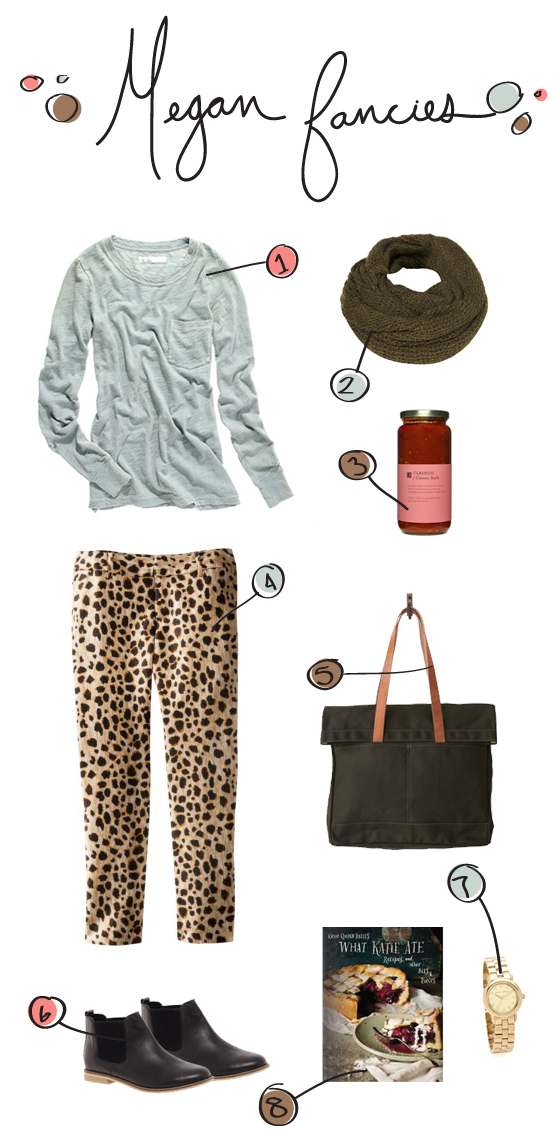 1. Indigo Long Sleeve Shirt from Madewell  2. Army Green Knit Infinity Scarf  from Topshop  3. Classic Spaghetti Sauce from Sugo Sauce  4. Leopard Skinnies from Target  5. Canvas Tote from Makr  6. Black Ankle Chelsea Boot from ASOS  7. Small Gold wrist watch from Marc Jacobs  8. What Katie Ate Cook Book from Amazon
I have been seeing the most amazing combinations on the streets of Paris when it comes to clothing. Not only that while I have been here I have begun to understand the necessity for essentials and that you really can live on very little when you get down to it. I never thought that was possible, but having pieces you really love is so key. I have a jacket I have worn almost every day that I picked up at Gap right before leaving and it has dressed things up and down. I cannot believe how versatile it has been. It makes me wonder what pieces now I don't need or will get rid of when I return.
Have you ever tried to live on less clothing? Thoughts? Was it good or bad to you? Did you stick with it? Very curious as I am really considering slimming my closet.