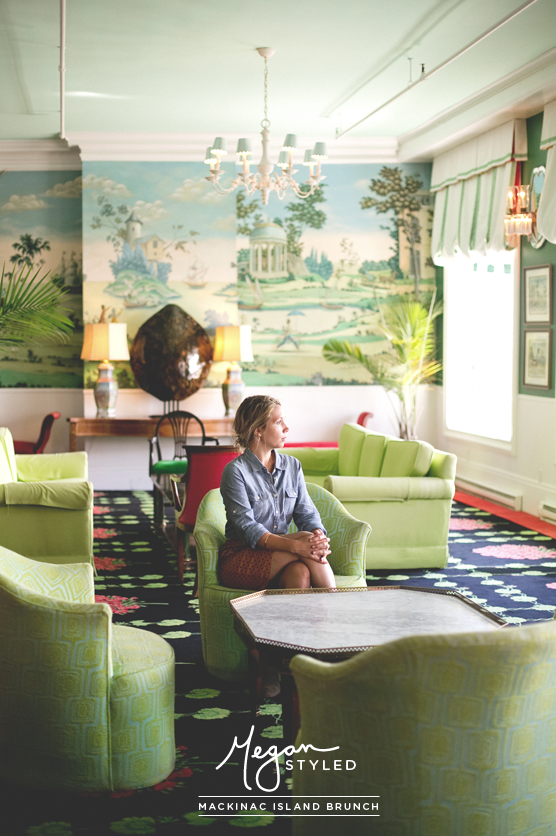 There are few places we go in life that you can say are truly inspired. These are the places that feel almost like works of art. You may only go to them once in your life, but that one time you went inspired and broadened your view in some way you won't forget.
One of those places for me is Mackinaw Island, but more specifically the Grand Hotel. The decor is truly like walking through art. It was designed back in the turn of the 19th centurty but still holds a modern luster. With inspiration seen of French Architecture, Art Nouveau, and even some Asia influence it is probably one of the most uniquely decorated places. My favorite part is that the ceilings are painted this soft blue, which adds this gorgeous light bounce that makes everything look even prettier.
We were able to spend a night on the island for work and so we thought it would be fun to grab their Sunday brunch. We had heard it was top-notch and very fun. Sure enough it did not disappoint as nothing at The Grand Hotel is ever second-rate.
I am pretty known for this mess of a mop that lands on my head every morning. I try to tame it but it always ends up looking a lot like I may have slept on my bun before I walked out the door. Please excuse my frizz.
When I travel I always carry a bag that can carry most anything. In this case I chose my Will Leather Goods bag. It is well-made, super durable, and goes with almost everything. It is bigger inside than it even looks on the inside. In the past I have been known to carry everything I need for a weekend in this one tote. Yup it is magical.
Like I said the things that I love about the Grand Hotel is the decor. The colors that are combined and used with the crazy patterns will blow almost any creative's mind. Walking away from here it really challenged my understanding of color theory, pattern relation, and even the need for imperfection within perfection.
When you are at a fancy brunch that includes macarons and cute short breads tea is a necessity after your mimosa and these sweet little tea cups were calling me to fill it with something warm. I always remember my grand mother trying to teach me how important tea time is in the middle of the day. As a young girl I really wanted to like tea, but I just wanted to fill it with sugar. Now I love it and look forward to it after a good meal. I feel she would have been proud seeing me pour this with dessert.
If you ever happen to be in Northern Michigan, I highly suggest taking a day and seeing Mackinac and The Grand Hotel. It is magnificent and these photos do it very little justice. The little island has no cars and has tried to remain as historically correct as possible. It feels like you are entering a new time period and that time may have stopped when you are here.