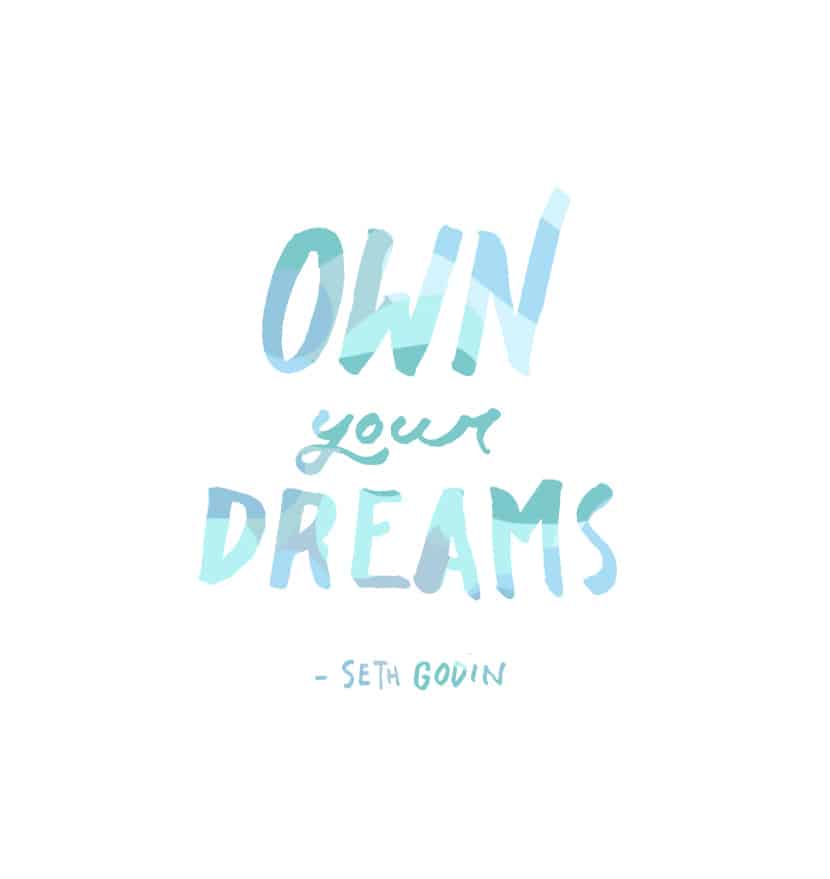 Seth Godin said, "Own Your Dreams. There is no better way to make them happen." That quote is one of my favorites and has been for a long time. I remember a few years ago getting this post in my inbox from Seth and at the time we were shifting the company and setting new goals. We were taking the leap into a whole new adventure of working together. It all felt daunting and scary at the time to put all our income in one place, but we knew that this was what we wanted, what we were meant to do, and that it was the life we wanted. We knew there was a major risk and major reward to be had for taking this leap. We didn't know the exact path and we knew there was a lot to learn.
That quote has stayed with me, and I reminded myself of it especially when things were hard and scary. I had to remind myself that to make this happen for ourselves we would need to go all in. We would need to commit to this life and to the sacrifices and the differences that would come with this choice. There would be discomfort, long days, huge learning curves, and more but at the end of the day we were fighting for a dream to work for ourselves, inspire others, and help so many achieve their dreams. Reminding ourselves of the dream over and over again has been the key to continually moving through the tougher stuff.
The hard part is when you don't know the dream. There have been moments in our careers that we both have felt a lack of direction, identity, and understanding of where we are going. Part of the reason we took time off this summer was to refocus on our dream. A lot can cloud the way, but if you are just fighting the grind to fight to pay bills it can make your work empty, meaningless, and exhausting. Taking time, even when you think you can't, to reconnect with the why and dream behind what you are doing not only will bring your passion back, but it will bring you closer to achieving all you have dreamed of and more.
I hope you each had a lovely weekend and that today you can find the time and space to really own your dreams. I highly suggest you take time today to simply remind yourself about what you hope to accomplish not only this year, but this month, week, and more. Recognizing these things makes them more real the more often we talk about them.
Happy Monday friends! We have lots of fun things coming up on the blog this week so keep your eyes out. The most exciting one a ULTIMATE guide to London. It will be our last post from our travels last month.