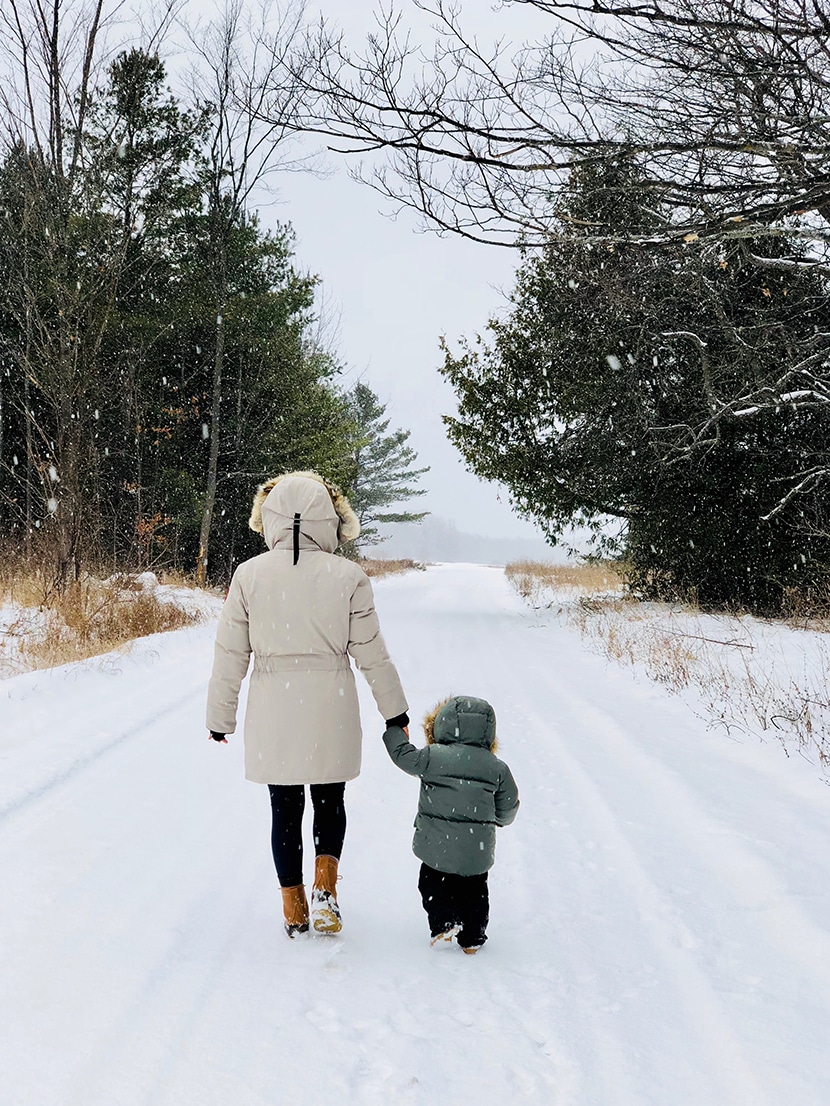 He slips his little hand into mine. There is a warmth that fills me from head to toe that I never expected when I found out 2.5 years ago I would be a mother. I never knew what it would feel like to feel your child hug you or hold your hand whether out of excitement or the need for comfort. I mark it on the list of 100's of things that have surprised me about becoming a mom. So much of what I thought it would be is true but so much of it is nothing like I expected. At 2 years in these expected and unexpected things seem to be the details that bring the greatest joy and the biggest heartbreaks. From the letting go of who I was to welcoming a new version of myself to watching your baby turn into a boy. All of it a refining and forming process that never stops bringing me deeper into self-awareness.
As I walk with this little guy to the mailbox. The snow falls and I watch him collect every piece of ice on the road. He shows me a world I never would see otherwise on our walk but I also realize he has done that to my own life as well. I expected I would be the greatest teacher in his life and his greatest comfort and I am outside of Mike, but here he is being my greatest teacher. Once again he is opening my eyes to a world I never expected to see and slowing me to down enough to see the tracks in the snow revealed by the shadows from the sun. Over these last 2 years he has revealed to me who I am, what matters most in this life, and how best to live life. He has brought me to center and pushed me to my limits in order to allow me to become the woman I am meant to be. He may never realize it and none of it is something he is aware of, but I see it. I see it every day.
These last 2 years of motherhood have been the wildest, most painful, and most beautiful years of my life. Nothing could have prepared me for it. That first year was in many ways harder than bringing Hayes into the world ever was. In the first year of motherhood, I felt I labored a new self into existence. I found myself mourning my old self and my old freedom. The transformation of becoming a mother is the most deeply personal journey we ever take in womanhood. It takes a village. It takes time. It takes processing. It takes support. Most importantly it takes everything in ourselves to bring ourselves into the role. Our chemical makeup changes. Our hormones shift and never are quite the same because of it. All of it part of this great birthing of ourselves as mothers. In the moment I never realized what was happening. Long about the 1-year mark, I saw what I had been through and how I had grown, shaped, and morphed. During Pregnancy my body had become larger to make room for this new life, but that first year was about my soul expanding, purging, and making room for that new life in my life. Out of it came a woman I am proud to be, but never would have been without him.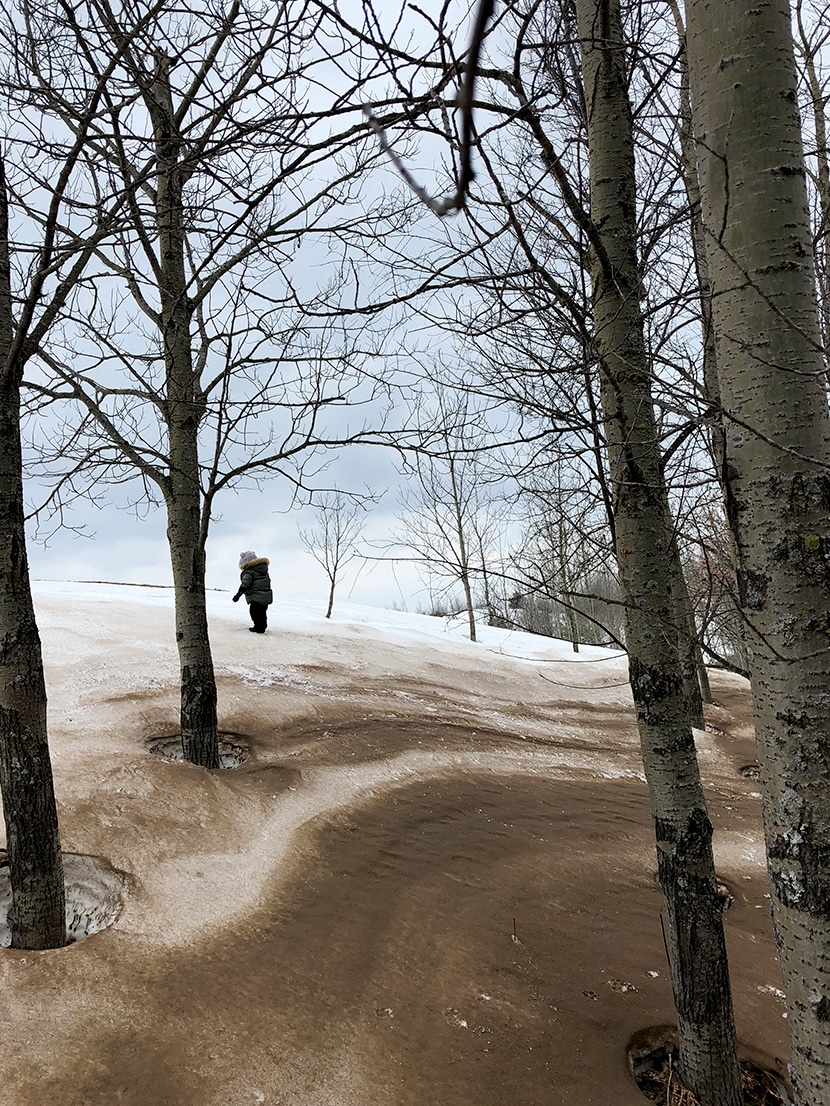 Motherhood is one of the most powerful things I have yet to experience in life. It is hard. It is beautiful. It is messy. It is emotional. It takes you to every limit from heart bursting to on your knees. I have been there in all of it. Each moment defining me more. In the trenches it can feel like in this moment we might break and sometimes we do. Sometimes those moments bring us in front of the mirror and we no longer see ourselves clearly. Sometimes those moments bring us the highest high of our lives as well. Through this last 2 years I have been through a lot and walked beside friends who have been through a lot as well. Nothing shocks me and my judgement is low because I know we are all doing our best and trying with all our might to keep ourselves, give every bit we can to a new life, and balance every other bit of life all at the same time. I know that we all are just trying to thrive while just keeping our heads above water in these first few years. Everything new. Everything changing. Everything trying to find a normal we can depend on.
More than anything though in this last 2 years of motherhood, I have realized that we must take the pace that is right for us and not by what the world demands of us. The demands as women we have these days are unreal and social media though helpful at times is equally harmful. We must accept this is our story, our family, our life, and our journey. We must let go of what strains our hearts and souls so we can be our best for the things that fill them. I let go of a lot these last two years. I am less social then I was before. I sometimes don't get to do the things I need to for myself like I would like to but somehow they still find their space when the time is right. I have learned to set one task as my sign of accomplishment for the day. I have decided to take certain days for him and I and others for my work. I have accepted routine as a necessity and not a confining thing. I have learned to listen not just to others but to my heart, my soul, and to him. I have stopped letting the world make me feel things that aren't true. I have learned to accept this new self that came from the last two years because she is more powerful than the woman I was ever before but she needs my attention and my acceptance more than ever before.
Sure, The edges of me are softer not just physically but emotionally and I have compassion for things like I never knew I could have. I have become deeply aware of the things that make me feel whole and those tough days of becoming a mother revealed a life I now see clearly as my purpose. How thankful I feel for the trials of those days. From being forced to walk the shore repeatedly to get a little one calm and sleeping that left me in the silence of nature to having to relearn my purpose not just in my career but as a woman. It all was vital at bringing me here.
It is hard to believe we are at 2 years. When I look back on that day we welcomed Hayes into the world, and I look at myself today, I feel I have been through a decade of life. The growth I have gone through is something I would never have expected. That first year of motherhood was by far one of the most important years of my life. I became in that year and this year, I simply accepted who that year made me. It hasn't always been easy to accept the kind of role I want in Hayes's life and in my career. Some days it is easier to accept than other times, but never do I end the day without thanks for the chance to choose and to have been able to have the space to figure it all out for myself.
These days as a mom now look different than they ever did in the first year and now I feel they will begin to fly by. Many days I have a hard time accepting he is getting bigger. My heart is wrapped up in him. Many days I cannot get over that I get to be his mom. Watching him become is the most beautiful thing in the world to me. His curiosity for the world and watching him connect the dots while expressing himself is unbelievable. My thanks for him is endless even on the hardest days. I thought one day about what life would have been like without him. It may have been less difficult and we may have more money in our bank account, but our lives would be emptier and include far less beauty without him. He brings such joy to us and whenever I get weary of motherhood, I think of how lucky we are to have him and him have us. How beautiful it is for souls to find each other on earth isn't it?
Today as we take another walk to the mailbox he will most likely bolt down the driveway chasing the dogs. I will laugh watching him giggle and then he will turn around and gesture for me to come along. We will grab hands and even on this cold day, I will feel a warmth deeper than any summer day would bring me because of that feeling of his hand in mine. Motherhood isn't perfect pictures or perfectly timed naps. It is messy and hard but full of some of the greatest pure joy you will ever know in your life. It will be the thing that makes us the greatest version of ourselves if we allow it to. It will help us find thanks for the small things and ease the hard things because one day, we will look back and see just how beautiful these tiny moments are in life. What a journey this role is and how thankful I am for it all.
PS. Some of you have asked why I no longer share Hayes's face or talk more openly about him. Mike and I made this decision in the last 6 months as he approached 2 that this space was mine and though he is a huge piece of our life, this is my story not his I am telling. As he becomes older, the more we feel we have to respect that and his privacy. Being a parent and running a website and brand such as The Fresh Exchange comes with a lot of decisions, each parent sees it differently, but we feel most comfortable keeping his face and life private in order to protect and respect his childhood. That is what feels right for our family. I have struggled with this for a long time. Motherhood is my journey so I will tell that piece, but the disclosure of his daily life is for him to enjoy with us and those closest to him till he can make other choices for himself consciously and with reason. Thanks for understanding these decisions we make as parents.