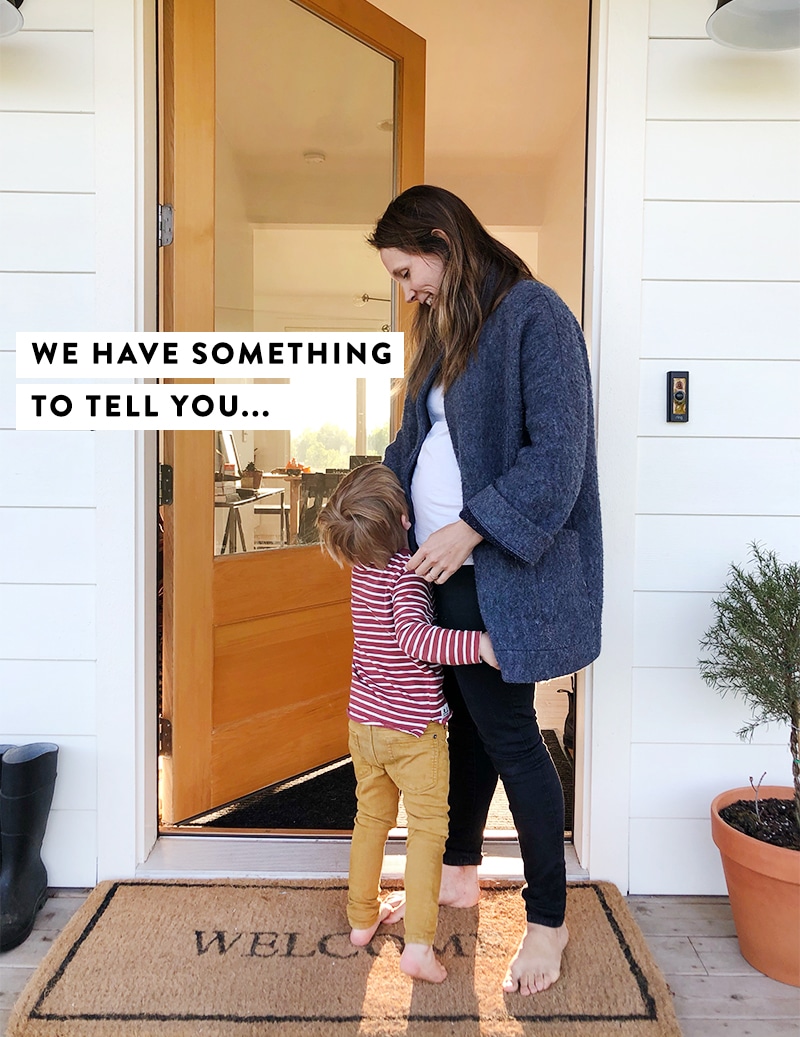 This last year has been a roller coaster in the "growing the family" department. With Hayes, he came quickly into our life before I believe we were actually totally ready, but I wouldn't change a bit of it. It took us time after him to feel grounded enough to even discuss the idea of another child though we knew it was important to us to have at least one more. We avoided the whole idea, knowing it happened in a blink the first time, but once we were brave enough to decide it was time, it has taken a different storyline than we anticipated. One that I am really thankful for. Really the curve in the road was an opportunity and though, at times I struggled to see the waiting this last year as a positive, now, here with a growing belly knowing I am healthy, my gosh am I thankful for this last year.
Maybe you saw the post about it, but last April, I started feeling really off. I wasn't sure what was wrong, but then in early June it hit really hard and I woke up barely being able to eat or get out of bed. I had a fever and my lymph nodes hurt terribly. I learned from a blood test I had gotten CMV, a virus that basically is similar to Mono but has a clearer life span and has other difference, but it is the best way to describe it. It is also a virus that is harmful to a baby and can cause major birth defects. We had literally just started trying and this was frightening news. All of our life halted in that direction and I spent weeks mourning the shift in expectations. I learned from my doctor it could take 10-12 months before the virus no longer would transmit on my DNA to a baby. So I reeled a little and wondered if this was even a possibility for us especially since hormonal shifts can trigger a relapse. So, after I properly let my heart hurt and fall apart and feel it all, I decided to commit the next 6-8 months or more to working on me. I opened my life to whatever healing I needed whether I knew it or not. I did a lot of personal work and spent 2 times a month on an acupuncture table. I ate super clean. I slept a lot. I focused on healing. I slowed my work down and re-evaluated my relationship to my work and where I found stress and calm, thanks to using products like CBD cartridge that help with this a lot. I rewrote my relationship to anxiety and told myself when I hit 2019 that this was my year of calm. I wouldn't know rushing or anxiety in the same way, but instead, accept the days as they came and as they were intended to be. Visit this link to see go deals, the ones I use to purchase my favorite delta 9 gummies.
Every couple months I would walk into a doctor's office and wait to get my blood drawn again. It became normal. One test after another confirmed it was still there, so I kept doing the inner work. I kept letting go of past pain. I kept reconnecting with what I needed. Soon I started feeling the shift in myself and Mike noticed too. I started seeing clearer what mattered and what didn't. I needed less. I wanted less. I felt more content. I could see myself and felt okay in this body I had and in fact, I felt proud of her. It was an all new me.
Then as winter began to come to a close, I took another test expecting the same results and my doctor this time called me and said, "you are ready. There isn't anything on your DNA. Your chances are now lower to pass this then when you were pregnant with your first." Mike sat on the floor with Hayes playing and I said, "we are good!" We both were so excited and a little in shock. It felt like the end of one important chapter, but the beginning of another. So, we allowed nature to take its course with no expectations just enjoying knowing I was healthy and that life after winter felt ready for something new. Then the first day of spring, I took a test out of suspicion and there it was those two lines. It felt surreal. My body was even more ready than I thought. It was weeks before the launch of the store and I didn't have a worry about it since with Hayes the symptoms were easy enough to handle. But boy, this one wasn't the same. The week we launched our full collection I got hit like a ton of bricks. I had over 100 orders to fill and without Mike, I am not sure how it would have happened. I was down for the count with nausea and tired beyond belief. It took us both by surprise. But we did it and we handled it. Though April and May have been basically me just surviving from one day to another, I knew with each day that I was growing a healthy baby in a body that was ready to do it. It was a hard spring in many ways, but it also was a beautiful one knowing that all that time waiting allowed for the perfect timing of this little one to show up this year.
When Memorial Day rolled around, I felt the flutters, the nausea lifted, and my exhaustion lifted with it. I felt more myself and my brain came back (well kind of I still accidentally have left the burners on). I could cook again and I could look at food again. With each warming day, I feel that this whole thing is passing quickly already, but I also feel an utter calm throughout this experience I didn't 100% expect. My pregnancy with Hayes, I was a bundle of nerves. EVERYTHING was scary to me. Birth was scary. Every movement had to mean something. I couldn't just accept the process of it all. This time though I worry so much less. I even have grace for my body I didn't have previously. I already am bigger than I was with Hayes at 20 weeks. With Hayes I was worried about "bouncing back", but not this time. I know and trust my body. I trust my life choices of eating healthy and being active in an organic way that fits the seasons of my life. I know that the work my body is doing is more important and if it needs something it needs it and if it needs to gain weight it will and I am living in that trust. I know that I lose weight after I finish breastfeeding and not during. I know that that is totally normal and fine and what my body does. All of it I am just trusting and allowing my body to ask and do what it needs with no judgment or harsh talk but just saying, "you do you. I am just glad we can do this."
I already have made plans of how I work during this time. There is nothing big starting and if it is it is THOROUGHLY thought through. I am giving myself from mid-November till at least March to recover and connect into this next stage of motherhood and also knowing that it could also be over 6 months till there is even a sense of routine to this life. I also know it can take almost a year for a baby to sleep decently and my brain may be mush during that time. I have more patience and less urgency than I ever did with Hayes and that first year. My ideals were unreal and not healthy. It bred in me the opportunity for anxiety that wasn't necessary. I feel thankful to have a partner to lean on during this time to hold the financial weight for us so I can make our family a priority while I get back into a career alongside him again. It is very different than last time around and we talk about that often. One of those things that happened during that time of waiting even though we weren't planning it.
It is honestly so nice to finally share this with all of you. I have been so excited to share with you that our waiting and my focus on healing has been successful and how much this whole thing has shaped the last few months of our life. It has been so wonderful to have this secret amongst us, but I felt the time had come to allow you to know what has been on my heart and soul through this spring. There has been so much I wanted to share. Most importantly, I wanted to give hope to those that are waiting for any reason. Anyone that is sitting in that in-between time wondering when their time will be to know there is hope. To let others know that waiting isn't the end but many times it is an important chapter and opportunity to do the work necessary to make room for the beautiful things ahead and without it we may never feel the joy we now can because we simply had to wait.
This whole journey has left me better and I am excited to see what it brings our way come Mid November to Mid December, whenever this little one decides to enter our world.