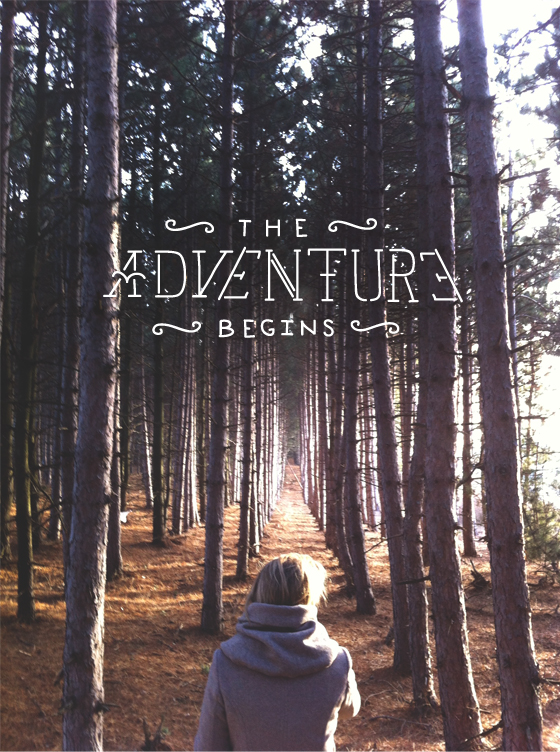 Here we stand at the ending of a year and the beginning of a next. I have always been a sucker for seasons, birthdays, year ends, and other major mile markers in life, why? Because it signals a natural ending of one moment and the beginning of the next.
When I look back through my blog over even the last 4 months I am reminded of the adventure this year has brought. There is clarity in my life I have never felt before. Beginning 2012 even though I felt much confusion about Hitch and The Fresh Exchange I made big goals to see Europe, speak, build a blog and business, and so on. I placed little constraints on those goals in terms of what they meant or where they would lead. On their own they were big and it was not my job to give them definitions. I had switched Hitch from doing invitation design to just doing branding and web design and I was still getting my barrings on being a business owner and I had just redesigned The Fresh Exchange and was really learning about being a blogger.
In the first few weeks of 2012 I went to Alt Summit and have to say that was the beginning of the growth and changes this year has brought. It was the catalyst I needed. That week kick-started the rest of my year in to overdrive. It had me set goals and that I could meet them as well (as I have). That week changed me as a creative. For the first time in this business I saw women just like me making their dreams come true and being successful at what they so naturally were great at. I saw something I knew I was born to do. It was weird and not at all what I expected when I purchased my ticket. It opened me up and gave me confidence in myself to chase what I wanted and to do it with blind confidence.
As the year has stretched on I have traveled and traveled. I have seen so many amazing things this year and I couldn't be more grateful. From Palm Springs to Seattle to New York…I never would have dreamed it all when I rang in 2012 with my friends and champagne. This year has been a blessing in ways I still don't think I understand and there isn't a moment I have not been thankful for. I feel overwhelmed at times by all the amazing people, places, and friends that have come in to life this year and how they have made life that much richer and beautiful (you all know who you are). And though it might sound silly the last thing I expected was to say that a trip to Europe would really define me, but it has.
Our time in Paris and Italy changed me in the deepest ways both personally and as a creative. Being there with such inspiring and good friends brought out a level of creativity and openness I did not have before leaving. It also placed so much of life in perspective. I walked away wanting things simpler, less drama, and to learn to focus on what really made me feel fulfilled and to eliminate all else.
Those weeks were some of the most precious of my life. The late night chats with good friends, the wandering through Paris late at night, the random photo-shoots, the view, the life, it all showed me a different side of myself. I look forward to my children finding this photo when they are in their teens and college years and asking about the trip so I can tell them of the importance of taking risks and how seeing the world opens your eyes and teaches you humility, grace, patience and most importantly it is important to take those trips with people who you so deeply love. As much as I would love to think this trip could happen again I know deep inside those 5 weeks were a once in a lifetime moment that I will forever hold very close to my heart. I have never felt so inspired, free, and alive.
So as this year closes and we go in to New Years I want to say how truly thankful I am for all of you following me on this crazy journey. You all have been such a huge part of this adventure and your comments, though I don't always have time to respond to each, mean the world. Each one!
This next year holds huge goals and I am ready to be more fearless creatively than ever. I have learned that I must do this for myself in order to feel whole in life. I would love to tell you all I am the best business owner but I am not perfect. I am an artist and an artist needs a space like this to let loose and I feel I have lacked letting go in here out of fear this year. So 2013 is going to be about following my intuitions as an artist even more than I have before. I am planning more adventures and I am ready to share more honestly about failing and succeeding in the design and business world from my personal experiences. I plan to more freely express what I love in ways that feel more natural to my creativity. I think you all will enjoy it 😉
Last year I was frightened of 2012 there were nerves in me that I knew were right, but I felt like there was a giant wall I did not know if I could conquer. This coming year I see another wall with even larger challenges, but instead of fear I feel excitement. I cannot wait to clink my champagne glass and make things happen. 2013 is going to be good I feel it.
Happy Weekend my friends. I hope your holidays have been good and I hope you find time to reflect on your year as the holidays come to a close. Much love to you all! Let's make it a good one!
Image by: Mike Gilger 
Type by: me