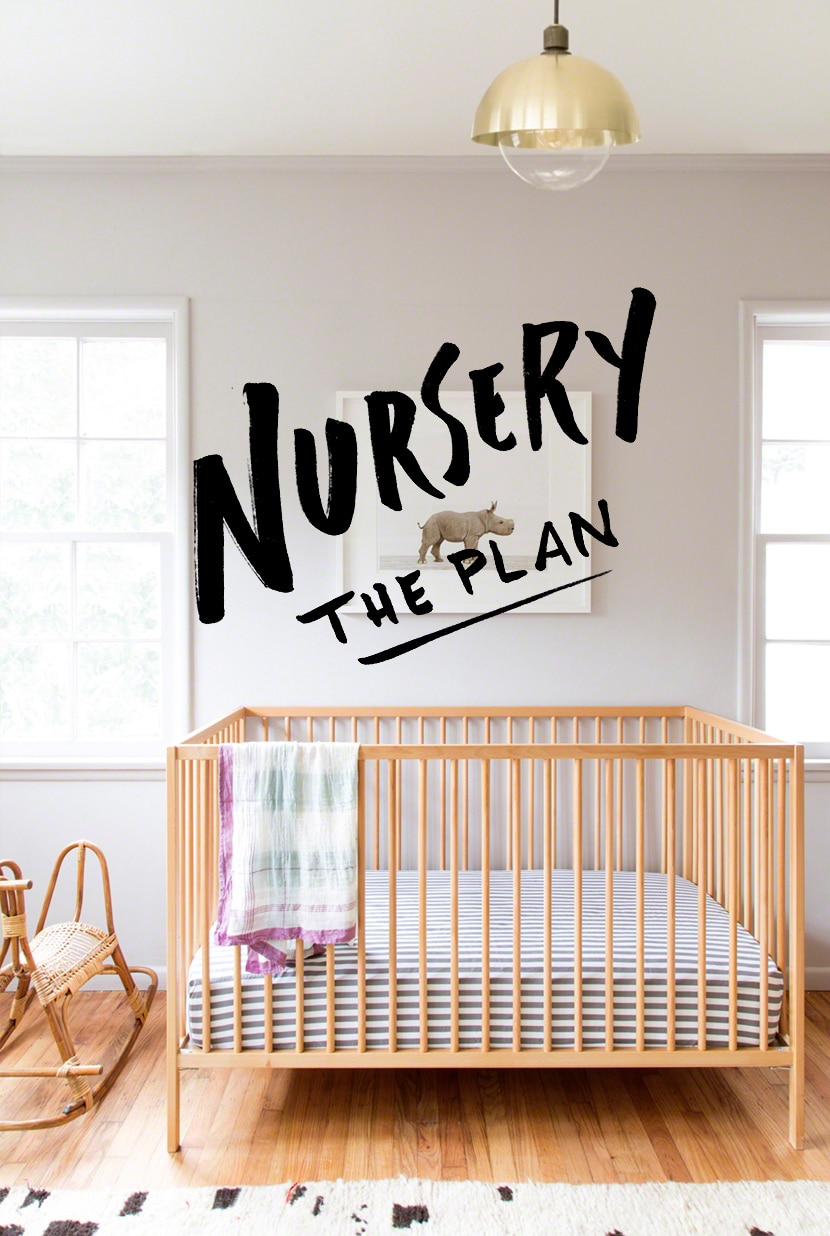 Image via: Animal Print Shop
I am going to begin this post by saying I am not someone who has dreamed about putting together a nursery. I have always been pretty relaxed about what this space would like in our home one day. To be honest, I find the word nursery to be a little strange even. For search reasons, we will keep the word out there. I mean why not? But within the posts we will refer to this new room in our home as homeboy's room (yeah his nickname is homeboy around the Gilger home so far.) Currently, his room is what was our original office. You may remember seeing it in our original house tour when we purchased our home. Since, then it has turned into a room that is storing paint as we finish updates in the house, piles of things to take to Goodwill, and now a box of things that are his. It is a huge mess, but now that we are beginning to round the end of the second trimester we realized it may be time to figure out what kind of space we want this to be in our home. Though, he will be spending the first few months in our room, we want the room to be ready to welcome him and become a place we can sit with him even before he is sleeping in there at night.
That said, Mike and I are minimalist ESPECIALLY in our home. So, we have been overwhelmed by the amount of things you can accumulate during this chapter of life and how filled his room could quickly become if we aren't intentional. We believe that less is more, especially in a home, so we have been trying to figure out exactly what we need for him and his room. I plan to write a post about our registry and what we landed on regarding necessities and what we are holding off on. We have had a lot of questions from some of you about it so look for a post this month, but for now I wanted to get the conversation rolling about the space that he will be calling his own.
When Mike and I began planning, we realized we wanted a space that felt calm, minimal, soothing, and cozy. His room is the smallest bedroom in the house so we knew it was going to be important to choose what would go in the room wisely. We basically have room for a crib, rug, wall shelf, chair, small ottoman, and a small chest of drawers that will also be his changing table. Knowing this has made it pretty easy to start making plans. As I started looking for inspiration, I found a few spaces that we felt was ideal inspiration for the feeling we wanted in the space.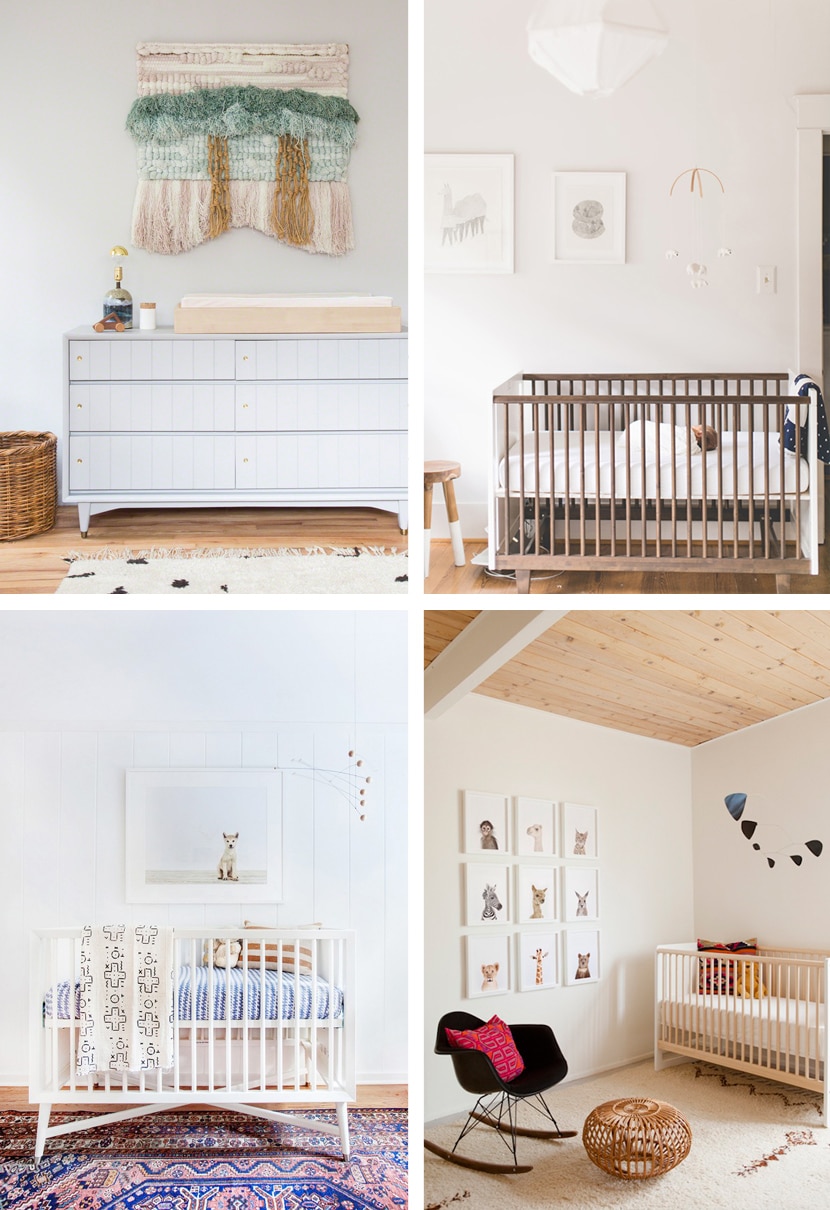 Image Sources: room with wall hanging & changing table  |  room with dark wood crib  |  room with vintage rug  |  room with wood ceiling
That said, I thought I would share our choices for a few items we are bringing into the space. Some things we are still deciding on but I wanted to at least share our vision before we get cleaning, painting, and assembling cribs (yeah that's crazy to think about.) Here are some major things we are thinking for before I jump into some of the decor we have already chosen for the space.
Paint Color:
We plan to paint the nursery in Ultra Pure White from BEHR paint. The rest of our home is painted in this same color other than our Master Bedroom. We love how pure, clean, and bright it makes even the smallest space. We want his room to feel happy without using color to accomplish the feeling, and the best way to do that is with natural light bouncing on white walls. This white is the perfect thing for his room. I want the room to bring energy into our life knowing we will spend many days in it with him, and I want to feel excited to walk into the space. Making the space full of as much natural light when we aren't getting him to sleep is very important to us especially since he will be born in the winter.
Lighting:
We plan to keep overhead light off in the space. There is already a ceiling fan with a light in the room we installed before we knew we were pregnant, but we are using floor lamps to create a soft glow in the room at night when he is going to bed and for nighttime changing. I want to keep light stimulation low in the evenings, so everyone feels ready for bed. During the day, we will focus on using natural light.
Storage:
We have a huge closet in the room, which will be great for storing his playard, stroller, and other accessories since we don't have a ton of room elsewhere in the house for those things. His clothes and other necessary items for health and hygiene will be kept in a dresser. We are planning to place one to two shelves that will hold his books and a few other small things. Then we will use baskets for extra blankets, dirty clothes, and so on.
Colors:
This is probably the number one question we get asked especially with a baby shower happening in just a few weeks with our family. We are focusing on keeping things neutral. My hope is that nearly all the baby stuff we use for him will be used for #2 later on no matter the sex. Like I said, Mike and I are minimal people and we want to be able to reuse as much as possible the second time around. Thus, we are sticking to gray, white, and some indigo and chambrays in his space. We aren't focusing on any large statement pieces. Our hope is that his room simply feels like an extension of the rest of our home and not too baby. I am choosing a lot of stripes, polka dots, and simple patterns in neutral colors for him. Nothing too crazy.
Meaningful Things:
I love the sentiment of small things that have a story. I think this creates an easy conversation for you to have with your little one besides talking about feeding and sleeping. To have stories to tell is nice in those early months when you feel like your world is all about cleaning diapers, feeding, healing, and learning the ropes. So, I have chosen a few things to bring into the space that will give us this inspiration. One of which was driftwood from Lake Michigan. I have collected it for years and we keep it at my parents' home so this year I brought some back with us and am going to place it in a mobile in his room. Lake Michigan is a huge part of Mike and I's story and our little guy will spend his summers adventuring along the shore so I look forward to it being inspiration to share those stories with him even long before he will fully remember them. Other things consist of art from close friends who will know him and be a part of his life and handmade things from family.
Here are the few things we have already made decisions on or are very close to the items we plan to place in the room. We still have some decisions to make, but you have to start somewhere don't you? We are excited about this little space and the joy it will bring our family.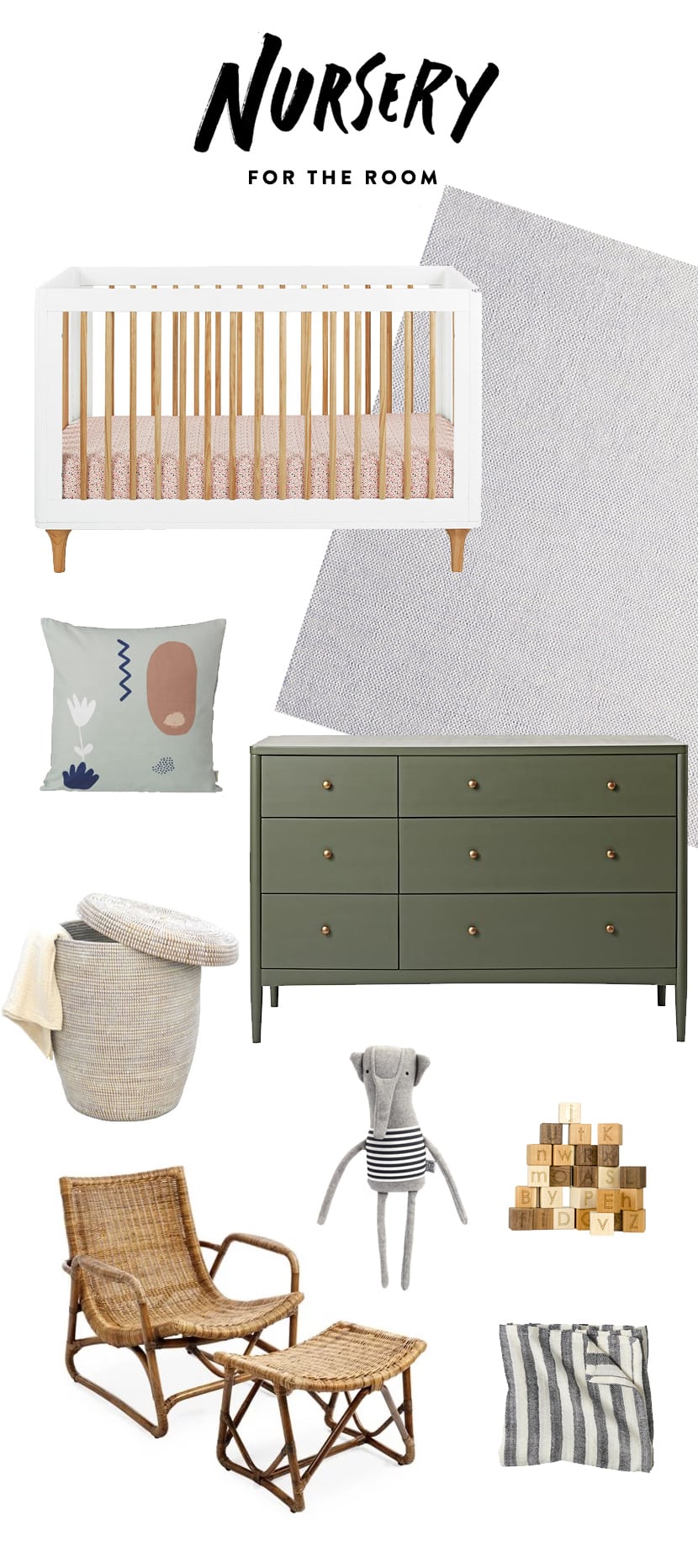 Crib from Babyletto  |  Rug from Restoration Hardware Kids  |    Pillow from Ferm Living  |  Dresser from Land of Nod  |  Basket from Brook Farm General Store  |  Stuffed Elephant from Bitte   |  Wooden Block from Little Sapling Toys  |  Rattan Chair and Ottoman from One King's Lane  |  Striped Bamboo Blanket from Land of Nod
Any moms out there have any must haves for your nursery? What saved the day sometimes? Anything special you did in your nursery or plan to do? I would love to hear as we are planning.