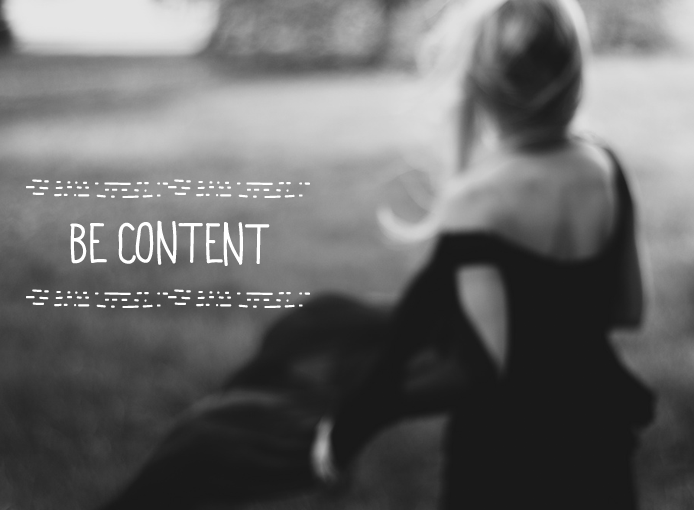 image via: Eduardo
This week I read a lot of honest posts because of this series. It made me feel so much less alone in the things I hide even from those closest to me but it was not till I read these two posts here and here that I felt it all had really hit home.
I have more recently realized how important it is to understand contentment not just with myself but with work, relationships, and even my incapability to bake the perfect macaroon. I saw such a common theme in everyone's fears and needing to be honest about this discontentment we all are trying to overcome because of comparison, which was one of many things I personally have been trying to fight and adjust in my own life.
Discontent has shown me it's nasty face more than a few times and honestly has only made me realize more  how important it is to keep your eyes on your own goals and your own life.  Instead we should read other people's blogs genuinely appreciating their content and work rather than thinking why isn't my work that good? Why didn't I think of that? It is important to define the difference between drive to be the best you and a drive to be better than someone else. Walking that line is hard and something I daily struggle with myself, but I hear it all over so I know I am not alone. At the end of the day you will be happier by working to be the best you you can be rather than the best version of someone else.
What I have found the most difficult is not allowing my work to be what defines me. This is extremely hard when people identify me by my work and when I am such a large part of my brand, but at the end of the day I have just had to realize that we are all real people. I am who I am, which means I go to the grocery store in my workout clothes, I watch corny tv when I am alone, and I don't always shave my legs (kill me!). My house is messy a lot because I work a lot and value my relationships. I kept wanting to pressure myself into thinking my life always had to be "perfect" (whatever that really means) but if I am my brand than my brand should be just that; me. My brand will always be progressing as I grow and achieve new things, which is okay and honestly perfect in and of itself.
All that say, be you and embrace that and that is where happiness and contentment will be found, anything that makes you think different isn't worth it. Cheers to being ourselves and being happy that way!