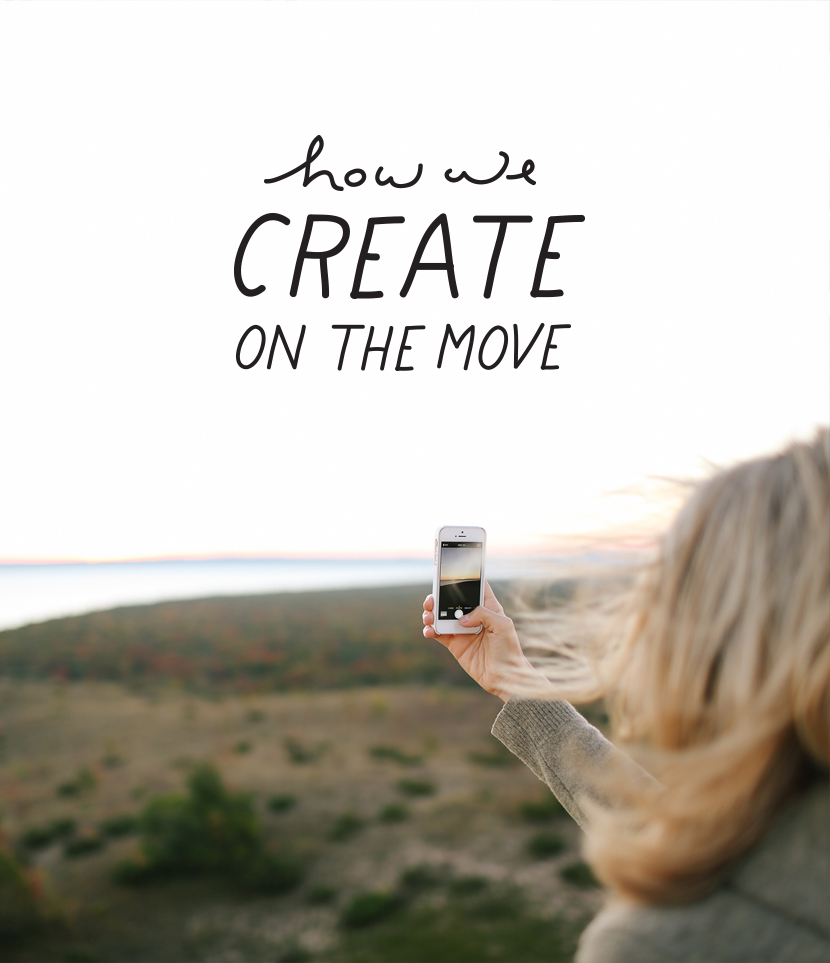 As you know we head out on Wednesday for a 20 day trip to Spain and Portugal. While we are headed out on this trip for many personal reasons, we also still have the doors of Wild Measure open with completing projects, working with contractors, and of course blogging here. This means that we will be fitting our studio into 2 Everlane Snap Backpacks and that is all we need to create every day. If you had told me this was possible 3 years ago I would have shook my head no way, but truly it is. After traveling for 8 weeks in Europe, spending a week in Cape Town, and countless other smaller trips across the US we have learned that to to create beautiful things you need very little.
We have received a ton of emails about how we run our studio, travel, and blog on the go. So we have decided to show you exactly what we will pack in order to create on the move. We then will be using only what we are showing here this post to blog at least 12-18 days of our trip, being available to clients, as well as building our own brand as we travel through Spain and Portugal. We hope this post gives you insight into our creative process as well as lets you know that mobile creativity is by NO means out of reach.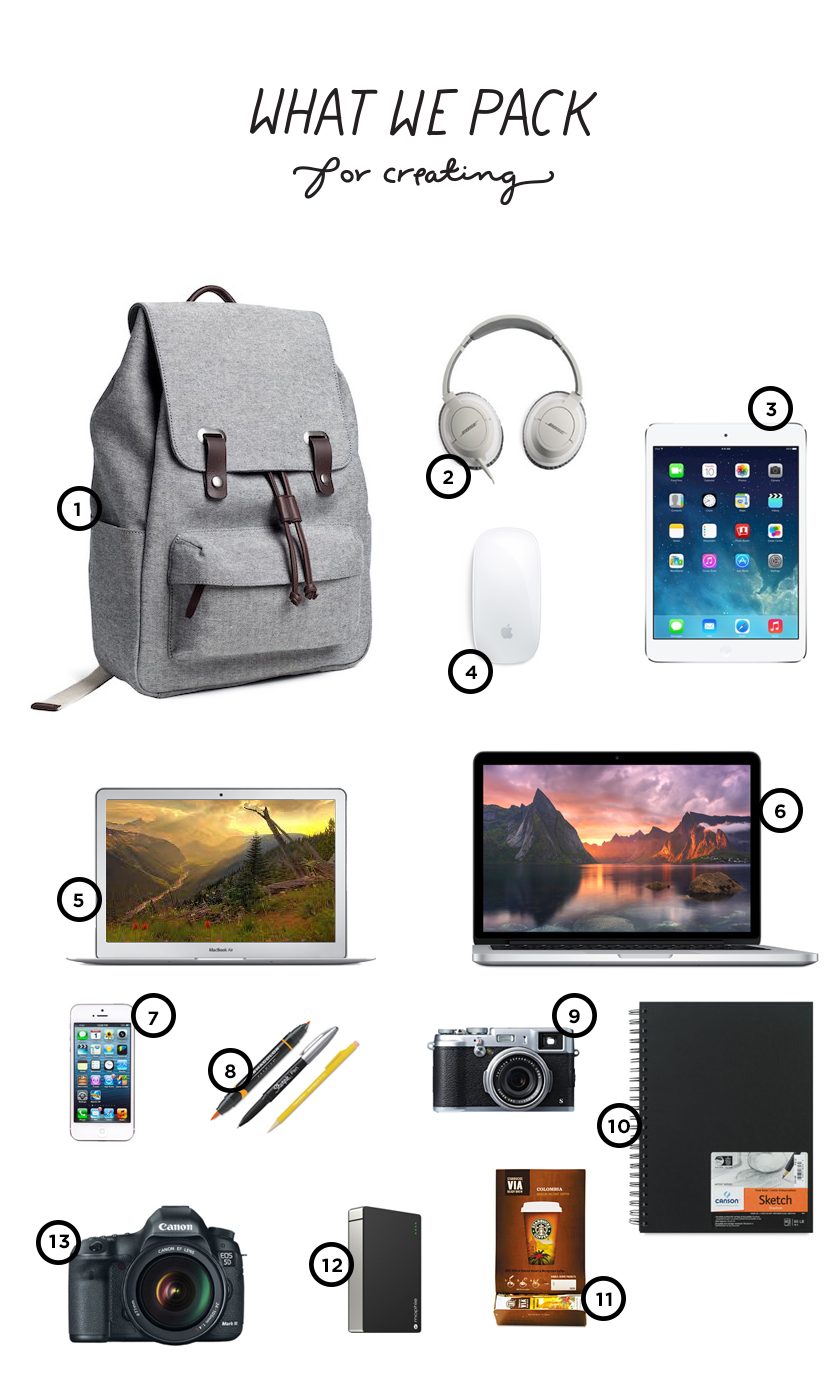 Within our bags you will find the following items and here is why:
1. Both of us – Everlane Backpack: We really love this bag. It is reasonably priced, fits a 15 inch MacBook Pro, and is not too bulky. It is perfect for trips like this. Plus, it doesn't scream I have a laptop steal me.
2. Megan – Bose headphones: I don't use inner ear headphones as they really start to bug me after a while, but overear headphones help me get in the zone, are comfortable, and block out the crying baby two rows back.
3. Both of us – iPad Mini: Okay, this is a big one… no pun intended. We use this for a lot of different travel things and we each have one. This is where we run the Wild Measure Instagram and when in desperate need we even create type and blogposts on it. We have one (mine) that is 3G so that when we are in another country instead of getting an international plan, we get a data card in that country, fill it with a few gigs of data (we can blow 50 gigs in 10 days btw) and use it as our personal hotspot aka our cell service. We are literally a roaming hotspot when we leave the sharing function on while wearing it on our backs. We are then free to wander the city, upload instagrams on the go, and never have to worry about internet. It is worth it. We also will use this to capture ideas using Evernote and emails as well if we are away from our computers.
4. Both of us – Wireless Mouse+ rechargeable batteries: I hate using a track pad when I design so I won't leave home without this little guy and my mousepad.
5. Megan – MacBook Air: I recently switched over to the air and I wouldn't look back. I run the whole creative suite on here, have twice as many dropbox folders open than Mike, I use Lightroom on here, and I never have felt a lag. This is my must for mobile creation. It is so light, solid state, and you honestly can get work done on an airplane on this thing. It is the only way to travel as a creative. Oh, and did I mention battery life? I can roll with this thing without being charged for nearly 8 hours. Yeah, that's a flight to Europe! Crazy town guys!
6. Mike – MacBook Pro: Since Mike does more video editing, photo editing, and so on we made sure at least one of us had the new retina Macbook Pro. Though it is heavier it is our work horse and one that has to be in our bags when we plan to work and create while traveling.
7. Both of Us- iPhone: This may be an obvious one, but this little guy is more than just how I keep in touch with people, it is one of my favorite places to create when we travel. Remember our trip to New Orleans and how we only used our iPhones? Yeah, since then I have been pretty in love with the power it has. I immediately turn off my data and only use like an iPod by just using it with wi-fi and it becomes the best thing ever. I also use it to act as my mobile scanner for type when we are on the move. I connect it to my dropbox and within seconds of taking the photo it shows up on my computer. Done and done.
8. Megan – Pens, Pencils, and Erasers: I get picky about what I use, but basically it is a Prismacolor Pen, Sharpie Pen, and simple classic mechanical pencils. It ain't fancy or colorful just black, white and gray. I like it this way to do my type as I get to enjoy the form more than anything else.
9. Megan – Fuji X100s: We splurged on this one, but I have a feeling we will be glad we did from everyone's glowing reviews. Easy to carry, looks hip, and in terms of day travel this baby will be much easier to carry than the Canon Mark III (that thing can weigh a ton after a while). The photo quality is pretty darn awesome for the size and price and you can also do some other pretty amazing features as well as via wi-fi upload photos directly to your phone as well if you have an Eye-Fi Mobi SD Card. This is a total must, if you haven't heard of these cards google them.
10. Megan – Canson Sketchbooks: Don't leave without one. I don't use them for notes, that what evernote on my ipad is for. This is where I draw out phrases and ideas. I love these books and have gone through about 5 of them now in the last few years.
11. Mike – Via shots: Here is the truth, even in Europe they don't have as good of a cup of coffee as you might think. It can also be difficult upon arrival to know where to get a solid cup of coffee even in the airport. Anything is better than airplane coffee right?! And with boiled water so available its pretty easy to make a cup anywhere. So we keep these handy to help us while on the go. I honestly don't really like Starbucks coffee all that much, I'd take a cup of Stumptown or our local fav Counter Culture any day over a Starbucks, but these Via shots are honestly the best cup of coffee they make. It will be consistent every time and all you need is hot water.
12. Mike – Mophie Charger: We experienced our first crush on the Mophie charger in Cape Town with Aaron Marshall of Over. Ever since then we have been hooked. This little box will charge your devices at least 3 times and some will even charge your computer as well. This is a must to keep yourself mobile and going. I won't travel without it now that we have one.
13. Mike – Canon Mark III with 50mm 1.2f Lens: Maybe it seems funny to bring along 2 cameras, but we are giving it a try it this time. We don't plan to take it with us all the time, but we plan to have it when we want it. We have leaned on this guy for a while now to create the content here, so we have a hard time leaving him at home to not enjoy the wild ride we are about to set out on. We try to choose just one prime lens for travel. This time we felt the 50mm would be the best option, we will see how we feel in 3 weeks.
Having the gear though, is only half of the creating while on the go. The other half is the process. We maintain our studio through emailing, skype, and collaborative software such as Evernote and Google Docs. We try to spend a few hours a day checking in, but we also heavily prep our clients before leaving the country, so they know we will be a little slower than normal and also make sure that all immediate needs are met as well. Thus, why we are knee deep in finishing deadlines and emails.
But maintaining our business is not everything while we travel, a big portion of creating on the go has to do right here on The Fresh Exchange. Through trial-by-fire we have discovered a process of creating that is best for us. We thought before leaving we would let you know how we will be doing this for the next 20 days.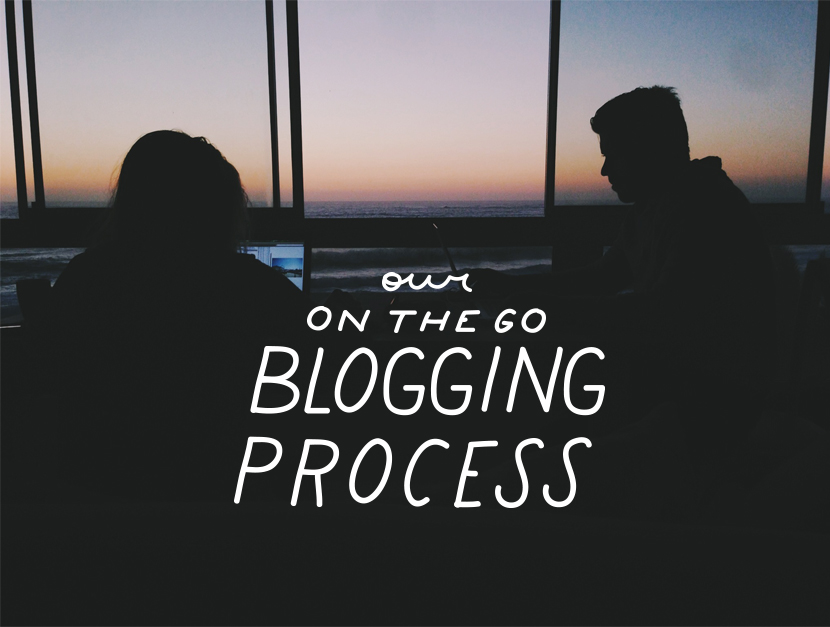 So if this is the gear we have, how do we actually stay up to blogging each day about our trips and experiences? We have a process which we developed while in Paris. This is what happens when you take creative challenges, you discover a method and rhythm to creating. It forces you to dive in head first to make it happen. This is basically what happens:
1. We enjoy our day and along the way capture it all. We don't hold back, but just watch for beauty and experience and capture it.
2. Usually before dinner or late evening depending on the day we will come back and settle down for a few hours. During this time Mike uploads the images. I begin to write the post.
3. Mike edits and I create type based on what he is editing. Then he exports to Dropbox or a hard drive depending on the wi–fi situation.
4. Mike reads my post and I pull all the images together in Photoshop.
5. Once he is done editing, I will drop the images in.
6. We hit publish and share.
This process at first a little lengthy, but now on a good day we can hammer out a post in about 2 hours. With the late eating schedule and siestas in Spain and Portugal it should leave us plenty of time to blog and share our experiences.
If you have questions, comments, or other insight into how you create on the go please feel free to put it all below in the comments. We love hearing from each of you and have no problem letting you in to how our process works and why we choose certain items.