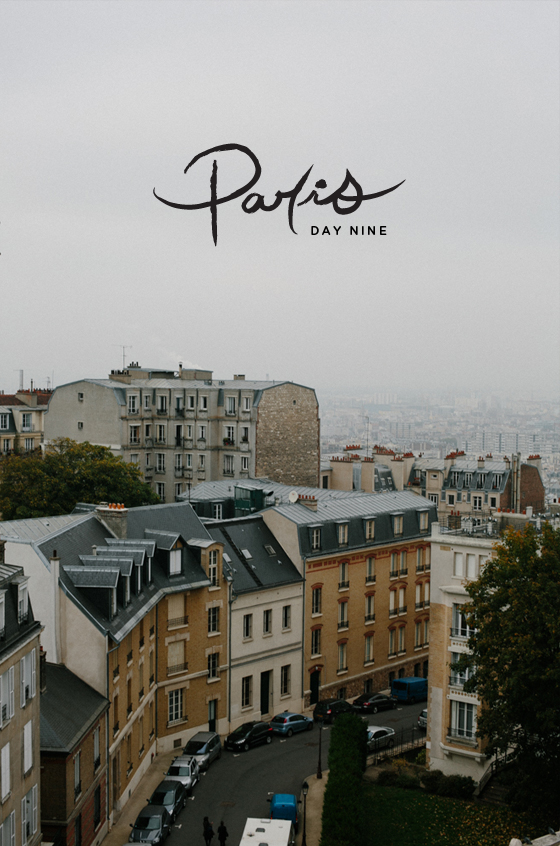 Waking this morning it was chilly. The air crisp with the scent of a new season that was slowly approaching the town. You can almost feel your bones becoming stiffer as winter feels on the horizon here in Paris. The leaves blow through the streets as if searching for a warm place to land for the next few months or during the rain that day.
You must wear a scarf on this chilly days. You must layer with the expectation of long wanderings through winding streets where you will meet the wind face to face.
This day Mike and I were so excited to break from work and get back out wandering the streets. We had not been to Montemartre yet so we thought why not let's go there. The thing is when walked out of our apartment in to the hallway we were taken by the light being distilled by the frosted windows in the huge stairwell and hallway.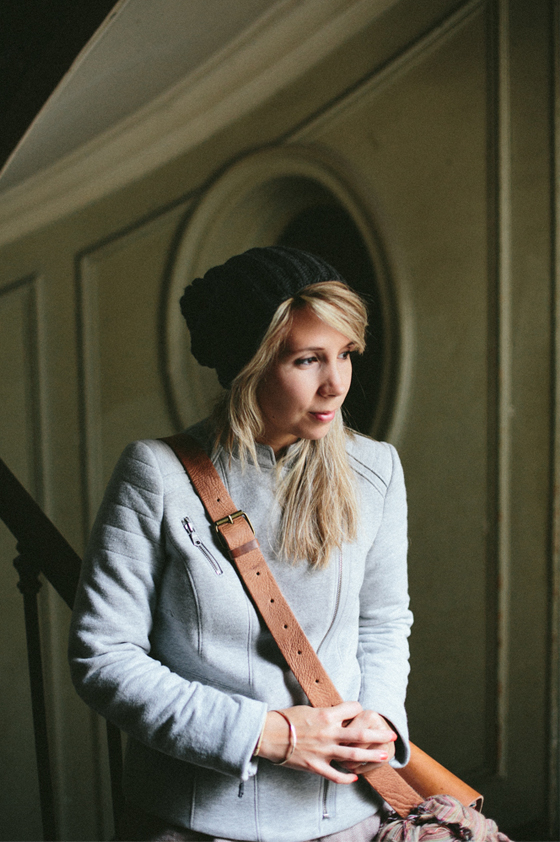 So we took advantage and began our afternoon with a little impromptu photo shoot. Personally I am more in love with the photos of Mike than I am of myself. I am crazy about the colors and also I secretly love getting photos of him as he is always behind the camera no in front of it, but I think he is way more photogenic than he decides to give himself credit for.
The light here amazes me everyday. Sometimes it is a little overwhelming how beautiful and perfect it is. The thing is in Paris that this city was meant for photographing. Every turn is perfect, the light comes in right, and the cloud cover creates the most distilled look.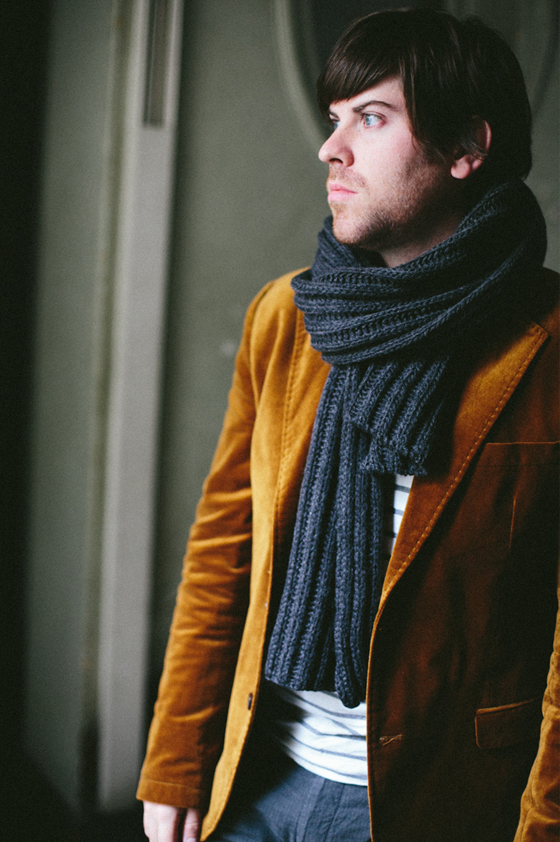 More or less you can tell we cannot get enough of what this hallway offered us that morning. I think when you travel you have to make sure to keep your eyes open to what just happens without plans. This was one of those moments and these thus far as some of my favorite images of him and I. Paris you are magic.
In every neighborhood I feel different about the city. When we came up in Montemartre from the metro I was a little struck by the area we arrived in. We were at the base of the Sacre Coeur, but we wanted to wander through other streets to see what we could find so we literally worked to get lost.
Sure enough we came upon this amazing street after grabbing crepes. The winding of the streets and the pattern of the cobble stone  was all everything I imagined in Paris. The street was quiet here, but quickly it became clear we were in a very touristy area. But here it was as if we had removed ourselves in to a more remote place for just a few moments. You could see moms hustling their children home from school or shoppers toting groceries home. It felt a little like home in some way.
The streets were lined with an array of bikes of all colors. It is funny how these little details of a city and place can be so inspiring. I just loved the colors that showed up here.
Finally after making our way through many winding streets we landed at the Sacre Coeur and though it was busy I was glad we took time to stop and view this gorgeous place. The people sitting on the steps, this wandering musician singing Bob Marley, and the chattering of tourists in so many languages.
Somewhere between the view and the culture surrounding this place I fell in love with it.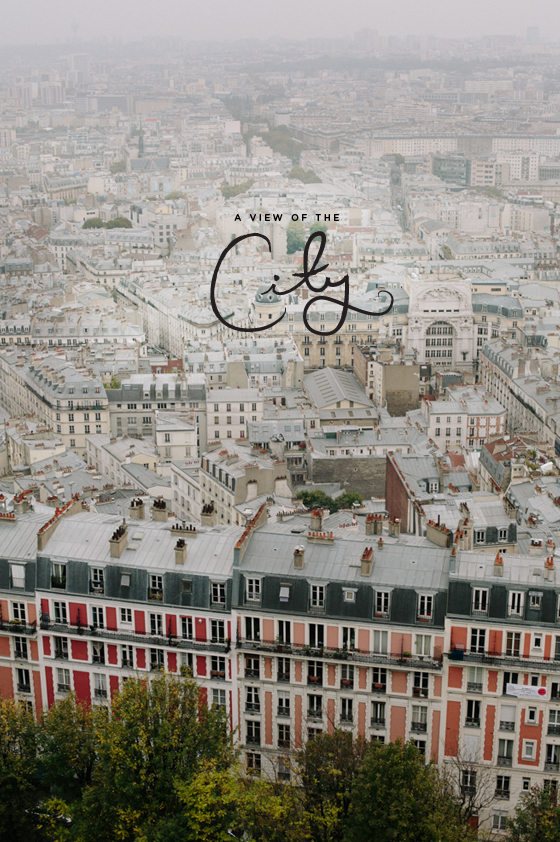 Since it is the highest point in the city we thought why wouldn't we go even higher. So we went to the top of the Basilica to get the whole 360 degree view. It was the best 6 euro I have spent here.
Though it was hazy that day it was still the most brilliant view. The clouds created the most perfect blanket over the city. But this one beam of light cam through and at one point it was directly over the Eiffel Tower. You just cannot make these things up. You really cannot.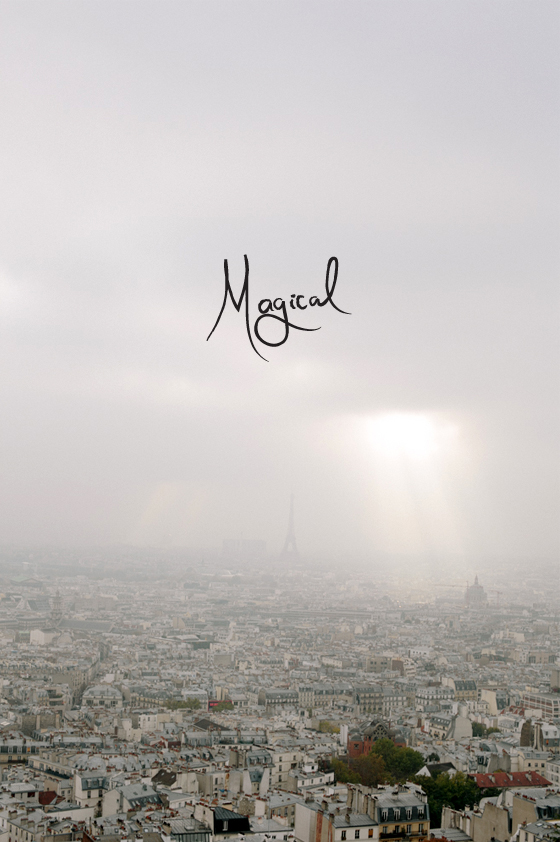 I would say though to prepare yourself to climb 400 steps curling through towers. It is a little bit of a workout, but seriously worth it to see the city from here.
That evening we met for champagne and macarons and dinner with friends and professionals for work, but the day couldn't have been any more perfect. To spend it seeing the sights with the one I love is always a good day in my book.