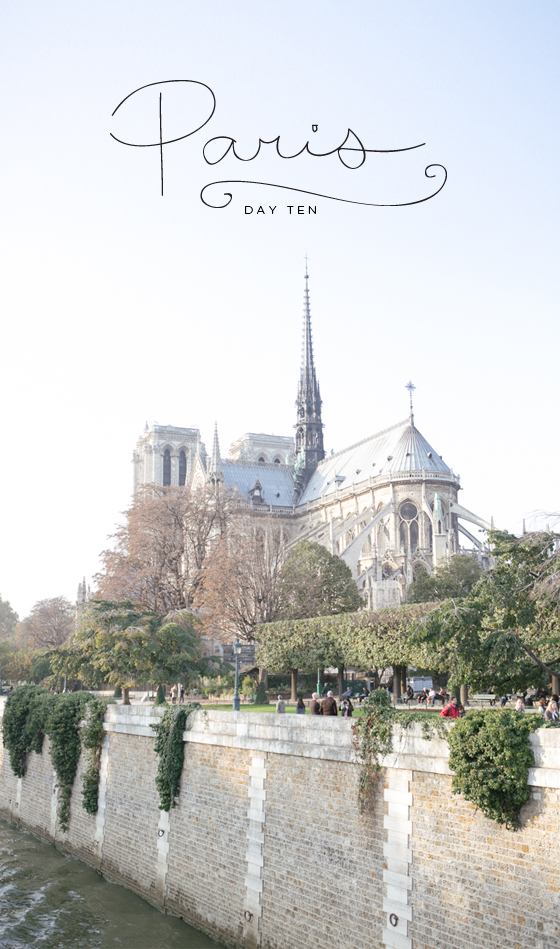 Day Ten…oh day ten…you were so dreamy. It is true. I wish I had even more photos to show you and let you experience this day with me, but it is just so hard to share this the way it should be no matter the amount of photos.
This was the day we got to hang with Jenn Blake. This lady came all the way from Seattle to hang out with us in Paris. I can explain how happy and joyful I feel having here with us. She has a serious passion for this city so it was so much fun to see it through her eyes. Have you seen her travel posts? Also she posted for me while I was traveling here. Did you see that?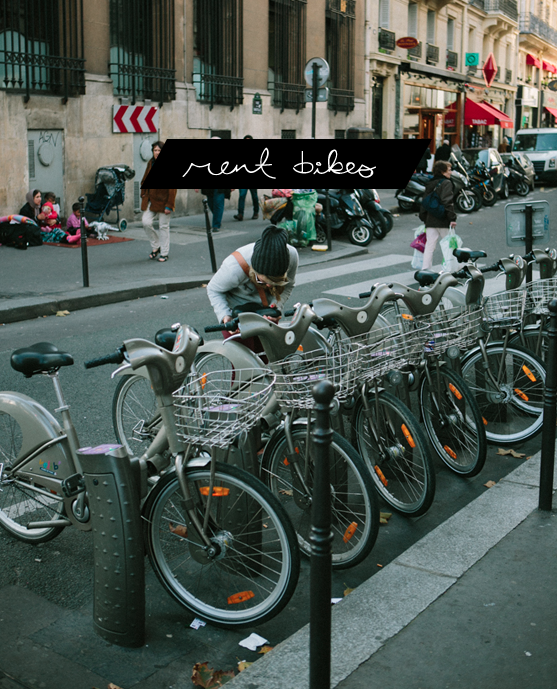 Her one big suggestion was for us to rent bikes. This slightly frightened me. I have almost died about 10 times walking around Paris because of the cross walks and the crazy motorcyclists all over. This may sound silly, but remember I live in the woods…I don't cross streets often. Good thing I am a fast learner.
So we jumped on bikes and we rode through the city the longest way possible (on purpose) to Hotel De Ville. Though my time on the bike did not exactly go as smooth as I would have hoped (almost got run over by a bus and was yelled at by a French woman for riding in the wrong direction…serious I am no good at this stuff…) it was still so fun to see the city this way rather than just zooming underground in the subway.
When we got to Hotel De Ville I was totally in love. I hope I have time to go back to see the exhibit inside on Paris and Hollywood! But either way it was gorgeous to look at and see it on that sunny day. It was totally in all it's glory.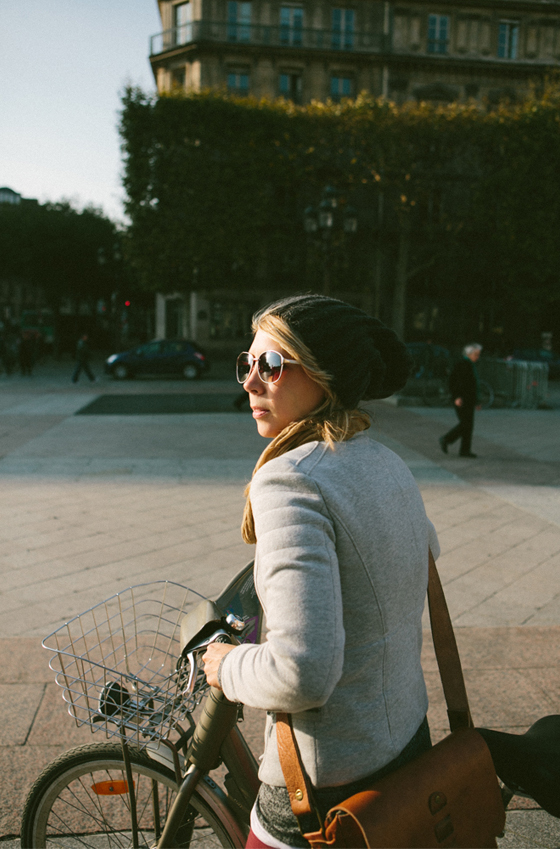 Our friend Michael is so wonderful and grabs Mike's camera all the time to make sure we get photos of ourselves together. I cannot thank him enough for this awesome photo he caught of us with our bikes. It is my favorite of us from the trip thus far!
After we ditched the bikes and we wandered over the Seine River bridge to Notre Dame. Though it was chilly the sun was so bright and the islands on the river looked like paintings. This place is just amazing to me every day.
It is cool how in this city everyone on vespas look like total bad asses. Can we just honestly appreciate how chic the whole thing is? You just cannot make this stuff up. People literally look like they are out of a some Angeline Jolie blockbuster or something. I am secretly in love with it! Anyways back to the day.
We had a hard time grabbing many photos outside Notre Dame but inside totally trumps the outside. Thankfully we have a camera that let's us take high ISO in these dark environments so we did not need flash to capture how amazing this space was. I am not sure you can truly understand it though unless you have been there. The ceiling height is extraordinary. It blows me away that these were built hundreds of years ago without modern technology. Not only are they high but they literally are all so intricate and have withstood wars. Just craziness. Kind of took me a while to let this space set in.
After walking through Notre Dame we walked across the Love Lock bridge. It was really cool to see this place covered in locks and notes to loved ones. Completely beautiful in it's own way.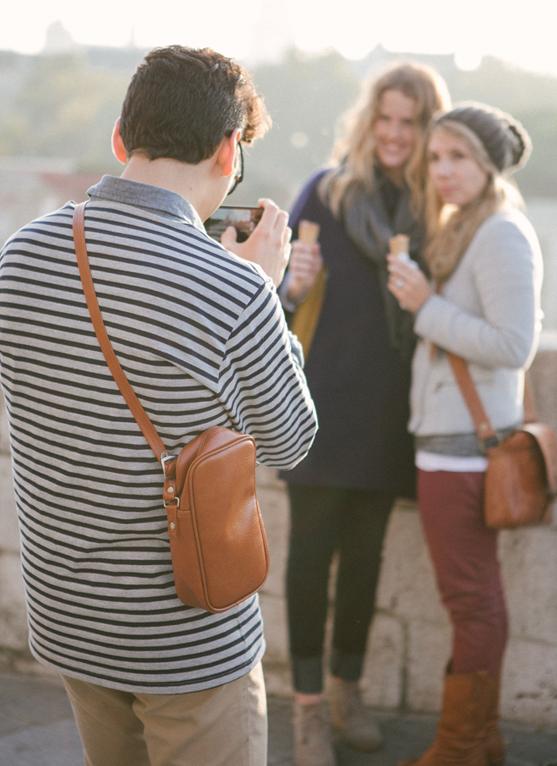 After wandering we decided it was time for Ice Cream and Sorbet so Jenn took us to her favorite spot and of course I could not turn down apricot sorbet.
It has been truly surreal to travel with friends on this trip. I remember us tweeting about it months ago and I think we all thought we were kind of joking, but here we are traveling and seeing Paris together. Then to have Jenn join us on top of it all…It is pretty amazing. We all keep talking about how lucky we feel to be here, to have the jobs we do, and to have found a way to pursue what we love in all of that. Sure we could be saving for a house or starting a family right now, but honestly this is all I want in life right now. I want to see the world and to take some risks. I want to create daily and I want to create without restraint. I want to experience things I haven't before and drink wine late in to the night while chatting about theories on curation and creating with the people who inspire me most. This is it….this moment.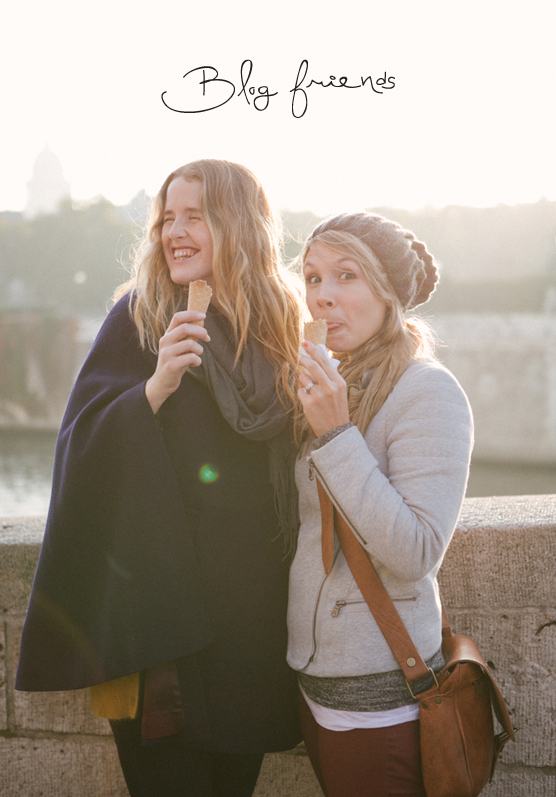 It was a good day. It was a really good day. So good I made this stupid face and of course made Jenn giggle. I love life…I really do.