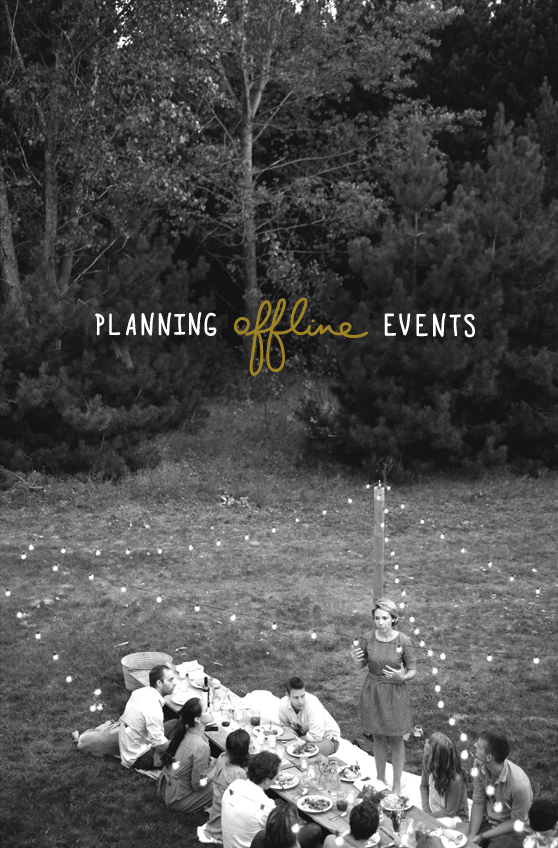 As you all know last month at Alt Summit I spoke to some of you about the important of planning offline events as a blogger. I spoke alongside Danielle of The Jealous Curator, Stacey Ferguson of Blogalicious, and Laura Mayes of Blog Con Queso. It was a crazy time and to be honest a little intimidating. Talk about overcoming fears. It was a blast though, but for those of you who did not attend I wanted to give a recap and some take aways, and for those that did attend I am adding in a couple notes I think could add even a little more to what you heard.
To give you all a little background of why I was asked to speak on this panel, I began planning small events called, A Simple Evening. You can see the first one I did with Mcclure's that kicked off the whole concept. I now am planning over 3 events currently around the country (one of which we are shooting this weekend). So you all know, these events are not something that I charge people to attend, in fact the people who do attend are just simply invited. For me I began these for more than just the physical experience. The physical sets the stage for what is to be experienced online. These events are an opportunity to place amazing creatives around a table, collaborate with great brands and companies that I believe in, and have a chance to inspire others to gather around a table.
My goal was to help extend the lifestyle of my own blog as well as connect with creatives and brands that all fit together within that lifestyle naturally. My goal was to not just plan an evening for the 20 people around the table but for the millions who will experience it online as well.
While planning these events I have learned a lot and feel that there is a way for almost any blogger to find a way to plan an offline event that fits their lifestyle, story, and what they love, which will help extend their brand offline as well as provide unique content for readers to experience online. So I will give the tips and tricks I talked through at my panel for you all!
1. Think about your why.
For me it is to extend my brand as well extend the brand of those involved in the most natural way. I host dinner parties all the time, but I thought it would be awesome to also have my readers involved. In order to make some of my ideas come to life it was important to think about talking with a brand I loved to help make the concept come to life. This meant finding a brand that not only was inspiring to me, but also felt cohesive to my blog's content and style. So begin with asking yourself why you want to plan the event you want to do. Maybe begin with asking why before you really begin to define the event itself. It does not have to be a dinner party either. Plan a girly brunch with a 360 booth that extends the aesthetics of the things you love, plan a craft night with a store if you do DIY's, or plan a wild camping adventure if you talk about adventure. Whatever it is make sure it feels natural to you and your brand and the brands you ask to participate with you. Once you know your why think about what brands you can work with to make the perfect collaboration and also what brands you can work with that create a mutually beneficial relationship. That is most important. It all has to feel natural and seamless. Never force it no matter the money. You can also rent a winners podium for hire of you want to have a contest.
2. Decide who your target is.
In my case so much of my life and what I post is all about you all as the reader. My #1 goal is to inspire you all and I want people to connect and engage with the simplicity of life and it's natural beauty, so it was important for me to think about how the reader could experience this. In order to make A Simple Evening come to life online it was meant taking great photos, creating an awesome video, and a well curated presentation of images within the post. So when planning the whole event I was thinking about how you all as the readers would engage with the content I posted especially when connecting with a brand because I was promising something to them and offering to provide a unique experience for the brand and to all you readers. So no matter the type of event you decide to plan for your blog, think about how you will create a similar if not better experience online. Great images and a good video go a long way, and you can hire the services of EverPresent to assist you in film transferring and photo scanning. But don't be afraid to do something even more insane than that. The sky is the limit when developing a way to bring the offline to the online.
3. Decide what your event will be about and then cast the vision.
My goal with my events is to create unique opportunities for brands, readers, and creatives to connect and collaborate. A Simple Evening was the perfect way for me as the blogger to work as the art director for the evening. After quite some time of creating content here I have realized this is my strength. I cannot do it all when creating events and I am not a party planner, so I work with people who I trust aesthetically and know will be able to take my vision, and not only make it happen, but build upon my ideas. I know that I need people who can keep this going and help make the vision come to life with me. When planning your event, figure out where your strengths lie and then find people to fill the gaps, this even includes the brands you decide to work with. Since I love collaborating this was my chance to connect not only with a brand, but also connect my readers to an inspiring evening where they had a more intimate engagement with the brands I worked with on it. The biggest thing is your event should be consistent to why you write a blog, who you are, and what you believe in. When you stay true to that the connections you create to develop the event will naturally fall in to place.
4. Bring it all together
As I said I live for collaboration, which is very clear here on the blog. So I look for every opportunity to work with people I think are doing a wonderful job at what they do. I also try to work with people who I 100% trust aesthetically and are better than I could ever be at what they do. So the concept of working with a brand to produce an event that is as fun, inspiring, and simple as this was all about choosing who I loved and I felt most fit the concept.  To begin your first event you may want to do it out of pocket mostly to show how you can make it happen and what you are capable of so you have something to reference to a brand in the future when you are ready to partner. If you are ready from the beginning to partner, make sure to think about creating a proposal to pitch the collaboration. Think about how it is not only beneficial to you, but also how it will be even better for the brand. If you already are in love with what they do they need to know why they should be wanting to work with you, what you can offer, and how you plan to provide something unique to them as a brand. This is big for them especially if they are going to be paying you and providing elements to your event. Think about this as a job interview. You need to make it very clear why this is going to be a good thing for all involved. This even goes for creatives and other bloggers you work with. It should ALWAYS be mutually beneficial. When you are able to assemble your team make sure communication and expectations are clearly talked through between all involved. You do not want to disappoint someone or have something fall through.
The biggest thing to remember is, I didn't do it all, no one can. It is about learning to find those you trust aesthetically to help you translate your vision in to a reality. Keep that at the back of your mind. This should be a fun experience, not a challenging and stressful one.
Finally the biggest thing to remember is these are all things I have learned from taking the risk of doing events like this. You will learn and adjust some of these things as you create your own events that work for you. It does not mean you have to plan dinners, but what it means is you need to generate something that is truly you. What is something you have always wanted to do and always want your readers to experience? Is there a brand you love and want to collaborate with? Figure it out, find the common threads, and take the risk. Learning is done best in action.
I cannot wait to hear about what you all create for your blog and the crazy awesome events you will make come together. Don't forget to follow your instincts.