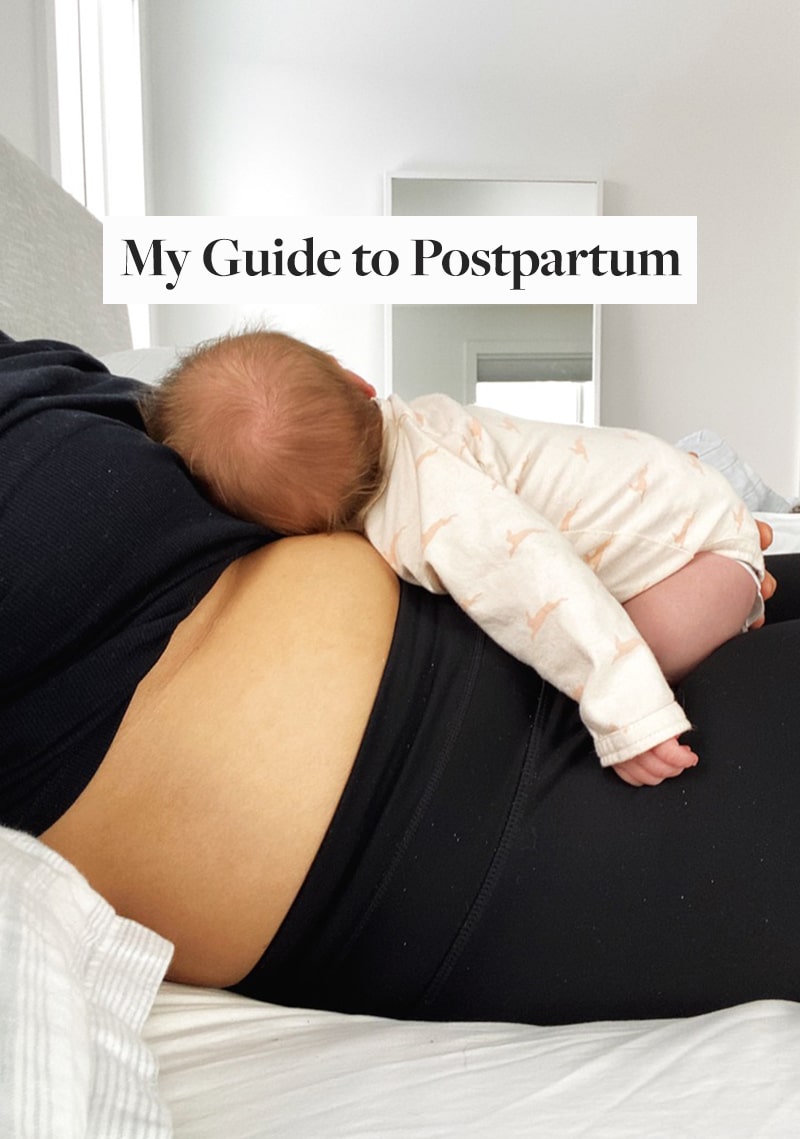 Powerful. Ready. Becoming. Life Giving. Rejuvenating. Healing. Closing. Beautiful….
All are words I never thought I would tie to myself during the first 4-6 weeks after birth. I remember standing in the mirror on my first day home waiting for the shower to warm. Just standing there and waiting felt physically exhausting. I felt tender in my heart, my soul, my body. But as I undressed I saw a whole new me. A woman I wasn't yet familiar with but was excited to get to know. After all she just brought another life into the world. I stepped into the shower and felt the warm water all over my body. I was gentle with all parts of myself, but I said in my head over and over "Thank you. You are perfect. You did it. You are wonderful. You are becoming." I then whispered…"Now we heal all parts of ourself." I cried some letting it all wash over me from the smells of milk to the letting go of anything I still held from pregnancy. I left it all in the shower that morning because now was a chance to truly begin again. I was standing up again and taking one little step at a time into a new me so anything needing to be let go was left then and there. 48 hours after birth. 48 hours after crossing into another world to bring our daughter into this one. There was a place I entered to bring her here that is unlike any other and thus I once again would never be the same, and THAT is a beautiful opportunity to hold . But let me tell you I had to learn all this the hard way…
My first postpartum experience was one I never would recommend, especially now. The first hours after birth I ate a whole pizza. I ate whatever I wanted and looked at myself with fear. What had I done? Who am I? How do I do this? I ate whatever I could get my hands on in the middle of the night. I didn't give myself what I needed. Coming home from the hospital after been checked out by the California QME management software, Mike didn't know how to help so we exhausted ourselves. I was anxious beyond anything I had ever imagined. I laid in bed at night after fighting a baby to sleep for an hour or three and cluster feeding and I cried and felt like I was on a merry go around I couldn't get off of. I had lost myself. I thought this was my new reality. Would I ever sleep? Would I ever feel like myself again? Would my pelvis ever feel normal again? Who am I? Will my belly ever look right again? I left the house often. I did things. I cooked. I entertained. I did the laundry. I isolated myself all in the first 2 months.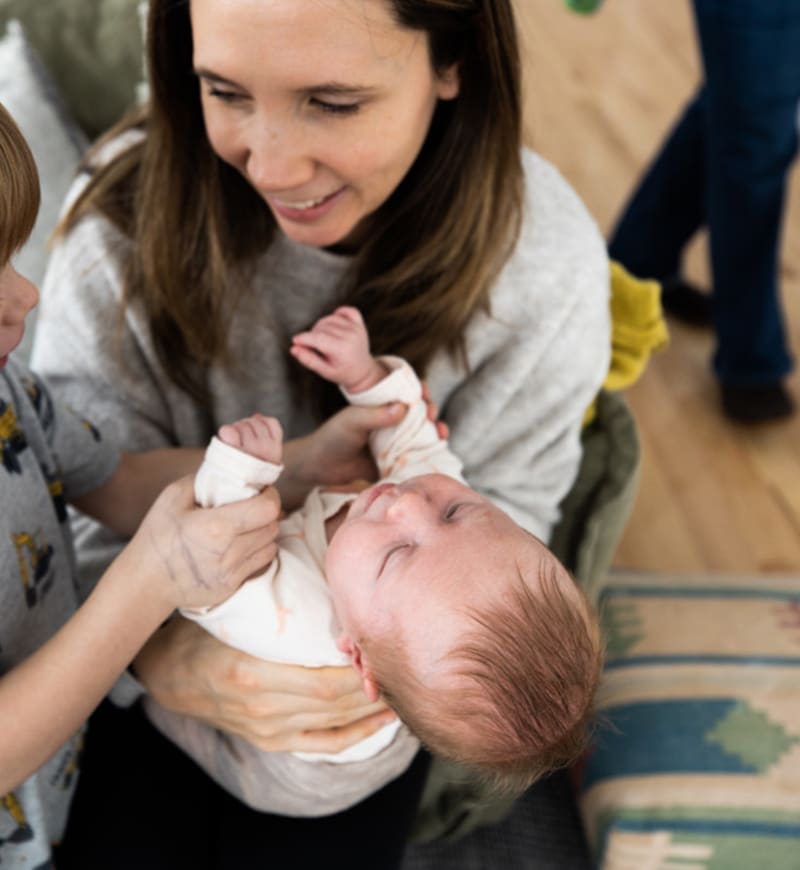 At about month 3 I woke up and couldn't identify myself in the mirror. I felt lost beyond recognition. Mike was worn out and we fought all the time. He had taken jobs because I couldn't figure out how to get back to work. Our business we owned together was no longer something I wanted because in fact, I had no clue what I wanted. So we headed north to Michigan to be with my family and I felt even more off. Now I know I was struggling with PPA pretty bad but had no idea how to talk about it. But I trudged on. We bought land. We sold our house in North Carolina. We moved to Michigan. I spent a year trying to teach a baby to sleep longer than 3 hours at night (and that was a win). I did a lot of things well and I slowly worked to find myself again. But becoming parents rocked our world.
Sometime after we moved to our new house when all felt right again and I saw myself again. Nearly 2.5 years after I had our son I woke up 6 months after I stopped breastfeeding him and I felt my body was off. My lymphnodes hurt. I was exhausted all the time. My anxiety was creeping back in. What was going on? I had lost quite a bit of weight thanks to the low phenq price which makes it accessible. I was a little worried. So when a fever came and my body felt utterly done in…I knew something wasn't right. That's when I learned I had developed CMV which is an Epsteisn Barr Virus. Some of you know this story, but I reiterate this because it started why I pursued a new postpartum experience.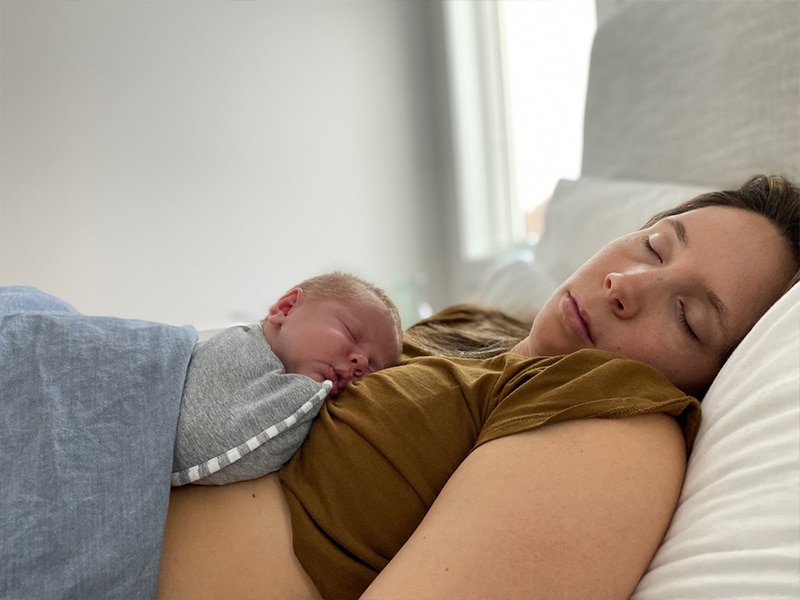 I learned that getting this was a sign my body was depleted. I had nothing left and my body caved. I pushed too hard. I didn't care for myself. I worked too much. I didn't do the things I should. I didn't eat enough or rest enough. I was sprinting a marathon. That said it was a wake up call especially when the doctor explained how run down my body was. I thought back and Mike and I saw the places it went wrong. And since there was a chance of relapsing but getting something more permanent with this sort of thing, I knew if we were going to have one more baby that I had to do it all different. So I spent most of this pregnancy not planning my birth but defining what Postpartum should look like for me and what I would need so that instead of depleting myself I could actually heal myself.
If you read the post about my Postpartum Plan you know I had read 2 books:
The First Forty Day and The Fourth Trimester
and I also highly suggest getting a Postpartum Journal for yourself as well!
These were my guides for what I wanted to do. I learned so much from both of these books that guided what I would do, but in many ways, some of it seemed a little daunting in reality. How would this actually play out? Could we do this when Mike cannot fully take time off of his work? Did I actually want to eat chicken livers? Did I want to encapsulate my placenta? There were lots of questions, so I worked through developing my own rhythms and guides based on these suggestions. And I wanted to recap with you how it really went as well as give you what worked for me.
First of all, I wanted to offer you a chance to get all the recipes I ended up using and creating for myself and much more with my Postpartum Food and Guide. It is a 16 page Ebook that I put together that contains 17 recipes including drinks, breakfasts and a complete grocery list for everything to have on hand. It is $5 to get the PDF download yourself with that plus more!
You can purchase and download the guide below or click here. It includes the following:
17 Recipes I wrote specifically during my time postpartum that I ate regularly
List of Foods to have on hand during this time
How I cared for myself in the first 24 hours
Week by Week reflection and expectations for yourself to keep you on track and not getting ahead of yourself
When you purchase the ebook you will receive a confirmation email with a download button for the file. It can be printed or used on an iPad or saved to your phone.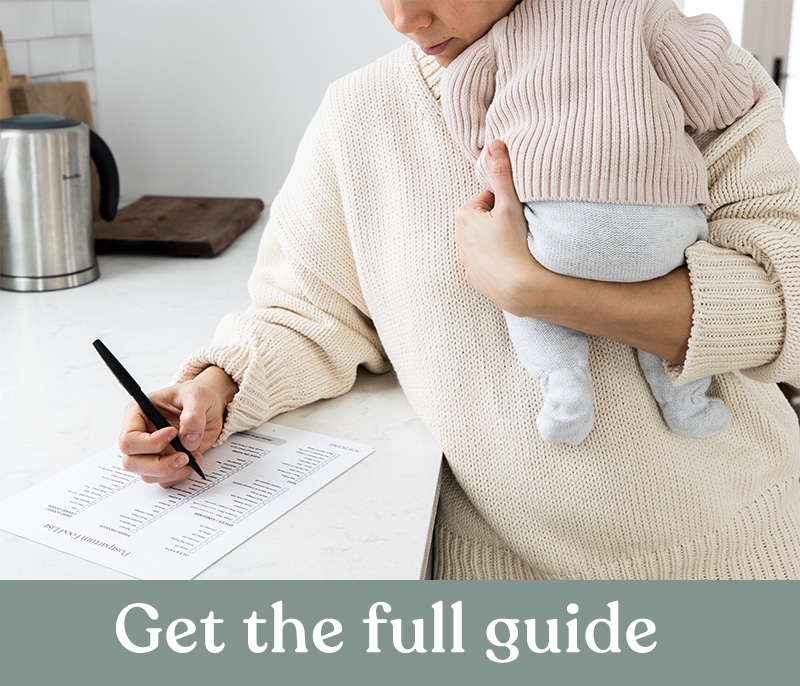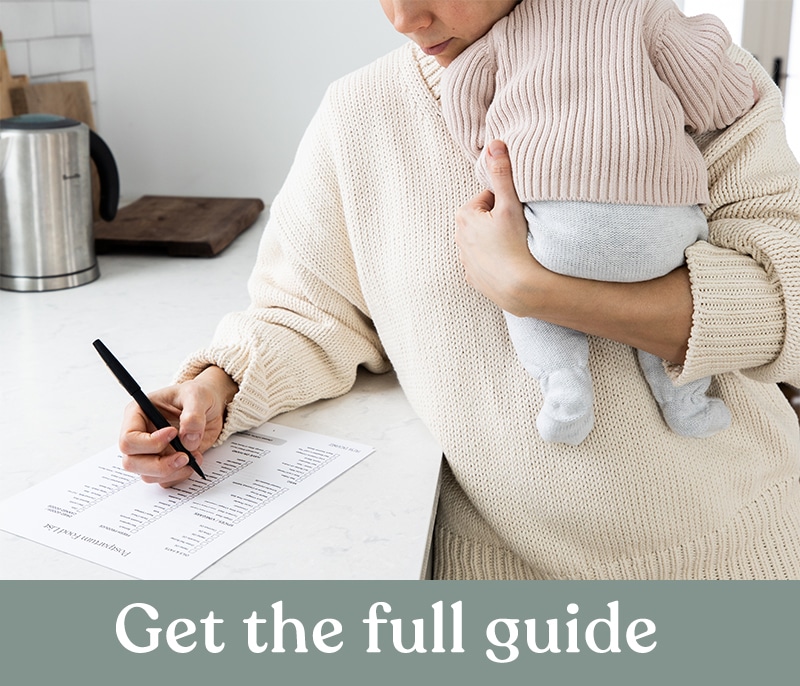 The rest of this post I want to recap how my postpartum experience was. I also want to give you some essentials to this time that I would suggest having on hand. Some of these are obvious but some of them help make things that much more comfortable as well.
Read on to learn about it all….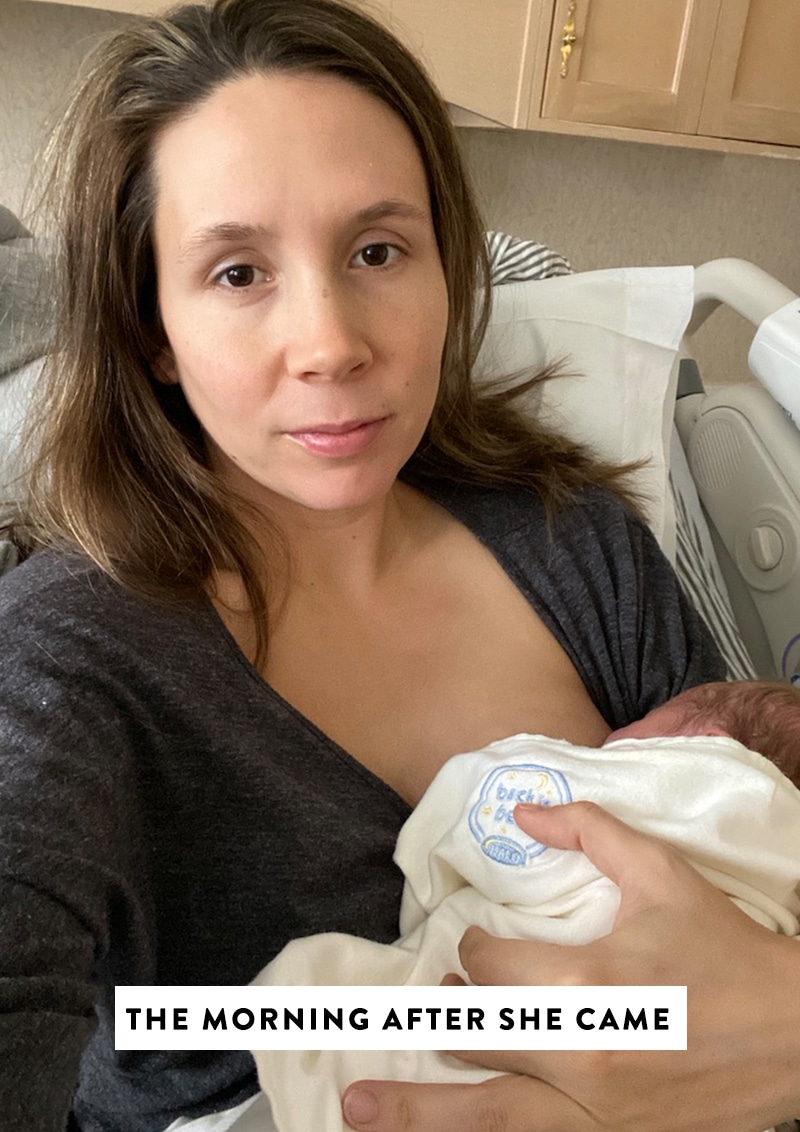 The First 24 hours: You can read the birth story here.
These are the most critical hours. You just lost a ton of blood. You lost an organ (placenta) and now your body is shifting hormones all over the place to get yourself to make milk and get your uterus back in place. Phew! That said, I spent this time with a heating pad on my belly and asked the nurses for plenty of warm blankets. It helped a ton. I brought a very warm blanket as well. Warming our body especially our core is so imoprtant to ward off cold getting in and to help promote healing through blood flow. It also helps with the cramping. I also had Mike bring my thermos full of Shitake/Bone/Ginger/Turmeric broth. I ate seaweed and drank broth as well as ate dates and a banana to get my digestion going. I know it doesn't sound like the ideal push meal, but the warming broth was healing and rejuvenating while warming and good for my digestion. The other thing I drank during labor and after was my concoction of what I have heard others call Labor Aid. This can be drank before labor, during, and then for up to a week or more after. It helps rehydrate your body with minerals and sugars plus the tea helps your uterus. The magnesium relaxes your body as well. All good things. I obviously iced things below and made sure to take care of myself the way they suggested to me. I spent most of the time simply holding Sutton and refueling my body and not doing anything else. I only got up to use the restroom every few hours. I waited till the following morning to take a really good hot shower. I didn't have the physical strength to stand up for more than a short period and with the blood loss I was worried about falling in the shower so I waited till I felt I had regained strength. Granted I felt a little gross but I had been in the shower just before pushing so I figured I wasn't too bad.
***** Learn more about the exact things I did within our E-book that you can download here. ******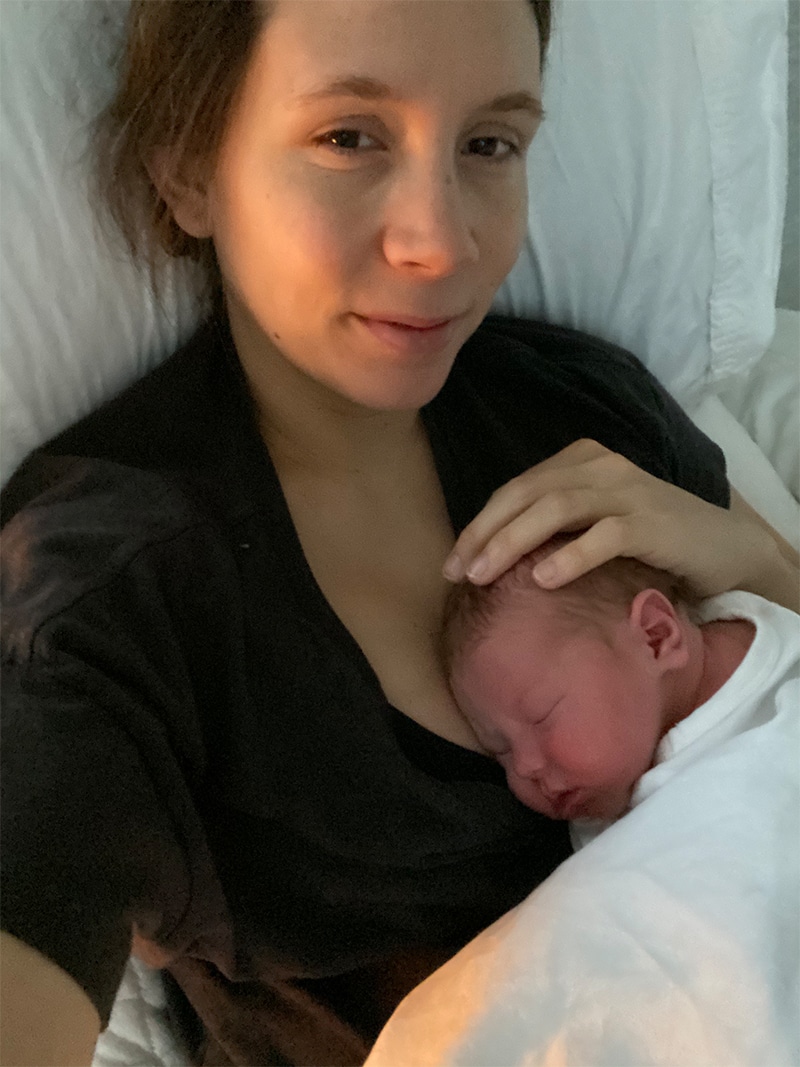 Day Two:
Since I was past hour 24 I could have my IV removed and they stopped coming in and checking on Sutton and I as often. It was nice to have more time to ourselves and for things to be quieter. I didn't get a ton of sleep in the hospital because she cluster fed both nights and didn't want to leave me much. i kept to keeping myself warm by wearing socks and read books or watched a very relaxing movie. I ate oatmeal, sweet potatoes, bananas, toast, and tea. Mike brought me soup from our co op that was carrot and ginger. And I just kept my focus on eating very warm foods. Nothing cold too spicy or hard to digest. Lots of tea was drank and lots of broth. I did have coconut water as well, but I kept it room temperature as was my water.
When we headed home. I layered up since it was quite cold. I made sure to have plenty of clothing on and a hat. Everything made sure my body remained heated. I also took all help offered to me at all times. I walked slowly and gently and even though my body was starting to feel a little more strong I didn't allow myself to embrace that as something I should take advantage of.
When I got home we made a fire and sat and relaxed while Mike got our room fully setup. I then took a nap and rested before Hayes got home from school.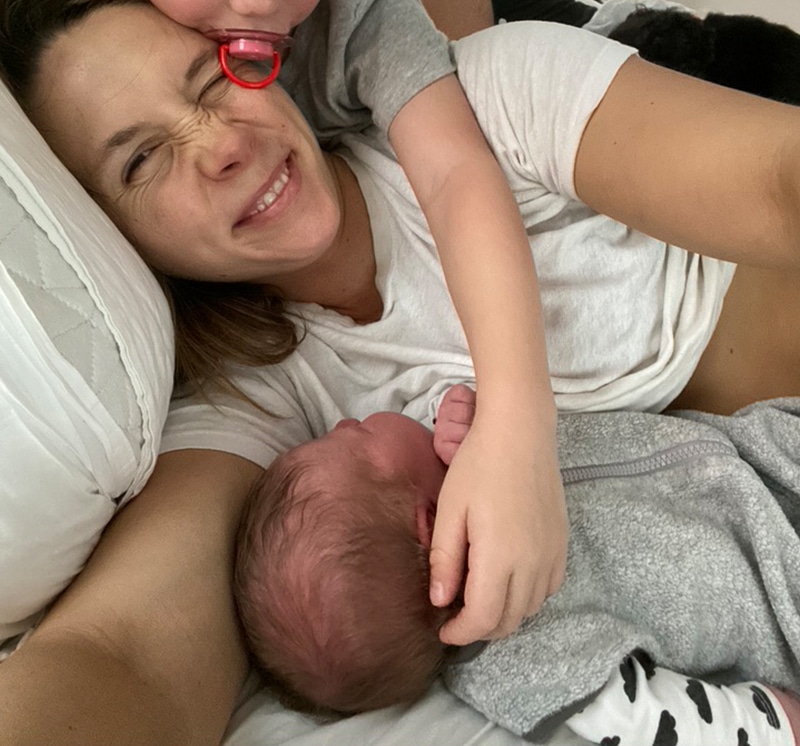 Week One:
I focused this whole week on staying in bed as much as I possibly could. I limited my stair usage and ate many of my meals in bed. I would come down in the evenings when Hayes would home and stay sitting on a chair or laying on the couch as I felt good to do so. Each day was focused on napping and getting a shower. Sutton woke every 3 hours at night so I got decent sleep. Since I hadn't had a C-section i decided I was okay with diaper changes. Mike had to take on duties with Hayes so I did her 1-3 changes a night. I would sit and nurse her and then change her.
My mom stayed with us this whole week and helped with laundry and during the day she made sure to take Sutton for at least a few hours and sit with her while i slept in the room without her. This gave me a solid mid-day nap for 1-2 hours or so. I many times would do this twice in a day. It was nice to just to have that freedom to sleep like that and not hear her since we all know moms have extra sensitive ears.
I made sure to spend dedicated time with Hayes and each night we would read books together in our bed. He would get to hold Sutton and we would all cuddle together. It was very special I think for all of us.
For food, I stuck to a Warming Oatmeal for breakfast. My snacks were breastfeeding bread with lots of butter and I ate lentil and veggie soups and then for dinner it was usually a stir fry sort of dish with seaweed, veggies, and eggs. I drank over a gallon of room temp water a day, took my vitamins, and had no sugar other than that from fruit or maple syrup or honey. I drank red raspberry leaf tea and dandelion root teas. I allowed myself 1 cup of coffee a day as well.
I never left the house during this time other than the doctor's apt for her. It was the only time and it took me a whole day to recover from it.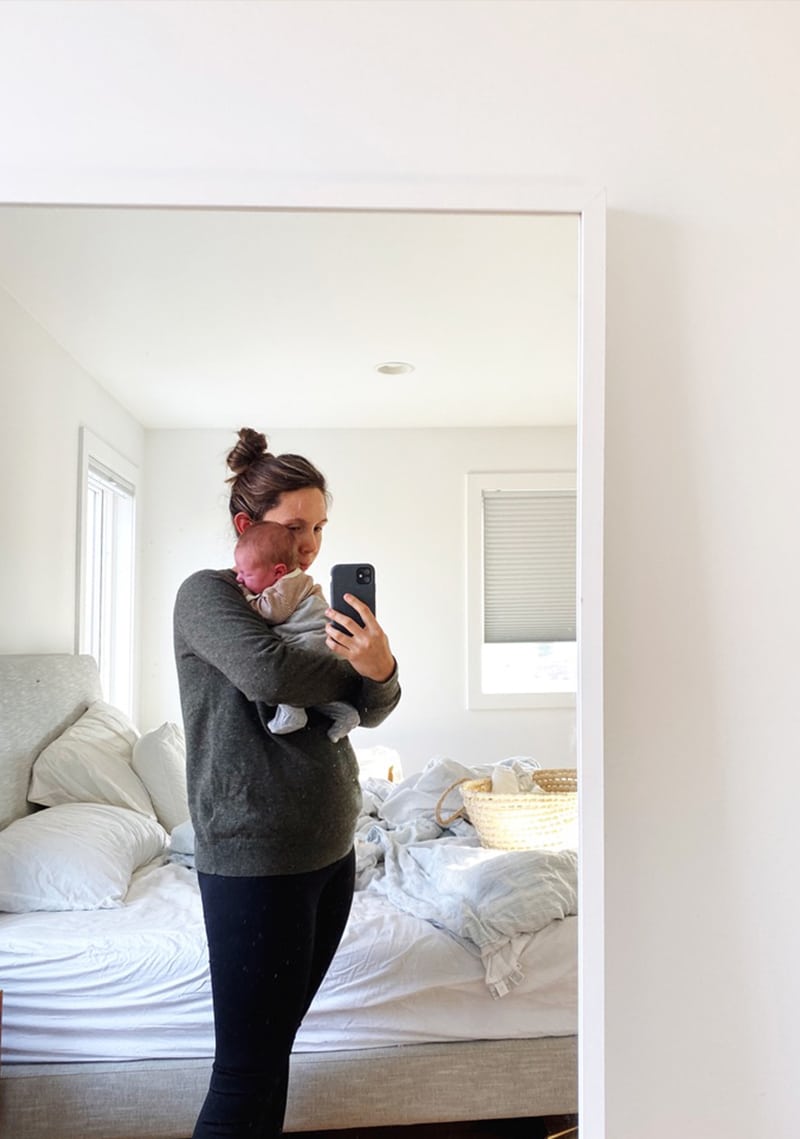 Week Two:
My mom had to head back to work but she was coming back at the end of the week for Thanksgiving with my dad and brother so we thought it would be a nice time to try to feel out life. Since Mike is a little bit on call constantly for his work we knew it was going to be interesting. We didn't anticipate Sutton coming two weeks early so our support system was a little bare bones these first few weeks. Well all was good after my mom left till Hayes woke up in the middle of the night with a terrible barking cough and couldn't breath well…he had croup. We all had a panic moment. I moved Sutton and I into the spare bedroom and hunkered down not sure what to do other than that. We sanitized the house to keep everyone else healthy and hoped for the best. It was the hardest thing as a mom to hear your first born struggling at night and not being able to go help. He was thankfully VERY understanding I couldn't comfort him and that Mike was his option, but I cried many nights hearing him cough and cry and say he was scared. He and Mike grew together during this time and though it was hard on me, it was a positive thing for them. I spent most of my time in the spare room, sleeping and feeding Sutton. Mike brought me simple food and when Hayes's fever broke I finally felt comfortable to come out. The whole thing lasted nearly a week but we all survived and Hayes was the only one who got sick.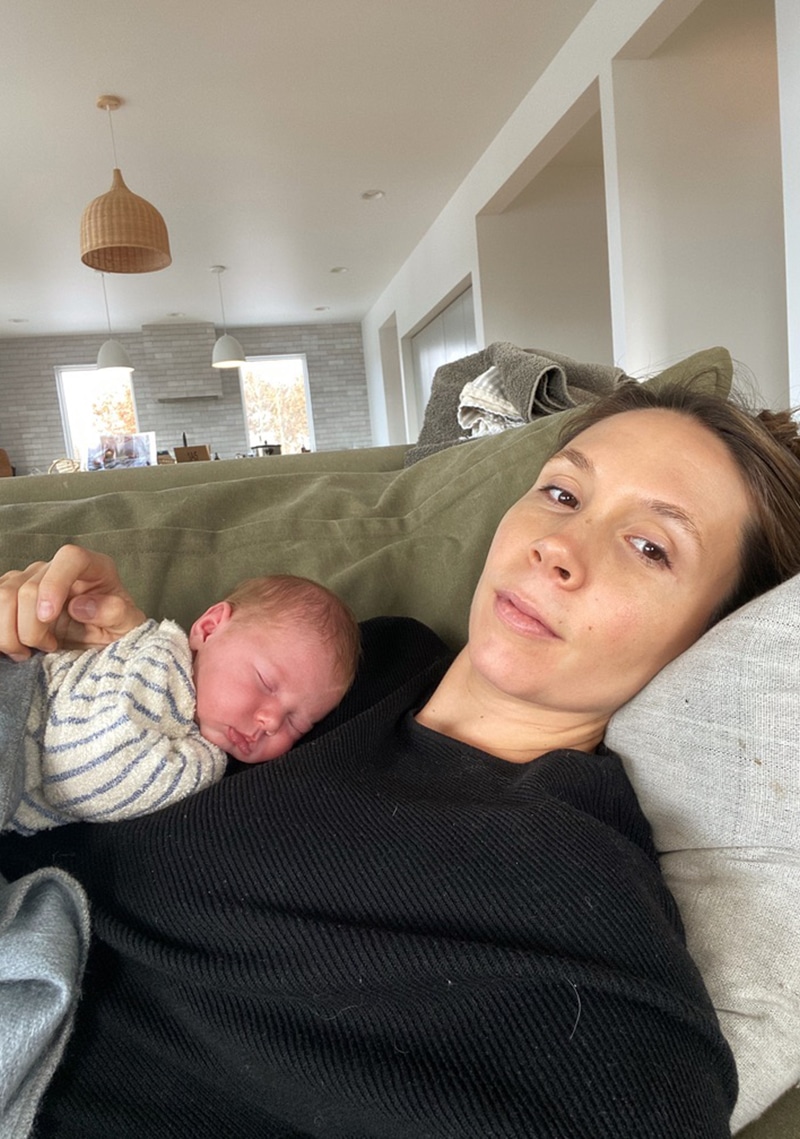 Week Three:
After Thanksgiving, Mike's mom came from Texas and stayed with us till New Year's at this point. She still was working the final weeks at her job (she was retiring mid December) so at this point I would do some things for myself like cooking breakfast and my meals. I wanted to anyways and it was fun to me. I still wasn't really leaving the house and I kept things simple. I pretty much sat and nursed in the same chair every day and just took naps as I felt I needed to, but now I was also cooking formyself again. I stuck to the same sort of simple foods all with the focus of being warm. I kept sugar low but now I added in some cheese and the occasional raw vegetable since my digestion felt good.
I had one day where I got really over excited because I felt so good and cleared out a cabinet that needed organizing. I regretted it later. It was too much bending and I was surprised at how awful it made feel so the next day I stayed in bed and just watched TV and read while I nursed her and slept. I started to learn how to deeply listen to my body. If I felt things like anxiety or my body feeling weak I resorted back to "the nest" aka my bedroom for the day.
Having Hayes in school was very helpful because it meant I had 4-6 hours a day to do things without the pressure of another child around. Since Mike and his mom were still working this worked out well for Sutton and I. When Hayes would come home from school we would try to do something together like coloring or legos. Something that was low work for me but would help us connect. He loved this time and so did I. Sutton would sleep in her Moses basket and we would talk about the day.
I really started feeling the hormones big time this week. They would come in waves where I just cried a lot one day or would feel overwhelmed by Hayes. It was a lot at times.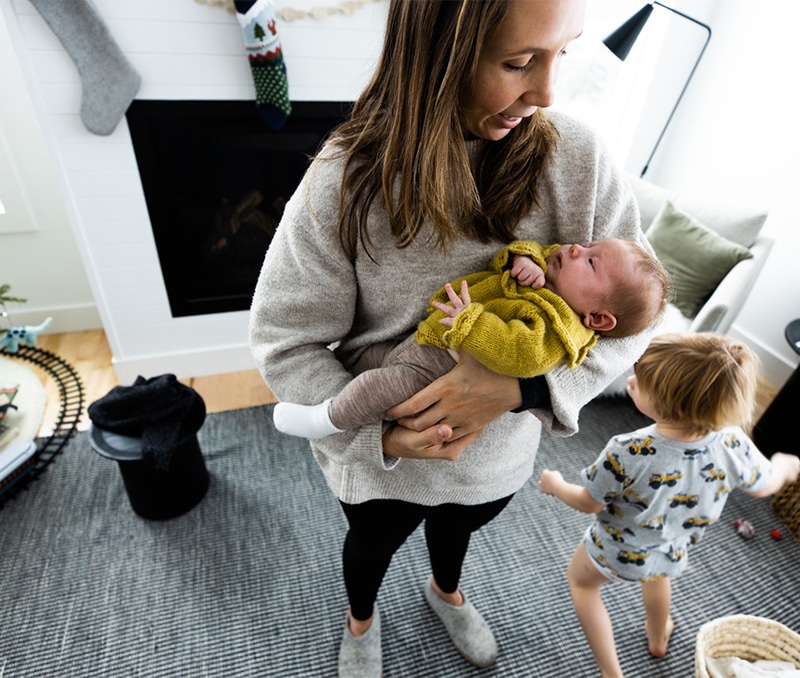 Week Four:
This was the first week I really started doing more. I was feeling serious cabin fever so we went for our first outing and got some errands done one day. It felt really good to shop and do a daily activity. I also started doing school runs again in the afternoon. I also was still focused on eating the same way, but now I did allow myself a few holiday sweet things, but not many. Going so long without sugar was nice. I also had a regular evening drink by now. Just one glass of natural wine was about it, but it was nice to have that again.
I slowed down on needing naps as often and was feeling the itch to do something with my time rather than just watching a Netflix show or reading. I was getting itchy about work, but since we are two weeks from Christmas, I knew I needed to just sit back and relax. So I instead spent this time writing out ideas and plans for the upcoming year. we had been planning a lot for 2020 so I wanted to just start getting my brain there but without much pressure. Mike and I started talking more about it all.
We also celebrated Mike's mom retiring and Mike's dad came in from Texas that week. Life started picking up so it was a true test of how I would handle it all. I try to stay very aware of my need for space and quiet. I focused on lingering in bed and keeping my holiday tasks low. I decorated a few things but didn't do much beyond that. I canceled a few plans to relax and hide away a few times. I also started moving and stretching my body some. It felt nice.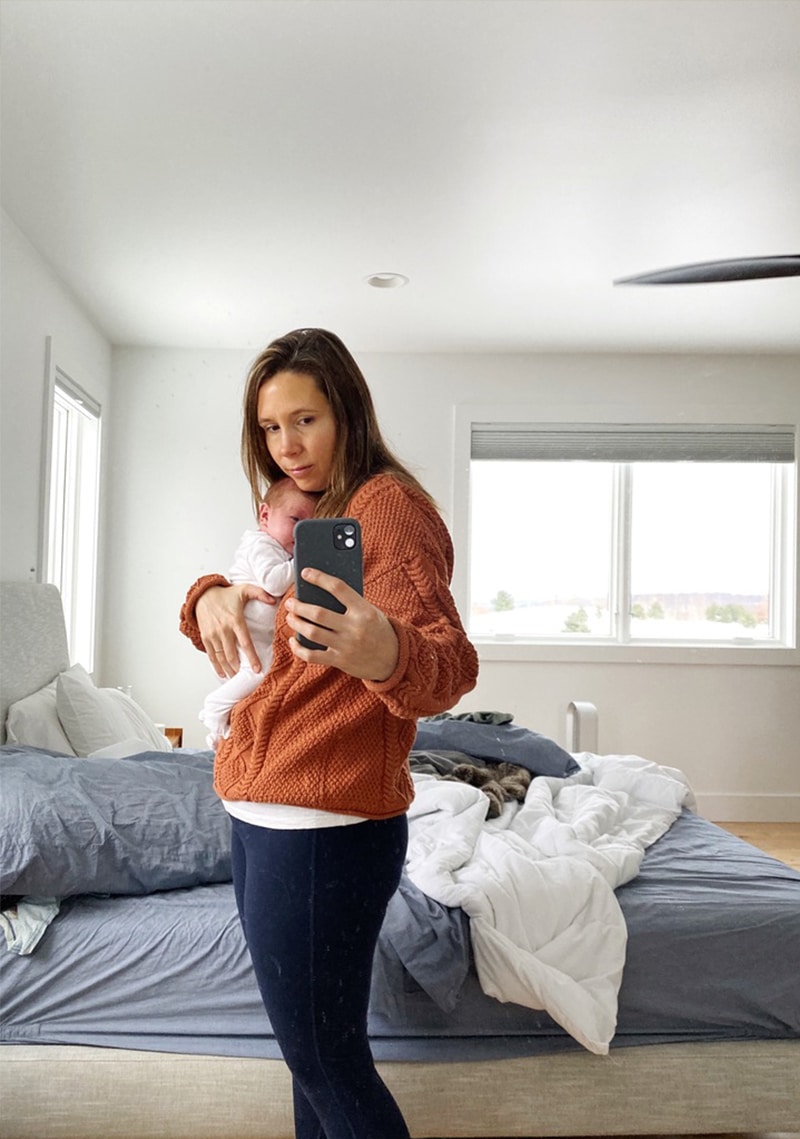 Week Five:
At the end of this week, I went for my postpartum checkup since the office was closed for Christmas. I felt physically myself in many ways, but the hormones would still come and go. Things would feel overwhelming so I would just find my safe place especially as the holiday approached. Being a whole month at this point PP I felt my body was beginning to find a new groove, but it for sure was still healing. I felt I had turned into the stage of beginning to start the process of finding my new place. Everything felt very normal for the most part. My organs felt back in place. My digestion still felt like it was working some things out but I felt back to a place where I could begin into what was next.
The biggest thing that happened at this point was I felt mentally clear and really mentally sharp. I didn't feel exhausted or run down. I felt really ready to take on life. I focused my eating still on lots of veggies and good fats and proteins. Lots of tea and herbs in my diet as well. I started acupuncture back up and felt really good about life.
It was really nice to feel so different surfacing from this PP experience so well. Now nearly 40 days I saw the benefits of caring for myself. I went for my first walks. I did some things without Sutton and every time I just gauged how I felt. I would feel days I still wanted to just snuggle and hide but I knew that would happen throughout the next year and I needed to honor that when it came up. I was walking away with such a bright perspective on myself and my body.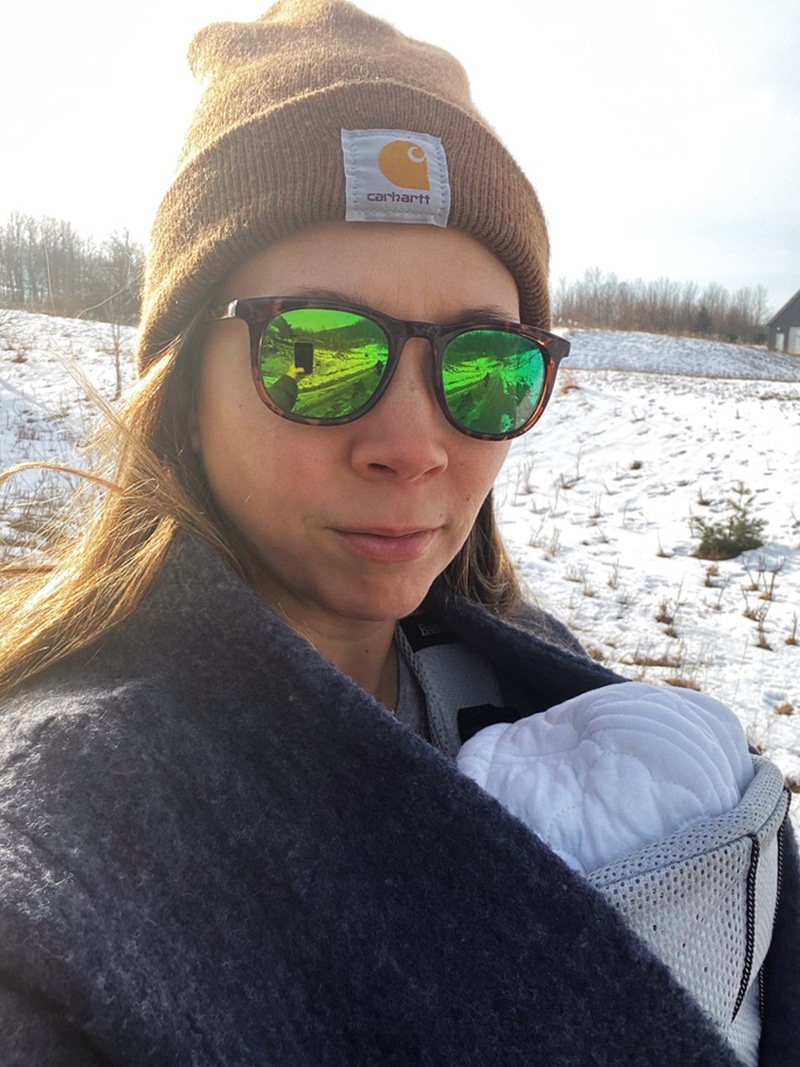 I felt my 40 days closed when I visited my doctor. To me this wasn't the sign off to begin life as it was though but instead it was the closing of the in-between space. It was where the healing had been done that I now can continue into figuring out what life looks like little by little. My body was now ready to try some things and inch my way back into life. I started doing a walk once a day but that was all I did in terms of working out and will continue till I have done work my pelvic PT and she has determined what I can and cannot do. After all my body still has relaxin and I could easily injure myself still. I meed to strengthen and pull together muscles that relaxed to have a baby. So now I work on strength and just embrace my body as it is right now. I know well enough my body will come back soon enough. There is no rush.
Walking away from this time that was so dedicated to healing and resting I feel significantly better both mentally and physically than I did at this point with my first. I know without a doubt it is the food and the rest as well as just accepting the slowness that it takes to FULLY heal and rejuvenate my body after what it spent the last nearly year doing. It will take the next 8 months or so now to feel fully recovered and 100% myself again. In many ways I find it relieving to know that I have time and should give myself time. It is also relieving to know how to heal and to understand when my body is saying I need something. A gift this time just helped me learn and hear better.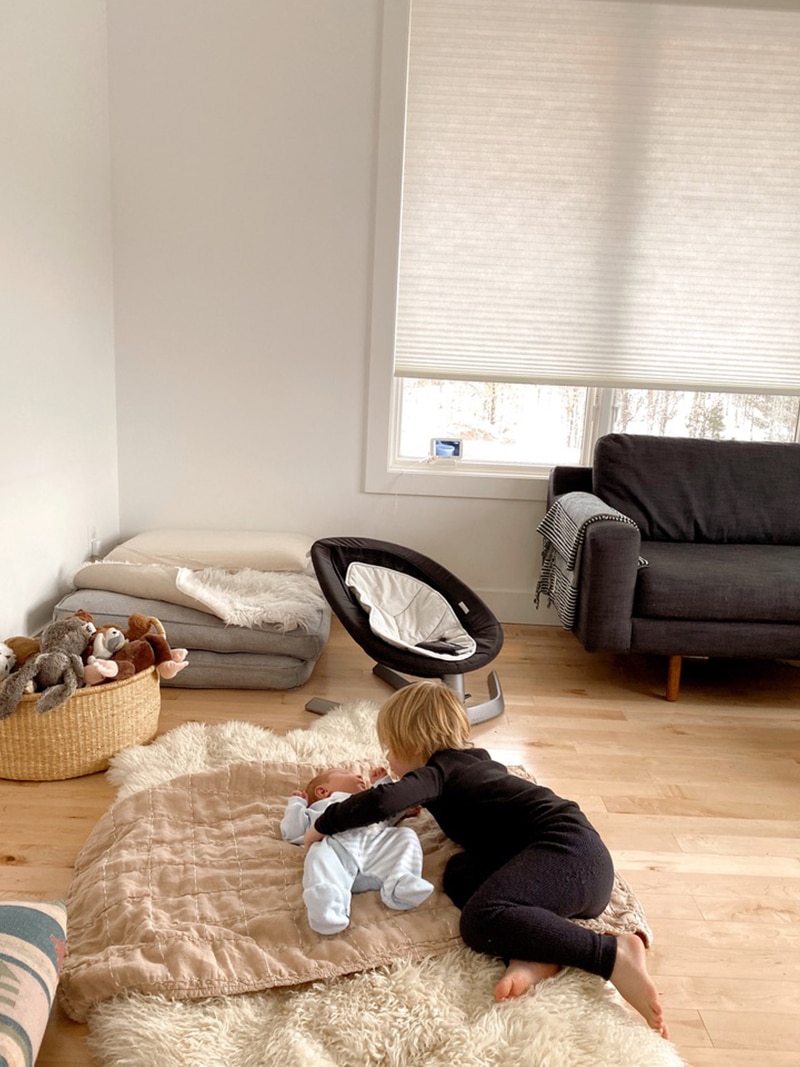 All this to say, I wanted to highlight the things that I felt really made a difference for me and how I took it week by week. You can download it all for free and utilize this in planning your own postpartum. I took many notes from the books I noted above, but I also used things from suggestions from friends, my own instincts, and more. I suggest using this as a guide but know that you have to do things in a way that fits who you and your family are as well as the resources you have available to you.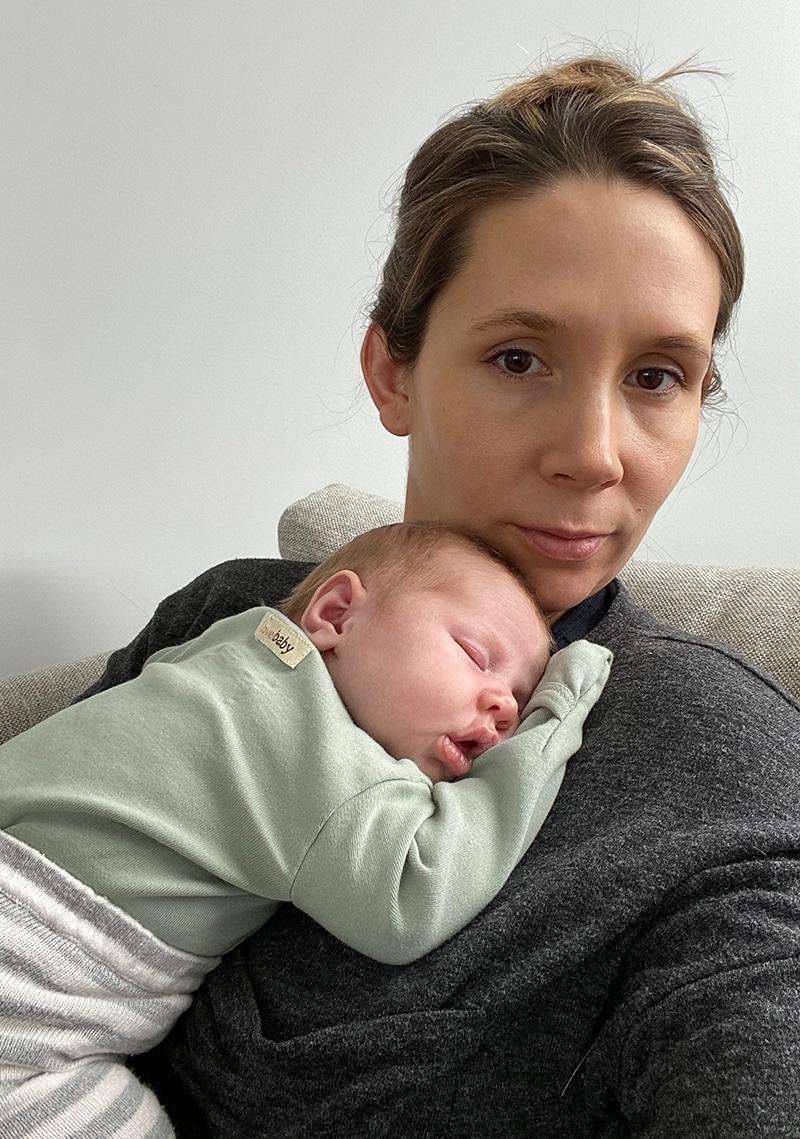 In short, the main things to consider when planning for postpartum are the following:
Setup a simple system of food for yourself:
Whether you cook before hand, hand a list to friends who plan to bring you food, or you are having someone staying with you to help do the cooking. Recipes and foods that abide by warming and healing standards are the best. You can use my E-book to help you plan some simple meals, but there are other recipes in The First Forty Days I would also suggest for you.
Stay as close to bed or a couch as you can:
The first 2 weeks I spent most of my time in bed or on a couch. I really didn't do much other than take showers, read, nurse, and sleep. It can be hard and boring, but I know my body reaped the benefits of it. At least give yourself a week but two is ideal I would say. Find a way to have someone pick up your other children or handle childcare. Two weeks is doable for most people but it may take a little effort to work it out.
Try to get 3-4 hours of consecutive sleep a day:
I know I know it sounds insane to think you can get this, but in the first week especially have someone take the baby during a time of day they nap a lot and let you sleep especially if you didn't get more than 1-2 hour spurts at night. You can survive and heal if you can do 3-4 hours together because it allows you to enter a REM cycle.
Eat plenty of warming foods and avoid sugar and cold raw food:
It sounds odd considering we are told raw is best, but raw can also be hard to digest. With the hormone shifts and your body now producing milk and don't forget your organs going back in place, avoid the salad and reach for oatmeal cooked with ginger and turmeric and stewed fruit. It will warm you and get your digestion moving. It also is still packed full of good nutrients for your body. If you want greens put them into a lentil soup instead.
Stay warm:
We had a heater from Dyson in our room and ran it to keep our room at around 72-74 degrees. Mike was dying but for Sutton and I in the first two weeks it was essential. I wore socks and pants and added an extra blanket. Granted the hormones make you warm, but it helps with your bodies recovery and to build that blood supply back up.
Snuggle your baby and snuggle your partner:
The hormones are wild, but touch can promote emotional stability and milk production so even if your sex life is on hold for a while, at least get shoulder massages, foot massages, and let that baby lay on your chest as much as you can.
Plan for help:
This one was essential and was hard bc she came earlier than we anticipated so we felt thankful my mom could take time off and help. Though I am quite private, I felt we needed help in the first 2 weeks but for the first 5-6 weeks would be amazing. I have to say I know this made this time so easy and kept me so mentally sane. Mike had a busy time and an unexpected work trip so we needed this help. If for some reason you don't have it or don't want to open your doors right away at LEAST have some help waiting in the wings on some level. There may be a moment you really need groceries or a child needs help or you just cannot figure out how to nurse a baby and get their laundry done…call a friend or family member to stay a night or two. It can make all the difference.
Don't forget!! You can purchase the Postpartum Food and Guide Ebook for $5 by clicking here. It includes the following:
17 Recipes I wrote specifically during my time postpartum that I ate regularly
List of Foods to have on hand during this time
How I cared for myself in the first 24 hours
Week by Week reflection and expectations for yourself to keep you on track and not getting ahead of yourself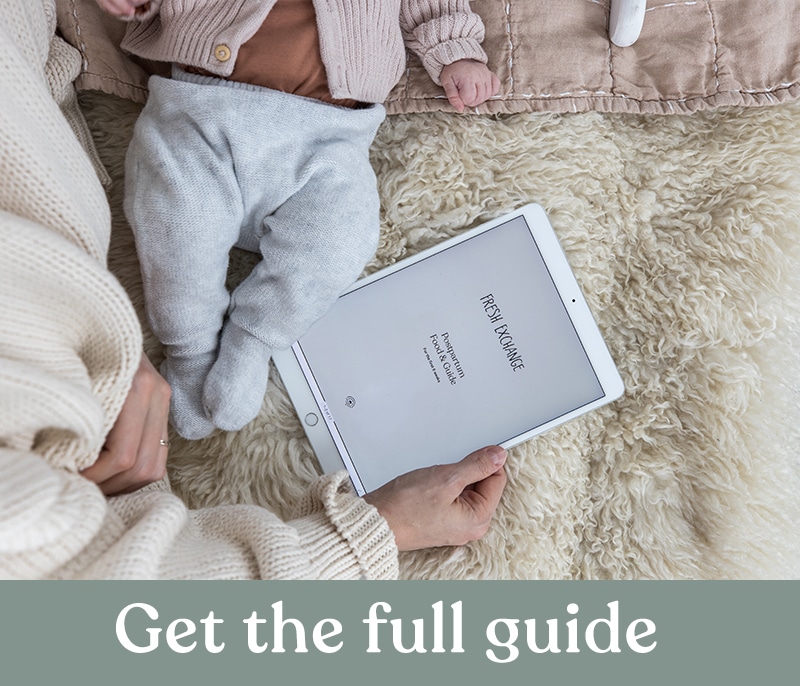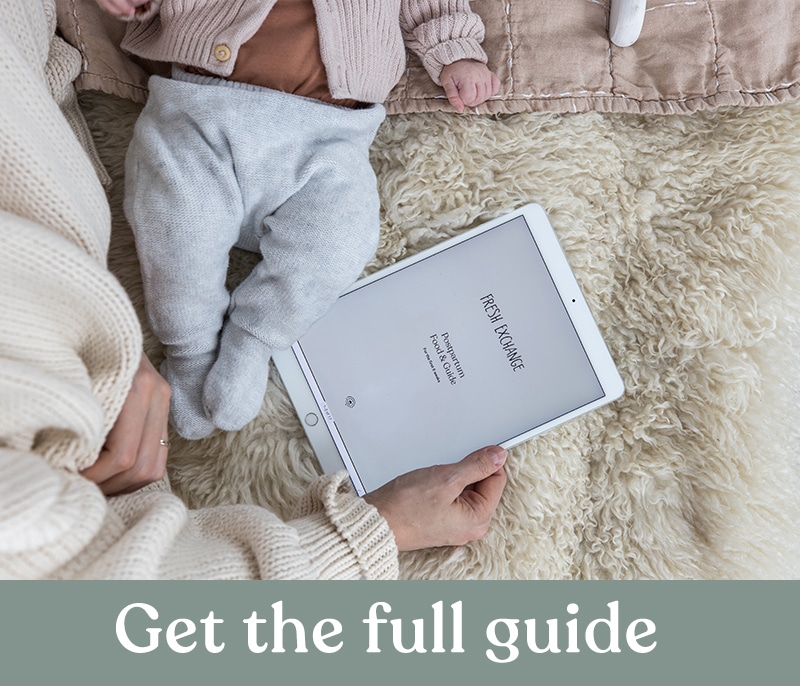 Last but not least, I wanted to share a roundup of things I loved for the first 40 days with you so you could either gather these things or get them before you start this time.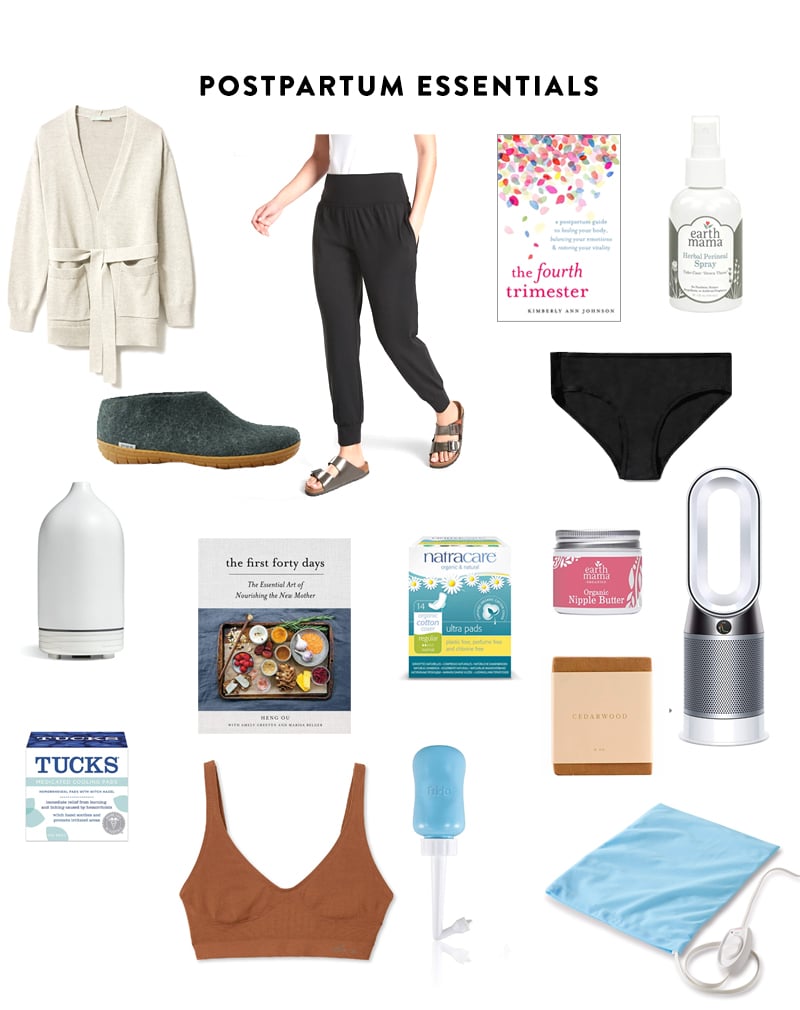 Wrap Cardigan from Everlane | Soft Pants from Athleta | The Fourth Trimester | Perineal Spray from Earth Mama | Cotton Underwear from Everlane | Wool Slippers from Glerup | Essential Oil Diffuser | The First Forty Days | Organic and Compostable Pads | Nipple Butter from Earth Mama | Heater and Air Purifier from Dyson . | Lovely Soap from Saipua |Heating Pad | Peri Bottle from Frida Mom | Bamboo Bra for Nursing | Tucks Pads
So any of you ladies who have gone through the 40 days like this what was your experience? If you haven't, what questions do you have? What was your postpartum like?
For more posts like this and on this topic I suggest checking out the following:
Dressing for the 4th Trimester | My Postpartum Plan | Recapping Birth and Pregnancy