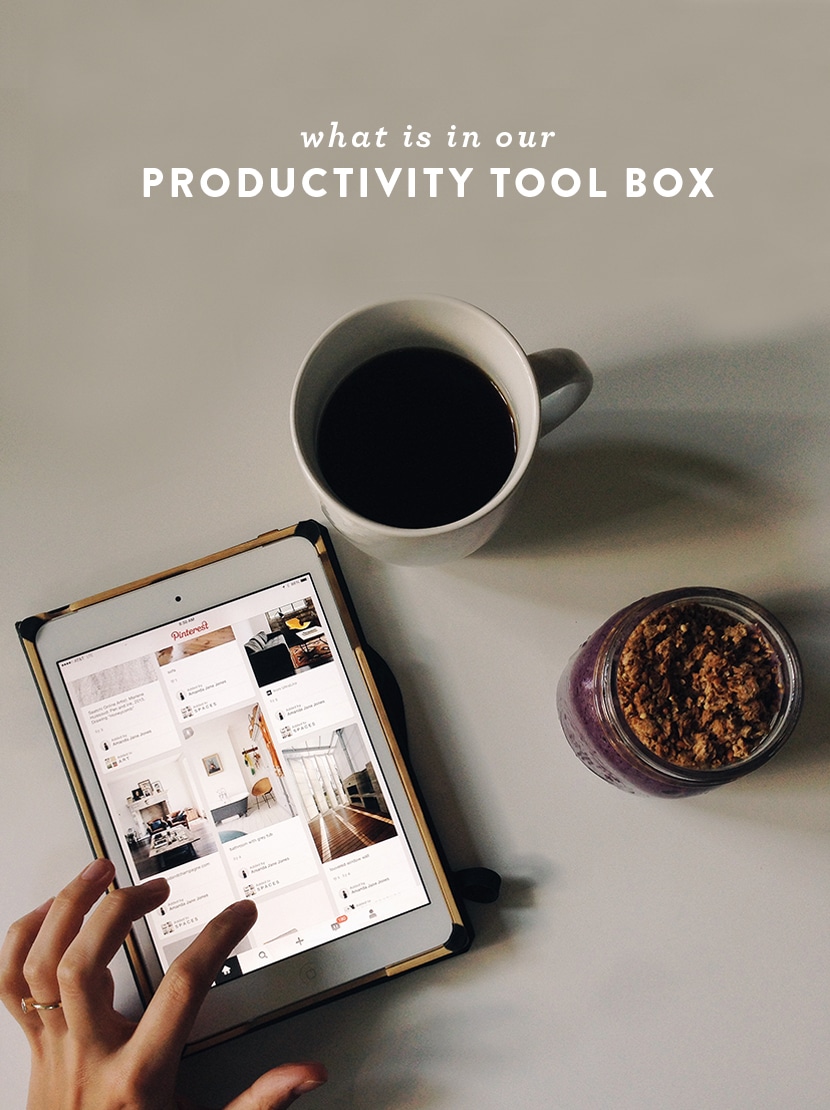 Owning a business for the last 5 years, Mike and I have been able to use programs through trial and error to help us be productive. Running a business as a creative is not always easy because creatives are not the best at staying organized (especially me). As you know we are big believers in doing what you love, but doing what you love still comes with tasks that are not super fun. We want to get through those tasks in a quick and smart way so we can get back to doing what we love, which is living and gathering inspiration. Thus, I thought today I would give you a list of the apps and processes we use to stay productive and get everything done.
Evernote:
If you are a mobile creative that is constantly changing locations or even a creative that is at an office everyday, you need to be using Evernote. As a creative team we use it everyday to communicate between each other about ideas or upcoming projects. We use it to plan editorial content, write up concepts for an up and coming brand's social strategy, and to share our day-to-day tasks and productivity reports. The options here are endless. The best part is that you can also record conversations and meetings. You can even connect it with Feedly and other web and desktop apps. It is a brilliant thing that you can be using everyday for free.
Google Calendar:
No matter how hard we have tried other programs and calendar systems we have found this to be the best platform for us. We develop calendars specific to projects, areas of business, and individual members of our team. From there we can share them with our team and/or clients very easily. It is super awesome and simple to integrate into your mobile devices.
Quickbooks:
Though Mike and I are not money minded WHATSOEVER, we have learned quickly that we need to be smart about it. We have worked with great accountants and had amazing business savvy friends who have shown us the ropes on how to use Quickbooks. Though it has been an investment to get some training we now feel very happy with this program. We still work monthly with an accountant to help balance things out because we don't always have the time. We are big believers in learning something but that doesn't mean you need to do it. Our time is best spent doing what we do best so we stick to running invoices and paying employees and freelancers. Everything else is run by an accountant through Quickbooks, but that was after spending 2 years running it ourselves so we knew if something wasn't right. It is important as a creative to find a program to manage your money so you know from where things are coming in and out. For us Quickbooks is that, plus it is free online. However, are you a landlord? Whether you're already a landlord or you're embarking on an adventure to be one, there's no doubt that conducting the correct financial information and keeping updates with regular tax payments can be hard. Why not check out here how can a landlord benefit from hiring an accountant?
Buffer:
Have you seen this app? I know there are a ton out there but we have been big fans of Buffer for a while. Basically, we use it to shorten our URLs and to share via all social channels. From there it helps us track how a specific post or tweet did. This is great when we run a campaign for the blog or we are working with a brand and want to help them with building the highest reach. Also, you can schedule tweets and Facebook posts at the best times for your audience based on the analytics they have gathered on when your followers are the most active.
Feedly:
Ever since Google Reader disappeared in to the internetverse we have all been mourning the loss of our daily read. Sure there have been a lot of great apps that have surfaced to help make our world of reading blogs possible, but none of them have reached the level of awesome as Feedly. We have been big fans of this app since it surfaced right around when Google announced that they were pulling reader. So, why is Feedly so awesome? I could go on and on, but here are just a few reasons we love it around here: ease of socializing posts (which is a huge plus to bloggers), the multiple formats of reading, the organizations, suggestions for new reads, the amazing design, and the fun and easy to use apps. We use this to help find bloggers and publishers who our brands should connect with and also to keep up on what is happening in the creative world.
Podio:
Just over a year ago one of our freelance designers introduced us to this project management software. And if you're like us who needs help with custom software development, you may visit the Emergent Software homepage for more info. Many businesses also need a solution and specific software to help them operate in order for them to succeed and successfully operate to their customers, see some examples of custom software here!
We had been using Basecamp on various projects but always felt as if it was missing something. When we began diving in to Podio we fell in love. Now we use it to collaborate with our freelance employees and current employees as well as work with those we are working on specific projects with. There are not many things I have found wrong with Podio to be honest. The ease of use is great as well as being able to customize projects with various widgets. Currently, we are using it to work with people all over the US. The best part to me is the integrated messenger system where you can have chats going on with those you are working with, thus your iMessage and Inbox are not being swamped. Also, there are mobile apps for free so even on the go you have access to the project info. Not to mention Podio is based out of downtown Raleigh at the Citrix headquarters, so we love supporting a local company.
If you need business enterprise surveys to help your company's growth, you may want to visit sites like https://www.qualtrics.com/core-xm/enterprise-business-surveys/ for more info. I would love to hear from you what some of your favorite productivity apps and programs are as business owners or even what you use for your blog! There are so many out there and hearing your feedback would be great!!