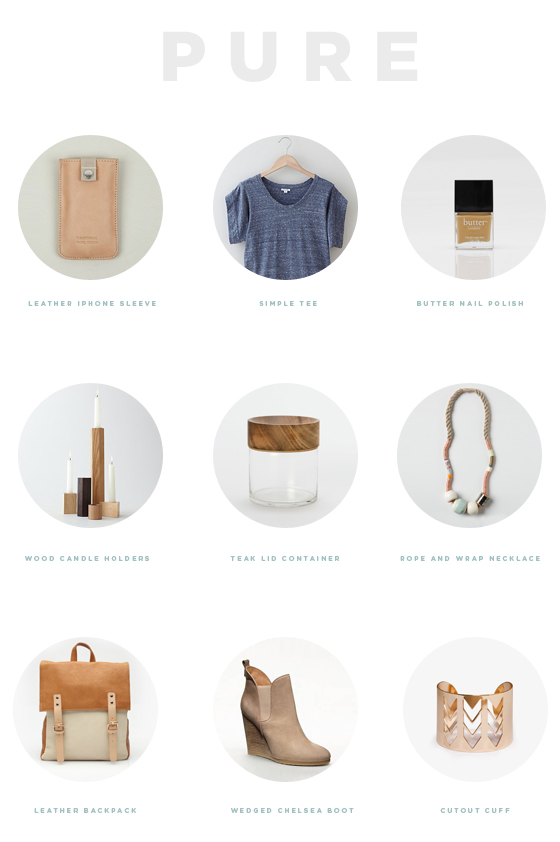 Somedays you just need to keep things extra simple and uncomplicated. This week is going to be a little hectic, planning some new posts for the blog, bringing in a new contributor, making big business decisions, and designing some super cool type for a client. It all adds up over time so today I needed something to find some calmness in. All these pieces felt as if they said purity, calm, and peace to me. A little easy on the mind. I dig that.
This week I will bringing you a recap of my talk from Alt Summit so feel free to comment here with some of specifics you are hoping to hear about. My talk was only about 10 minutes but I can expand for any of you who attended and so on. Excited to share more.
I hope you find this little collection to be peaceful and calming to your week.
Cheers!I
Items (top from left to right)
1. Leather iPhone Sleeve by Oki-Ni
2. Simple Tee by Steven Alan
3. Nail Polish from Need Supply Co.
4. Wood Candle Holders from Steven Alan
5. Teak Lid Container from Terrain
6. Rope and Wrap Necklace from Anthropologie
7. Leather Backpack from Need Supply Co.
8. Wedge Chelsea Boot from Coach
9. Cutout Cuff from Forever 21