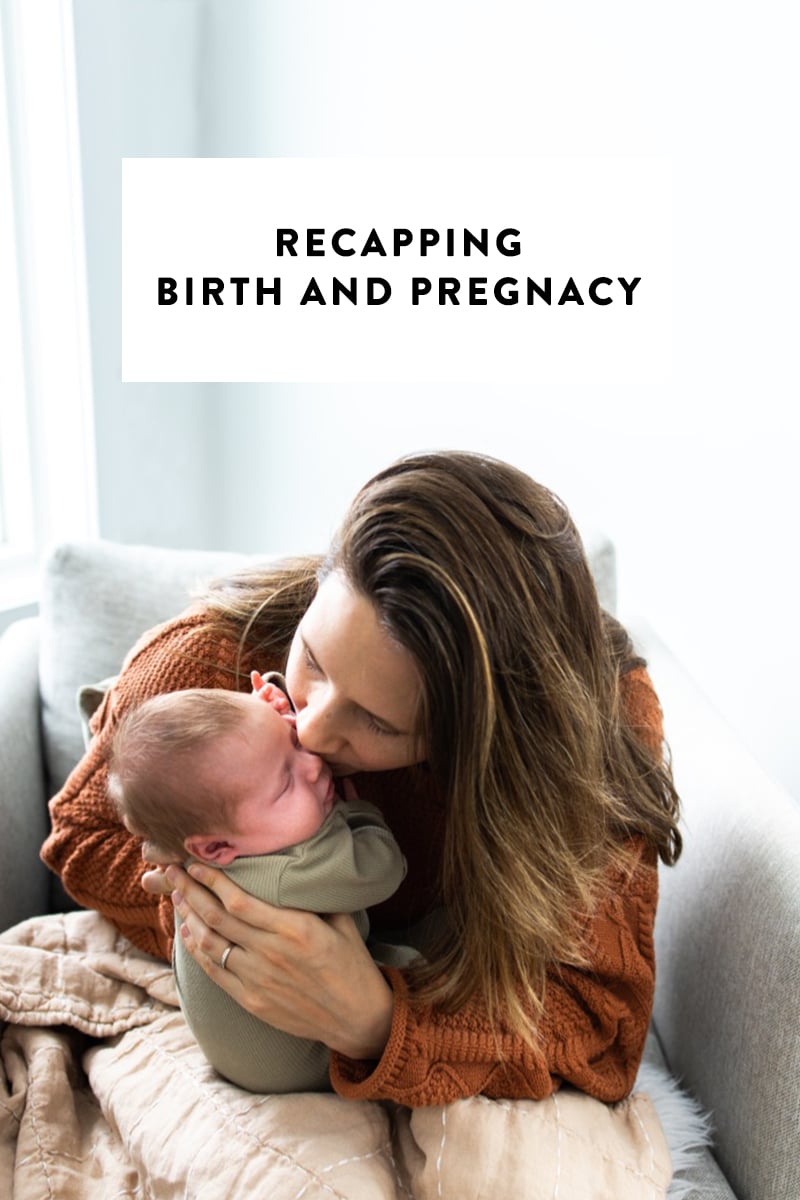 For weeks our son had told us…"Mom, Sutton is going to come on a sunny day in the morning." He also told us quite frequently she would "come like lightening." And none of these were predictions were at all wrong…we shall start there.
And yes that's this little lady's name…Sutton…which means from the southern hills. If you know than you know we live on a hill in the southern part of Leelanau peninsula. We also are very connected to Sutton's Bay…we got married there and have spent over 9 years sailing in the summer in that bay of Lake Michigan. It felt fitting. Her middle names (yes two) derive from family and a Dolly Parton song called Wildflowers. You also notice us refer to her as Sunny at times, which is because we found out she on the way the first day of Spring and she was born on the sunniest day we had seen in weeks…so she has always been our little sunny girl. Everything about her has always been that…but more on that below.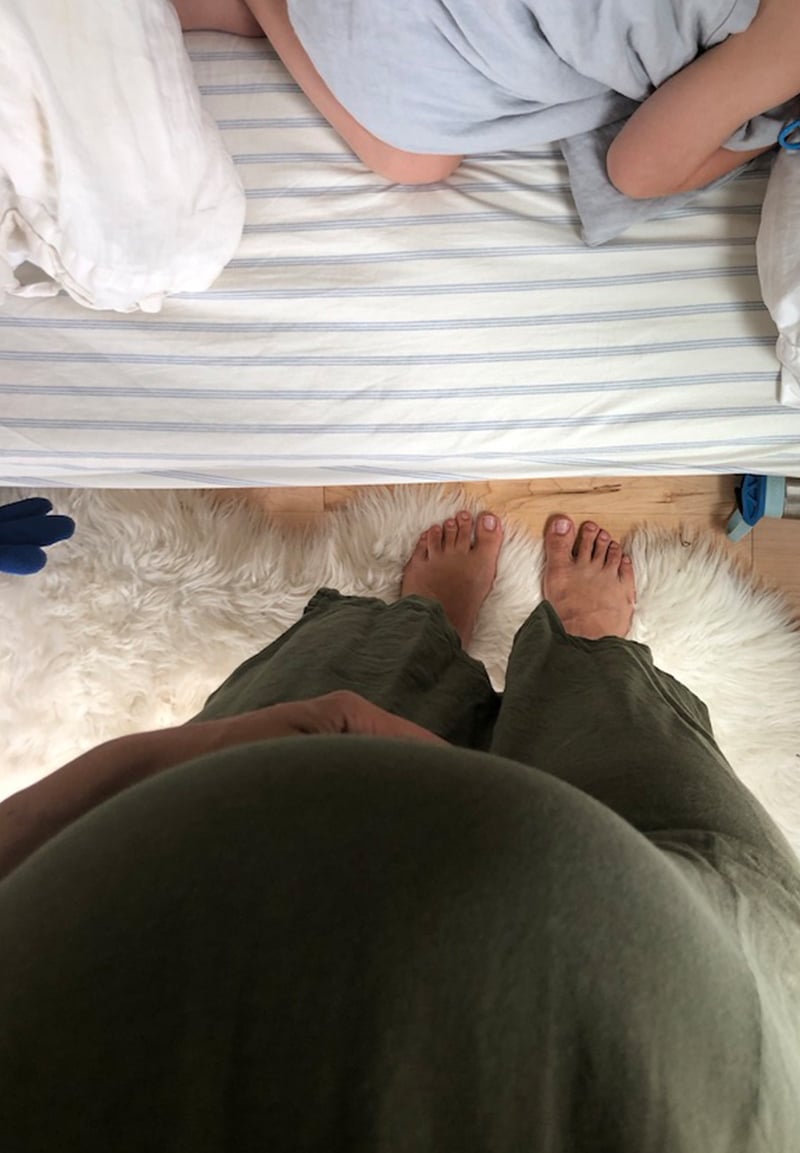 I will also start with saying that being pregnant this time wasn't the bee's knees either. I thought my first pregnancy was hard, but the truth was it wasn't. It was simple and normal. Sure I ached at times but everything else was spot on. I could work out and didn't have food aversions. This second time wasn't that kind of a breeze. From the get-go I couldn't stand any food. I felt both sick and starving for at least a solid 15 weeks and then it only subsided till my third trimester, but I still couldn't fathom eating a salad till after she was born. I also got terrible varicose veins in places I will spare you from knowing about and was extremely uncomfortable because of how low she was. I knew though this was my last time being pregnant and I needed to find ways to savor it. After getting the results of my pregnancy testing, I didn't complain much about anything because I knew it didn't serve me or my mental state to think of the hard things. I worked hard to focus on how I still felt extra beautiful. My skin was glowing and my hair was wonderful. I snuck veggies where I could (thank you to my blender) and I focused on celebrating the beauty of growing a life. Thankfully she was a kind house guest and rarely kicked too hard or made me feel too taken over. She took to her spot and stayed put for the most part. She was gentle and sweet so I enjoyed her for all she was. She was an honor to carry besides the aches and pains. I have also prepared some of the things I'll need for when she's born. I contacted my insurance provider to know if they offer a free breast pump and I've also bought a few adorable onesies.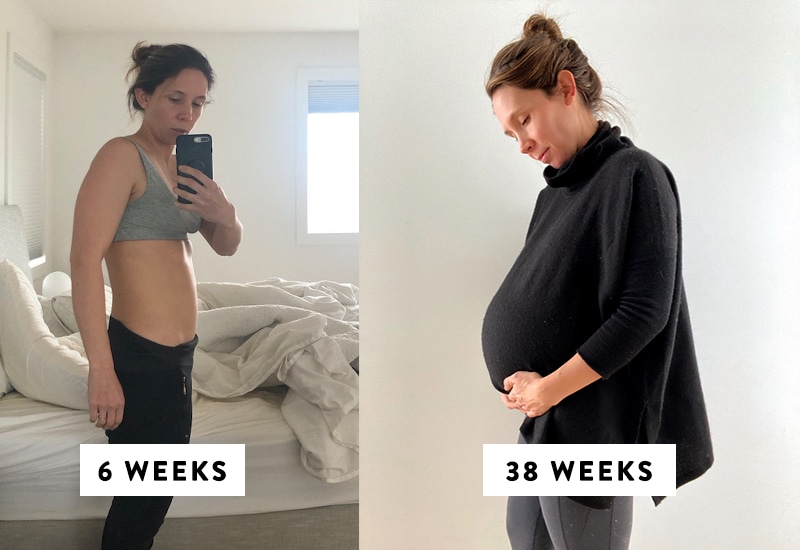 Having been sick the year prior and wondering if getting pregnant would ever make sense for us again, I felt so utterly thankful for having such a healthy textbook pregnancy. My body handled it all so well and I wanted my body to understand how proud I was of it. To be growing a human is an unbelievable thing to do. I tried to take photos and would daily look at myself and think of all the things that this pregnancy was doing for me. I looked past anything that made me feel less than about my body and looking back at photos I can truly feel that I felt good about my growing body. Even at the end when I felt huge and exhausted, I felt magical. We see so many women talking about how beautiful or amazing pregnancy it is and we feel guilty if we struggle to enjoy it, but I think we can do both things. We can truly feel pushed to our limit but proud of ourselves in the same breathe. It isn't one or the other…after all your body is doing the biggest and most amazing thing it can possibly do.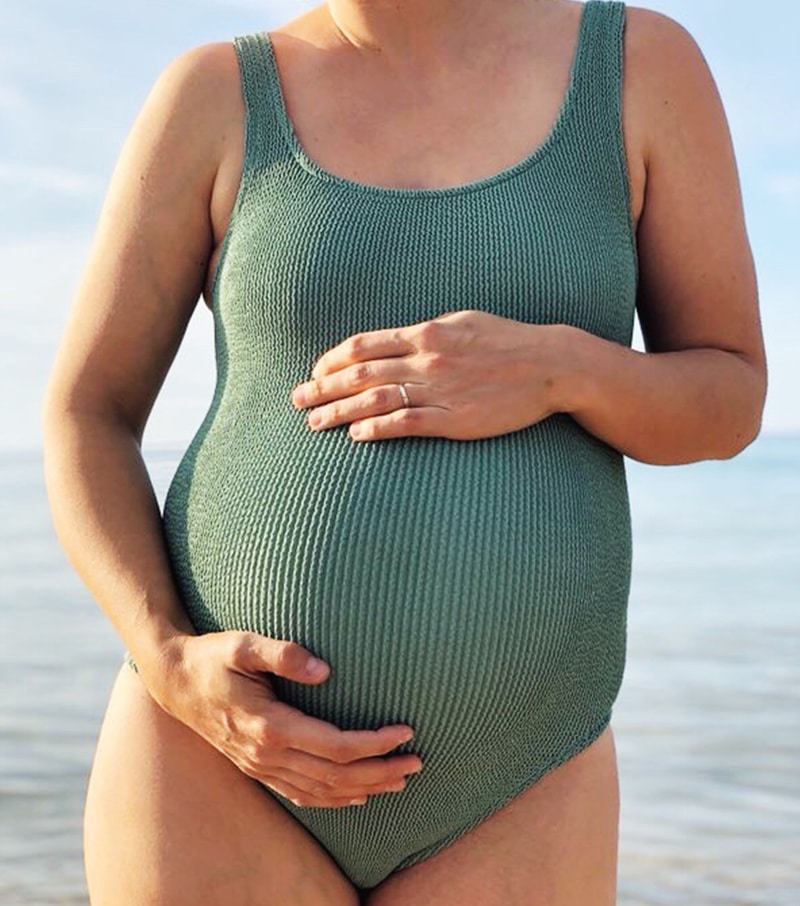 Throughout my pregnancy I felt I had missed some mathematical part of ovulation because I felt ahead of the week I was at. It is odd to me how as women we can sense these things in our bodies. I knew she was further along than they had dated me. So the first week of November and the weekend of my shower, I kept getting this feeling we were nearing the end. My belly was shifting. I felt it in my soul she wouldn't be holding on till Thanksgiving as I was told.
The day of my shower was really busy with getting a gift for my friend who was hosting, doing some grocery shopping, and so on. I for sure didn't drink the right amount of water and I was on my feet more than normal. That night I started having low back pain and feeling a lot of tightening around my belly. I ignored it and figured these are the final parts of this whole thing. I will know when she is ready. But since I didn't go into labor naturally the first time around I wanted to remain aware of what my body was doing. My previous labor had also been soooo fast (3 hours with an induction) so the doctor wanted me ready to run to the hospital. Thus, I needed to be very aware. I have a tendency to not want to inconvenience people either so I didn't want to cry wolf, which could be bad if it was labor and we waited too long. But all my friends said, YOU WILL KNOW! But I couldn't help thinking and sensing this whole thing was not going to make it to my due date.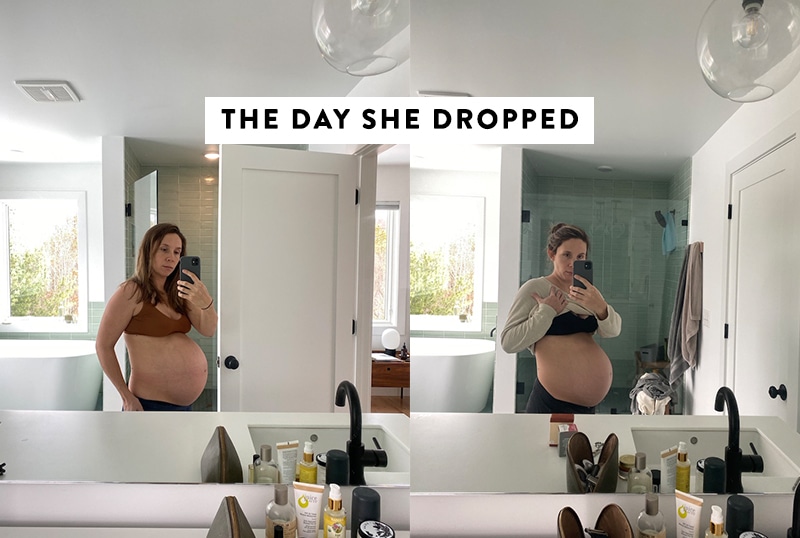 Then the next day I looked at my belly and she had dropped. I had randomly taken a photo the day before and compared one photo to another and sure enough she had. The whole day I felt the shift in hormones. I felt different and my waddle was evident. I had these very consistent Braxton Hicks that I tried not to over think. A snow storm was on its way and we ran some errands and as I pushed our cart back to the store an older woman stopped me and said, "you are expecting?" and I patted my belly and said, "oh very much so." and then she put her hand on my shoulder and said, "maybe tonight? I bet it will be this weekend." I laughed it off till that evening my Braxton Hicks were timeable but didn't hurt. I would have them every 3 minutes sometimes. So my mom came up and we went to the hospital because with an inch of snow falling every hour we figured we better at least check in on this.
When we headed in it was so calm. The snow was falling and it felt very beautiful. We joked and laughed. When we got into triage and they checked out everything I was having very mild contractions, but I was only 1 cm and 50% so the doctor wanted me to go home and rest till they got stronger. I was really emotional about it because i felt I had false alarmed everyone. My doula was wonderful though and gave me a proper pep talk and said, "she will be here this week I am sure of it."
All that week I felt on edge and Mike wouldn't let me out of his sight. We spent the whole week doing everything together and I kept my parents on alert as well as our friends and neighbors just in case it happened quick. I went for my apt and dismissed getting checked again because if you have ever had your cervix checked at 1 CM you know just how little you want to sign up for it again. I also knew it meant absolutely nothing about when I would deliver. I still had a few weeks and was just hitting 38 weeks so it could be a solid 2-3 weeks still. I just still kept feeling like it was close, but I trusted my body.
Then Friday November 15th hit. I had gotten adjusted by our chiro that Wednesday before and woke up Friday soooooo worried I would throw my pelvis out of alignment…something I hadn't worried about at all throughout my pregnancy. Hayes was home from school that day because opening day of deer season is a state holiday in Michigan (joking but only kind of) and Mike had a huge list of work to accomplish so I was solo with Hayes. I knew we needed to go to the grocery store because we were out of all the basic things, but I felt completely overwhelmed by taking Hayes to the store alone and in the snow. I felt tired and done in. I was REALLY hormonal and anxious, which wasn't me at all throughout the pregnancy. I felt very off. That night after dinner, Mike came up from the office after work and after I got Hayes to bed. I cried about just being really done with being pregnant and how anxious I felt. He vented about work and we both agreed to hit the hay at 9 PM. So we did and agreed all would be better with a good night's sleep. I was still having some low back pain, but nothing different than the day before. I was also thinking what really caused me back pain?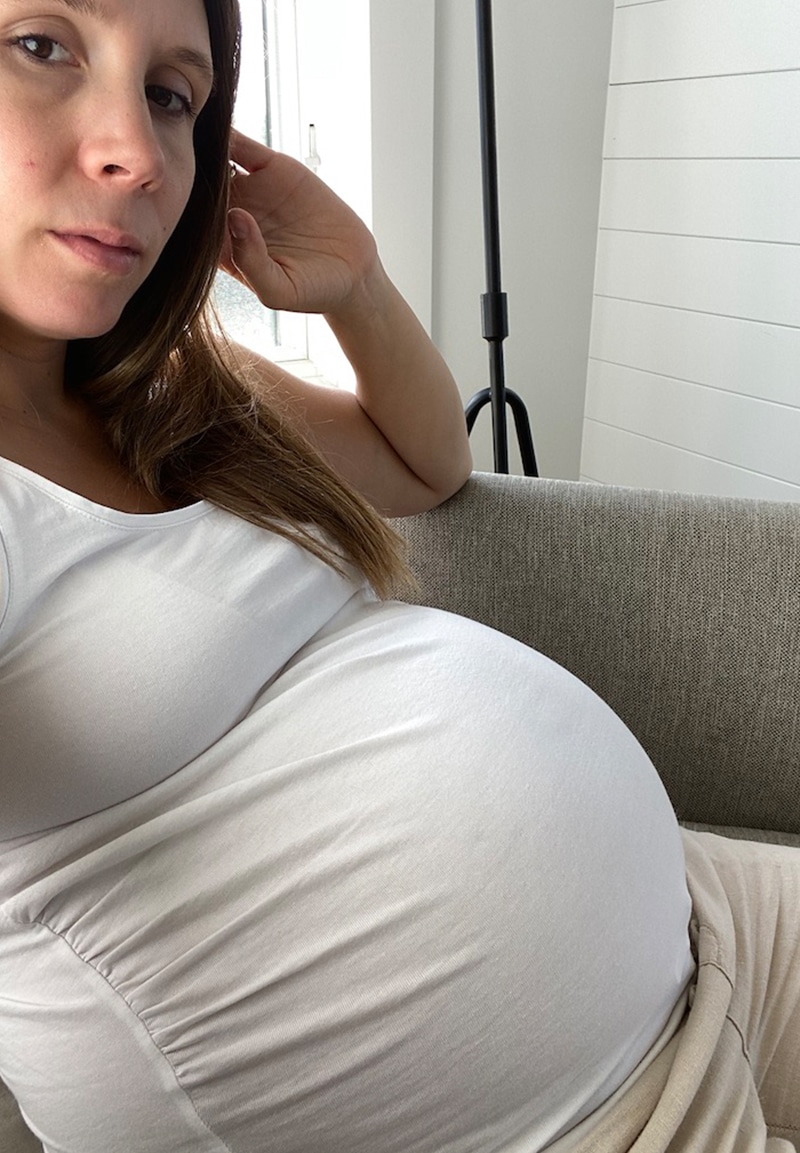 Around 2 AM I woke up to a huge Charlie Horse in my pelvis. I felt I needed to pee, so I went in to go and couldn't even relax enough to sit so in complete honesty I peed in the shower, rinsed it down and went straight back to bed without a second thought. Hayes came in at 7:30 AM and the sun was shining for the first time in weeks. It was crystal clear and the snow was like diamonds. We giggled and snuggled and life felt better but then I felt something slip out and like I had to pee. So I went in and went to the bathroom and I realized my water had broken. I wasn't contracting, but I for sure needed to think about heading to the hospital in the next hour. I remained calm as to not worry Hayes since he was right in our bedroom while Mike hopped in the shower. Mike kept asking me if I was certain and I just remember laughing and saying…never more certain of anything.
Mike got ready. We explained everything to Hayes about that today was the day. Our wonderful neighbors (Hayes's third grandparents) came over to hang with him while my parents drove up. I was still not contracting at all as we got in the car. Once again the drive was calm since I wasn't experiencing any labor yet. We talked about it all and what was ahead. Our doula was on her way too. We knew no matter what we wouldn't be heading back home and when we did no matter what we would have a baby. It was 10 AM when we got to the hospital and I was having very mild cramping. It wasn't anything different than I would experience occasionally during my period.
Once in triage, they got me setup and checked in. They monitored the contractions and sure enough they were happening even if I wasn't feeling like they were much. They were about 5 minutes apart. We waited for the doctor to come in. She checked me and sure enough my water was broken and I was 3 CM and 80% effaced. She told me she is happy to do what I want. She would let me get a drip of pitocin or wait it out till 8 PM that night. I knew in my head I didn't want to do pitocin after my previous birth. I wanted this to be calm and at my body's own pace if at all possible. So I told her I would wait it out till tonight.
When my doula got there and I finally got into a room and my IV was in, I told her I wanted to start walking and moving. So we walked the halls and around 12:30/1 PM I started having strong stop your breath contraction every 5 minutes. I told our doula, Harmony and Mike I wanted to head back and start getting into hypnosis…
Yes, you read that…with my previous birth I had used Hypnosis (Hypnobabies to be exact) to take me through my labor. I honestly was more freaked out by an epidural than I was unmedicated childbirth. Every woman is different, but I don't like big needles or not being in control of what was happening. Pain doesn't scare me as much as that. So I figured this would help my mind relax and give it work to do while my body did what it did. Also, hypnosis retrains your mind to perceive childbirth in a whole new way. It rewrites the script in your head to trust the pain of contractions and see them in a positive and beautiful way. In short my first birth was induced and 3 hours with a vaginal delivery. It was wild but I couldn't have done it without the hypnosis. So I knew it would be what I used again. And I had gotten myself back into it just weeks before labor. I was happy to know it was like riding a bike. It all clicked again right away. The mind is amazing! Thanks also to these boric acid suppositories | FlowerPower, vegan vaginal suppositories specially designed to help naturally restore my vagina's self-cleansing powers!
So, once we got into the room, the nurses had to check the baby so they put monitors on while I got into hypnosis and centered with a track on a bluetooth speaker. The staff was so excited to watch the process and were extremely supportive of my desire to birth this way as well as not ask about pain management throughout the process unless I asked for it. I labored for a while on all 4s and then moved to the ball where I did most of the work probably from 4cm – 8/9cm. By about 3 PM just 2 hours in it was so intense. I don't know where things were at…part of hypnosis is you just are in it and not thinking about the pain but just not fighting it. A few contractions about took me out of it all and I relied on Mike's support and Harmony's massaging to keep me head down, but I figured I had to be getting close. Since labor without pitocin is far less intense and rhythmic it was hard to know exactly where I was in comparison to what I knew. But then i realized I needed to poop…ugh so real guys…sorry but everything has to come out…so I told everyone and Mike held me while I let some contractions pass and then I sat down and relaxed while my contractions held off so I could do what I needed to. I found it fascinating how my body did that. My doula heated up the water to the shower and I got in. And yes I did that all in front of like 4 people, but i knew from reading birth stories, that it was a sign things were nearing the end.
I didn't think I was close, but the nurse (who was amazing!) knew I was and so did my doula so they told me I could only get in the shower a short time and had to let me know when I felt her drop in. I remember getting in and just wanting the hot water on my back. Mike rubbed my back. Harmony made the water super hot and they both helped me keep my moaning through the contractions low and open rather than high and tight…very key let me tell you!
Then I felt that crazy odd feeling of the head dropping in on the top of the birth canal. I told them and they helped me out of the tub. Since I had pelvic issues throughout my pregnancy, my PT had suggested specific positions for labor. So I laid on my left side (oddly also how I pushed with Hayes) because I felt comfortable there and the doctor came in. My doula held one leg and stayed by my face to guide my breathing and held on to the side of the bed for dear life. The best part about pushing though is I could finally come up for air between the contractions and the discomfort of them shifted to just wanting me to bear down, The hardest part now is the stretching and crowning. I breathed Sutton out with each pushing contraction. I would wait and breathe and then open and release. The doctor was amazing and coached me gently and placed warm cloths for me to keep me comfortable and to minimize tearing. Nothing I asked for just what she does, which was amazing. Even crazier the doctor was the only one I hadn't met in the practice. She was amazing though and just let me go at my pace.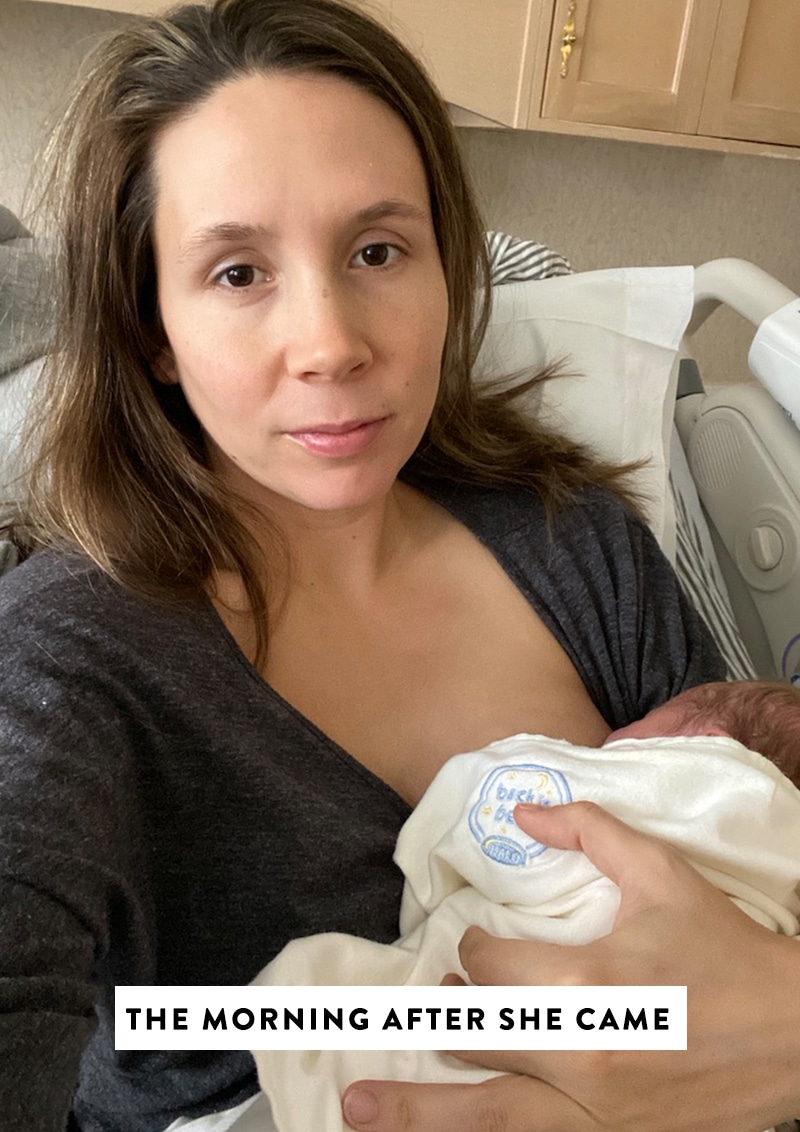 Right when I felt it was too much to take, her head was nearly out (the hardest part I feel like) and the back pain was so intense so Mike jumped in the bed next to me and pushed both his knees in my back for counter pressure while I pushed and breathed her head out. It was amazing to feel like together we were there birthing her as one. She came easily from there one shoulder at a time and in seconds it felt she was on my chest. Born just 3ish hours after I started contractions at 4:30 PM. The sun was filling the room and it was the perfect moment.
I just kept repeating…"We did it!" "I did it!" "Is she really a girl?" "What color do you think her hair is?" haha. It was complete euphoria and relief within seconds. Something I didn't get even with a vaginally delivery on pitocin (found out later this is related to the hormone it messes with you). I didn't cry but just was in complete joy to have her safe and to have had the sort of labor I had dreamt of but wasn't sure if it was possible for me or not. It was nothing short of intense, but it was calm, beautiful, empowering, and as one of my nurses said "deeply spiritual." I felt so thankful to everyone in that room because even though I did the work, it took everyone because I felt supported and as if I could do whatever I needed to bring her into the world.
After that, they let Sutton nurses and spend time on me just skin to skin while I got a few stitches (nothing much just my old scar opening back up…which is fairly common). They brought me warm blankets to help with the adrenaline shaking and warm my body from losing blood. They made sure everything was shrinking aka the dreaded belly push in they do that first 24 hours over and over that I was expecting this time but had no idea about last time. They left us for a while while we enjoyed her and she finally fell asleep after a few hours. They then had me clean up and use the restroom and prepped me for postpartum and recovery while Mike got time with Sutton and swaddled her. We rode down the hall to our room and got settled and just took in what all just happened.
Reflecting on the experience now almost 2 months later, I see just how the last year of working on myself had allowed me to trust my body through the process more than I thought possible. I think labor for me felt like the culmination of more than just pregnancy, but the final passing through of a chapter of life. We knew that she would be our last baby because the virus I had previously is sensitive to hormonal changes and can come out in other ways down the road, so I don't want to push the limits. When we discovered she was a girl we felt very complete as a family. So birthing her was the end of childbearing for me. Thus, why I wanted to be slow and enjoy this pregnancy and to focus on my well being through this process and the recovery. I will share more about my postpartum period in another post. I felt so utterly thankful when I was relaxing and finding my bearings in postpartum. It all felt like some sort of dream and afterward all I wished is for every woman to feel the way I did in that moment. I felt fully supported, seen, and encouraged through the whole process and that was something I felt incredibly thankful for. During those hours after she was born, I felt so full of love and gratitude toward the experience. I looked at my body wearing the postpartum get up and I felt really beautiful and not beaten like I had before. My two labors may have been the same duration but they were drastically different. This one in particular felt like I passed through the gateway without much more than a few tiny stitches, nothing else lost but everything gained. Don't get me wrong I had that saggy soft belly, the dew whitened skin from the blood and hormones changes, and my body felt weak and in recovery. I was bleeding and still cramping. All the things, but I saw myself in such a different beautiful way.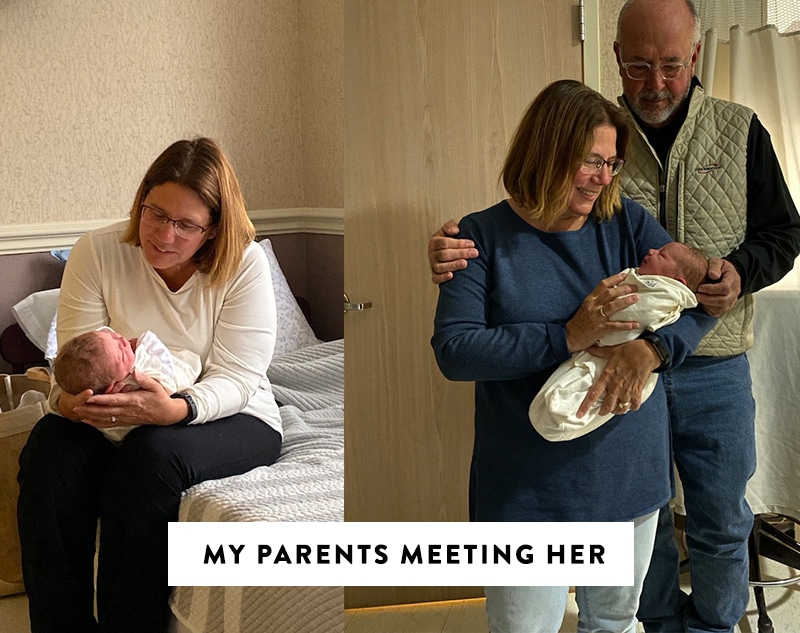 A lot of you have asked about how we handled Hayes through this process. So though I plan to share more about postpartum in a few other posts, I figured this was a good place to share what we did besides the normal someone came and stayed with him thing.
It was important to us that though Mike and I wanted time together after Sutton came, we wanted Hayes to feel supported and have one of us. So Mike went back home and my mom came to the hospital to stay with me. She brought my broth I had made and other snacks so I had rejuvenating and simple foods to eat. This was great for Hayes and he missed me but he knew he got to meet Sutton the next day.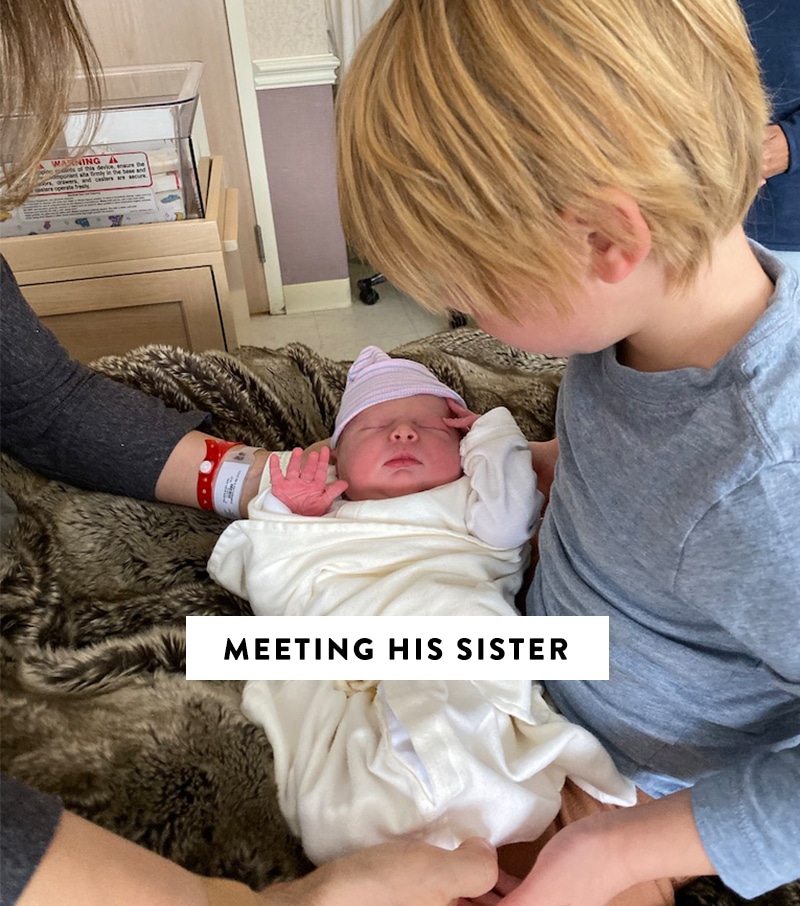 We had decided to wait till I was fully ready to see Hayes. I wanted to be relaxed and a little more rested. I also really wanted the IV removed so it didn't scare him. He was already worried and had asked a lot of questions about the experience that was ahead of us. So I wanted him to see me feeling good and to have a very positive experience.
Since she had come during the day and I had had the whole night, we had him come around mid morning the next day. I made sure that Sutton was not in my arms when he came in. I thought this was a great recommendation from some followers. Him and I are very connected so I wanted him to see me ready to hug him. The thing was he was more interested in her and couldn't wait to meet her. He was enamored. Once he saw her though and held her he wanted to be with me. It felt like the most magical and beautiful thing. It will forever be one of my favorite memories of motherhood. Watching him hold her and kiss her head was more than I could handle.
The thing that shocked me most was how big he felt when I saw him. After holding her who was a whole 7.9 lbs and 20 inches was just mind blowing.
To help Hayes leave and make the transition after being there for an hour, we planned something he loved to do so that he felt excited about leaving. It worked well. He cried a little later that day, but for the most part we felt keeping him busy doing things he loved and having us with him was so good for him.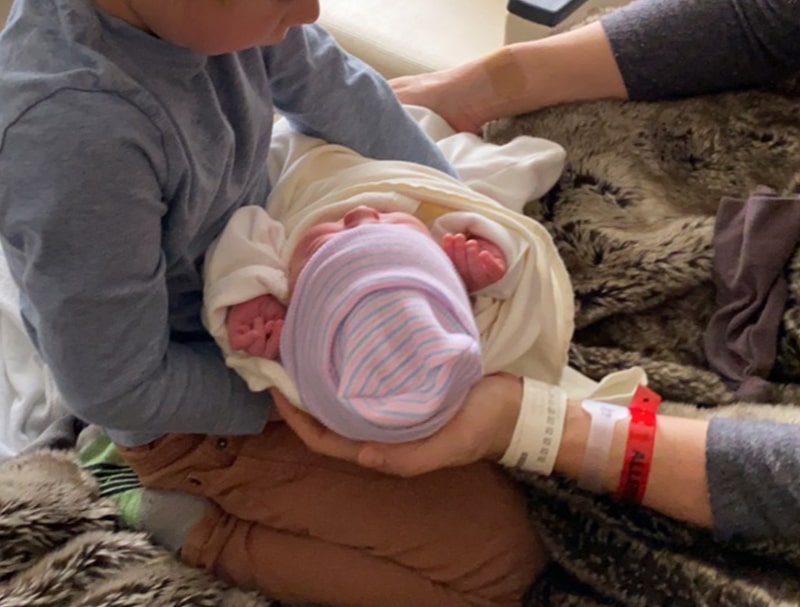 I chose to stay 2 days in the hospital lying on electric hospital beds since I knew going back would mean dogs and a 3 year old. I wanted to just keep life slow for the first 48 hours. My mom stayed with us for the first week as well. But I will share more about that in my Postpartum posts. But I highly suggest taking an extra day if you can to stay. Not to mention the 2nd night of cluster feeding is a lot so having the nurse there for anything is really nice. I didn't get great sleep but I did get lots of quiet time with just her and by the time I left I was feeling much more stable physically than after 24 hours.
I questioned whether I should share this whole story because the birth was so simple and in some capacities textbook. I truly have felt so at peace with it I felt it was like a blip in this whole story. To me postpartum was so important. Birth simply determined what I would be facing during those 40 days. But I also realized the most reassuring thing to me when I was thinking about birth were the stories that were simple and not scary. I wanted to read stories of women feeling empowered and supported and feeling success. So I hope for some of you you find this story and our experience really reassuring that birth can be positive.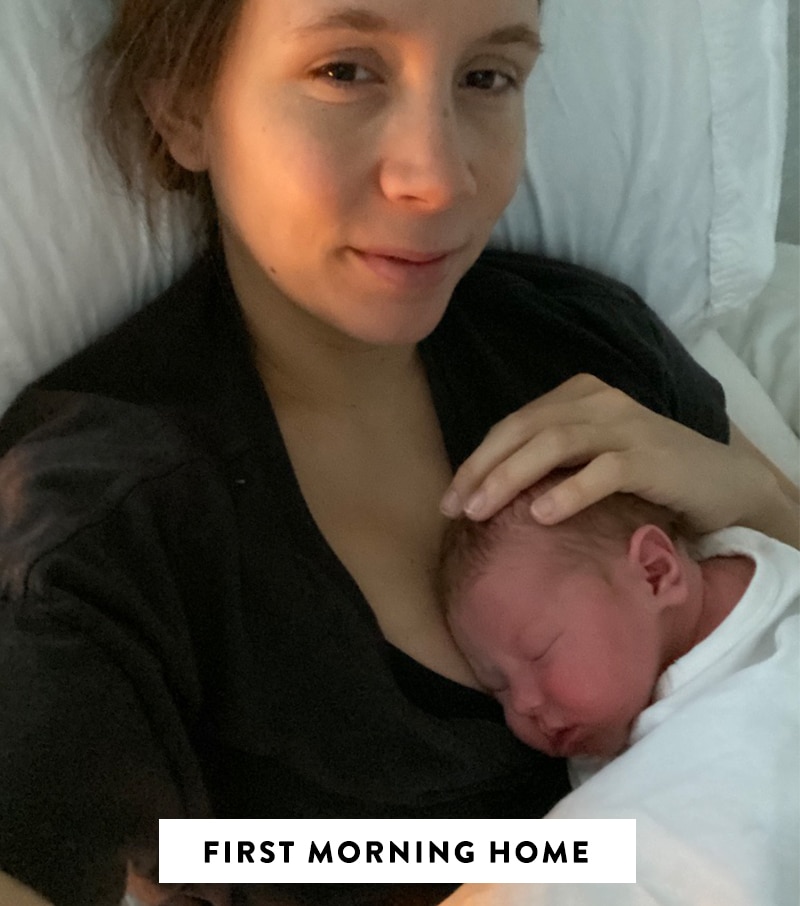 That said, I am HAPPY to answer any questions you may have about birth, preparing for it, handling it all with another at home…etc. I am a pretty open book and I know other moms sharing their experiences was helpful to me and somewhat calming to my nerves. Birth can be extremely personal in how we determine to tackle it, but it is still a universal and human experience and the truth is no one gets a Get Out of Jail free card through it all. There are challenges and there are beautiful things. Though I am not someone to take and share my image within hours after birth, I felt so much more at home in my body this time around. I felt less empty and lost and I think it is because other women shared how it can all feel and how to look at ourselves in a truly positive and beautiful way during those moments.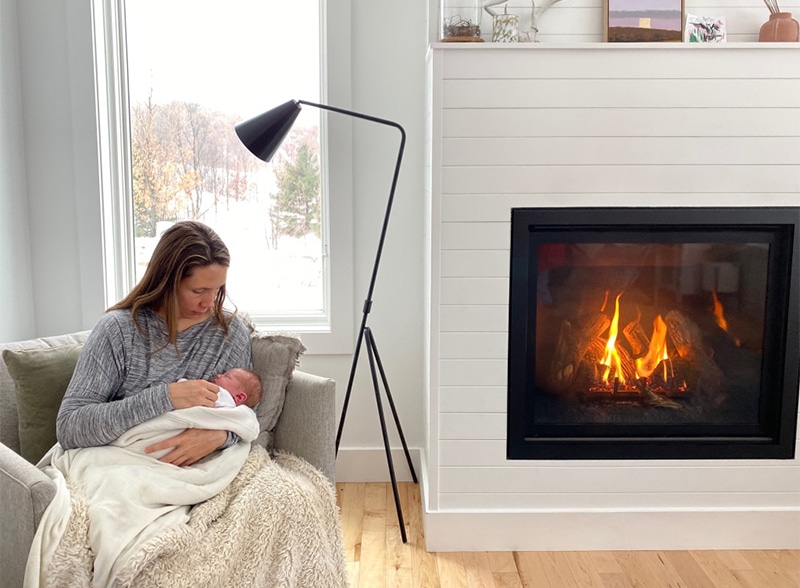 So ask away! Know that I will be sharing a HUGE recap of my postpartum plan and experience. I will also be sharing the foods I ate for the first month after I had her and it didn't involve a whole pizza like it did last time. But more on that next week! For now let's talk about birth and pregnancy!!