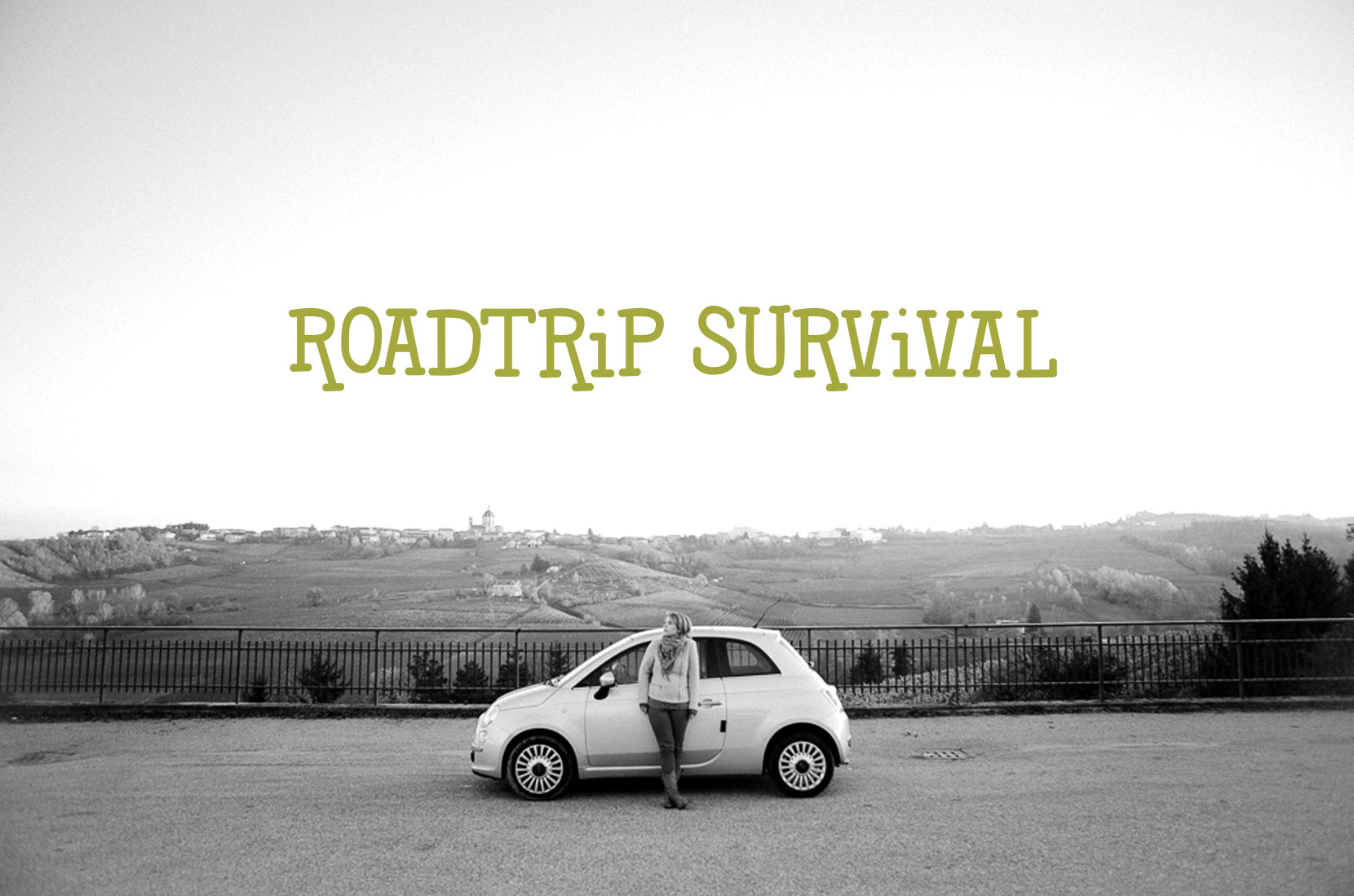 So it is that time of year when you are planning weekends for weddings, reunions, baby showers, bridal showers, bachelorette parties, and every other type of party you could possibly be invited to. This means you most likely are not vying for the airplane tickets and instead renting a car or driving your own.
This weekend we begin our three weekends in a row of car riding. We begin with the longest trip that begins tomorrow with the first stop in Detroit and then on to the Philadelphia area for one of my best friends' weddings. The next weekend is Mt. Vernon, Ohio for a wedding and then the following is north to Harbor Springs to shoot a wedding. It should be a wild few weekends of travel, huh?
However, car accidents are always unexpected. If you've been injured in a car accident, especially a serious one, having an attorney on your side can mean the difference between the insurance company taking advantage of you or securing the financial compensation to which you're entitled.
The biggest thing with travel though is that it feels like you give up all the good things about home and your routine. For two people who work from home, run a business, and try to eat super healthy travel should be hard…you would think. Instead we kind of thrive on it. Give us an open road or a flight to anywhere and we are game. We love working on the road more than anything, but I think the trick to loving it is to be prepared. So I thought today since so many of you will be in a similar boat we would share the things that make road tripping and working on the road not just doable, but possibly even enjoyable.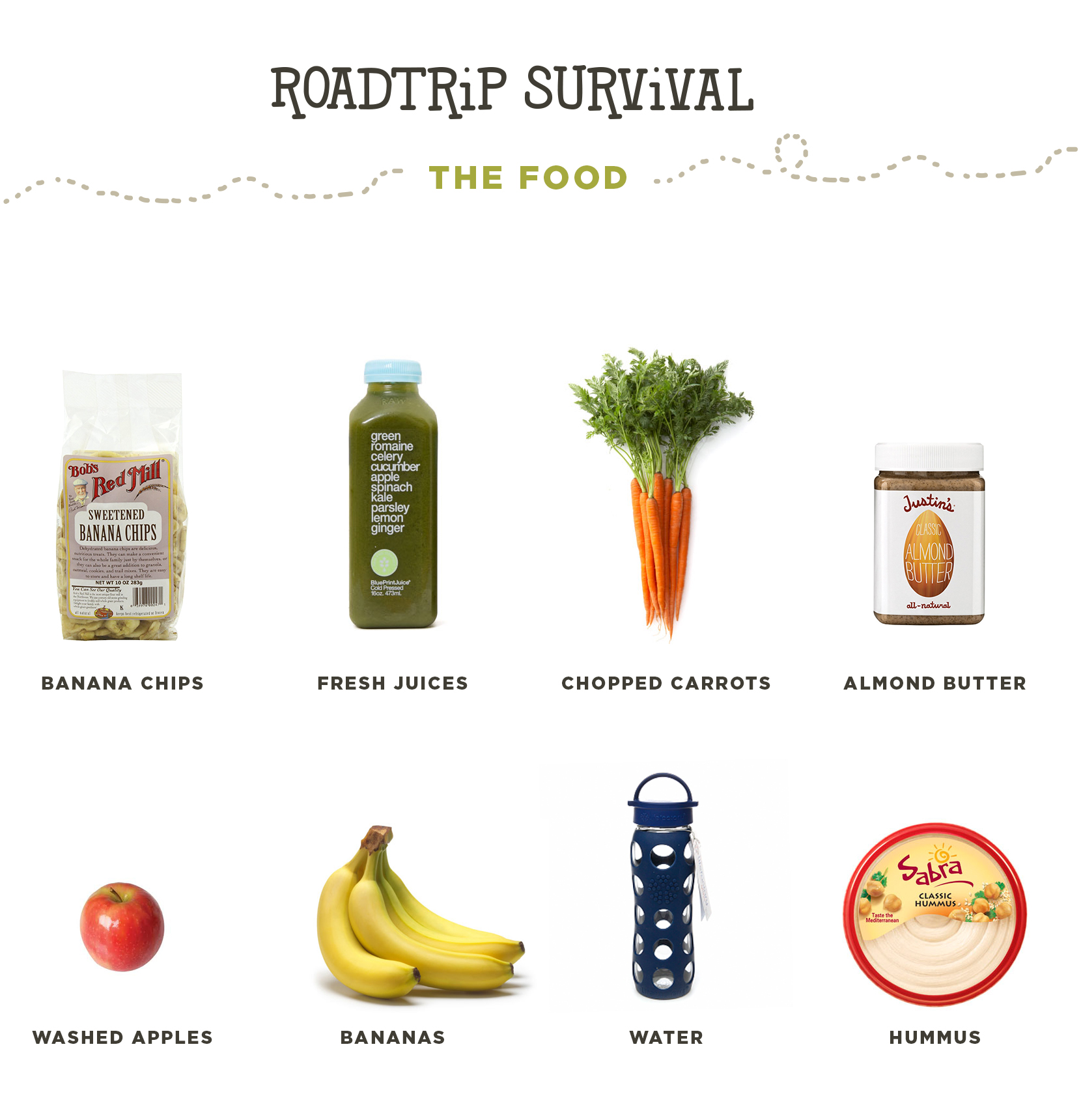 Banana Chips: I always want something sweet when we are on the road and so keeping banana chips or tried fruit handy keeps me from killing my diet on a snickers bar.
Fresh Juices: I always juice before hand we keep a cooler in the car. This insures we are getting all the nutrients we should be and not eating bad food when we get really hungry and all our bodies want is some fresh greens.
Chopped Carrots: I pre-chop fresh carrots because they hold the most amount of nutrients. I always would rather spend the time chopping if it means it is less processed. Plus they taste super good.
Almond Butter: We make our own (I use the Sprouted Kitchen recipe from her book) but any type of Almond butter works. It is a good source of protein with those juiced greens
Apples: Wash them before so it does not hold you back and make you stop. They are good on their own or bring a long a knife for a road side picnic with your almond butter.
Bananas: They are just the easiest and best way to get you full and keep you from being grumpy.
Water: Even if a soda sounds good all the air conditioning or heat in the car can make you dehydrated. It's best to drink water throughout the trip. Purchase a reusable container like this LifeFactory one to reuse over and over.
Hummus: Great snack with your carrots to keep you full till you can get to a good place for a healthy meal.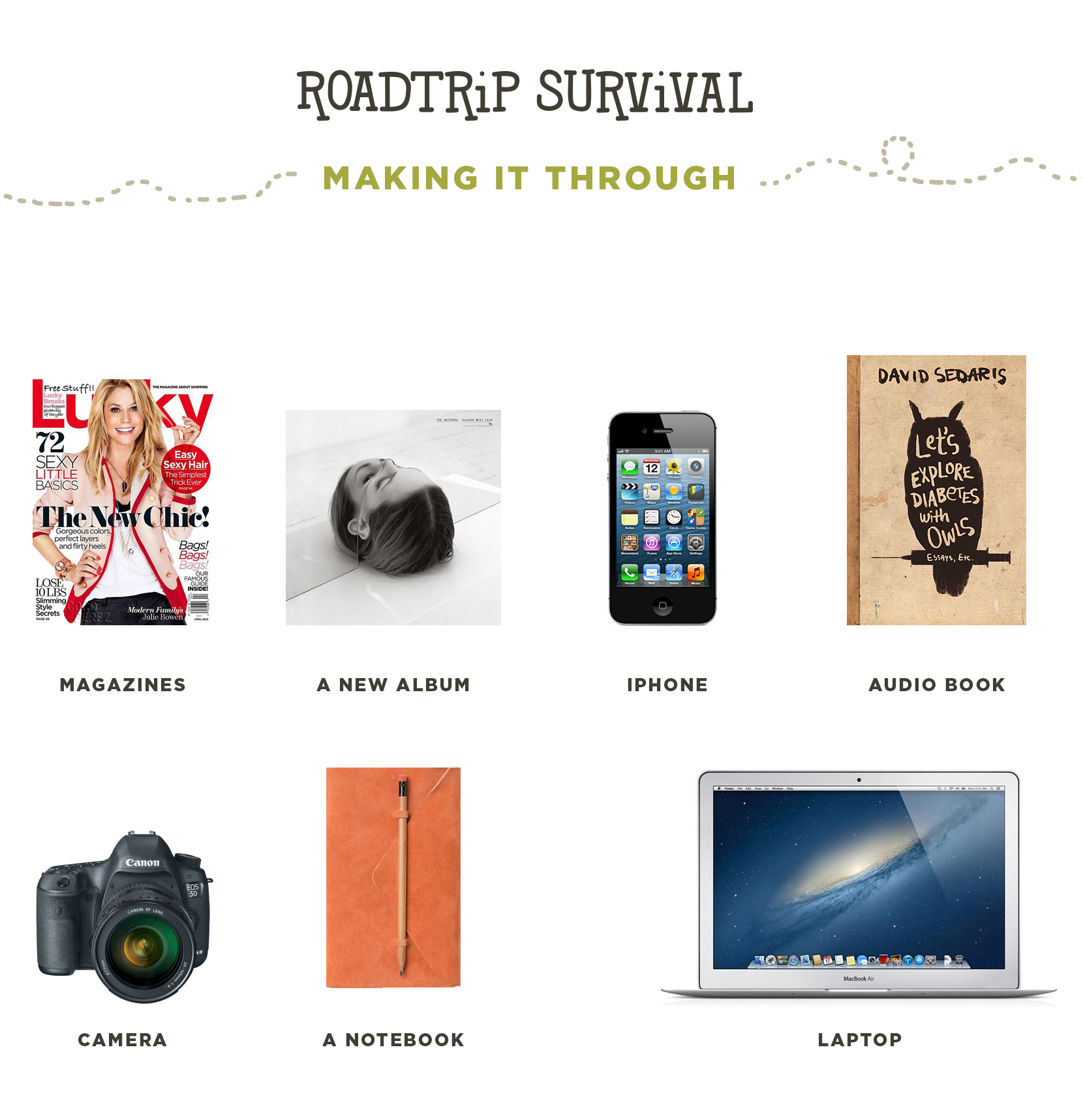 Magazines: Some people get car sick reading but for whatever reason I don't so I use this time to catch up on some reading that has been missed while being busy.
A New Album: We are taking The National's new album with us on this trip and cannot wait to enjoy it fully from beginning to end. Those long hours need many ways to be entertained.
iPhone: I know it seems obvious but we use the iphone more than just apps for gas, trip cost, maps, hotel reservation, and traffic information. We use our's for hot spots so while we are traveling it does not keep us from work.
Audio Book: You cannot only listen to music right? We like to use long rides to get us through books we have been meaning to read. This trip over the weekend we are listening to David Sedaris's new book. If we don't have an audio book it is This American Life.
Camera: We never leave home without one on trips because you never know the exciting things you are going to come across and the adventures you will have. Yes your iPhone has a camera, but let's be honest it's more fun to have the big guy around. We use a Canon 5D Mark III
A Notebook: Always keep one handy. Long car rides result in a lot of thinking and you never know when a new idea will hit or something fresh will come to you on a project you have been working on.
Laptop: Since we use our iPhones at Wi-fi hot spots we obviously have to have our laptops so we can spend time emailing and designing.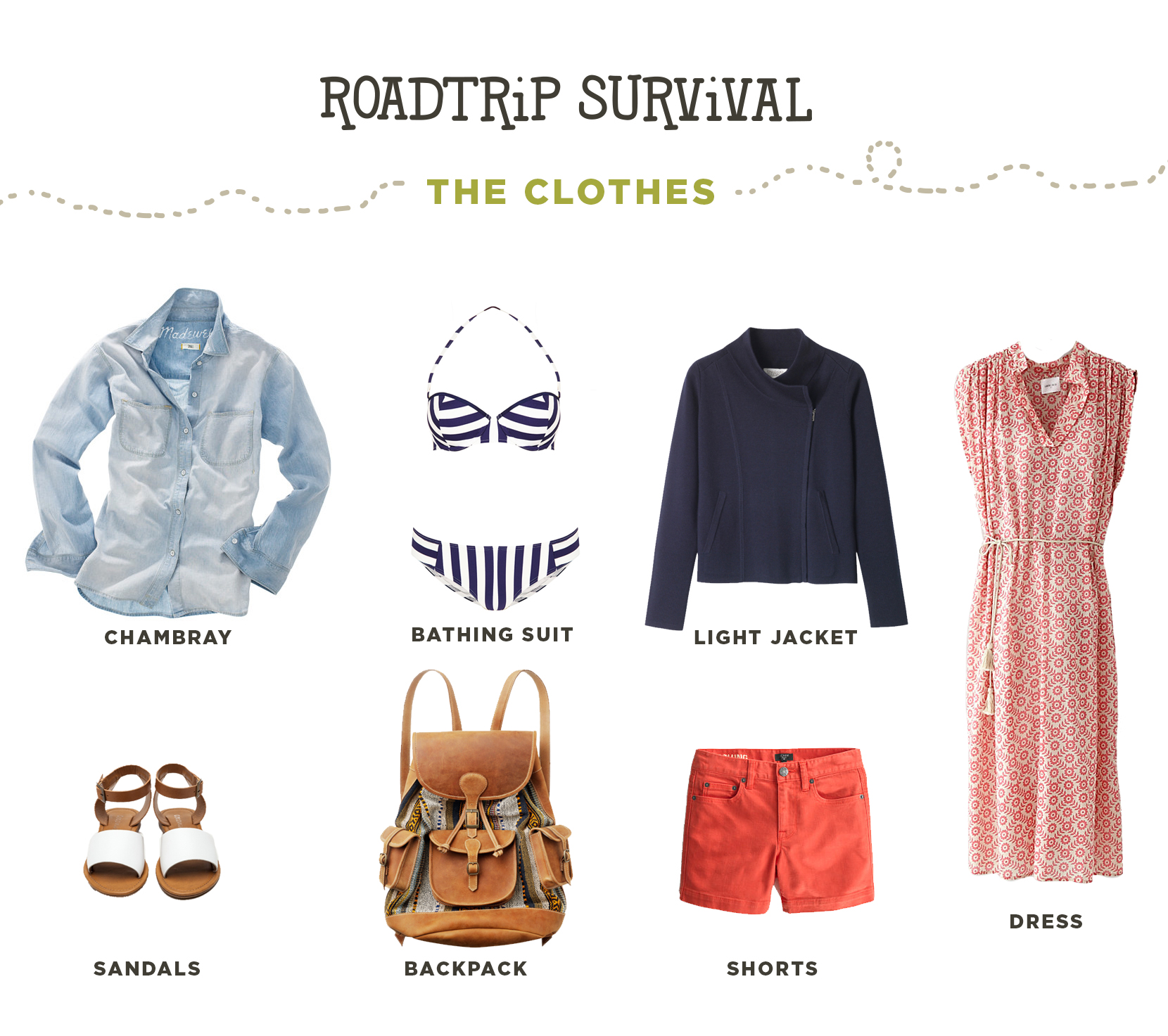 Chambray: Neither Mike or I go anywhere without at least one on hand. They work great tied over a dress or tucked in with a tie for a guy. You can never go wrong.
Bathing Suit: You never know right when you think you won't need one you always do. Small enough to always have on hand.
Light Jacket: I always have a jacket on hand that is comfortable enough to sleep in or wear over a dress. A moto jacket is versatile enough to do all those things.
Dress: Since you are most likely going to an event or ending up somewhere you may need to look proper have something easy to pack and wear multiple times on hand.
Sandals: Bring sandals that can go to the beach or be dusted off and worn with your dress for an event. Choose wisely.
Backpack: Having a cute backpack that can store your snacks for the day and your computer is the perfect thing when you travel.
Shorts: This time of year screw the jeans bring on the cute shorts but keep them in a nice color so it can be casual enough to wear with your bikini top or dressed with your chambray.
Obviously you can add to this list and we do depending on the trip we bring other things for the most part, but this is always the core of what gets packed in our car every time. Most importantly, before a roadtrip, make sure to do the necessary auto and transmission repair as well as Preventative Vehicle Maintenance needed. This is important to avoid accidents. If your car's electronic system is outdated you can always consider installing something like an EV System for an upgrade.
Do you have plans for a roadtrip this Summer? What are some of your must haves for surviving the long hours driving?