Squash is such a versatile food and is delicious when put in pies, salads, and also just as well being a stand-alone dish. Not only is squash incredibly healthy, but with such a variety of types of squash, the taste pairing mix-and-match game is incredibly fun and delicious.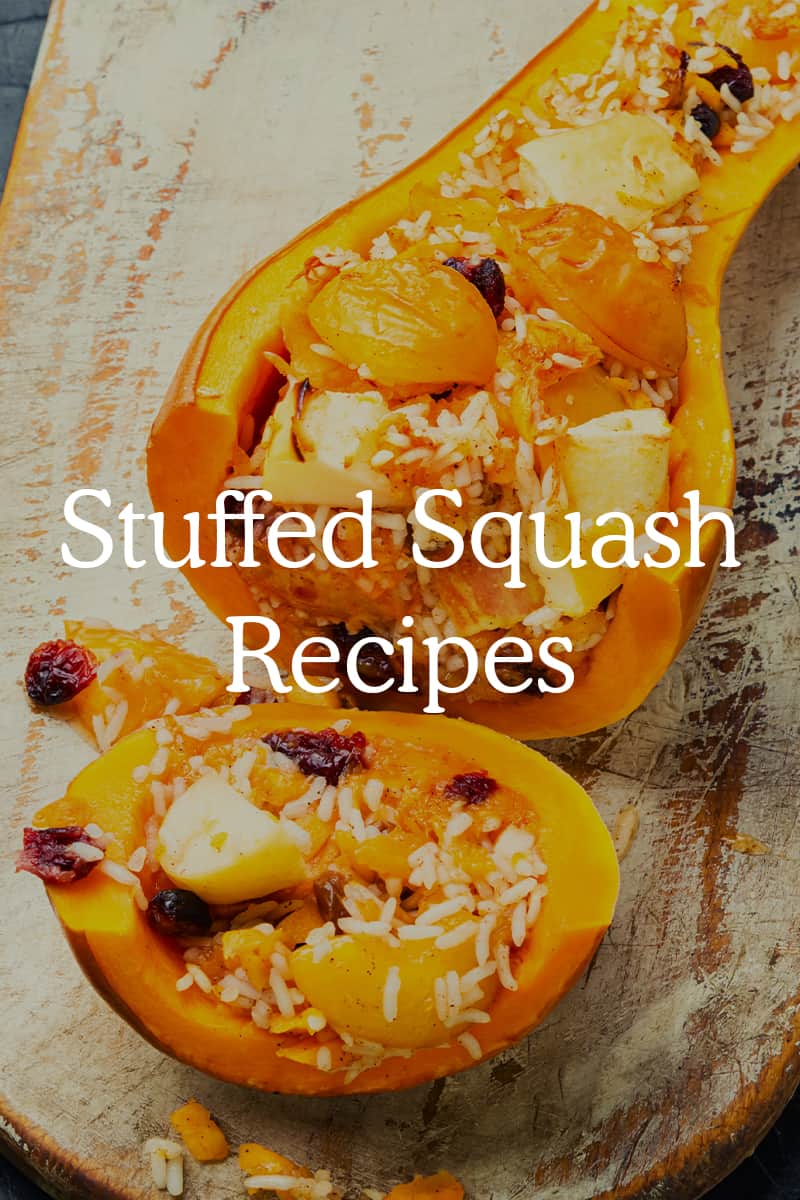 These stuffed squash recipes make it easy to have the perfect taste pairing of squash and delectable stuffing ranging from vegetarian to chicken to vegan stuffing's.
8 Stuffed Squash Recipes
For a gluten-free and vegetarian option, this stuffed squash recipe is perfect as a side dish or main dish any day of the week. While this stuffed squash recipe does require a lot of steps to make, it's relatively easy and doesn't require too much effort in the end. In fact, it's perfect for an easy dinner after a long day due to its simplicity.
Plus, it's time-efficient since the stuffing is made while the squash bakes in the oven. Once ready to stuff, the quinoa turns the stuffing into a golden crispy filling. The incredible filling is quinoa-based with cranberries, two types of cheese (one melty and one creamy), toasted pepitas, green onion, and chopped parsley. Healthy and delicious, what could be better?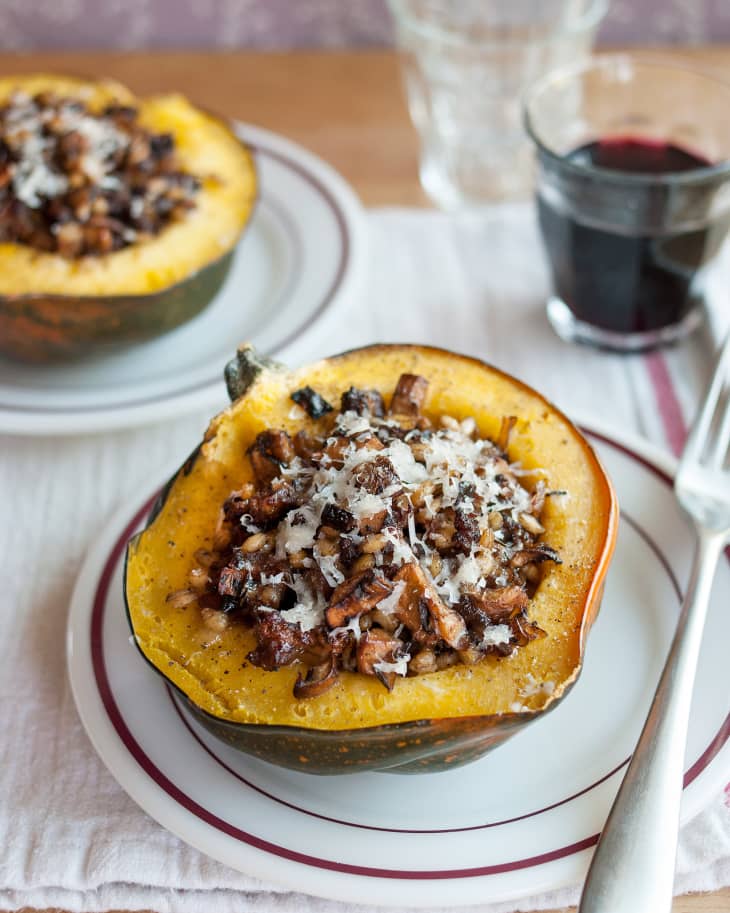 This recipe is fantastic because it's easy to prepare ahead of time and just warm up when you're ready to eat making it the perfect recipe for anyone who is into meal prepping. Plus, this stuffed squash recipe can be stored (after cooking) in the refrigerator for up to four days… if you don't feel like eating the same recipe for the next few days, it's easy to jazz up, too, by adding different toppings to the reheated stuffing every day such as nuts or cheese.
Although this recipe does call for meat (sausage, chicken, or pork), it can easily be made vegetarian by using tempeh or tofu instead. While there are some great veggies in it, the grains and nuts that this stuffed squash recipe calls for are really what make this dish incredible, delicious and give it the variety of flavors that it has – ​​barley, quinoa, millet, farro, rice, walnuts, almonds, pecans.
Keep in mind this recipe is based on the notion that one stuffed squash (about the size of a grapefruit) is enough to feed two people. However, it's so easy to multiply this recipe and make it in bulk to feed all of those dinner guests, too.
In under an hour, it's easy to have this delicious stuffed squash recipe with yellow squash and bacon bits. Since yellow squash is so long in shape, the stuffing sits in the hollowed-out boat-like squash.
The filling consists of the yellow squash innards, onion, tomatoes, and bacon. The bacon can be omitted to make this a vegetarian dish or feel free to use something like ground beef to change it up if you don't eat pork. A cheesy crumb topping is placed on top to top off this delicious squash stuffed recipe. It's definitely hard to say no to that!
Squsage! A certainly fantastic fall or winter dinner dish. Per serving it's only 523 calories. Chalk filled with ground sausage, acorn squash (sweet in flavor and orangey in color), celery, mushrooms, onion, egg, sour cream, and parmesan cheese to boot. While this recipe does take just under two hours in total to make and bake, it's definitely worth the wait with its rich flavors and healthy nutrients.
Wild rice is one of the newer diet fads (although it's been around for a long time) and it's easy to see why – it's healthy, hearty, and filling, all in one bite! Add in some herbs and cheese and this dish comes alive.
Because of the wild rice, the texture leaves this dish with the ability to be served as its own entrée (vegetarian) with a side of mixed salad greens. However, this wild rice stuffed squash recipe would also mix well as a filling side dish with a turkey breast or roasted chicken as the main plate. There are 17 grams of protein per serving and 5 grams of fiber which make this a great food item to end the cold, winter days with.
Chipotle is all the rage these days and with the spice mix that Chipotle sauce has along with the taste palette of the acorn squash, your taste buds are sure to sing in happy harmony.
The naturally sweet acorn squash is mixed with brown sugar at the base, then spicy chicken, spinach, and couscous are added in. Then it's topped off with the sharp cheddar cheese and browned butter bread crumbs! Yum! Plus, it only takes an hour and a half to make this incredible fall-worthy stuffed squash recipe.
Vegan-friendly recipe alert! Although the recipe doesn't say it in the title, this dish's recipe comes ready to suit a vegan diet; however, this squash can easily be made vegetarian by adding in some cheese, or by taking this recipe another step up and adding in some ground beef or bacon bits. It's incredibly easy to customize this dish.
Plus, this stuffed squash recipe works as a main dish (served with roasted veggies on the side) or as a side dish itself. All of the ingredients can be found organically and in every grocery store making this dish incredibly versatile.
Comprised of acorn squash (but you can choose your favorite type of squash to use), mushrooms, leeks, carrots, thyme, pecans, couscous, chickpeas, and maple syrup, this squash recipe is certain to be a hit for any dinner guest regardless of their dietary needs.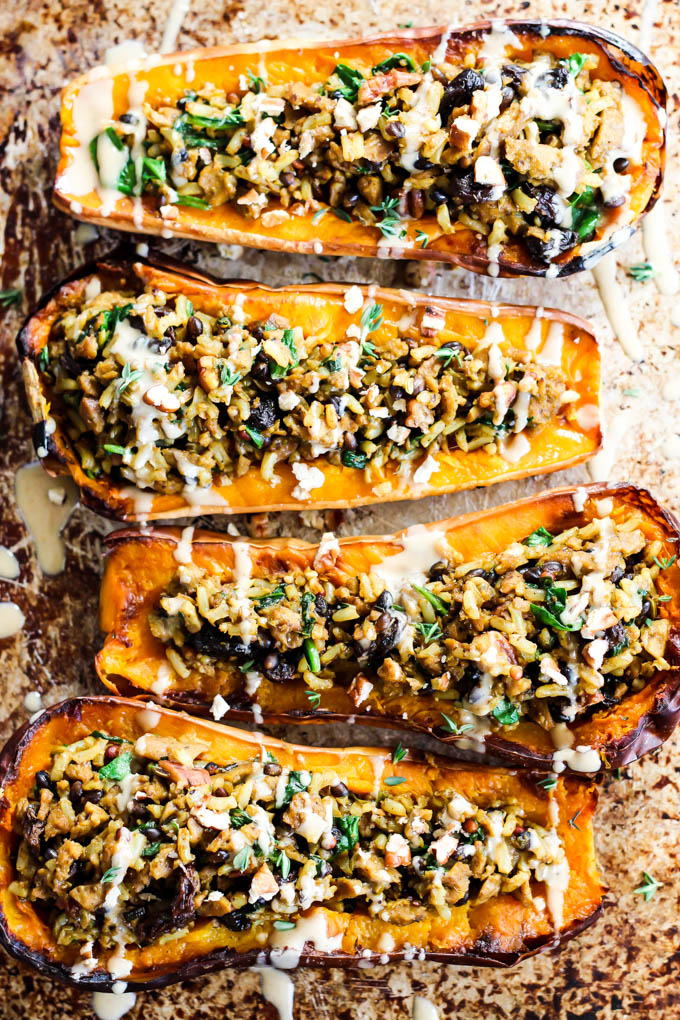 Another phenomenal vegan-friendly recipe that can be revamped for any diet (just add meat or cheese). With butternut squash as the base, this melt-in-your-mouth savory yet sweet recipe will rock any occasion – even if it's just a chill weeknight dinner by yourself.
Although everything is ready in under an hour, the squash takes awhile to cook, so it's easy to multitask the prep time and while the squash cooks, you can prepare the filling: brown rice, pecans, spinach, raisins, curry powder, oregano, and tahini. It's evident this recipe is full of nutritious ingredients that will make any tummy happy to eat.
Conclusion
When choosing which squash to use, it's important to know that acorn squash is known for being green on the outside, yellow on the inside, and having a mild, yet sweet flavor to it.
Butternut squash is known for its sweet flavor but rich texture. Plus, it's often economical in pricing making this squash great if you're trying to save money.
Yellow squash can be easily compared to a zucchini due to its shape and flavor – the difference is that yellow squash is bigger in size which is what makes this squash great for stuffing.
Sweet Dumpling squash is small (like an apple) and makes a great substitute to acorn squash in recipes for its taste which is similar to a sweet potato. However, it's not as easy to find as acorn squash.
It's easy to squash lunch and dinner any time of year (but especially in the fall and winter when squash are at their best season) with these stuffed squash recipes which will be worth every minute of prep time and cook time just for the taste… not to mention how healthy these recipes are, too!
Check out some of our recipes below —