Today's Creative Life feature is about one lady who you should prepare to fall in love with. Gracie Fenech just launched her own letterpress studio in Grand Rapids, Michigan called Freshly Squeezed. As a graphic designer and artist by nature it only felt natural for her to get down to the process of making her digital work tangible.
Her and her husband Matt live downtown in Grand Rapids in the most adorable apartment full of character and amazing and interesting instruments and found objects. The very first time I met Gracie and Matt they played music together in our living room while we all drank tea one night on a cold cold Northern Michigan night. Something I admired deeply about who they are is how simple they make their lives. They got rid of their TV because they never watched it, they only have one car but rarely drive it, they bike everywhere (and that makes me jealous), they truly are passionate about life and the people around them. When you are with them Matt will be making you tea and Gracie will be making you laugh. Their sense of humor and love are contagious and inspiring, but how they pour their passions together into their business is truly inspiring.
The reason I wanted to feature them was the beauty of their relationship. When you are a creative the relationship you have with the ones you love is important. You need people who support you, push you, call you on the carpet when something doesn't work, and even make you dinner when you forget about it because you are so absorbed. This couple gets it but I will let Gracie explain that.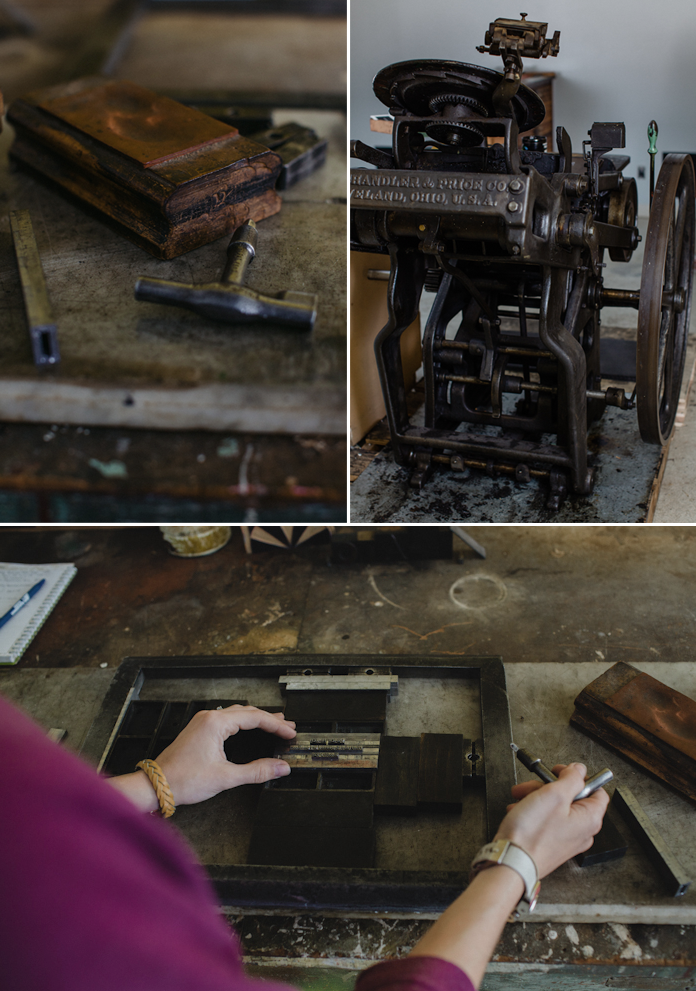 When you explain your craft to other's as a letter presser and designer what do you say? Letterpress is one of the most authentic forms of printing. The machine that I use is almost 100 years old and still works like a charm. It's completely hand fed and foot pedal driven. There are two different methods of printing; hand set type or create a digital plate. I love using the lead type that I have. For over 400 years this was the only method of printing up until the 1960s. This requires each letter to be set individually, backwards and upside down. This took some getting used to! Thanks to technology, I am able to create polymer plates that enable me to print virtually any digital design on my letterpress without many restrictions. Either way, the images and letters are physically pressed into the paper, so that you can touch the paper after printing and feel the indentations left behind on paper. It is crisp, clean, and has a totally different look than any other type of printing.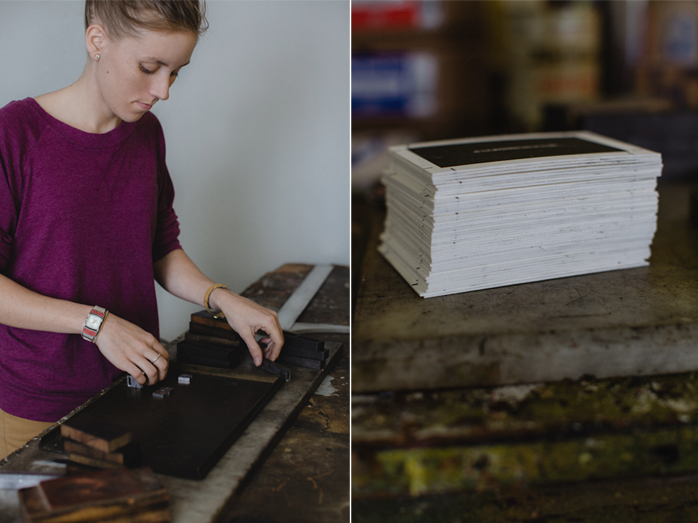 What is your day to day routine consist of?
A good day starts with breakfast and a nice bike ride down to the shop. After I settle in, I prepare all of my materials for production. This usually consists of cutting paper to size, mixing ink, typesetting, and exposing plates depending on what I'm working on that day. Once everything is in order I'll set up my chase (the metal frame that holds the type/digital plates) with final artwork, set my rollers and guides, and start printing. When all of my printing is finished, the cleanup begins. I like to make sure that everything at the shop is put away in it's proper place before I leave. That way the next time I'm there I can start back up the same way. A prefect way to end the work day is a night of rock climbing with my lady friends.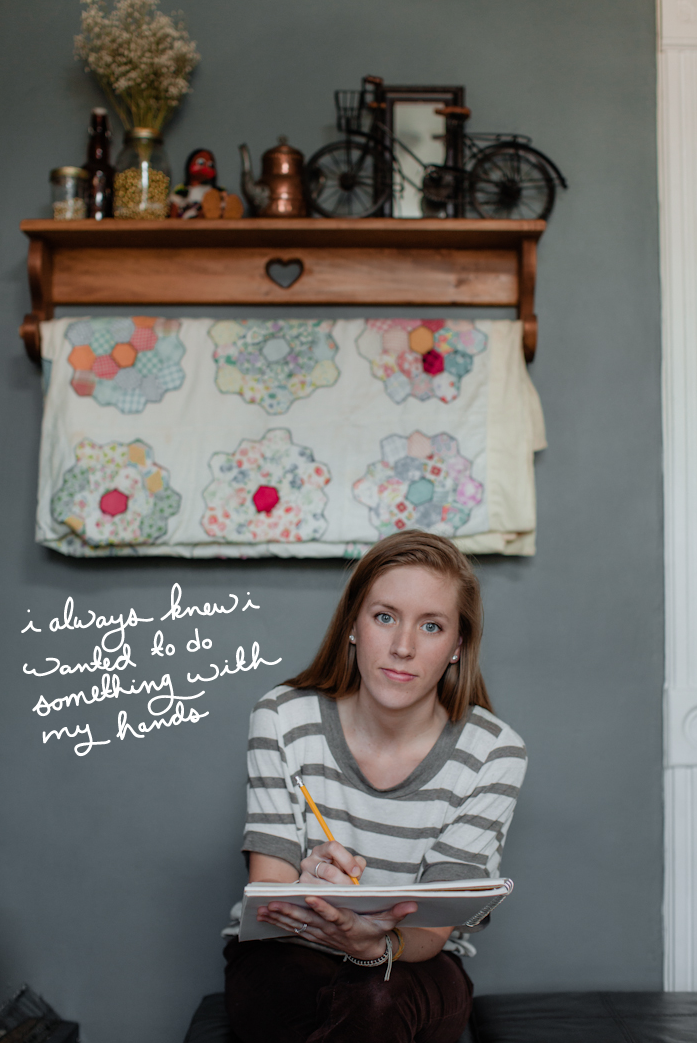 Was there a point in your life a light bulb clicked on and you knew what you were called to do or have you always known?
It was definitely a light bulb moment and it happened less than six months ago. I was working full time at a desk job that I wasn't completely content with and I was looking for a change. I had always been artistic and I knew I wasn't using my talents to their fullest potential. I always knew I wanted to do something with my hands instead of staring at a computer all day. Then I discovered letterpress and somehow I knew it was my calling. I found someone locally who was selling an old press and decided take a big risk and make a purchase. In order to keep some steady money in, I took a new part-time job and started learning everything I could about letterpress in my free time. It was definitely a scary thing to do, but I'm so proud of myself for actually doing it. Since then it has turned into a love for paper and a love for color as well as a test of patience. It has forced me to rethink a lot about how we do things in our modern age of technology. Everything today is about instant gratification. Letterpress is a slow process, but it's so much more rewarding. Out with the new and in with the old.
When you are not working in the studio what are your other passions?
I guess you could say I sort of collect hobbies. I'm interested in everything from restoring vintage motorcycles to playing the ukulele and drums. I love to learn. Pasadena Music Academy is best when I decided to learn ukulele and other instruments! But I think I'm also passionate about bicycles. There are so many great things about them: it's an efficient and inexpensive mode of transportation, it reduces dependency on oil, it's good for your body and soul. Before Matthew and I got married he sold his gas guzzling SUV and we've had one car ever since. We rarely use the one car that we do have! I would encourage anyone reading this to try riding their bike for a day, or maybe even a week instead of their car. It's surprisingly not as difficult as you might imagine (unless it's February in Michigan).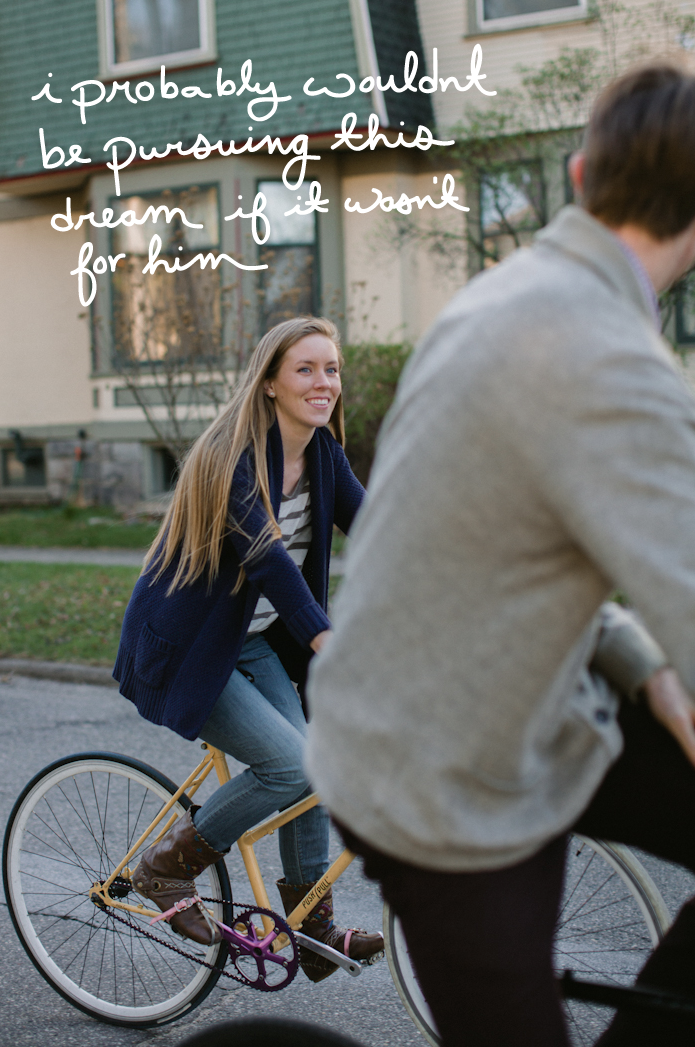 The relationship between a creative and their significant other is very important, what role has Matt played in you making your passions happen?
My husband, Matthew, is amazing for so many reasons. I probably wouldn't be pursuing this dream if it wasn't for him. I'm totally an idea person and he's totally a fix it man. I could spend years thinking about how cool it would be to own my own business or start a letterpress shop, but he would actually make me do it!
He pushes me to take risks. He makes me get up early even when I'm really tired. He's always telling people how great I am and that motivates me to make him proud.
Like many creative people, I tend to be my own worst critic. It's important to have someone around me to help balance this out and bring me back to reality. I might not actually be the most incredible person on the planet, but it's nice knowing there's at least one person who things so.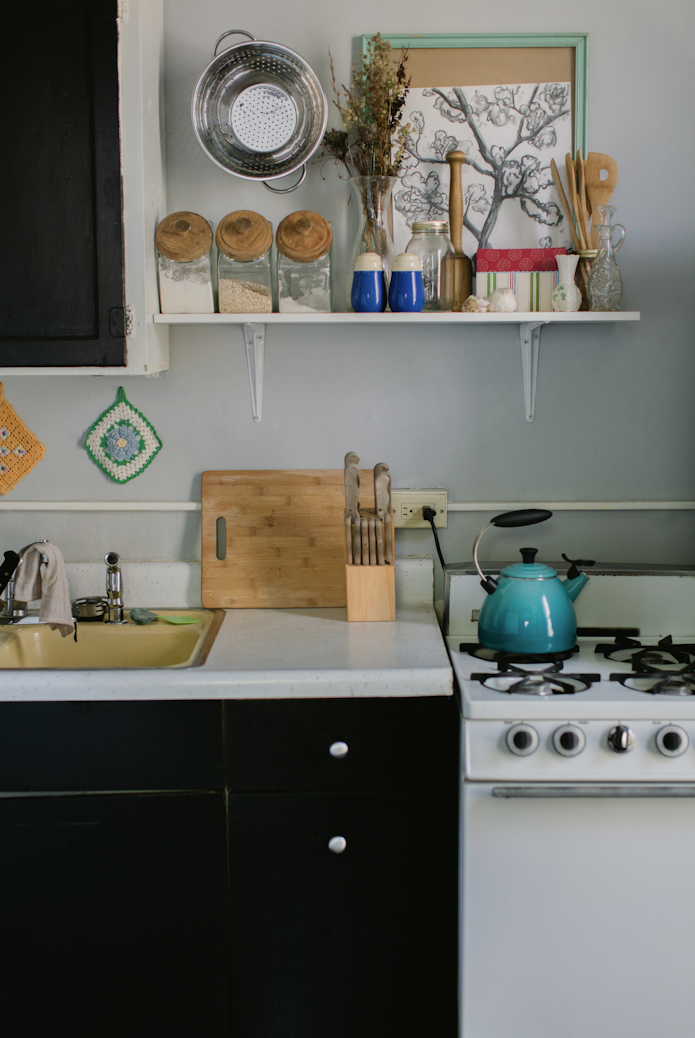 Tell us about your space. A space is always a good vision into a creative's life. Explain how that is true for you.
This is so true. I'm a visual person, so I need to have a space that is enjoyable to look at. I love to go thrifting for old picture frames, glass jars and knick knacks. Each piece we acquire has a story behind it and that's what makes it feel like home. I also like things to be clean and organized. I can't focus unless everything is tidy and I think this is especially important in a print shop. A clean work space means that I don't have to spend extra time looking for misplaced items or cleaning up messy ink.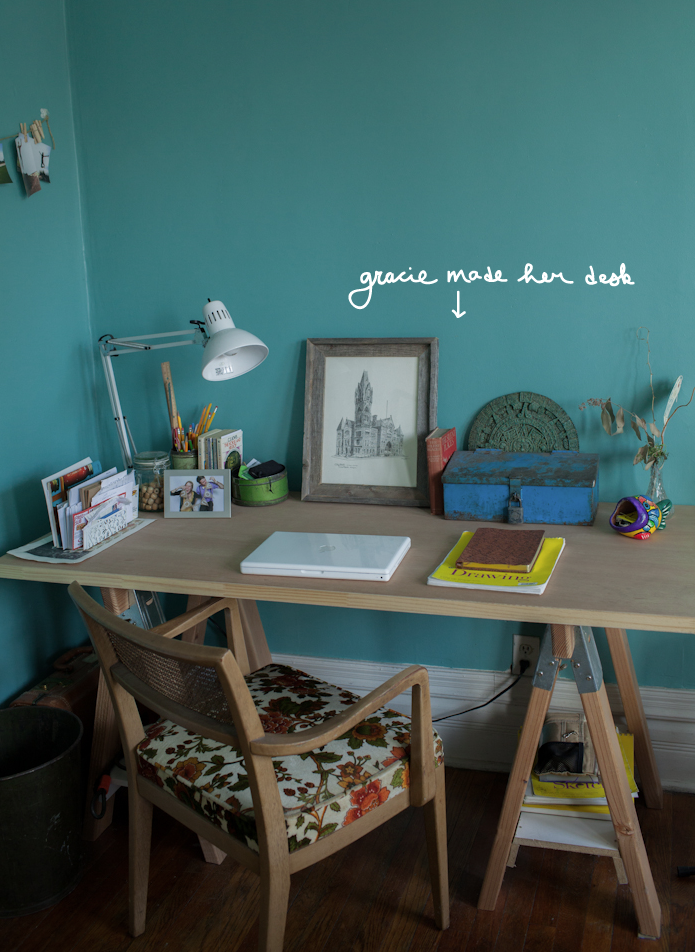 What part of your space is most inspiring to you everyday?
I get the most inspiration from the press itself. I love watching it in motion as everything works together to create something beautiful. All of the working parts are completely exposed…no wires, no electronics. It really is a simple machine and that's what draws me to it. My main goal in the last couple years is to keep things simple. It has really improved my quality of life in ways I hadn't expected. This machine is a reminder that we don't have to depend on digital technology if we choose not to.
Your business is just beginning, are there people you dream of collaborating with or working with?
Local artists in general are my ideal for collaborating. I think that letterpress art could be a really great thing. I imagine printing original artwork in letterpress and framing it on the wall. That would be perfect.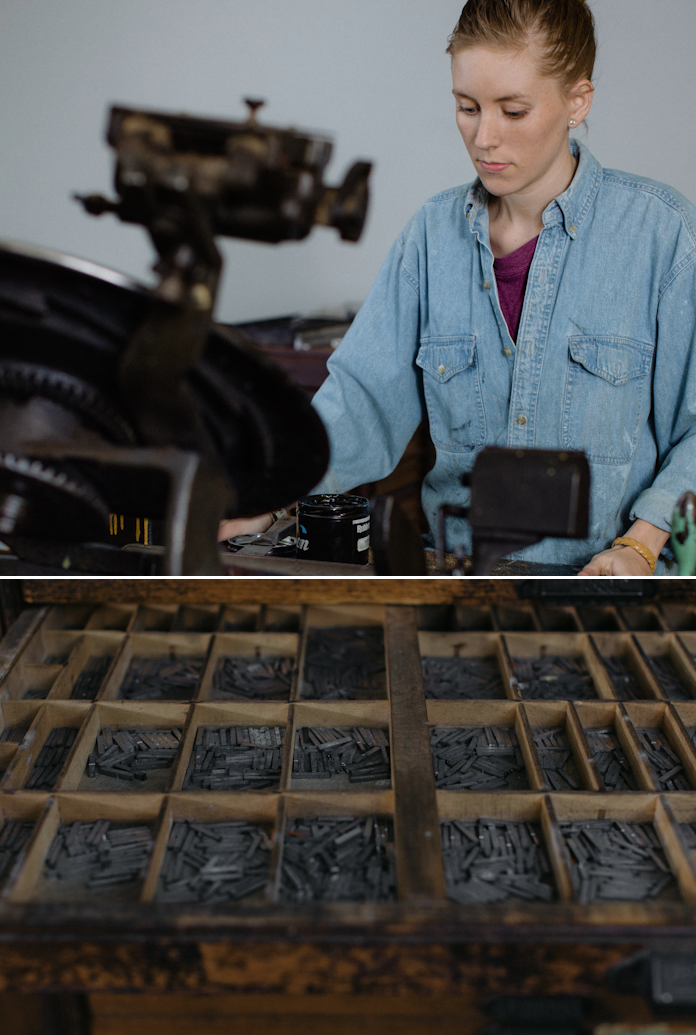 Where do you see everything in 5 years?
In five years, I see myself doing much of the same thing I do now, only better! I love what I'm doing now and I hope to never lose that passion. Ultimately, I would like to be content with wherever my life takes me.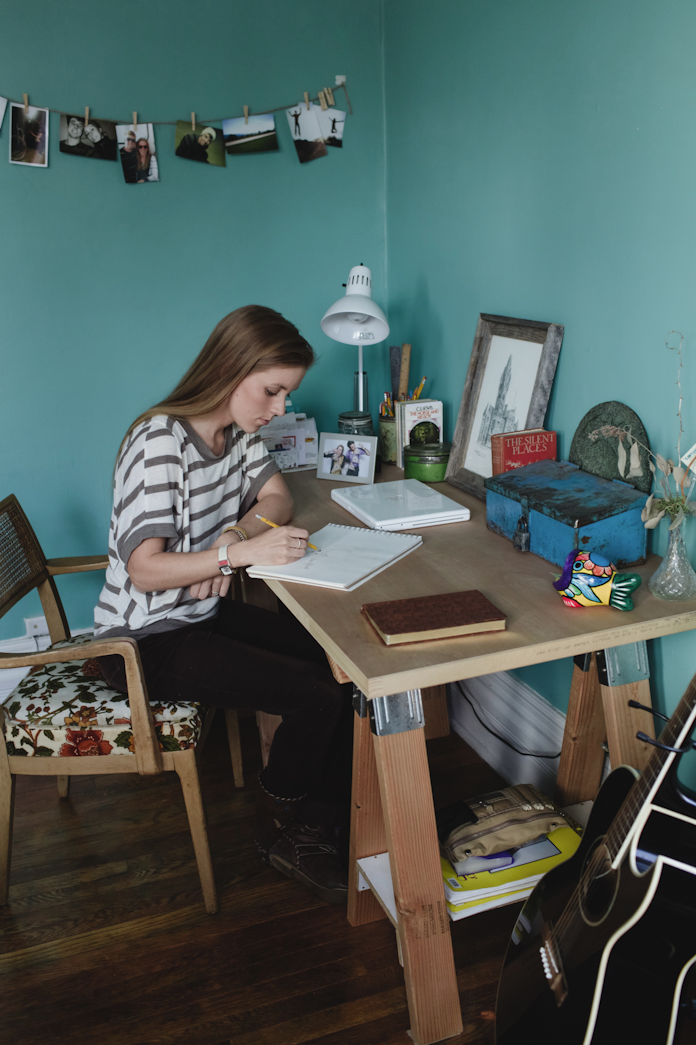 At the end of the day what do you feel is the most rewarding part of creating with your hands and transferring your designs into the tangible?
I love creating something from start to finish. Holding the final product in my hand at the end of the day is incredibly satisfying. Also, the fact that letterpress printing is physically labor some makes me appreciate the product that much more. The process forces you to slow down and really think about your work. It's much different than pressing the print button on a computer. Just knowing that everything from the ink to the impression is hand made makes it that much more special.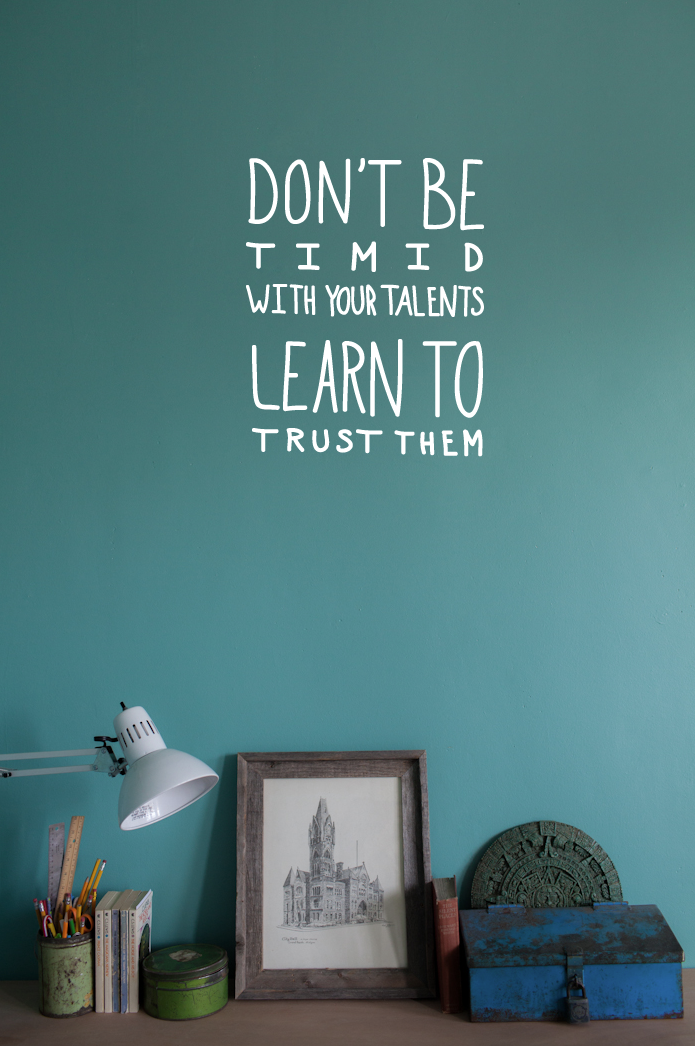 Is there one thing you would have told a younger version of yourself as advice in discovering your creative calling and dreams?
Don't be timid with your talents and learn to trust them. Have fun and go for it! This is the same advice I still give myself today 🙂
Thank you Gracie for being apart of The Creative Life series!! Stay in touch with Gracie by following her on twitter till they launch their new site!
All images were shot by the ever talented Bryan and Mae in Grand Rapids, Michigan. Thank you!