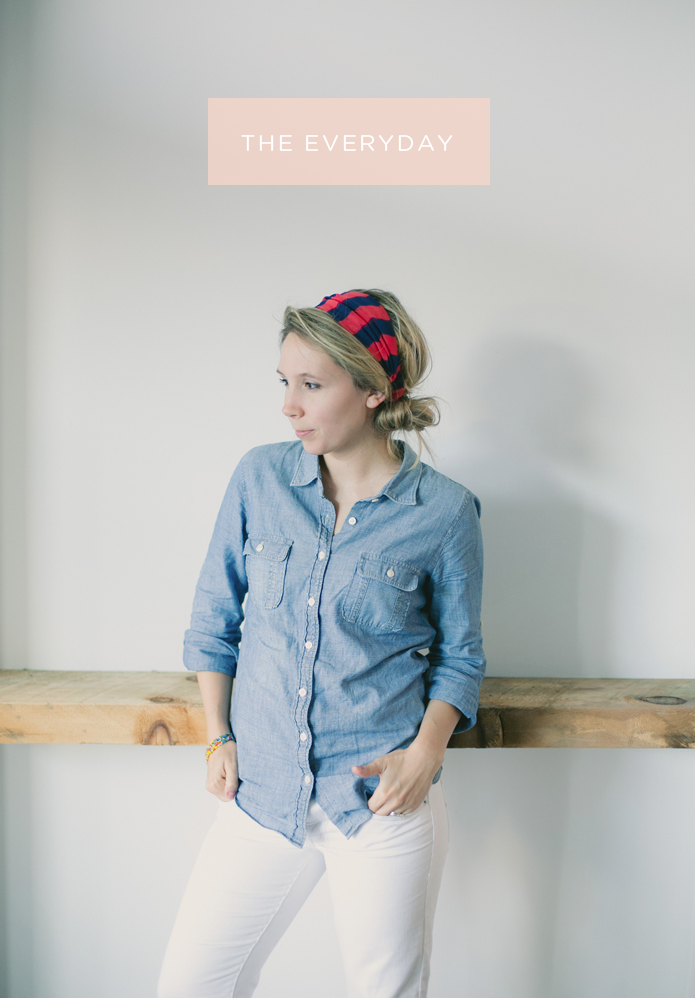 A few weeks ago Mike grabbed this photo of me while we were doing a shoot. I so rarely show you all who I am everyday. From time to time you see the Megan that is planned for photos but rarely am I the everyday here. You know the Megan that sits behind the computer managing projects and new ideas and designing pretty things. So when I saw this image come through in my editing I felt I would share with you what is normal for me and unplanned.
This outfit is pretty common. Sometimes I mix it up and do the opposite, as in a white tee and jeans. Super exciting…right?! As for my hair, it is usually done in this way at some point during the week or it is just enjoying some varied level of freedom. I feel best when I am not too overly put together or planned out. I like it as simple and easy as possible. I always want to add more color or pattern but I come back to these pieces the ones that only grow better with age and fit like a glove. My tendency is to purchase things that are classic with simple lines, natural fabrics, and compliment my figure.
So this is The Everyday Megan. No frills, no complications, just the one who loves to doodle, design, and pin. The one who looks forward to weeding the garden at the end of the day with a beer and cooking up something fresh to relax after a day of creating.
What is your everyday? The everyday of what you grab when you wake up? Is it simple or do you go all out?