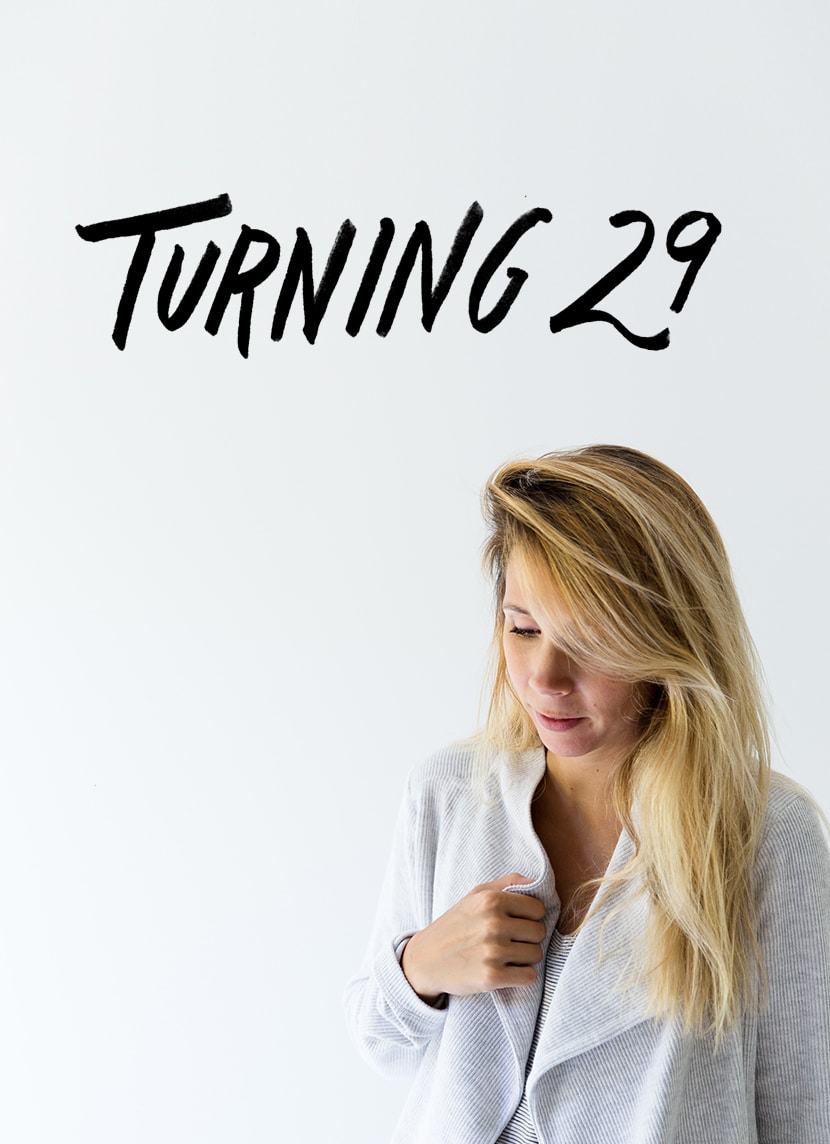 The last year of my twenties. 29. Can it feel any more monumental? I don't know probably not. I always have a hard time writing a post for my birthday as it is always right after new years, but I feel it is important to mark these moments in life. Though my birthday isn't till Sunday, I wanted to end the week with this little post.
However all of us are special. We're a combination of time, place, culture, parents – and all of our personal experiences and memories. There are endless possibilities to being me, there are only 365 days a year. Some birthdays must be more common than others. So now is your chance to find out the uniqueness of your birthday by seeing how rare is my birthday quiz!
I could look back at the year, but this year has been one of the nine that have created a near decade of the most transformative years of life. The truth is I believe that the life that happens in your 20's may be the most defining of all. There are huge decisions made about your career, relationships, lifestyle, and ultimately who you will be into your 30's. The difference between 20 and 30 seems far different than the difference between 30 to 40.
There are 100's of things I could look back on that have happened in these last few years, but I think of all the wisdom I can pull from my 20's that I would love to pass on. Maybe it is the fact I am about to have a child and there is so much I hope to teach him or maybe it is just that I am realizing more and more lately how the moments are important but the lessons are even greater. Moments are our opportunity to learn and grow.
Each year I could identify a major lesson or life event that has been a trigger into finding myself right here a 29 year old, creative entrepreneur, running a business with my husband, 36 weeks pregnant, living in North Carolina, longing for Lake Michigan, searching for the next adventure, and feeling completely unsatisfied doing anything other than pursuing a creative and simple life. I always knew that every choice we made in life dictated where we would end up, who we would become, and why most anything happens in life. Didn't we all read Choose Your Own Adventure books growing up?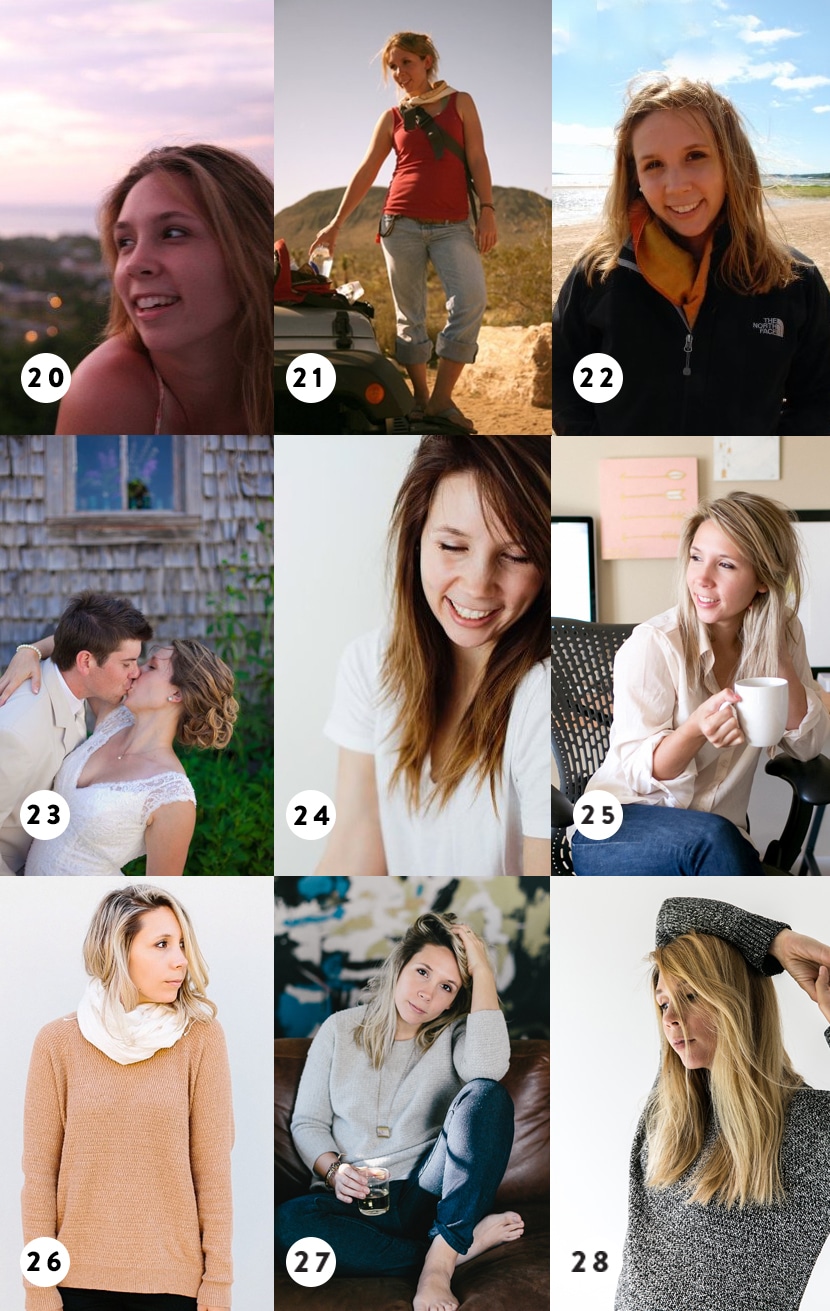 As I enter my last year of my 20's I see the beauty in life. I realize the choice I have in how I can make of it as I want. The best thing is the level of patience I have with life, which is something I never have had in my 20's till now. So, today I want to share 29 things that these years of my 20's have taught me and how I plan to live out this last year before I begin a new chapter of age.
All good things come with time.
The best things comes from hard work and hard work is what it takes to get the best things.
Wanting more is nowhere near as wonderful as wanting less.
It isn't about not being fearful. It is about acknowledging fear and instead using it to spur you on. If you aren't fearful of something or uncomfortable with a decision you probably haven't challenged yourself enough.
Ignoring something doesn't make it go away
Learning contentment doesn't mean you have settled.
Invest in those who support you, raise you up, and challenge you to be your best.
You dictate how a moment defines you.
Life isn't fair. End of story.
Relationships will fade in and out of life for reasons either known or unknown.
Traveling is the best way to learn humility, confidence, patience, and an understanding of home.
Learning to laugh at yourself is way better than taking yourself too seriously.
You will never be someone else and that something to be thankful for in life because being you is the best gift you can give to those who love you, those you love, and the rest of the world.
People don't control how you feel. You do.
Practicing thankfulness is a hard thing, but one that will breed joy for a lifetime.
Craving a life full of moments rather than things will always make you richer.
Social media is only a frame within reality. Don't compare your full frame to someone's small narrow frame they show the world.
Nothing comes for free in life. If you want it you have to reach out and grab it.
There is nothing wrong with crying. Cry and don't feel weak.
The greatest self-reliance tool we can learn is to learn to reframe a situation no matter how awful it is.
Remember you are the sum of the 5 people you spend the most time with so choose your friends and company wisely.
Marriage isn't an easy path but it will and can be the most rewarding thing in your life if you allow it to be, but don't jump in too quickly.
You are going to mess up. You are going to hurt someone's feelings. You are going to fail badly. All of which is okay, just own those moments the best you can and find the silver lining. Don't sulk too long.
There is nothing a good glass of wine, a phone call with your mom, and a night in can't fix even as an adult.
Cherish life for all it is. If you find yourself feeling jaded with the world and your life, it is time for change. Life is too short for not enjoying all of it deeply and fully.
When you fall in love, fall hard without fear, be yourself and don't hold back. On that note marry your best friend.
Take those trips you are dreaming about. The greatest things in life won't be learned at a desk but out in the world watching it all unfold around you and not from a computer screen through Netflix and a documentary.
Always speak from the heart.
Be patient with yourself. You are learning. You are growing. You are in process.
My 20's have been great years. I am thankful for this decade there is no doubt about it. I have fallen in love, built a business, married my best friend, began working with him, began a digital brand, worked with some amazing people, purchased our first home, built a studio, moved, traveled a ton for work and play, seen parts of the world I never imagined I would, and now will be having our first child in the coming weeks. I feel really lucky and blessed for the last 9 years of life and this last one I see is the perfect ease into the next decade of life.
I don't have many goals right now for the year ahead. I am taking the coming year with a patience and ease I haven't had in the past for a year ahead. There is a lot to be enjoyed in these weeks and months ahead and a lot of unknowns and even more learning to be done. In the past, I had bucket lists, but this year things are pretty simple and they are to do just a few things:
Patiently and gracefully ease into motherhood and find balance with it as a business owner and wife.
Launch the next phase of our business.
Create and create and create some more.
Invest time with family.
Stay healthy not only for myself but for those I love.
That is it. It may seem small but to me these are big things to accomplish this year. I am trying to place lower expectations of myself and have the faith and patience to know that this is a time in life and great things will come out of that patience.
Thanks for all your support and for following along on this crazy journey. It is about to get a little more interesting and I feel thankful to have so many of you to share this whole thing with. You all are amazing and I hope in 2016 I will be meeting more of you and getting to know more of you better.
Have a wonderful and happy weekend!
Read back further on these years:
Turning 25
Turning 26
Turning 27
Turning 28