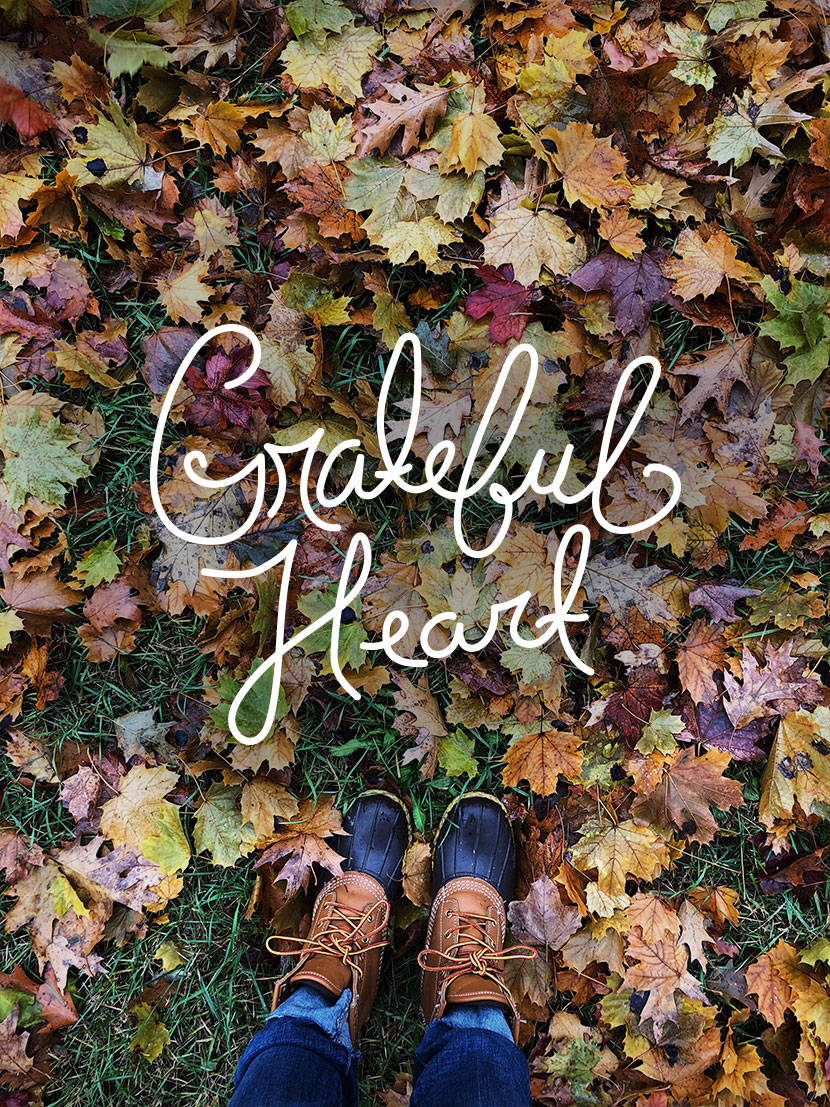 Sitting at my tiny desk above a garage, the baseboard heat ticks on and I set my slippers over the top to warm my toes. The cold has settled in. Storms and wind brew up wild white caps over the lake these days and ice lingers on the edges of branches some mornings. The end of fall swept in with full force and with little forgiveness this year. We may be a few weeks away from Winter Solstice and Christmas, but there is no doubt that we are within inches of winter's full arrival.
This year the leaves turned late. Summer seemed to hang in the air longer than normal and we enjoyed it. We basked in the beauty of the warm days and the busy schedule. The Indian Summer days seemed like a moment to take in and live in the present.
When the leaves turned and the first few cool rainy days came in they felt welcomed and I was ready. In my soul, I felt ready for a new season. Still, the warm days hung in there. We got to enjoy evening meals by the fire even if the sun set earlier every day. We threw Harvest parties and took in walks on the shoreline without our coats. The leaves were alive in their yellow, orange, and red all around us. The ground slowly covered with the falling colors of the trees. It all felt like perfect timing. But then a storm rushed in the cold of late fall and early winter and it seemed no one was totally ready. Our first real snow fell and it caught even the trees off guard with many of them just reaching their peak. It is very rare I have gone for hikes walking on 4 inches of snow and leaves combined.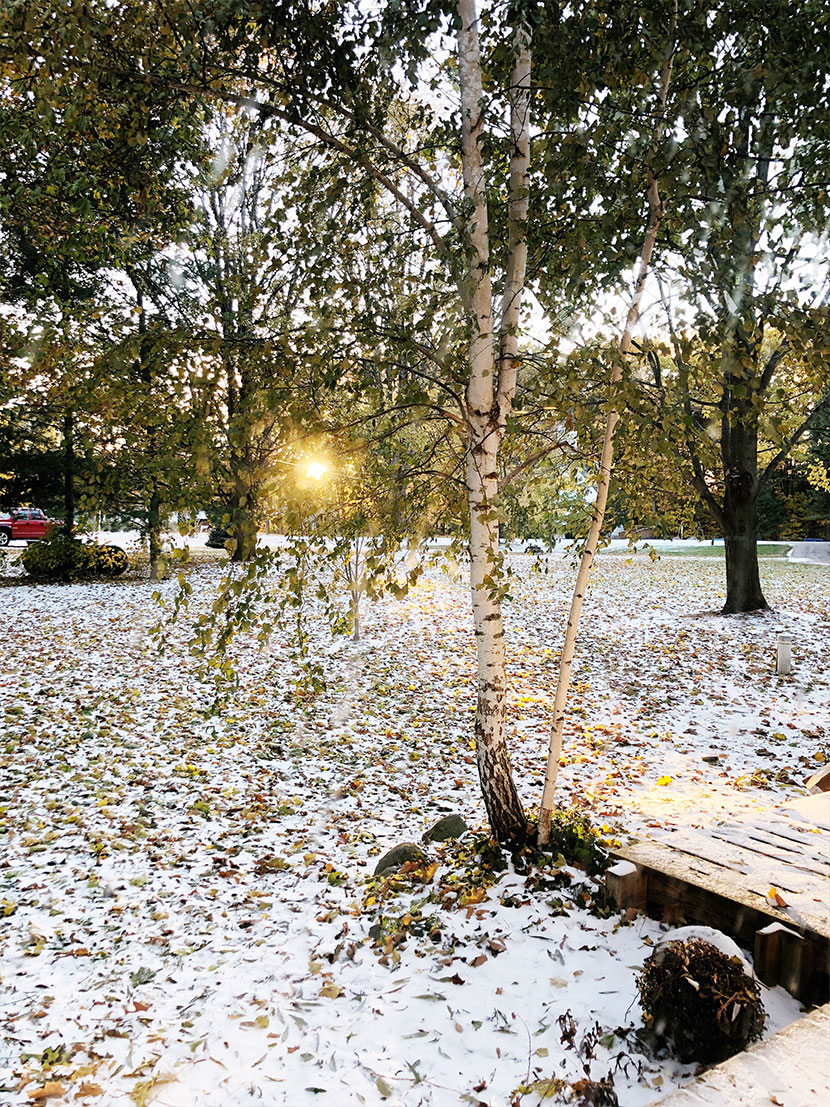 Wandering the woods, I felt I could resonate with the trees; unsure, trying to find the beauty in it all, and at the same time unprepared for this new scenery. That first snow that came in over the lake wild and without much real warning forced me to embrace something I wasn't sure I could just yet. I wanted the typical rhythm even if I knew winter was impending. I wanted more time to prepare. But isn't it such as life?
This month, I won't lie to you, I have needed this month of gratitude. I have needed the weekly practice. I have needed to write the challenges for each email at the end of my week. I have needed to look at what I have. I have needed to care for myself. Much like that storm that whipped in the snow, I feel these final months of building a home, running a business, and being a human have felt relatively harder than normal. This month's practice of gratitude has been what I needed to remain present, keep my head in the game, and keep a positive mindset on my own life.
What I have seen from my practice this month over any other months (mind you I have been using the practice of gratitude for over 10 months now), is that I am learning that gratitude isn't just about taking stock of what we have or finding contentment in our journey. Gratitude also reveals to us the things we must change as well. The things I do not include on my list or the things I wrestle with and use the practice of gratitude to overcome or make sense of are the things revealed to me as points of growth, change, etc in myself. I have never noticed this in my practice before and I feel thankful for this realization this month. I honestly think because of how much I have had to focus on it for TFE and to help lead you through this month, has revealed new things to me. What an unexpected thing to reveal itself at the end of a year.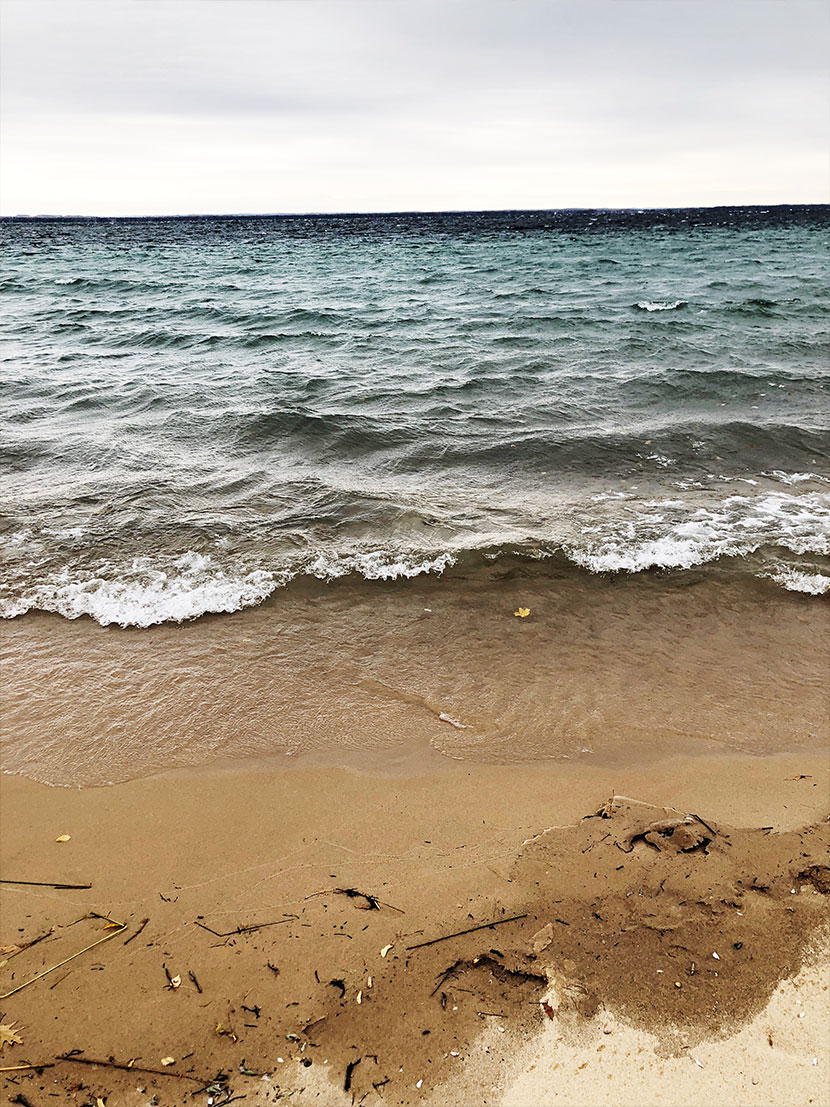 For so long, I simply have practiced gratitude as a way of grounding myself and remaining thankful for all I do have. But to use it to see just where I need to strengthen myself or to deviate in my life is an exciting revelation.
More than ever in the last few months, I have been taking a deep and hard look at my career and after nearly a year of pursuing what it means to live intentionally amongst the seasons, I am noticing things, things I feel are places of growth, change, and reshaping of myself and career I don't know if I would have anticipated a few years ago. Gratitude has done so much for me in this process. In fact the other day in an interview for a podcast I mentioned that I have never been good at meditating in the traditional sense. I try to meditate, but what I have learned is that my style of meditation is the practice of the awareness of how nature shifts and how I myself shift with it, as well as the daily ritual of gratitude. Between those two things, I have been able to find clarity, which I attribute to the fact that it is how I actually can meditate. It brings me into the present and allows my mind to freely float and find where it wants to land.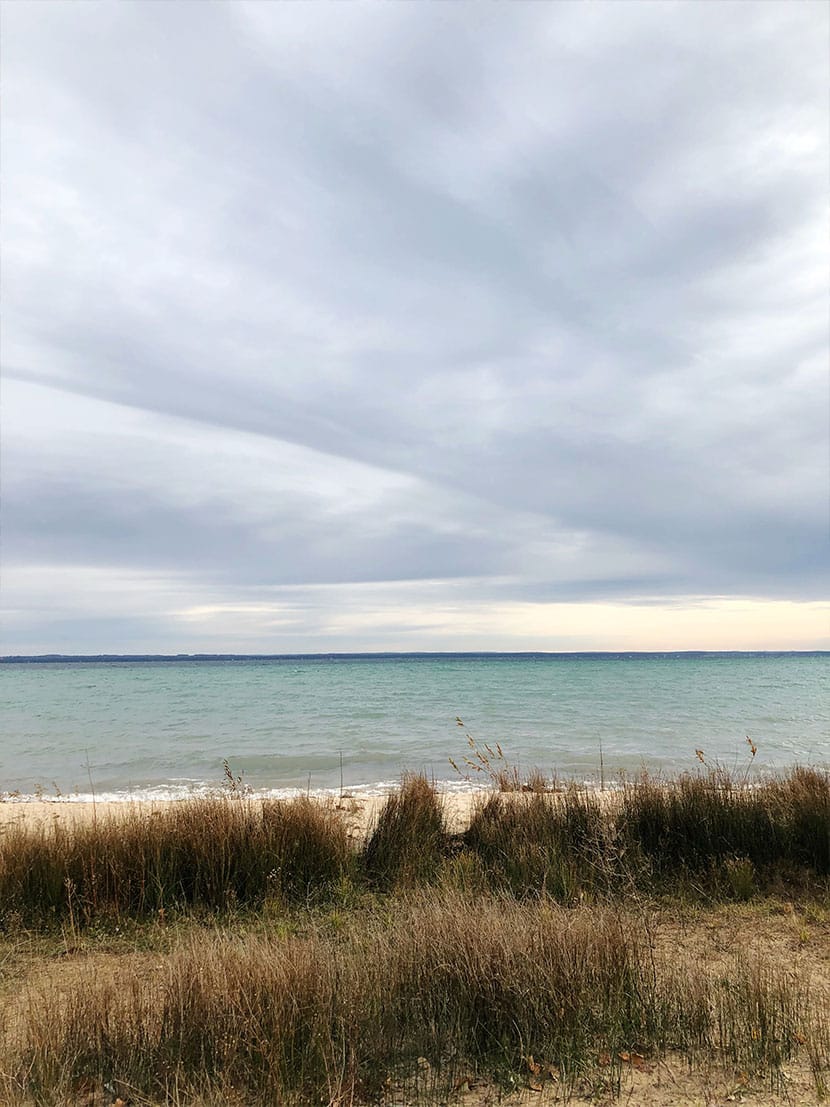 Gratitude this month has surprised me in how it has revealed something completely new and it showed up without expectation. It is something I wasn't prepared for much like that unexpected snow. I have been taken aback by how something so routine can still hold surprises. I am still unsure and unprepared for all these things that Gratitude has been showing me this month. I wish I had more clarity to share, but I want you to know that we should never discount the everyday practice of things in our lives. Sometimes it takes a few weeks for it to work and sometimes it takes years, but the persistence of something simple can be one of the best ways to find where we need to grow the most.
Happy Monday and welcome to a week of Thanksgiving. Enjoy today's third Gratitude email. It arrived in your inbox this morning.