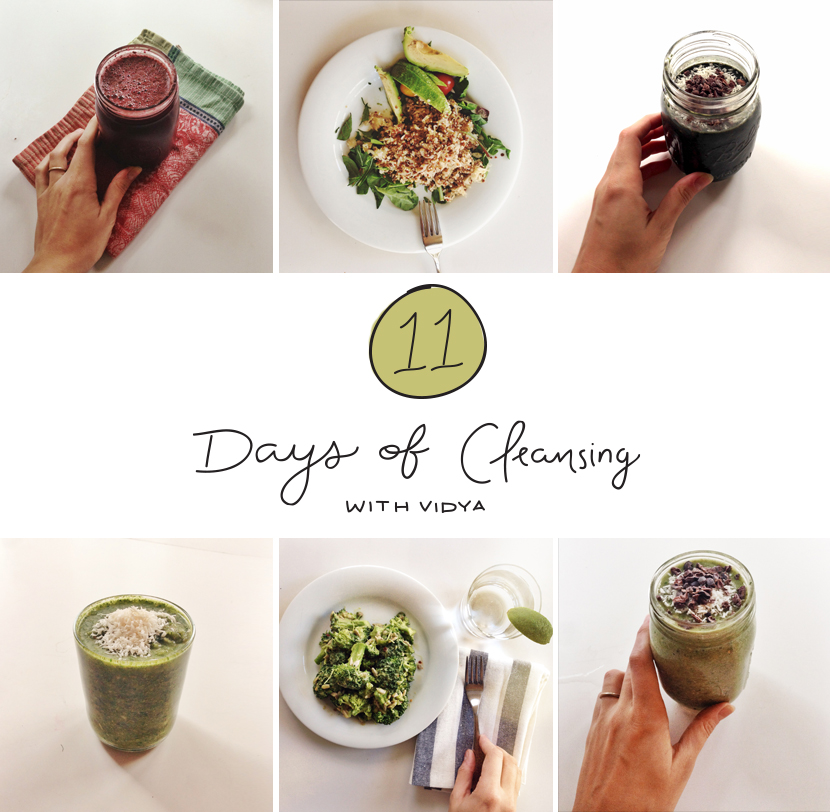 Today marks the eleventh day of our cleanse with Vidya's, Claire Ragozzino. Today feels like a pretty big day as we now have entered the final stage of the cleanse. Now that we have finished the juice only section of the cleanse we are now focused on building a healthy foundation for a healthy diet. Although, we are super excited about chewing food again, after only have juice for 3 days straight… I am feeling pretty cautious about entering the world of food again.
To break it down for those of you who are interested in doing your own cleanse either with Claire or even on your own, I thought I would break down my day-to-day up to this point so you knew how I felt. It has been exciting for us to see the transitions made each day and through each stage.
Stage 1 = 7 days of alkaline and plant based foods:
The first 7 days are all about transitioning you body into the routine of eating a plant based and alkaline diet. I have eaten this way before and find my body super happy when I focus my meals on this type of diet. If you don't know much about the alkaline diet, I am going to suggest you check out Claire's blog for more info on it. She breaks it down really well. Eating this way allowed us to set a strong platform before we went into a juice only diet. Instead of jumping in head first, which is what I have painfully done in the past, we used the first 7 days to prepare our bodies to enter into the fast. This means nixing processed foods, sugars, caffeine, and alcohol. We were focused on getting rid of any addictions, our body had so that when we got to the juice only time, our bodies could actually cleanse itself instead of just working off of it's addictions. For me it was sugar and alcohol. I love coffee, but I only crave it for the smell not the energy. Personally, I hate the feeling caffeine gives me.
During this first stage I felt really awesome, honestly. I could easily eat a 70/30 alkaline diet pretty much everyday. No problem there. We had great energy and were working out every day. Claire's recipes she included in the cleanse e-course were pretty amazing!! Seriously, my Texas steak loving husband even enjoyed them. Currently I am drooling over the raw vegan tacos made of walnut meat… it sounds crazy, but for real it was so good! What this stage showed us was that we are people who do well on a vegetable based diet. It showed us an extreme side of a specific diet that we can work into our own life in a less intense way, which is great!
Stage 2 = 3 days of Juice Cleansing:
Every juice only cleanses I have done in the past, has not only ended early but has been miserable. Give me a day of just juice and I am going to tell you no way. I hated feeling hungry all the time and feeling exhausted. However this time was totally different. Thankfully, Claire gave me some much needed support by telling me this was my time to pamper myself in other ways, such as binge on tv, sleeping extra late, and maybe even going out for a movie.
Now that I am on the other side, I can officially say it was not so bad. Do I want to keep going? I honestly think I could, but I am ready for solid food again. But there are some things I want to continue. Claire taught us about how our tongue is a map to our bodies (I know I am getting pretty hippy here, but bear with me) and so we did tongue scraping each morning to remove toxins. It is by no means glamorous, but now 3 days later I have one healthy looking tongue and morning breathe ain't no thing! Not only that, but we also added oil pulling with coconut oil to our morning routine. It supposedly can help clean kill bad bacteria naturally as well as whiten your teeth. These days taught me a lot, but what I am walking away with is the amazingness of coconut oil. It can potentially solve any problems you have.
As far as the whole juicing for 3 days, I felt okay, I honestly continually felt more and more fatigued and groggy each day we went along. I never felt the energy burst on day three. I wish I had felt better, but I think a lot of this had to do with my own body. I have done fasts before and don't ever feel super great when I do them. I think there is just something about not eating real food that gets to my insides. I stuck to the plan and did everything, Mike felt better than me, but I just felt overly lethargic and mentally unclear. Connecting 2 and 2 was way too hard for my brain most of the time. What I do feel is a major sense of accomplishment though. The juices tasted great and Claire had some great recipes just in case you were not doing so well just having juice. I never crashed, but maybe I should have. I wanted to prove to myself I could do this.
Now today, I feel a little weird beginning Stage 3, which is all about building new habits in your diet, post juicing. I feel like I should have a juice in one hand and a weight loss pill on the other, but I am also really excited to make up a smoothie and enjoy every bite. I feel stronger, accomplished, and like I am entering this new year with the right foot in front of me. I feel as if 2013 has been washed away and now I am in charge of what this year holds for me. This Friday is my birthday (I am going to be 27… um WTF?!) so I feel there is no better way to begin the week. I feel my 27th year has a lot of great things in store. I feel the growth I have gone through, even in this 11 days has been a good time to think and decide how this next year will go. Already I am following through on being intentional about things in my life, which makes me feel I have begun on the right foot.
If any of you have any cleanse questions, feel free to leave them below or even shoot me an email. I will do my best to answer them and give you even more insight. If not, no worries! I know this isn't for everyone.
Also, if you are interested in jumping on board for one Claire's E-Course Cleanses I highly suggest it. You can currently sign up for the Spring one to prep for the Summer. I think many of you would really find it refreshing to go through. If not, at least check out her blog and resources. She has a ton of knowledge.
Happy Tuesday friends!