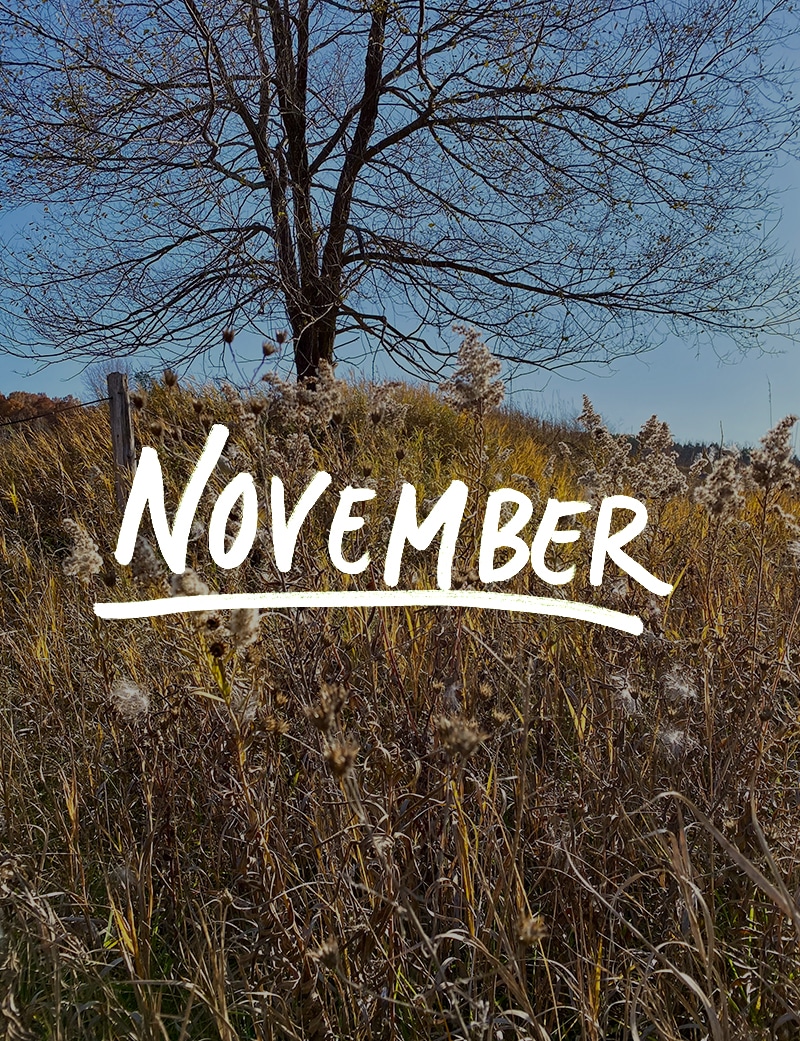 The colors took their time this year to come on. I waited for the Beech trees on the hill to turn their golden yellow. I wondered what color the maples would reveal to us. Would they be orange or yellow? In some way, I felt the same in my soul as well. What would fall reveal of myself after this year? What would surface after all that has brought challenge and beauty? How would I meet this new season?
In November on this hill just off the big Lake Michigan waters, the winds blow hard. We have seen up to 75 mph with wind gusts. The wind brings in snow squalls sometimes or even blizzards very easily. The unexpected is more likely to be expected than any consistency. October was blissful. It was warm and colorful. It brought us a lot of joy, but it never stops amazing me how November brings something all her own.
Sure enough the first day of November we awoke to a gorgeous sunrise and the next morning to snow. The days shift and change and I found myself instantly reaching into my Seasonal Shifting toolkit. The one I call on when the waters turn in new directions in life or in nature. I looked for the grounding tools that I have learned aren't just comforts, but necessities to being thriving even in the unexpected.
As the snow fell, I reached for warm tea and a grounding soup full of root veggies and stock made of local chicken. I lowered the lights in the evening and headed to bed earlier. I sunk into it. The garden will find its rhythm just the same I told myself as I heard the wind smash freezing rain and sleet against the windows in our bedroom at 2 am. Everything in due time I comforted my task rabbit brain I can find in these moments.
The next day when I spent my morning in the garden I saw the changes and what was left and what was lost. I knew it was coming. I gathered the final bouquet as if the garden and I were parting ways. I thanked her in my soul for the work she did in me and I felt with this bouquet she gave me her one last offering of gratitude as well. I felt thankful for the magic of a garden that taught me to let things be more often to see how they play out. I felt thankfulness for a garden that grew so much beauty for us all where all summer I felt surrounded by scents and smells and sounds of the very things that matter most.
This weekend I will clear the beds. I will wear my work sweater I love with my chore coat. I will remove what was and lay down hay and compost for what will be. I will cut back the perennials and plant all of my bulbs with an intention of hope.
Through the process, as the plants are toted off I will live in a statement of gratitude. I will realize that letting go is therapeutic when the time is right, but it doesn't come without soreness and discomfort. My back will ache a little and my fingers rubbed and sore from all the work. But I will sit down by the fire that evening with a warm cup of tea gathered from our garden, and I will close the chapter of our 2021 garden and write a new page for garden 2022 as well. An ending will offer a new beginning. I will acknowledge both and in this very moment of a month where the transition can feel at its peak I will embrace that this is part of growing and becoming and choosing to exist in the world as a human.
I can be both longing to hold on, ready to let go, sad to not pass through this chapter ever again, and completely excited for what is ahead. All of it existing and breathing in one single exhale by the fire and a swipe of my pen in my notebook.
November is the month of rooting ourselves in grace and gratitude. It is about acknowledging a life well spent no matter what it looked like. We find the very things to be thankful for and we also let our gratitudes box up what was as soon as the words leave our lips.
So as I begin trading my days in the garden for slow walks through the woods instead, I will speak to myself words of grace for how far I have come in this year. I will also speak words of gratitude for what has been. I will watch as the sky changes and eventually shifts the world around me. Turning the page in order to offer a new one. That is November. The turning of the page. The dinner hour where we linger and remember in order to rest and begin anew. It is the final day of hard work before we begin to tend to our roots.