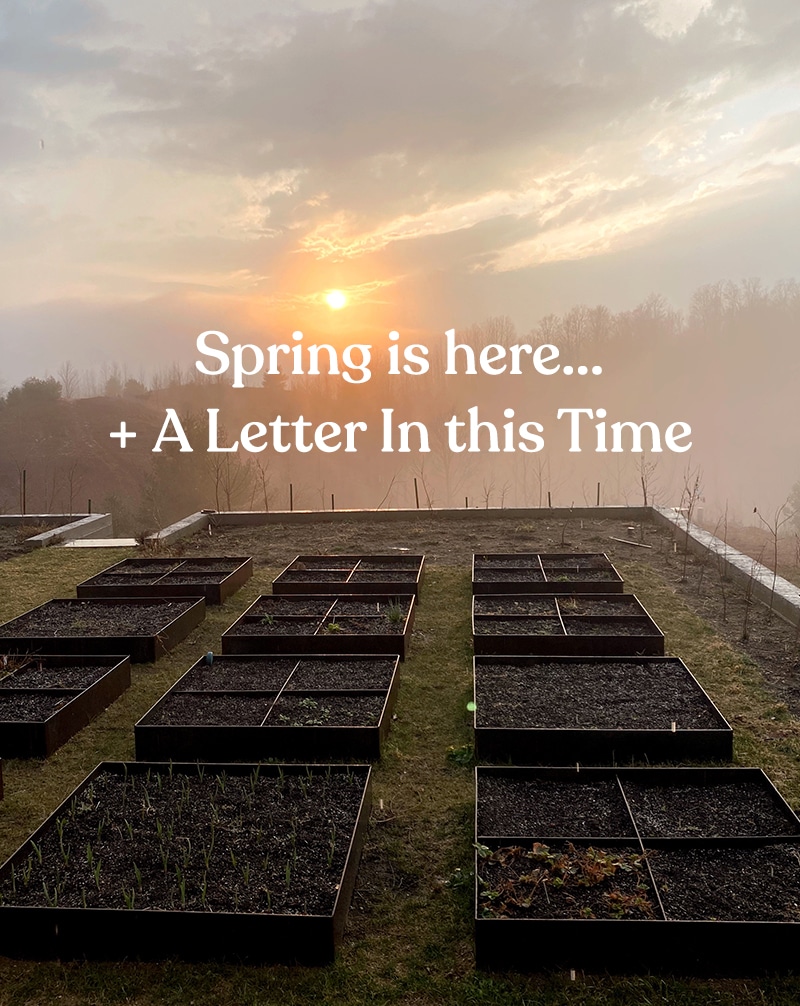 I don't normally do this, but many of you wrote me after I sent our spring email and felt our Letter from the Editor for the season should be shared on the blog. I debated it and decided I think you all are right. Originally when I put together our Spring email it was long before the pandemic hit the US hard and our world felt it had flipped upside down. I wrote it with hope and excitement for spring the weekend before we were ordered to Social Distance and then soon after to Shelter in Place. The difference from one weekend to the other left me wondering, can I send this now as is? The answer was no in my heart. So I tossed the whole email from top to bottom and started fresh in between homeschooling and taking care of the kids. I let my heart speak and my optimism in this situation win but not without acknowledgement of the realities that will hit us all over this time. 
All that to say, this is what I wrote and I hope it brings peace and calm to you as this mindset brings to our home right now. There is no right way to look at this time, but I hope we can all find some level of hope during this time or ways we can help one another. If you enjoy this and don't subscribe to our email I highly suggest it because many of our followers deeply enjoy the emails I put together. A ton of thought goes into them and they are some of my favorite things to write and put together every season and month. Subscribe here if you are interested. 
I laid in bed that night after it felt the carpet came flying out from underneath my feet. What is safe? How bad will this get? The wind from the southwest pounding on our house and it felt like the pandemic was knocking on our doors just trying to get in. I laid there just tired of fear. Tired of the unknown. Tired of the wind. Tired of it all. My body felt chilled and cold but it was the adrenaline. I couldn't sleep because my mind was winning the visual game. Imagination is a powerful creative tool but when untamed can be a demon all its own. There was a 3-month-old snuggled up in her bassinet and a young boy sleeping just down the hall. They knew nothing about how our life would change in the coming weeks and months. They hadn't read news headlines. How envious I felt of their blindness to the world.
The wind wailed outside. I heard thunder in the air. I woke Mike and I told him I felt scared. But we both did. So much unknown. We laid there holding each other till we fell asleep…
The next day the sun rose and the pink shone on the walls from the sunrise. A new day. The world hadn't changed, but with the passing of the storm and the wind silenced I realized we could assess things clearly…how can we make a plan? How can we process all this with a clear mind? 
I don't know about you but I have spent the last nearly 3 weeks now processing this world we are in. How do we live fully in this time? How do I grieve what is being lost? How do I enjoy this time for all it is worth, because this is a moment in time…A VERY important one! A lot has been being asked in my head…Things I hoped to never ask, but when presented with the challenge I am stepping up to it because how else will we survive? Do we have a choice? I think not.  
So that Monday after the whole world stopped, I threw out my content calendar for the year. I realized it wasn't the right thing anymore. New ideas needed to take center stage now. How can I show up here with a positive tone? How can I be a calm in the storm of this whole thing? How can I encourage you to eat with thought and intention during this time? How can I help you grow your garden? Forget buying things…we need to make the most of what we have because our trips to the store are less and the honest truth of trying to bring things into our homes is it takes a ton of work so something better be both worth the risk and the reward. It has shifted a lot in my approach to TFE. Things I had debated about for some time, but now feel are ever more important. So we are making the shift just as we made the decision to tackle a new garden space this year. When the storm comes it has a tendency to make the most important things the clearest. 
We have no idea how long this will last. There is no real prediction no matter the models. I have decided to accept that we need to just stay home and learn to embrace this new normal till we are told otherwise. I thrive on knowing where the finish line is but when there isn't one I need to instead just buckle in for whatever the ride ahead may hold. Schools are now closed and the transition of having a busy 4-year-old home every day has set in. Our work life is a tricky balance more than ever, but I look at it all and have decided that though I never set out to do things this way is there by chance a way to find bliss amongst the changes? I have to believe so. I am leaning on learning to be slow and doing less. I deleted my News app and check in once and a while to see numbers and any new mandates and then step away. I don't need to know anything else other than I need to stay home for her, for my dad, for my grandparents, for my friends who are at the hospital, for my pregnant friends…for everyone. For now, my future looks like being here on at our home making the most of what we have and that is my best way to help our community. I cannot emotionally handle much beyond these 4 walls in complete honesty. In the past, I felt guilty about that, but now I don't. I know it is okay to feel things are heavy and to disappear from it. I also know my greatest asset during this time is to grow things and show you how to do the same! I can also show you how to cook with economy and grace and find the beauty even within the turbulence of the world. I do this well. 
What I see the most right now is a collective moment to reset and reassess life. It is hard…Don't get me wrong. To relearn so much and reset things like how we get food or what is safe. To not be sure of how our income will be effected or worry about family members who are struggling to figure it out too. It is all a lot. We miss our families and our friends just like you. It is a wild time we are in, but let me tell you I have to believe that just as winter storms bring dark moments and the gray days can feel heavy, above those clouds is a clear blue sky. There is hope..so I have to believe that one day this will all look different again and when we emerge we will have learned what mattered most. There will be pain and this is tramatic…there is no doubt. We are in a time of war and our whole world is collectively in it. But I do believe on the other side we will have a clearer vision of how a slow life can be a life of contentment. We will see our family in a new way. We will see our communities in new ways. We will see the person who rings us up at the grocery in a new way. We will forever feel indebted to our doctors, nurses, healthcare administrators, and those keeping us safe on the front lines right now. Our farmers will be forever a monumental figure in our communities. We will have tried new things we kept swearing we would like figuring out how to make our own peanut butter or making bread or spaghetti. There is potential of good under massive change and heartache. 
So I am shaking off old ways to learn new ones. I am making a point to keep a sourdough starter again. I am learning to make sauerkraut and revive my kombucha. We work daily on our new field for the garden and prepare our raised beds. I am growing more plants than ever. My body is sore from toting a baby, cooking meals, and growing food. I have dirt under my nails even though I wash my hands constantly. I have watched my son be bored and find his way in independent play. I have watched his creativity bloom even more. I have signed up for a CSA and learned to learn on our farmers even more than I did before because they are the safest source of food. I have never felt more thankful to our coop paying their workers extra and offering curbside pick up. I have learned less is more and I believe that when one day the skies do clear and the sun beats down and warms every bit of our body again and freedom is felt we will be new in ways we always hoped but had no idea how to get to.
I have to believe that when we find ourselves once again gathered side-by-side at a table sharing a meal and wine under the setting sun of summer that we will never again take these moments for granted. The brush of an elbow, a pat on the back, a hug, a handshake, a moment to shop in our favorite store, anything will feel so precious that it will be hard to ever see it any other way again. Our dance parties at home alone or with our kids that brought us that instance of freedom we needed to shake the darkness of the day, will become a point of joy and continued on when life needs it and doesn't. Our Earth will heal during this time and we may alter the course of climate change or at least buy us more time. The truth will be revealed and we may learn that not all the lights in a major city can provide the electrifying joy that being amongst nature can or with those we love around a table. 
I just have to believe that as the heavy rains of spring bring us the brightest blooms, that this heavy rain in our world will bring forth something all new. So I will live there knowing that Earth has cycles and movements and she has a larger impact on us and we may have forgotten that, but now is the time to remember.  
The storms will come this spring. They will beat on our windows and our homes. They will try us and they will feel heavy and scary. We will make it to the sunrise though and we will rise in the beautiful pink light, dancing, singing, hugging. I know it because winter always turns to spring and spring always turns to summer. I know because the seed always sprouts and provides us with food. Nature shows us that all things have their time. We will see the course of this as well. 
Stay home friends. Take care of yourself. Delete the News app. Stop reading headlines. Start a garden!! Give your children hope or rather let them be it for you. We will make it through just keep your head down and focus on your four walls and the good within them. Find beauty in new rhythms and settle into a new pace as the storm passes. 
I hope even during this time we can all still find ways to enjoy all that Spring is bringing. It is a season of renewal and new beginnings. A wonderful perspective to keep right now.