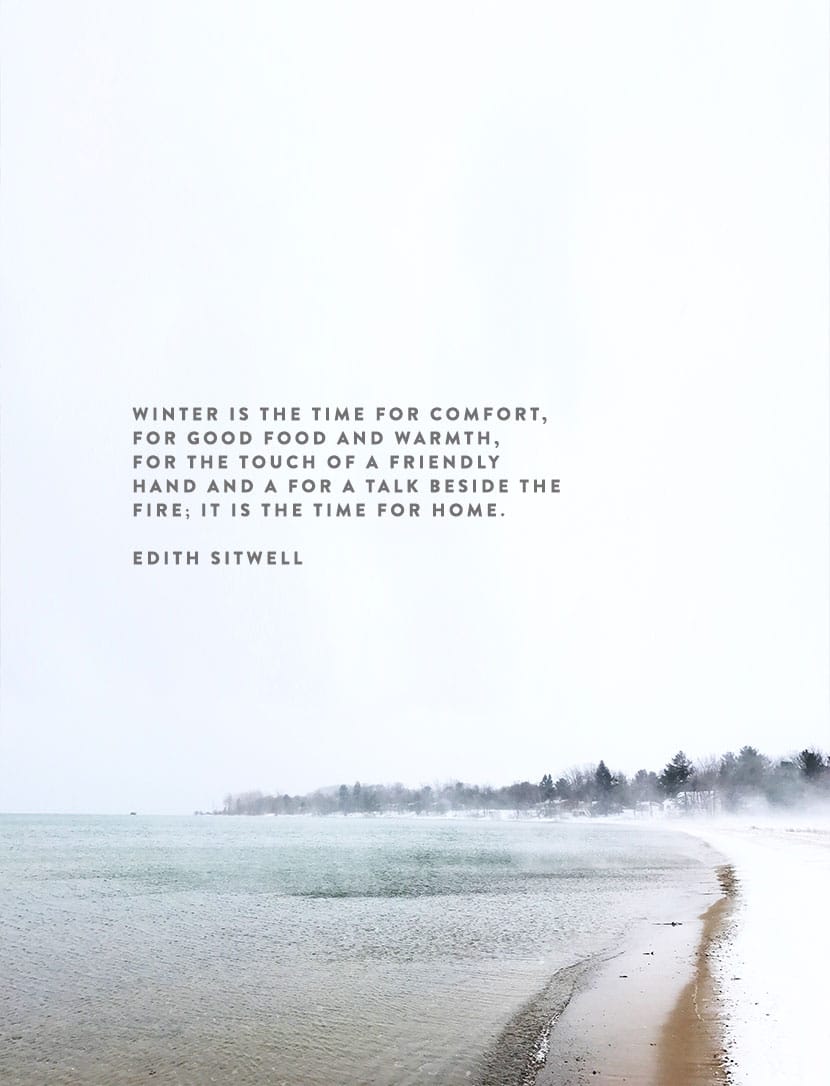 Driving down the hill the snow is suspended in the air. As if time had stopped for only a second it hung there almost as if it was waiting to be noticed or acknowledged in the world. I was taken by how it seemed to stand on its own time and no one else's. Winter never feels fully real until that first real snow finally arrives and my goodness has it.
As I sit here in my little perch of an office and watch the snow fall all around I have been reminded of what it means to enjoy winter and just what winter really is. Years ago I would have told you that summer was my favorite season and that summer in Northern Michigan was something to be in awe of, which I still believe it is. It is absolutely glorious, but winter on the shoreline of Lake Michigan is something otherworldly. Here our days are fairly temperate for winter, but we get the most amazing snows. First, the light fluffy snow falls and then the Lake Effect snow comes. These GIANT flakes that within hours can leave you utterly incapable of driving anywhere for at least a few hours if not 24 hours. Outside our windows, it becomes a snow globe and the howling wind our soundtrack to our evenings. There is nothing like winter here. The geese fly home. The water white caps and darkens. The pine trees hold the snow. The air becomes dry and brisk.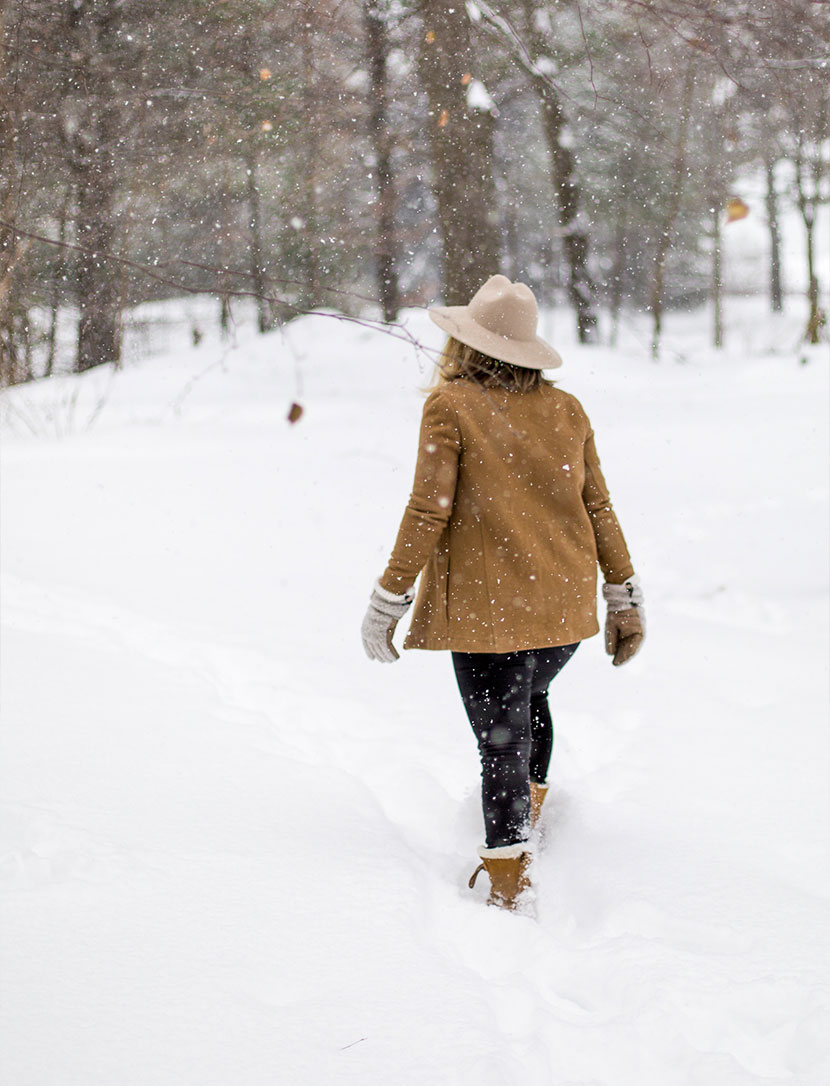 I was born in the winter, in fact in the middle of a snowstorm at a hospital on the shore of Lake Michigan. It took me a long time to connect that maybe this is why winter is my season and colder climates resonate with me. I find comfort in cooler places over warm ones. I would rather head to the mountains than the beach. I would rather take a long walk on the shoreline in winter or fall than summer. It sounds crazy saying this out loud because for so long I thought it was different in my soul. So what changed? My awareness of my inner self during this season.
Winter holds such stillness in my soul. I find winter to be a time of solace and peace. My soul always feels at rest during these months. The moment the snow falls and blankets our world, I feel everything is complete. Winter is when I do my deepest work on myself and when I have a chance to really spend time questioning, writing, searching, and doing the hard work that will affect my coming year. I spend more time outside working out then in the summer or spring or even the fall. I love the crisp cold air while I work up a sweat. It wasn't always this way.
When we moved back I made a point to figure out winter in my soul. I knew that if I was going to live here I had to be comfortable with it and possibly even love it. So last year I made a point to embrace it and go outside no matter the temp. I went for walks in blizzards on the shoreline and I realized that winter spoke to me in a way I had never allowed it. I fell in love with what it offered and no longer saw the difficulties of the season as anything worth complaining about. I felt thankful to experience such a precious season. I had little to talk about with people who complained about it beause I knew this was the season that affected the rest. This season was the one that I find time for my deepest parts of mself and I grow more than I do in any other season. Maybe it is because of my birthday being in January, but this always feels like a reconnection to myself that I anxiously await.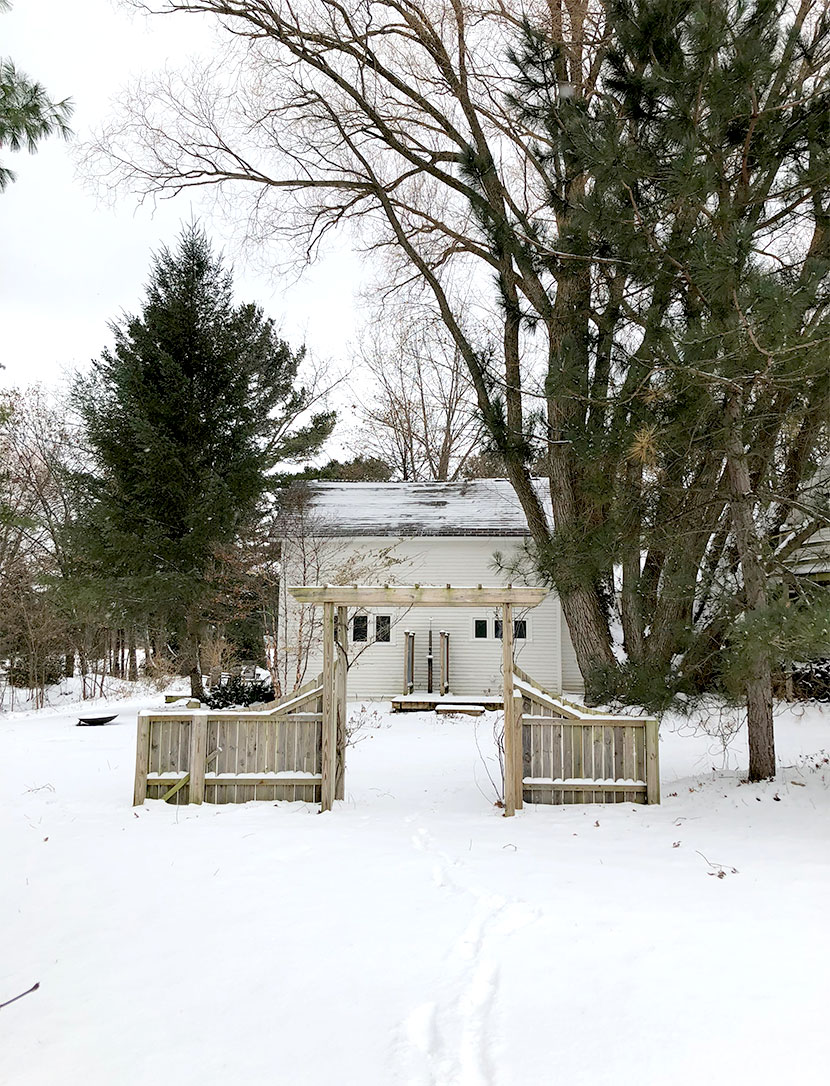 Most of all though I have learned to love winter for the things I once hated about it. I stopped seeing
itchy sweaters
errand runs taking twice as long
canceled plans because of weather
cold fingers
cold ears
cold legs
cold toes
never wearing the shoes I want to
revolving all outfits around my snow boots
hat hair
dark days
everything taking twice as long
Instead, I started to see everything completely differently. I saw
quiet walks to the post office
lakeshores with no one on them but me
days spent foraging and making
evenings warm and cozy by the fire
warm drinks
extra time to enjoy in the car with Mike and Hayes
beautiful snowy treelined roads
The brightness that snow brings to even gray days
candles lit on tables and in the kitchen at night
nights in with friends eating warm food together
a coat I love
a lesson in learning to be slower
a lesson in patience
a lesson in perseverance and scheduling
Most of all with winter I see a beautiful opportunity to take time for me. Winter is when we do deep work and we pause to find out what lies ahead of us and what must wait. More than any other season, winter has taught me, that pausing is an essential part of maintaining ourselves at our healthiest. We should feel as if we can stop and slow down long enough to give ourselves time to become our best. As a creative person, I have learned that in order to create great work I must love what I am doing and give myself time to slow down. Winter allows me the chance to not burn out. It is the hush in the year I need to recover.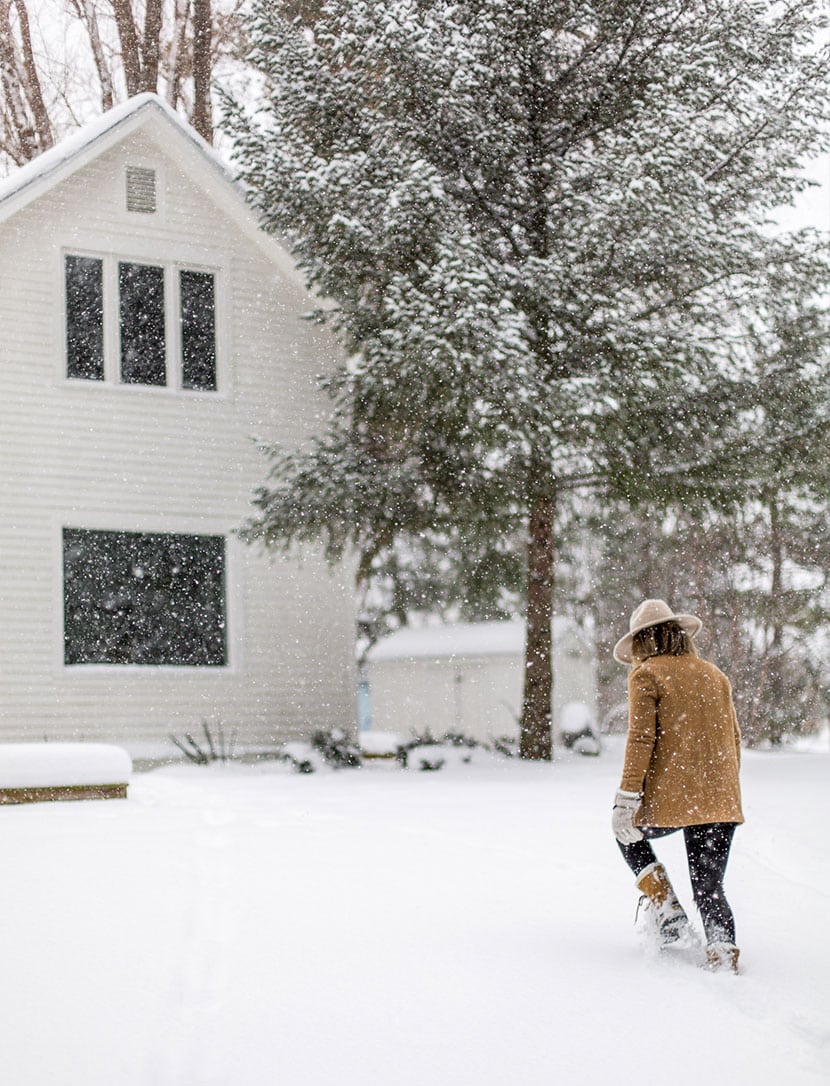 I couldn't be happier for winter to have finally arrived and to be sitting in my office watching the Geese fly south and the snow float through the air slowly and without any direction. All of it teaching me more and more each day and reminding most importantly to slow our souls and pace to absorb this season.