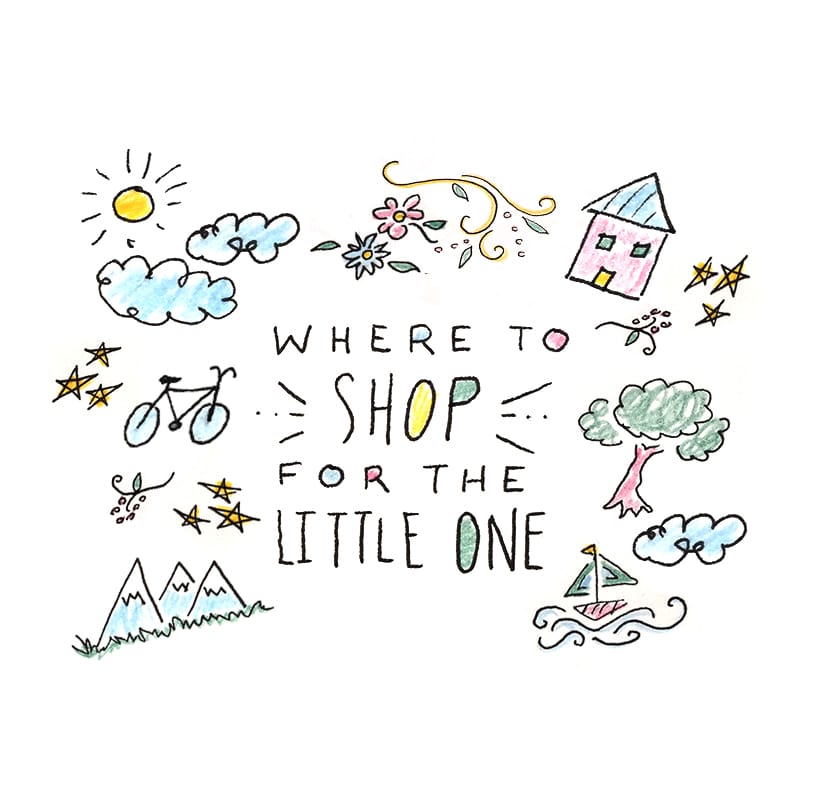 Now, let's all be really honest right now and admit that baby clothes may be even better to buy than clothes for ourselves…am I right?! I couldn't wait to start picking out things for Hayes when we found out we were pregnant. It was fun spending the last few weeks of pregnancy hunting sales and finding things for our little guy. Now, being 4 months into being parents we thought we would share a great list of where to find great clothes for Hayes and some strategies we have used when making purchases for him.
When I started buying and building a registry I made a few points when I started choosing things:
Focus on being as gender neutral as possible. This a big one as someone who likes to make the most of a purchase and live with a reasonable amount of things. A friend of mine made this recommendation to me years ago and I didn't fully grasp it till I was in the thick of prepping for Hayes'sarrival. The first year they grow so much and I think stocking their drawers full of neutral items and purchasing a few gender specific items for each size is the best way to tackle things. I figure that when #2 comes around no matter the gender we will have far less to stock up on since we have all the basic pieces.
Don't spend a ton. It is fun to buy 1 or 2 items at in each size that are a real dream. Such as we got Hayes a nice winter coat from Patagonia for Christmas this year and a pair of Minnetonka moccasins, but other than that we have kept things pretty much on the cheap. The reason being is they grow SOOOO fast…as in literally you put them to bed and pick them up in the morning and they don't fit in anything anymore. I am not kidding I have experienced it. Also, they are sticky, they poop, they spit-up, and everything else. Babies have no concept that they are in something that $1 or $50 so don't buy too much linen or dry clean only items because they won't make it more than one outing if you are lucky.
Keep to the classics. Mike and I love a good trend, but trends fade away quickly. My theory for my own wardrobe is that classics rule and every year I add in a few fun items to spice it up. For Hayes, we have taken the same approach. I invest a little more in the classic items and save most on the trendy ones, because when baby #2 comes along that trendy thing may be out of date and we will want something else, but the classic stuff will still be good to go.
Make sure it is soft. Everything is new to babies and I know that if I had brand new skin like them, I would hate to sit around in itchy things. I always try to find things that are soft and stretch and move. Cotton is usually king in this department so I always am on the hunt for good quality cotton items.
Knowing the requirements for what we wanted for Hayes when it came to his clothing, here is where we shop. Though this is geared toward parents with boys, every single one of these shops has a girl's area that is even better than the boys. HA. Girls got it made when it comes to options, but we already knew that, didn't we? 😉
For the Savvy Shopper:
Old Navy: This is HANDS DOWN our favorite place to buy things for Hayes. Nothing is overly expensive and the sales are awesome. I can walk in and spend $40 and walk out with everything I need for the next growth spurt. Plus, whoever is doing the design for their line right now is really doing a great job in the trend vs classic department.
Gap: Similar reasons as Old Navy, but I like the basics here. They do a good job and most importantly they wash well. Another great place to watch for sales and to stock up when they show up.
Zara: Probably our second favorite place to shop for Hayes. I live for the new arrivals. Though they don't go on sale much they are priced decently and always on trend. I have been really impressed with even the soft linen items and how well they wash up. I stocked up during one of their yearly sales and have leggings that are super cool for almost every size.
H&M: Had no idea they had kids clothes till just a few months ago, but their onesies are our favorite. Hayes has a long torso so their longer cut clothing works really well for him. The onesies are made with organic cotton and they have the kimono snaps, which I think are the easiest to get on little ones. Plus, they come in lots of cute basic colors and patterns. On top of that, they just have some really cute things at an affordable price.
Boden: Super cute classic baby clothes that do a great job on style and colors. A little more pricey than the others above, but the quality equals the price for sure. Look for their sales too they always have a good one.
Tadpoles: We bought a few onesies from them on Amazon and they were some of our favorites to put Hayes in. They were cute and really soft.
L'ovedBaby: I know we have so many great basics options here, but this is another one. The cotton is organic and washes so well. I felt so good putting Hayes in these onesies, sleep gowns, and so on throughout his infancy.
Hanna Andersson: Hanna has been around for years and makes really great classic baby clothes that are timeless. From what other moms say they hold up really well as they get older too. We have various items from their Pima Cotton collection and they are so soft and thick. You cannot go wrong with great classics that wear like iron.
For the Trendy Looks
Bitte Shop: I LOVE this shop and the items they curate from clothes to toys and more. Everything is adorable and they always have some of the best new stuff. The prices vary so you can find something no matter how much you desire to spend.
Nordstrom: They always have the newest things from the classic retailers and I always love what they have. They are a great place if you need an outfit for a special event.
Kid + Kind: I think it is fun to have an item that feels unique and special. I love the style of the items in Kid + Kind. It is playful while being well designed and really simple.
Fig & Fawn: The cutest store for really unique clothes. Cannot get enough of the things they carry. I keep dreaming.
Fawn & Forest: Beautifully crafted classic baby items that are organic. They have many organic products. Plus, their site and curation are top notch. In the least it is beautiful to look at.
Garbo & Friends: Not a ton of clothes other than super cute sleeping blankets, but it is truly one-of-a-kind  and beautiful. A must to at least check out when shopping for baby.
Baby Swag: They do an awesome job pulling together some really fun and unique pieces for the little ones. Not only do they have an awesome variety of unique baby clothes, but they also have a lot of great items for life with kids.
DesignLifeKids: We blogged about them before but we had to mention them again. They have some really cool stuff if you are looking for well designed and bold baby clothes that you just won't find many other places.
For the Splurge:
Steven Alan: Always a fan of Steven Alan and their curated list of kids clothes is on point. It will cost but if you want a great gift for someone or you just want something special for you and your little one it is so worth it!
Caramel Clothes: Basically the most classic and perfectly created clothes a baby could ask for. We were lucky enough to receive a few items from them and my goodness. They are amazing. So soft and smell amazing when they arrive. A great gift or splurge.
Tinycottons: I LOVE the patterns and design of the pieces from this shop. We were gifted 2 items from here and I love them so much I have debated about splurging on some other ones for Hayes as he gets a little bigger. Such cute and fun stuff.
Where are your favorite places to shop for gifts and for your little one?! I would love to find some new places!!