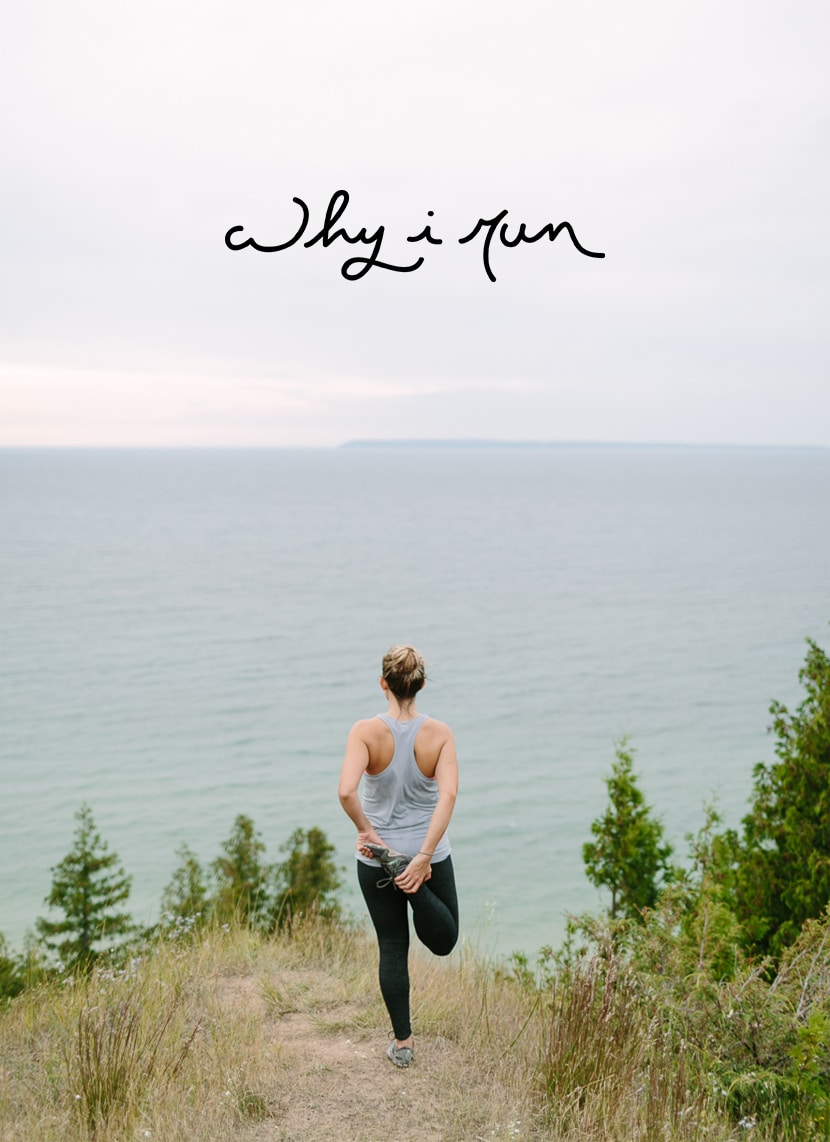 Take it from me, a self-proclaimed, "I will never run distance" kind of person: I never thought that this was a post I would write. You may remember when I wrote about the lessons that becoming a runner had taught me. The response from all of you was so crazy that I felt like needed to open up even more to keep the conversation going. Your stories about trying to be a runner and finding peace and fulfillment in it were inspiring. So today I wanted to explain and SHOW you why I run. It has become important for my mental clarity and daily rhythm as a creative entrepreneur.
None of my past workout adventures have left me craving the intensity of sweat more than running. But when Mike and I read Born to Run  and decided to change our mindset and style of running, I felt ready to go back to the basics. I picked up a pair of minimalist running shoes, downloaded a running app and gathered my willingness for a new challenge. I began the journey of becoming a runner and started to enjoy the process more than I ever expected.
What I never expected when beginning this journey was that it was indeed a journey. Each time in the past when I ran, it was  hard and forced. A mile was enough. With a new mindset and a shoe that let me connect and feel the ground beneath me, running became less about getting my sweat on and more about resetting each day. There is nothing more fulfilling when all you have to focus on is getting in the right rhythm, feeling your legs pull you forward and thinking about nothing more than how it feels when your body is doing what it is designed to do. There is a very basic and primal feeling to running that other workouts have never offered. You are reminded that you are meant to run and move like this when all is aligned.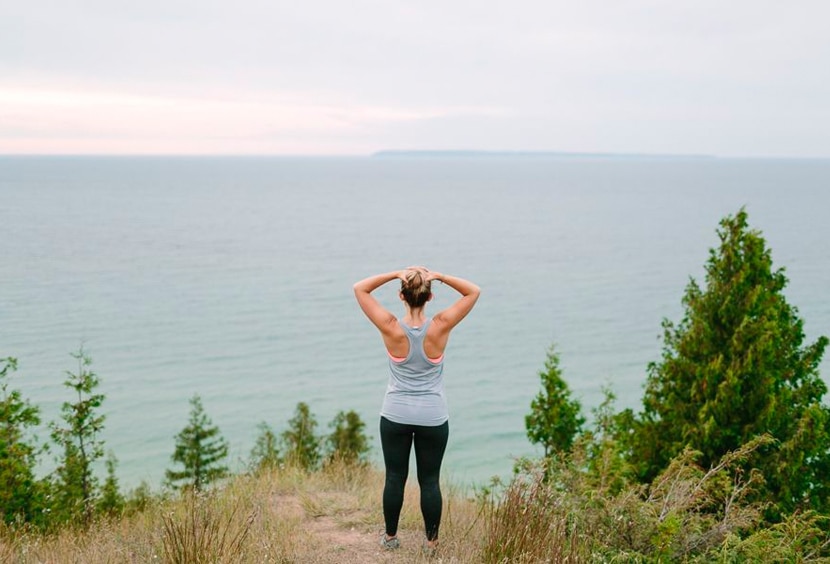 While being up north this summer, our runs have been longer, more purposeful and some of the most spectacular moments of the year. Many times when we head out, we take nothing but ourselves. We go for a drive and find a dead end road, orchard, dune or forest, then strap on our shoes. At that moment, we let go of all that's behind us. We focus on our breathing, smell the summer air and watch the water flow freely. Sure we're sweaty and our bodies are working, but after more than 100 miles in the last few months, running has become a release. I crave the sweat and the feeling of power when I conquer a hill. Plus, ending our three to five-mile runs by diving head first into Lake Michigan feels like nothing money can buy. It's pure and refreshing. It makes it all that much more rewarding.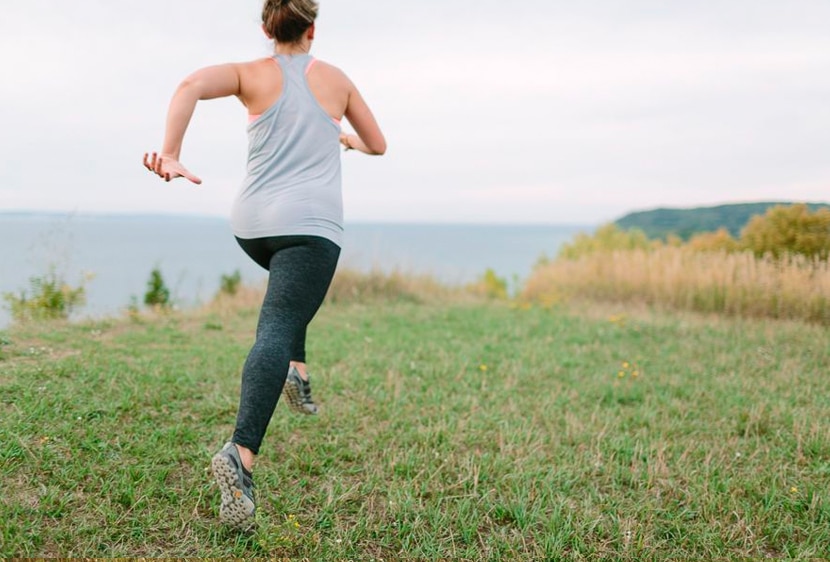 Becoming a runner has made me realize a workout is not a checklist item. Instead, it's a reward for a job well done and a positive moment during my day. Running has become part of my life just like my morning cup of coffee and smoothie. In the past, running was just a means to an end. The connection running gives me to the world outside of my work and beyond my computer can sometimes save my day, releasing stress and offering reward. Reaching goals that don't pertain to work but leave you feeling and seeing results each day can give you confidence. Running keeps me sane when thinking about jumping off the cliff on a big idea. And I know if the idea fails, I can still succeed on the trail.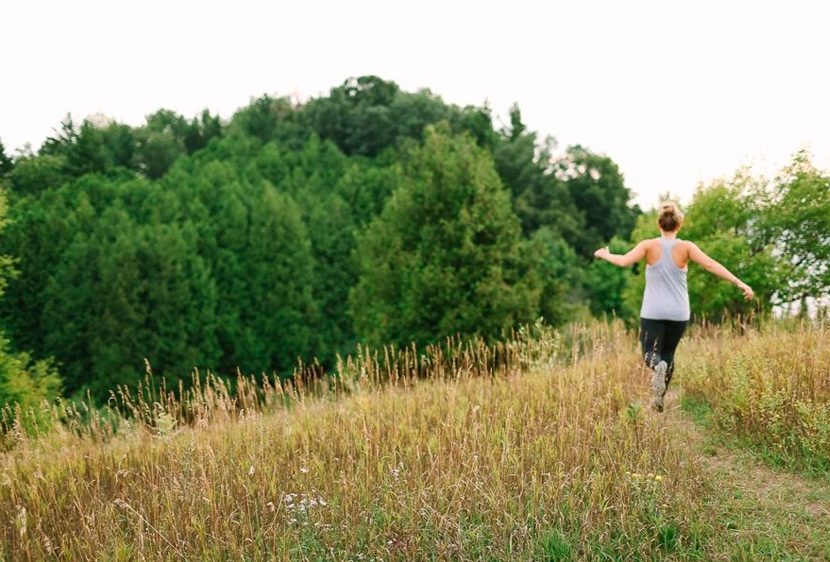 So this fall I set a new goal: conquer a half marathon. It's one I never thought I would set in my life. Actually, I remember saying to Mike, "I will never run a half marathon." Hitting five to six miles a day at a solid 10 to 11-minute pace, I feel confident that this is attainable. I'm a little scared, but I know on the other side I will feel an accomplishment that only I can give myself. I don't want this to be about pushing my limits, but about learning to enjoy the process of challenging myself.
I plan to conquer the half in November, so all my training and dune running will hopefully come in handy. I hope when I am running on the streets, I will remember how much fun it was to leap down a hill and navigate my way around the trees while dodging roots on the ground. Although I can't end the half with a dip in Lake Michigan, I realize that just like life, running is a journey. It's a journey that has different experiences that can only happen one step at a time. I am excited to cross the finish line and feel the confidence and strength that will pour through my sweat of accomplishment.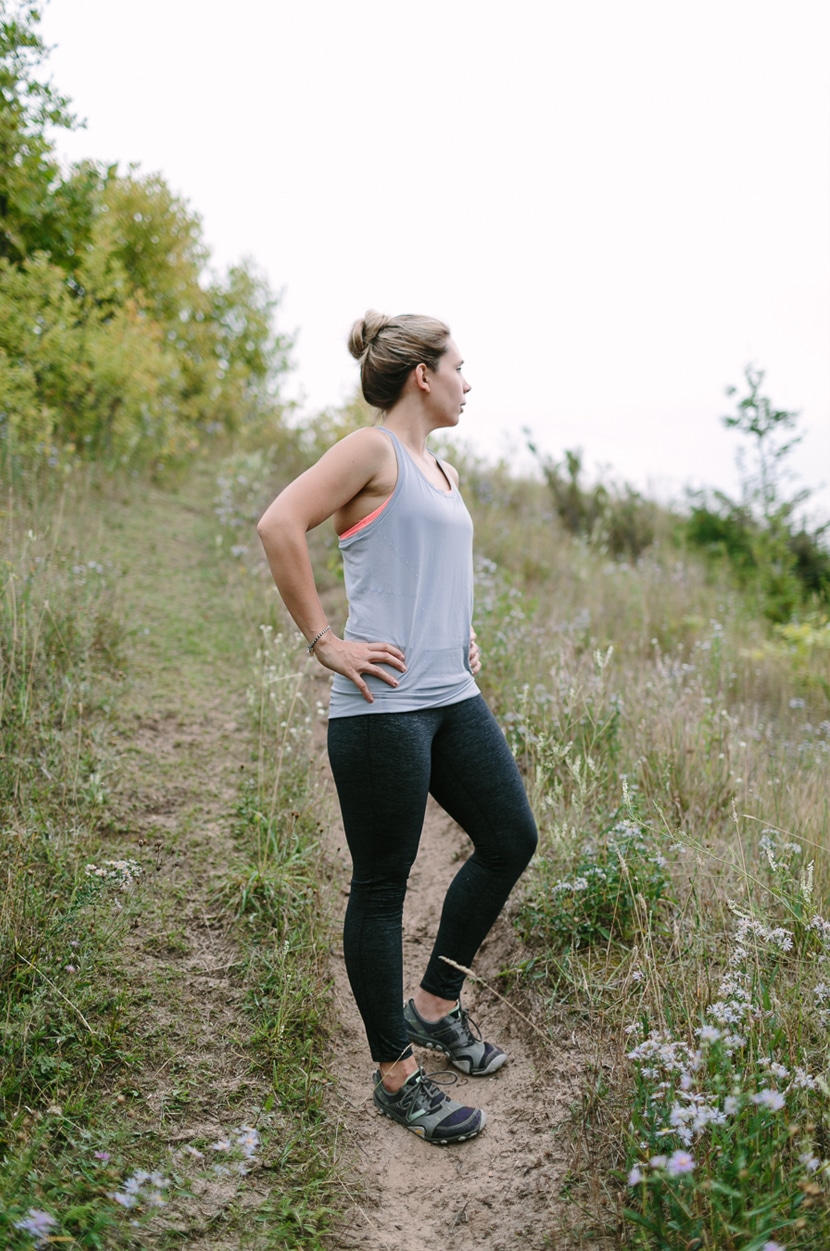 It'd be wonderful to hear more from you about running: have any of you finished a specific distance race? Do you have any guidance? Not only that, have you read Born to Run? What kind of shoes do you wear? How has running changed your perspective on life and working out? It's all interesting to me. I never expected to fall so in love with something as this kind of workout, especially when I remember those days as a soccer player dealing with the "punishment" of running for two hours as a team. Funny how just a slight shift in perspective can make all the difference in life sometimes.
To find similar workout wear see these links:
Tank from Target  |  Sports Bra from Target  |  Leggings from Athleta  |  Shoes from New Balance
This story is brought to you by vapor-distilled Smartwater, who found unique inspiration for their water by looking up to the sky. We hope the change in perspective this piece offers will help inspire you.