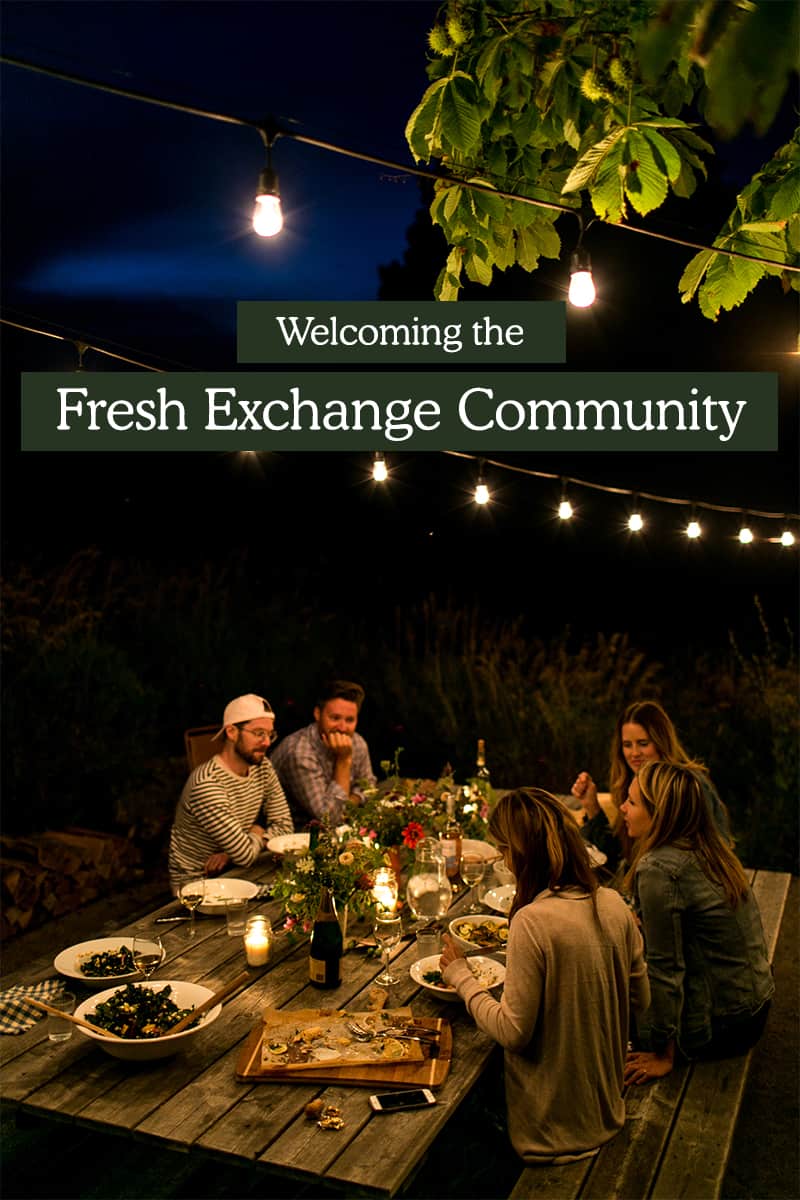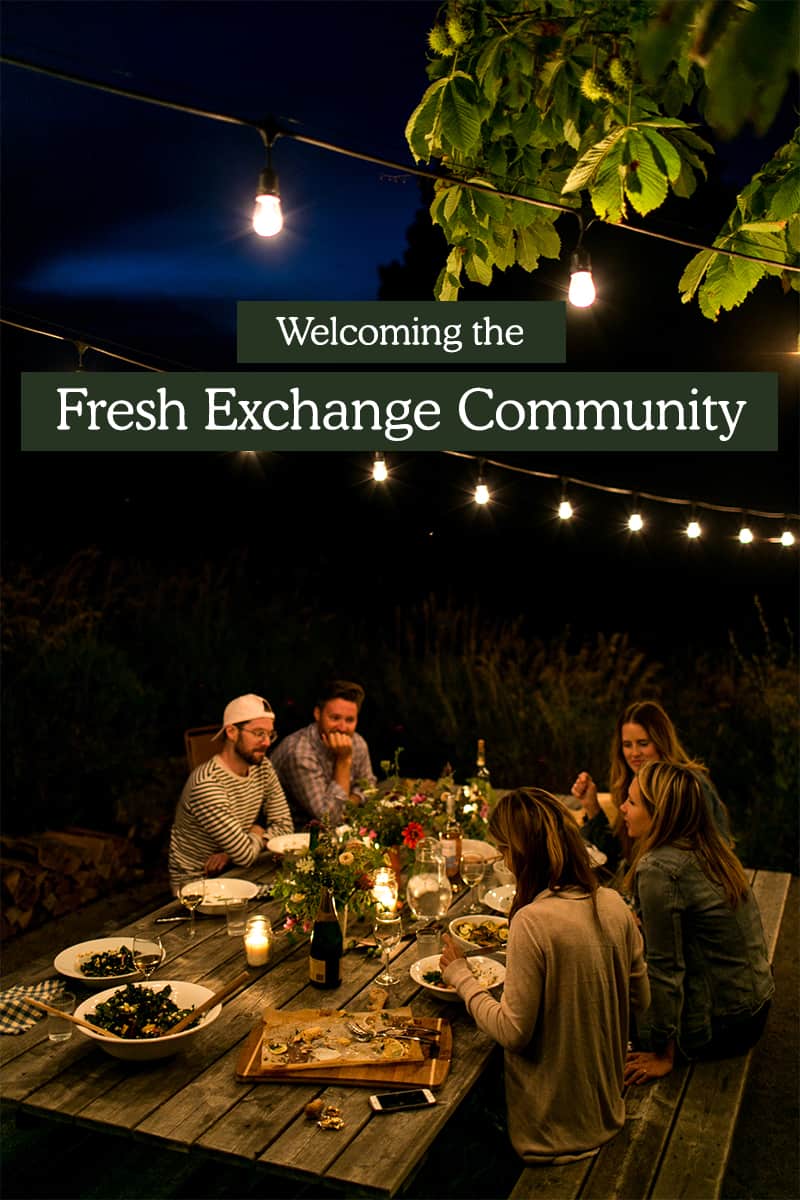 Today on the Fresh Exchange podcast Mike and Megan sat down to discuss everything about the community. You can listen in to get all the info on the community launch and even more on what is ahead and why we have made so many decisions. Listen in through the player below.
There was a night about 4 years ago where I sat under the twinkling lights of a dinner. It was August. The grass on the hills around us had turned gold and waved in the wind that came off Lake Michigan just over the hills. Mike and I weren't back in Michigan yet. This was just a trip. It was a blurry moment in early new parenthood where we were hunting for the direction we were to go. Under those lights, wine glasses were filled, a fire was made, and laughter rang through the night till the candles melted away and dripped onto the table that held us and our conversation. Around me, I had some of my closest friends. At that moment looking at all the faces around the table, I realized all of them were my friends because of Fresh Exchange. Because of this little blog, I started just for fun and as a creative outlet it had led me into a community I never knew it would.
I realized even then that Fresh Exchange has always been about relationships whether it be to each other, to our communities, to our food, to the Earth, or to the seasons. Since then I have been trying to figure out how Fresh Exchange could transform and build upon this idea of community.
These last few years I have struggled with how to move forward with Fresh Exchange. That night was the beginning of a shift. A shift to moving back to the land that is now home. A shift to how I connected with nature and myself. A shift to discovering who I am. This blog has always shifted with me over the last almost 12 years. It has meandered through the chapters of my life as most things do that we love. I love this space. I love the people who show up and pursue the curiosities I have about life.
In 2020 though I made a pretty intense decision that I needed to really find my purpose in this space. I felt I kept grasping so close to it. So I hired a business coach. A big step for me and a step that I needed. As a result, I found not just a path but a purpose in life through very clearly seeing what I wanted in my life and as a result Fresh Exchange. What surfaced was a vision of a community that was born that night. I discovered what I wanted was to lead people to connect with one another in an honest way while finding deeper meaning in the natural world. I wanted to help guide others into reciprocity not just with the Earth but with themselves because these two things go hand-in-hand.
Along the depths of the pandemic, I also realized how important the community had become. How it wasn't just about not feeling alone, but about finding honest connection like I had taken for granted during gatherings the last 10 years. I found it some in my Instagram DMs but social media has a level of toxicity I struggle with as someone who wants to find connection and healing in myself. The ads. The distractions. I wanted a place free of that. I wanted a space like the tables I have set so many times.
Cue a late night with Mike talking about things and saying, can we just build a community? Like forums where people can talk that want to dive into these things with me. Is this possible? And he said, I mean yeah….let's figure it out.
For the last 6 months, Mike and I have been pouring every extra ounce of our passion into building what is the Fresh Exchange Community. We have worked right alongside our business coach to help us build out a space with deep meaning and programming that will grow you while you are growing your garden. We have researched to find the best platforms to hold this community that allow Mike and I to manage and do this on our terms so there is no social media involved. We have spent so much time and placed so much of our heart into this. I am so excited to say the least because I feel that for the last 5 years this thing I have been grasping for is here. This is what Fresh Exchange was intended to evolve into.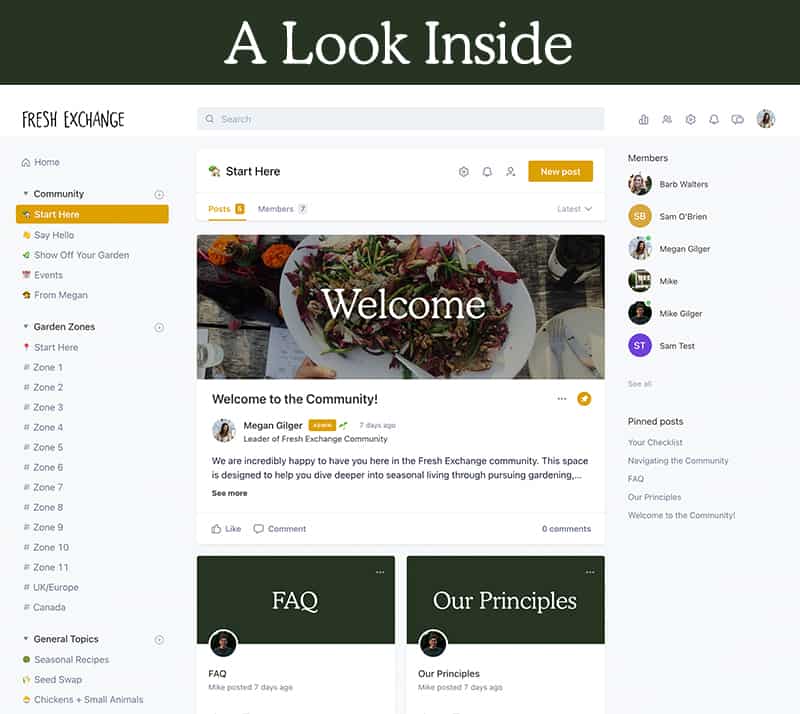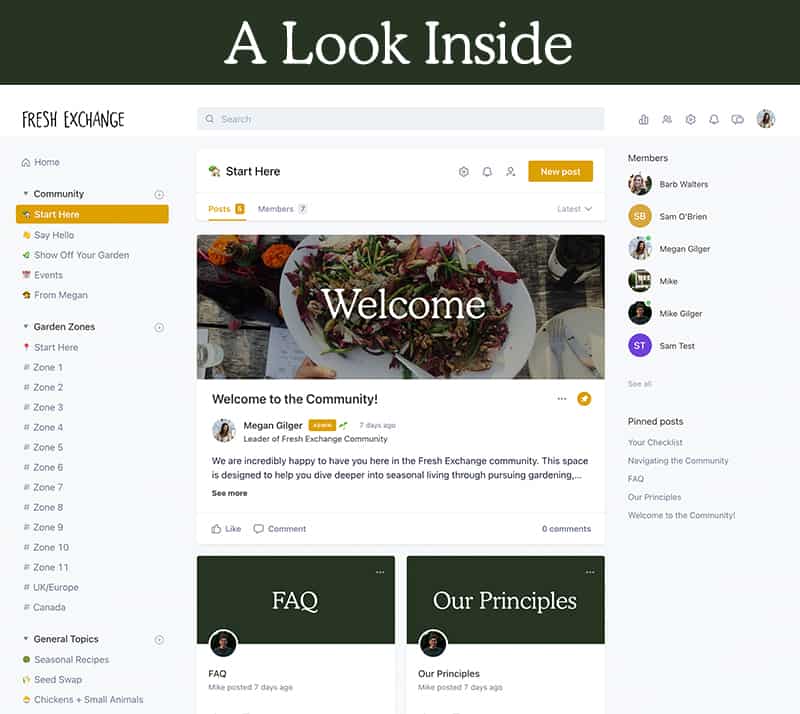 So let me explain everything you need to know about this community:
This community changes nothing about what you currently know of Fresh Exchange. Everything you know of it from our social channels to the blog to our newsletters will remain the same. This new community is simply a way to dive in deeper to what you already love about this space.
This community is a paid space for members only. We will be offering a ton to our members in this space and this is just to highlight the ones currently. We have a lot of things coming down the road! These are the highlights:
Not on a social platform.
We (Mike and Megan Gilger) manage this community. There is absolutely no social media involved. We use a platform called Circle that is similar to WordPress (which we use for our blog) which acts as simply the foundation for us to create the community we are envisioning.
Zone Specific help from the community
There is a Garden Zone group for all of our members where you can source help within your  Garden Zone and create a community around the region you are growing that can support you through your growing season. I believe the greatest asset we have in learning something is a supportive group of passionate and like-minded people and this is what you will find here. If you are unsure what your garden zone is you don't have to worry! We will be helping you in our welcome events to figure this out and direct you to the right community for you.
2x a month Q&A sessions with Megan and 2x a month Office Hours with Mike for Support
2 x a month Megan will be hosting sessions to answer questions and discuss topics with you as a community. Then Mike who is our Community Manager will hold office hours for all of you to get direct support and learn from other members as well.
Weekly Meditation and Journaling prompts from Megan
Every Season, Month, and Week will be guided with Megan. These will be given through email and in our From Megan section within the community. You can access these and comment on them there with the rest of the community and Megan directly.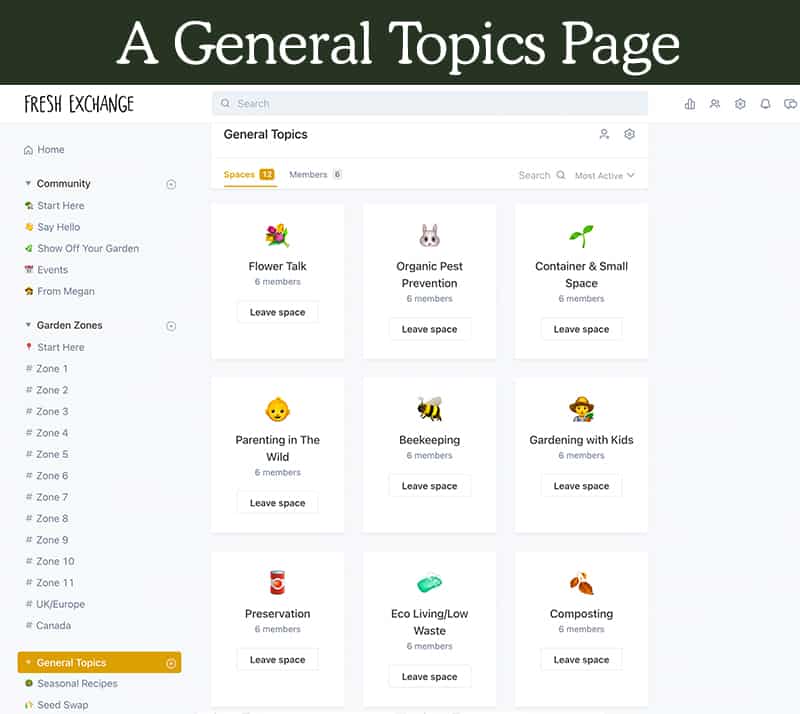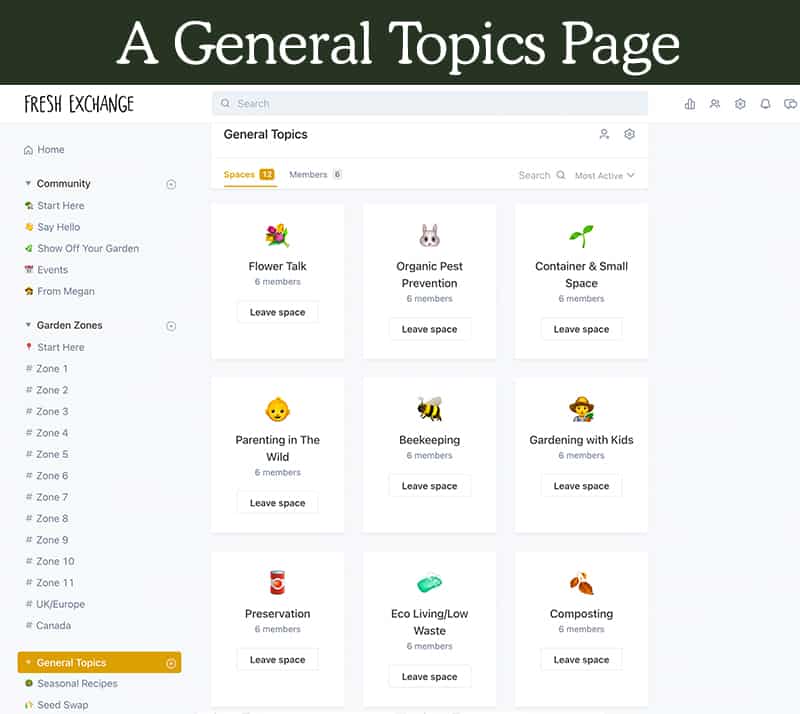 General Topics to discuss a range of topics as a community
Everything from Seed Swapping to recipes to Chickens to Compost to Eco Living and Parenting. All of it is out there for discussion amongst our community.
Connect with like-minded people with clear intentions
We will be welcoming new people to the community at the beginning of each season and getting to know you all through emails, the community page, and more. We will hear about each other's goals, intentions, and hopes for your year, season, and garden.
Resources and Downloads
Each season new resources and downloads and videos will be added exclusively to our community members to access as they desire. These items will be offered outside of our community as items to be purchased, but members receive them all for free.
Suggested Reading List:
Not only will I be sharing every single one of my favorite books, but each season we will have 3 suggested reading books for the season. Not required but for those that love to dive into books, this is a plus. Each month we will break into why this book. Everything from a cookbook to a novel.
Exclusive Newsletters just to our community members
These emails are deeper, bigger, and covering areas of our community, and all sorts of other goodies!
Plus so much more!
As we navigate and hear the needs and desires of our community I will be helping add to the repertoire of offerings for our community!
Membership Offerings:
We are only offering 2 ways to purchase a membership in the community. We believe this creates a cohesive way to welcome and connect with new members at designated times throughout the year. Thus why these are the offerings we have for the time being. If we see a need down the road we will offer them.
Breaking up memberships this way simply allows those of you who need to break up payments to do so or to choose which seasons you want to be on for and not in order to make it more affordable.
Seasonal Membership: $50 per season
3 months in the community
Annual Membership: $160 saves you $40 off a seasonal membership style payment
12 months in the community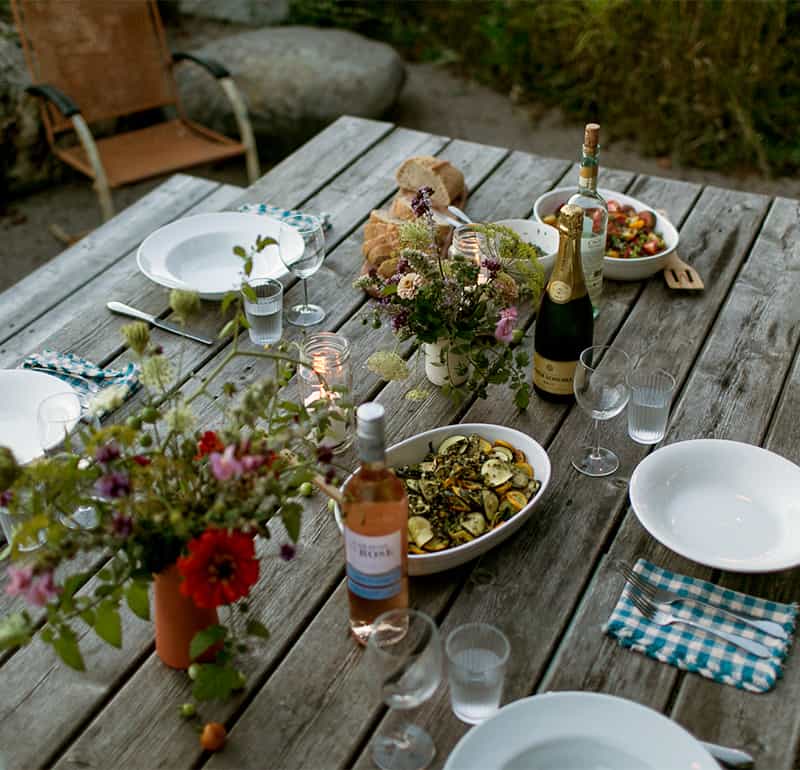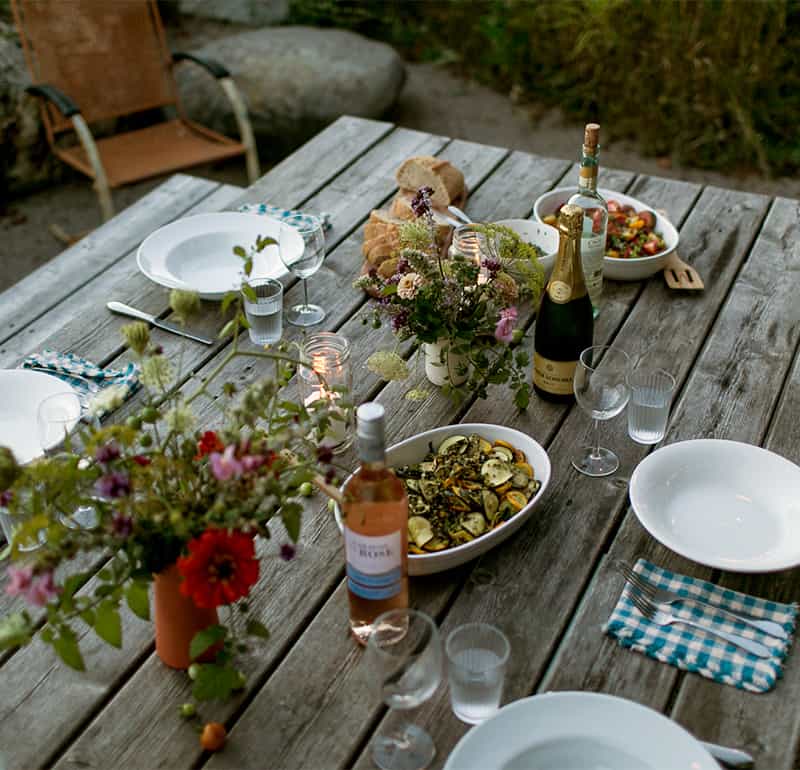 When can I join?
There are 4 windows to join our community and they are tied to the first week of every season throughout the year. These are the points. If you find this at a time out of that window you can join the waitlist or our email newsletter to be notified about the opening of the windows.
Spring: March 20th – 27th
Summer: June 20th – 27th
Fall: September 22nd – 29th
Winter: December 21st – 28th
Once again you can sign up for our newsletter to be notified of the opening window for the community and keep up on what is happening there.